Key Lime Pi

Westbrook Brewing Co.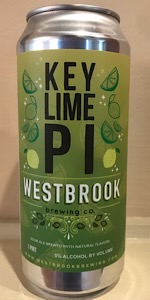 Rate It
Beer Geek Stats
| Print Shelf Talker
Style:

ABV:

5%

Score:

Avg:

4.22

| pDev:

4.03%

Reviews:

9

Ratings:

From:

Avail:

Rotating/Seasonal

Wants

Gots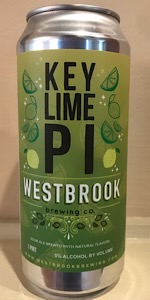 Notes: Key Lime Pi is a pastry sour inspired by the ratio of the circumference of the best dessert (key lime pie, obviously) to the diameter of that same pie. To create this delectable dessert delight we started with our base sour beer and employed an extremely advanced, complex brewing technique called "buying a bunch of key lime pies and putting them into the beer." Annual release for Pi Day.
Tony210 from New Jersey
4.23
/5
rDev
+0.2%
look: 4.25 | smell: 4.25 | taste: 4.25 | feel: 4 | overall: 4.25
Pours a milky straw color with a very fizzy, foamy head that fizzles out quickly. Smells like a key lime pie ; hits all the aromas: lime, cream, and graham cracker. Flavor follows nose, I get all of the key lime pie flavors: creamy, limey, and graham cracker. Carbonation is light, does not support the milky base as well as it could. Sourness is slightly offset nicely by a light dose of sweetness, but still has a gently acidity to it. Overall a very tasty "pastry gose", glad I tried, going to buy another 4-pack to bring home.
3/29/21
16 oz can dated 3/10/21 (bought in Myrtle Beach SC)
4.25 rating
Mar 29, 2021

Roy_Hobbs from Connecticut
4.1
/5
rDev
-2.8%
look: 3.75 | smell: 3.75 | taste: 4.25 | feel: 4.25 | overall: 4.25
Pours an extremely murky, muddled yellow with very little head. Aroma is sour lime. Taste is really interesting. I expected a regular gose with a bit of lime, but I full blown taste key lime pie with this one. Maybe it's just how my palate is reacting to this, but even if you gave it to me blind, I'm pretty sure I'd immediately identify it as key lime pie, and I generally suck at picking up flavors. Graham cracker aftertaste is what I'm picking up as much as anything. Lightly salty. Low carbonation and smooth. Really enjoying this beer.
Aug 30, 2020

Beginner2 from Illinois
3.86
/5
rDev
-8.5%
look: 3.5 | smell: 3.75 | taste: 4 | feel: 4 | overall: 3.75
The Key Lime is a good enough invention to the gose. Bought from Tavour and held for a 90 degree day. Refreshing.
Looks are tough to rate because this yeasty-cloudy is so different than the classic gose. Smells are a delicate lime. Tastes are tart; nicely tart and the sugar in the key lime softens the sour. Effective use of salt. Refreshing in the mouth; but soft from the wheat.
I went on Westbrook's website... and it could be better developed for an 8 year old micro. But if Key Lime Pi is an indication, these guys focus on their beer. Cheers !
Jun 05, 2020

SierraNevallagash from Maine
4.29
/5
rDev
+1.7%
look: 3.75 | smell: 4 | taste: 4.25 | feel: 4.5 | overall: 4.75
Pint can - poured into a Belgian goblet at 38°F.
Thank you Mark for this one!
Pours a milky, muddy, dirty yellow cream colour, with zero head formation. The surface sparkles with lively effervescence.
Nose: Graham cracker is the dominant note. Graham cracker with a dusting of cinnamon, key lime, and vanilla frosting. It isn't a terribly forward aroma, but it definitely captures that key lime pie thing.
Palate: The ale greets the palate with a balanced sweet and sour delivery. The Graham cracker crust shows up first, with tart key lime following closely behind. Not only is the key lime filling and the graham cracker crust nailed, but the cream base of the pie filling is also very accurate. Key lime and vanilla cream, with graham cracker crust, and a dusting of cinnamon. It's definitely sweet enough to translate as a dessert, but there's a healthy amount of lime-like tartness as well. It finishes with equal traces of graham cracker crust, key lime cream, vanilla, and whipped cream.
Mouthfeel/Body: Despite being relatively sweet, it's still a light-bodied beer, and the gentle tartness also aids in keeping it crisp and drinkable. There is a creaminess to it, but it's really emphasised in the finish where the tartness doesn't obscure it. The creaminess really adheres to the lips. The effervescence is fairly lively, and ultra-fine in nature.
Overall: Admittedly, I'm not a fan of the style. I'm somewhat of a "purist" when it comes to beer, and I've always just held a grudge towards this overall style. With that being said, it is difficult to truthfully say that this isn't absolutely delicious. It's an alcoholic key lime pie. From the crust, to the cream, to the key limes. It's a perfect representation of the beloved dessert. It may not be the most authentic beer, but it's incredibly enjoyable.
May 31, 2020
JohnnyHopps from Indiana
4.09
/5
rDev
-3.1%
look: 4.25 | smell: 4 | taste: 4.25 | feel: 3.75 | overall: 4
Appearance - The beer poured a cloudy yellow color. It almost resembled a New England IPA.
Smell - Lime was very present in the nose. It almost seemed to be concentrated lime.
Taste - The lime was very present. There was a lactose presence that made this like key lime pie cheesecake. It was not overly tart, but it was a bit too heavy to be an easy drinker.
Mouthfeel - For the style, the beer had viscosity.
Overall - It was not very gose-y in my opinion, but it was a nice beer.
May 16, 2020

Cylinsier from Pennsylvania
4.11
/5
rDev
-2.6%
look: 3.75 | smell: 4 | taste: 4.25 | feel: 4.25 | overall: 4
16 oz can
Pours very hazy pear golden, no head retention.
Aroma of tart citrus and cracker malt.
Flavor is of key lime, lemon, and pie crust.
Light body, stinging carbonation on the tongue.
Tastes great, nice sweet balance to the tartness. Very easy to like. Would drink regularly in warmer months.
May 01, 2020
perikson7 from Illinois
4.48
/5
rDev
+6.2%
look: 4.5 | smell: 4.5 | taste: 4.5 | feel: 4.25 | overall: 4.5
Got this in a Tavour order. Really really good. I'm not a fan of sours but this is excellent. Pours a cloudy yellow and smells exactly like key lime pie. Taste is lime with a lot of creaminess. Hints of pie crust as well. Slightly sour towards the end but far from overpowering. Will definitely search for more of this.
Apr 10, 2020
rudzud from Massachusetts
3.99
/5
rDev
-5.5%
look: 3.5 | smell: 3.75 | taste: 4.25 | feel: 4.25 | overall: 3.75
Received in a trade. Had hopes to review this with JLindros but Covid-19 put an end to that. While reviewing this I am also reading over my notes for the regular Key Lime Pie gose that I love so much to see how this compares.
A - Poured into my Duvel tulip a hazy, murky pale golden hue with a thick one finger head that fades quickly to leave light lacing and thin wisps. Initially this looks pretty damn good for the style, however, upon closer inspection it looks like there are a few pea sized white chunks floating on the top of the beer as well as through out. Uhh...are these actual chunks of the Key Lime Pies they used here? It's not like the last few ounces of the can looked like spoiled milk when pouring; I certainly would have stopped if that was the case.
S - Aromas of a little bit of base sour gose notes. Gone is the corriander that the base beer brings, the creamy wheat is super muted but does have a 'crust' type aroma. Lactic notes are there as well. The key lime citrus notes though are much, much more muted than on regular KLP. KLP just explodes with fresh and bright key lime whereas this is far more muted. Granted, it still smells like a key lime pie...like the actual dessert...but it doesn't have the aggressive citrus pop that the base beer has.
T - Taste is more like it. Big creamy wheat and lactic tang, almost yogurt like, the key lime is there for sure now with some bright citrus but the intense creaminess keeps this tasting more like a dessert than a refreshing gose. The salinity is pretty much non existant as well. Certainly isn't any coriander.
M - Mouthfeel is nicely carbonated, lighter, the body is almost thick and heavy, definitely creamy. Not as bright or as sharp as a typical gose.
O - Overall...while this was a solid enough gose I really wasn't a big fan. Especially when compared to the regular Key Lime Pie Gose, which is probably my favorite canned citrus forward gose. The base beer is great, but the addition of actual pies here winds up robbing the very things that make the base so great. Salinity, coriander, actual elements of a gose...pretty much gone. Drinks more like a novelty which is a shame.
Serving Type: Can
Apr 09, 2020
thebeers from Pennsylvania
4.06
/5
rDev
-3.8%
look: 3.5 | smell: 3.75 | taste: 4.25 | feel: 4 | overall: 4.25
Pours a murky pale creamed yellow color — somewhat reminiscent of banana cream pie filling and yellow grapefruit flesh. fingers of airy, off white head very quickly fizz away into nothingness.
Lime stands out most in the nose with somewhat creamy, yogurty undercurrent. There's a hint of pie crust, too, but it may be psychosomatic.
It tastes very much like key lime pie. Lime tartness and a tangy creaminess dominate, although I'm not really getting any crust here. There's also a hint of blueberry and some citrus soda water.
Full bodied with strong carbonation.
I don't think you could drink this blind and not immediately peg it for key lime pie. The little sour twang to the creaminess is what seals it.
Apr 02, 2020
Key Lime Pi from Westbrook Brewing Co.
Beer rating:
93
out of
100
with
19
ratings