Peanut Butter Shake

Westbrook Brewing Co.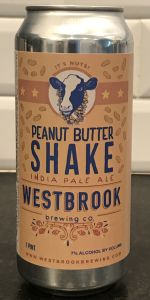 Rate It
Beer Geek Stats
| Print Shelf Talker
Style:

ABV:

7%

Score:

Avg:

4.01

| pDev:

6.48%

Reviews:

8

Ratings:

From:

Avail:

Rotating/Seasonal

Wants

Gots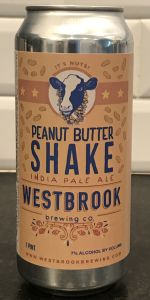 Notes:
Milkshake IPA made with lactose, vanilla, and peanut butter.
25 IBU

Greywulfken from New York
4.04
/5
rDev
+0.7%
look: 3.75 | smell: 4 | taste: 4 | feel: 4 | overall: 4.25
After a positive experience with a peanut butter and jelly stout, figured I'd give this a try - and it is what it says it is - an IPA with peanut butter - I don't know - again, my brain says that's gonna be gross, but when I taste it, it's actually okay - I'm not gonna chase it, but I have nothing bad to say about it - hell, I like drinking it - it's different... Brewed with lactose, peanut butter powder, and vanilla... Features Cascade and CTZ hops; dry hopped with Citra and Mosaic - and you will appreciate the hoppage - there are ample fruity and citrusy elements, but yes - almost like peanut buttered-together lol - Carapils, oat, wheat, and pale malts... Canning date of 6/21/21 puts this a little long-in-the-the-tooth for an IPA for me, but it represents well...
Oct 30, 2021

Treyliff from West Virginia
3.81
/5
rDev
-5%
look: 4.25 | smell: 3.75 | taste: 3.75 | feel: 4 | overall: 3.75
16oz can poured into a snifter
Pours a hazy orange color with a one-finger foamy white head that has good retention. Smells of milky lactose, fruity hops and just a hint of peanuts. Tastes of creamy lactose and fruity hops up front, with some citrusy notes. The finish brings out just a hint of peanut flavor, I may not have noticed it unless I knew it was there. medium body with moderate carbonation, foamy mouthfeel and finish
Oct 13, 2020
metter98 from New York
3.96
/5
rDev
-1.2%
look: 3.75 | smell: 4 | taste: 4 | feel: 3.75 | overall: 4
A: The beer is very hazy to cloudy brownish yellow in color. It poured with a short white head that left a patch of bubbles on the surface, a narrow collar around the edge, and lots of lacing down the sides of the glass.
S: Moderate aromas of peanut butter are present in the nose.
T: The taste follows the smell and has lots of flavors of peanut butter. There are hints of citrus and a light amount of bitterness.
M: It feels medium-bodied on the palate and has a moderate amount of carbonation. There is a little crispness to the mouthfeel.
O: I found this beer to be quite interesting as it had lots of aromas and flavors of peanut butter (as you would expect from a stout) with the mouthfeel of an IPA.
Serving type: can
Jul 02, 2020
dbrauneis from North Carolina
4.19
/5
rDev
+4.5%
look: 4.25 | smell: 4 | taste: 4.25 | feel: 4.25 | overall: 4.25
A: Pours a murky milky pale yellow in color with moderate amounts of fine active visible carbonation rising along the edges of the glass and moderate burnt orange + pale golden yellow + bright yellow + honey colored highlights. The beer has a three finger tall dense sudsy foamy off-white head that slowly reduces to a handful of small patches of medium thick film surrounded by a large patch of thin film covering the remainder of the surface of the beer and a medium thick ring at the edges of the glass. Moderate to heavy amounts of lacing are observed.
S: Slightly stronger than moderate aromas of creamy peanut butter + vanilla over the top of light to moderate aromas of biscuit + caramel + pale + oat malts with a moderate amount of lactose sweetness. Moderate aromas of juicy citrus/grapefruit + citrus/orange + tropical/pineapple hops.
T: Upfront there are light to moderate flavors of biscuit + caramel + pale + oat malts with a moderate amount of lactose sweetness. That is followed by slightly stronger than moderate flavors of creamy peanut butter + vanilla. Finally there are
moderate flavors of juicy citrus/grapefruit + citrus/orange + tropical/pineapple hops which impart a light amount of bitterness which fades away almost instantly leaving lingering sweet peanut butter and citrus + tropical hop flavors.
M: Just shy of medium bodied with moderate amounts of carbonation. Moderate amounts of soft/fluffiness mid-body with a light amount of dryness in the finish. Smooth, almost creamy.
O: Easy to drink with well hidden alcohol and a pleasantly soft/fluffy + smooth/creamy mouthfeel. Enjoyable and I am not usually one that is real interested in dessert IPAs but figured I would give this one a chance and it did not disappoint. Very well constructed and it tastes just like I would expect a peanut butter milkshake IPA to taste.
Jun 21, 2020

chinchill from South Carolina
3.95
/5
rDev
-1.5%
look: 3.75 | smell: 4.25 | taste: 3.75 | feel: 4 | overall: 4
Pint on tap at the Clemson Mellow Mushroom whilst Clemson is beating Syracuse on TV.
Pours with a hazy pale amber body with a good, sudsy white head.
Aroma: intriguing and surprisingly harmonious blend of hops, bready grains and peanut butter.
The flavor is less harmonious, partly due to some citrus notes, but still works better than might be expected. Medium bitterness overall for style with some sweetness.
Medium body with medium carbonation.
Sep 15, 2019

AyatollahGold from Indiana
3.76
/5
rDev
-6.2%
look: 4.25 | smell: 3.25 | taste: 4 | feel: 3.75 | overall: 3.75
The beer pours out like a nice looking NEipa. It forms a pinky worth of bone white crown.
The nose brings a very natural peanut butter hit with a sweetness as well; almost like a nutterbutter. Behind all that is a lingering fruit kick of an ipa. I like the two aspects separately, but not mixing together in this.
The taste brings the same aspects. I would've thought this would lean heavily one way or another, not mix like it does. But it really keeps that peanut butter throughout the entirety along with the fruity hops as well. It starts showing some notes of butterscotch as it warms.
The mouthfeel is medium bodied, but thick with the sweetness. It's not really creamy, and has a little bit of a burn to the ABV.
Overall, it was pulled off much better than expected and a lot differently than expected as well.
Aug 10, 2019

WickedBeer from Alabama
3.97
/5
rDev
-1%
look: 3.75 | smell: 4.25 | taste: 3.75 | feel: 4.25 | overall: 4
Canned 06/27/19.
Pours a hazy golden orange color, large gobs of frothy white lace rising a good two fingers above the body of the beer. Good lace patterning as it settles.
Not sure what I was going to think of hoppy peanut butter, but call me convinced. Rich, creamy peanut butter aromas, cut through by a touch of pineapple, vanilla, and lightly piney hops. Fairly well-rounded, very inviting.
Very similar to the nose, with peanut butter not quite as present as on the nose. The hops are more potent, lightly piney and floral, with an earthy nuttiness serving as a nice compliment to the peanut butter. A bit of that underlying pineapple returns as well, along with some bright, lemony citrus. Definite peanut burps.
Soft mouthfeel, with a medium carbonation and mild residual stickiness. Finishes smooth, no lingering bitterness.
Jul 30, 2019

avalon07 from South Carolina
4.04
/5
rDev
+0.7%
look: 4.25 | smell: 4 | taste: 4 | feel: 4.25 | overall: 4
L: Had this on-tap at Westbrook's tasting room, poured into a taster. Had a pale yellow color and a cloudy consistency. There was a half inch of foamy, fairly long-lasting head. Excellent lacing.
S: An interesting aroma of peanut butter (of course), citrus fruit, hops, malt, and tropical fruit.
T: Tasted of a below average amount of hops (not a huge factor), light tropical fruit notes (passionfruit), a good shot of peanut butter (the big dog here), and some citrus fruit (orange, lemon). Like the aroma, this is an interesting taste. In general, the peanut butter meshes well with the IPA elements, but it is strange at first. Pretty tasty.
F: A good amount of carbonation with a smooth finish. Light- to medium-bodied.
O: This beer won't appeal to everyone, but it has a weird kind of allure to it. Worth a look.
Jul 03, 2019
Peanut Butter Shake from Westbrook Brewing Co.
Beer rating:
87
out of
100
with
21
ratings