The Raver
| Westbrook Brewing Co.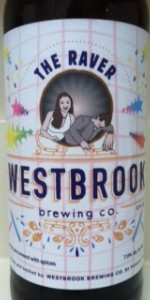 BEER INFO
Brewed by:
Westbrook Brewing Co.
South Carolina
,
United States
westbrookbrewing.com
Style:
Belgian IPA
Alcohol by volume (ABV):
7.90%
Availability:
Limited (brewed once)
Notes / Commercial Description:
Grab your glowsticks and rave your balls off with us in celebration of our good friends' James and Veronica's impending nuptials. The recipe for this White IPA was developed by raverjames himself and brewed with copious amounts of fresh citrus peel zested by Veronica & Company. Yep.
Added by MacQ32 on 05-11-2013
This beer is retired; no longer brewed.
Reviews: 7 | Ratings: 44

3.91
/5
rDev
-3.9%
look: 3.75 | smell: 4 | taste: 3.75 | feel: 4.75 | overall: 3.75
Thanks to dogdoc for sending this one! Reviewed from notes. Poured from bomber into a Westbrook pint glass.
A: Pours a hazy gold, with a thin white head and fairly low visible carbonation.
S: Grassy and floral hops, malt aroma of white bread, and a light yeasty fruitiness.
T: Grassy, citrus and pine resin hops, Belgian yeast esters (banana, pear, and mild bubble gum), and cracker malts. Moderately bitter in the hang, with noticeable yeasty esters lingering as well.
M: Light body, moderate carbonation sensation, and a low alcohol presence.
O: Not an outstanding beer, but not offensive in any way. Belgian IPAs involve flavors that I just don't think play well together, and this is no exception to that generalization. Glad to have tried it, but I wouldn't go out of my way for a second pour.
803 characters
3.72
/5
rDev
-8.6%
look: 4 | smell: 3.75 | taste: 3.5 | feel: 3.75 | overall: 4
Thanks to BA Shilt for the bomber in our recent exchange. Poured into a snifter, the brew appears a hazed copper with a rich frothy off-white cap a finger strong that slowly fades leaving a spotty pattern over the glass. Around the edges, the brew shows lighter yellowish clarity.
Aroma is full on citrus notes slightly fruity and floral. Grapefruit, lemon, lime, orange...all zesty and juicy smelling with a hint of grass, herbs and pine. Only as the brew warns up does it start to show a mild alcohol inclusion.
The flavor is bitter with pulp and zesty notes. A bit of rind and oily coriander/lemon/lime feel. Somewhat like orange along with grass, herbs and pine. As it warms up, it has almist a perfune sort of solvent alcohol feel. I dont get the "belgian" component/yeast in this which is sometimes spicy and clashing with the hops.
This is a medium bodied brew with a modest level of carbonation. The concept of a white ipa is still perplexing to me. You sorta get the feel of a corainder spiked wheat beer hiding under a well hopped wheat based ipa. I think it worked well and I would drink this again if given the opportunity.
1,138 characters
4.21
/5
rDev
+3.4%
look: 4.25 | smell: 4.5 | taste: 4 | feel: 4.25 | overall: 4.25
Served from bottle into a Westbrook snifter (proper!). Poured a hazy golden yellow-orange with a one finger off-white head that subsided to a minimal amount slowly. Maintained phenomenal lacing throughout the glass. The aroma was comprised of sweet malt, bubblegum, fruit, wheat, spices, citrus, citrus hop, and fruit hop. The flavor was of sweet malt, bubblegum, fruit, citrus, citrus hop, orange peel, fruit hop, spice, and wheat. It had a light feel on the palate with high carbonation. Overall this was a pretty good brew. The aroma going on in this one was definitely really nice. The bubblegum aspect here really brought this one to a whole new level which was very welcoming. The flavor was good, however, it just lacked some of the magic that the aroma brought to the game unfortunately. If there would have been more of the bubblegum aspect going on in the flavor this one could have potentially been other-worldly good. Really enjoyed this one and I suggest you get it on your palate as soon as you possibly can. You won't regret it.
1,043 characters
4.06
/5
rDev
-0.2%
look: 3.5 | smell: 4.25 | taste: 4 | feel: 4.25 | overall: 4
22oz. Darker golden-orange pour. Thin layer of white.
Aroma, very potent citrus fruit and citrus zest. Maybe a little yeasty spice. Some pine.
Taste, light caramel and grainy malt. Fades nicely to some stone fruit, pear, citrus. Finishes up with a little herbal and piney bitterness. Very well integrated flavors.
Carbonation is nicely active, but it almost comes across creamy. A little too coating to be a super refreshing drink for me, but it still drinks really nicely. No abv apparent.
493 characters

4.28
/5
rDev
+5.2%
look: 3.75 | smell: 4.5 | taste: 4.25 | feel: 4.25 | overall: 4.25
22 oz bottle poured into a tulip at fridge-cellar temperature.
L – Pale amber color with a 1-finger bubbly, rocky, white head. Pretty good retention but not much lacing that lasts. Crystal clear with a nice amount of carbonation bubbles.
S – Big citrus aromas are apparent at first sniff with mostly orange and grapefruit notes and a touch of lemon zest. Other aromas include mango-tinged hops, bready and caramel malt, and some coriander and almost banana yeast esters. The aroma is very pleasant and lends the impression that this beer will be light and refreshing.
T – It starts off sweet with bready and mild caramel malt and orange zest. As the taste progresses, bittersweet mango and grapefruit hops and peppery, coriander yeast appear. Really tasty.
F – Light-to-medium-bodied with good carbonation, a sticky but crisp mouthfeel, and a bittersweet and dry finish. Citrus and mango hop flavors linger the longest.
O – This is a really tasty and refreshing spring beer. The 7.9% ABV was higher than I expected for a beer of this style, but it was nowhere to be found in the taste or mouthfeel. I could see myself drinking bunches of this stuff while chilling out on the porch during the early summer months. Great beer from Westbrook.
1,254 characters

4.19
/5
rDev
+2.9%
look: 4.25 | smell: 4 | taste: 4.25 | feel: 4.25 | overall: 4.25
A: Poured from a bottle to a goblet. Had a burnt orange color and a cloudy consistency. There was an inch of foamy, long-lasting head. Good lacing.
S: A surprisingly sweet and fruity aroma. Traces of hops as well.
T: Like the aroma, the taste had a good shot of lemon to it, along with some malt, a moderate amount of hops, a little yeast, and sugary quality. A lively, easy to drink flavor with a lot of character.
M: A well-carbonated beer with a smooth finish. Medium-bodied.
O: One of the better American versions of a Belgian IPA. Very much drinkable.
560 characters
4.22
/5
rDev
+3.7%
look: 4 | smell: 3.75 | taste: 4.5 | feel: 4.25 | overall: 4.25
Self described as a wheat ale brewed with spices and a white IPA
A - pours a light yellowish golden color with a solid finger+ of near white head, fantastic retention, ok lacing.
S - lemon and orange zest, coriander, very mild funk and a decent hop bitterness. Lemon rind is probably the most noticeable. Kind of mild smelling
T - dry bitterness and spice/zesty citrus up front, the zest lingers and some tartness and caramel comes into play. finish is dry mild bitter and tart.
M - very very refreshing, medium/light bodied and decently carbonated. Drinkable enough to get in trouble with at 7.9%
O - really a fantastic white IPA, the Belgian spices/yeast are met perfectly by the choppy bitters and zesty citrus.
729 characters
The Raver from Westbrook Brewing Co.
4.07
out of
5
based on
44
ratings.