Evil Twin Ale 404
| Evil Twin Brewing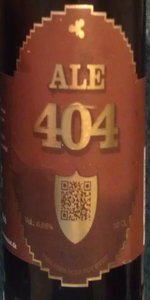 BEER INFO
Brewed by:
Evil Twin Brewing
New York
,
United States
eviltwin.dk
Style:
American Pale Ale (APA)
Alcohol by volume (ABV):
6.66%
Availability:
Limited (brewed once)
Notes / Commercial Description:
Ale brewed w/ ledum groenlandicum
Added by Jason on 08-11-2011
This beer is retired; no longer brewed.
Reviews: 9 | Ratings: 21
3.47
/5
rDev
-2%
look: 3.5 | smell: 3.25 | taste: 3.5 | feel: 3.75 | overall: 3.5
Not much of a head on a copper with golden hues murky body. Aroma includes candied sugar, musty malts, tree sap and earthy hops. Really almost has that cheap pale ale aroma to it, not good. Almost also like a bad barleywine. Flavor follows with brown sugar, more candied citrus, soap, wood, resin and overall bitter flavor. medium body and moderate carbonation. This beer should not exist.
389 characters

4
/5
rDev
+13%
look: 4 | smell: 4 | taste: 4 | feel: 4 | overall: 4
A - Hazy amber-orange with a finger of frothy off-white head. Fades normal.
S - Grapefruit, orange, citrus, and pine hops, some herbal scents, sweet caramel and biscuit malts, some lemon zest.
T - Grapefruit, orange, tropical, citrus, pine, floral hops, fairly strong herbal/floral notes, some hop bitterness, sweet caramel and biscuit malts, some lemon zest.
M - Medium bodied with moderate carbonation. Smooth with a bitter, floral, and dry finish.
D - Nice American Pale Ale. The floral flavors a bit different but adds nice complexity.
544 characters

4
/5
rDev
+13%
look: 3.5 | smell: 3.5 | taste: 4.5 | feel: 3.5 | overall: 4
Poured into a Seattle Beer Week pint glass. Pours a hazy medium coppery amber. Half off-white head with decent retention and light lacing. Light aroma of sweet malt with hints of bisquit malt and cola like spicing. Flavor is very interesting. Starts with bisquit malt with a spicy flavor reminiscent of a mixture of cedar and woody resin (undoubtedly a result of the Labrador Tea used in brewing). Finishes with a dry, woody, hoppy finish. The Labrador Tea flavor is pleasant and seems to provide bittering as well as flavor. Medium bodied with good carbonation. I thoroughly enjoyed this ale that is more of a cross between a pale ale (looks more like an amber) and a gruit. I hope to see this again.
701 characters
3.5
/5
rDev
-1.1%
look: 3.5 | smell: 3.5 | taste: 3.5 | feel: 3.5 | overall: 3.5
Served from bottle into a Samuel Smith imperial pint. Poured a dark yellow-orange with a one finger off-white head that subsided to a minimal amount very slowly. Maintained decent lacing throughout the glass. The aroma was comprised of sweet malt, caramel, caramel hop, earth, earth hop, and subtle spices. The flavor was of sweet malt, earth, earth hop, caramel, and caramel hop. It had a light feel on the palate with medium-high carbonation. Overall this was a decent brew. The aroma and flavor on this one was really one-dimensional if I am honest with the caramel aspect. The earthiness was there but definitely took a backseat. Glad I got the chance to try this one, but not the best from Evil Twin I've had to date.
724 characters

3.5
/5
rDev
-1.1%
look: 3.5 | smell: 3.5 | taste: 3.5 | feel: 3.5 | overall: 3.5
Served in a Rogue shaker pint glass.
The final beer of what turned out to be a star-studded Super Bowl lineup. It pours a clear tawny amber topped by a finger of cream foam. The nose comprises orange peel, light grapefruit zest, grass, mild caramel, and light green tea. The taste brings in more of the same, with a stronger contingent of tea and grass, though not by very much. The body is a light medium, with a light moderate carbonation and a dry finish. Overall, a tasty little pale ale, if nothing particularly memorable.
528 characters

3.92
/5
rDev
+10.7%
look: 3.5 | smell: 4 | taste: 4 | feel: 3.5 | overall: 4
This poured out as a golden color with a white head on top. The smell of the beer gives off some really interesting herbal notes that I found rather enjoyable. The taste of the beer also had the flavors of herbs in there that really set the beer apart from the typical Pale Ale. The mouthfeel was smooth and had a good amount of carbonation. Overall this brew was good, I would probably pick up a bottle of this to try again someday if the price was right.
456 characters
2.43
/5
rDev
-31.4%
look: 2.5 | smell: 2 | taste: 2.5 | feel: 4 | overall: 2
Courtesy of BBF 2011. Poured from a 16oz. bottle into a Southampton oversize snifter. Shared with schen9303.
Pours a .5 finger coarse, light cream colored head with good retention. Beer is a muddy light brown orange. Lacing is spotty and stringy with little stick but decent legs. Color is really off but otherwise decent.
Nose is pine, citrus, amber, and sap hoppiness. Coarse brown sugar is sweet but stings the nose a bit. Some indistinguishable dark fruit too. I don't really see how this fits the style. Very aggressively hoppy but with litlte soft fruit characteristics.
Opens dried leaf bitterness. Some coarse brown sugar and sap hop character towards the middle. End is bark and more dried leaf. Finishes hoppy with a slightly tart, bitter aftertaste. Not your typical Belgian Pale Ale.
Light bodied with low carbonation. Smooth and a touch watery in the mouth and goes down soft with a touch of aggressiveness. Finish is messy with a long, lingering aftertaste. Pretty good.
This beers not outright bad but it fails its style horribly. Very little to no fruit characteristics and not much of a looker. Overly hoppy too. If you want your typical Belgian Pale Ale, skip this one.
1,197 characters
4.15
/5
rDev
+17.2%
look: 4 | smell: 4 | taste: 4 | feel: 4.5 | overall: 4.5
Enjoyed at the Belgian Beer Fest.
A - Poured a nice almost hazelnut hue with a thin average head that left little lacing.
S - Nice typical belgian yeast aromas. Light malt sweetness and some very nice hoppy profile. European hops, alot more hoppier than I'd expect.
T - Stays in line with that. Nice fruits and carmel malts with a good hop finish.
M - Very nice mouthfeel, good carbontion keeps this up off the tongue. Definately a winner.
O - Such a very nice beer. We kept on going back to this beer all night. So drinkable and delicious. Would love to have a bottle of this.
582 characters
4.35
/5
rDev
+22.9%
look: 4 | smell: 4 | taste: 4.5 | feel: 4.5 | overall: 4.5
Evil Twin 404 - I believe it got the name because it was originally brewed specifically for a tech company and hence, 404 is a tech joke - a reference to the error 'this page does not exist'. Indeed, on the label is printed 'this beer does not exist'.
a 17oz bottle was notably pricey at about $17 (NYC) - but it makes sense considering the beer is pretty rare and is quite excellent.
Anyway, quite a complex and delicious pale ale. Pours a delightfully murky brown with a thin head, and holding it up to the light reveals many flecks of sediment.
Flavor-wise, this beer has the robustness of an american pale ale. Big fruit, caramelized malt, and the like.
The mouthfeel however is distinctively European, a subtly pleasing foamy finish.
Overall - exceptional! Don't pass this one up, highly recommended.
811 characters
Evil Twin Ale 404 from Evil Twin Brewing
3.54
out of
5
based on
21
ratings.