Premium Lager
| Gold Crown Brewery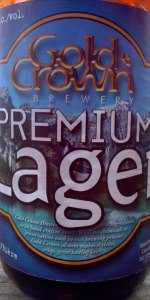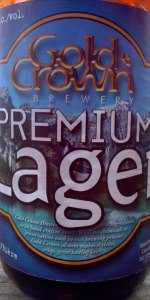 BEER INFO
Brewed by:
Gold Crown Brewery
Ontario
,
Canada
Style:
American Pale Lager
Alcohol by volume (ABV):
5.30%
Availability:
Year-round
Notes / Commercial Description:
No notes at this time.
Added by the42ndtourist on 09-19-2002
HISTOGRAM
Ratings: 9 | Reviews: 7
Reviews by ChrisCage:
3.88
/5
rDev
+36.1%
look: 4 | smell: 3.5 | taste: 4 | feel: 4 | overall: 4
A- This pours a wonderfully hazy pale golden color with plenty of yeast suspended within the liquid. The head is super white, thick and creamy looking, starts about two fingers in thickness and has excellent retention....basically maintaining a thick puffy layer over the beer for a long period. Carbonation looks average to aggressive...typical of a lager and lacing is good as well....most of the foam clings to the side of the glass after a good swirl. Overall a decent looking lager!
S- Pleasant aromas that are of yeast, slightly fruity malts, sweet caramel and just a hint of hopped bitterness on the finish. Dry grains/grassy smells throughout and dry biscuit tones but solid from start to finish. Nothing spectacular but decent!
T- I quite like the flavors found on this one.....starts out on the sweeter side of the malt spectrum, with yeasty notes evident. There is a orchard fruit character about it.....slightly of apple, slightly of pear. Very clean overall and the finish just has a dry muted bitterness about it. Again, better than the average lager.
M/O- Medium bodied, pleasantly average carbonation that allows the flavors to burst onto the palate well, and above average flavor makes this quite an enjoyable and drinkable lager that would suffice any day of the week. I think this would be a perfect accompaniment to a good old fashioned burger! Cheers!!
1,387 characters
More User Reviews:
2.38
/5
rDev
-16.5%
look: 2.5 | smell: 2 | taste: 2.5 | feel: 2.5 | overall: 2.5
Gold crowns are unpasteurized and must be kept refrigerated. Despite this, super-carbonation of this beer was very evident. Like a soft drink, little taste, but drinkable for what it was. Labels falling off bottles take away from presentation of bottle.
253 characters
3
/5
rDev
+5.3%
look: 3 | smell: 3 | taste: 3 | feel: 3 | overall: 3
a thoroughly average offering, poured with a pale golden colour, with little head. The taste is that of a canadian lager, without much to distinguish itself from most (canadian) macro offerings..
196 characters

2.12
/5
rDev
-25.6%
look: 4 | smell: 2 | taste: 2 | feel: 2 | overall: 2
Looks like a typical lager. Head lasts a while probably because its so carbonated. Head is pure white. Beer is pale yellow. Not much smell or taste. Probably like this beer if you do not like flavour and/or like carbonated water with alcohol in it.
248 characters

2.83
/5
rDev
-0.7%
look: 3 | smell: 2.5 | taste: 2.5 | feel: 3.5 | overall: 3.5
Purchased at the brewery in a 6 pack and reviewed on 1-11-06. The pour was of clear gold with medium carbonation and a small white head. Suprising notes of caramel and toffee in the nose reminds me of extract brewing or under attenuation. Sweet toffee in the flavor balanced out but biscuity notes leads to a crisp and dry mouthfeel. aftertaste is medium length, pleasant and inviting.
385 characters

3.42
/5
rDev
+20%
look: 3 | smell: 3.5 | taste: 3.5 | feel: 3 | overall: 3.5
Refomulatred so I'm reviewing it again.
Bottles: unpasturized and fresh from the brewery...looks a very limpid pale gold in the glass, frothy rocky heading from a hard pour moderatr retention and fair lacing, lightly carbonated.
Aromas of cooked grains, some sweetness and green apples.
Average malt spine, slick liquid mouth feel, medium body, rounded bready character.
Grain tastes up front some better defined nobel hops offer good balance,a bit of musty rye and cider tones in the center... fast uneventful but clean finish...light bready aftertaste.
I have comfirmed this beer is an all barley malt beer made with some German malts and hops...it seems decent enough, clean lightly malty with no off tastes and is actually comparable to a very drinkable Dortmunder or a subtle Munich helles.
As the days get hotter I find myself at the Gold crown brewery more and more stocking up on this consistantly fresh all malt lager at just over a dollar a bottle...it's at least as good as most German imports, certainly fresher and maltier...and the price is right.
1,081 characters

2.06
/5
rDev
-27.7%
look: 3 | smell: 2 | taste: 2 | feel: 2 | overall: 2
Pale gold, short head settling to a film, reasonable lace. Typical lager-look.
I regret to say that I'm not overly impressed with this brewery's work. This is just another dull-edged example – that makes 'em 0 for 3 so far with just a couple left to sample.
Inoffensive, but utterly bland. Slightly bitter in character. Sweet malt in the nose, sweet malt up front to taste. Fizzy, corn syrup characteristics.
415 characters
Premium Lager from Gold Crown Brewery
Beer rating:
2.85
out of
5
with
9
ratings