Figueroa Mountain Pale Ale
| Figueroa Mountain Brewing Co.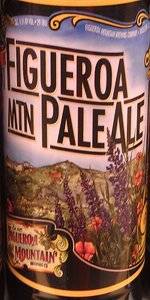 BEER INFO
Brewed by:
Figueroa Mountain Brewing Co.
California
,
United States
figmtnbrew.com
Style:
American Pale Ale (APA)
Alcohol by volume (ABV):
4.50%
Availability:
Year-round
Notes / Commercial Description:
No notes at this time.
Added by Jason on 06-28-2011
Reviews: 6 | Ratings: 32

3.25
/5
rDev
-6.9%
look: 3 | smell: 3 | taste: 3.25 | feel: 4 | overall: 3.25
On tap at Beachwood BBQ Seal Beach poured into shaker. Amber color, one finger of head, spotty lacing. Aroma is mild, grassy hops, honey and bread malt, some citrus peel. Flavors are similar with a cracker malt backbone and slightly more assertive hop bitterness - a balanced apa. Textbook palate: light bodied, crisp texture, moderate-high carbonation, a touch dry in the finish. Paired well with my salad.
407 characters
3.54
/5
rDev
+1.4%
look: 3.5 | smell: 3.75 | taste: 3.5 | feel: 3.25 | overall: 3.5
Pours a clear orange with a foamy beige head that settles to a partial film on top of the beer. Small streaks of lace form around the glass on the drink down. Smell is of malt, citrus fruit, and citrus zest aromas. Taste is much the same with earth, citrus zest, and slight herbal hop flavors on the finish. There is a medium amount of hop bitterness on the palate with each sip. This beer has a low level of carbonation with an almost flat mouthfeel. Overall, this is a pretty good beer with a slightly better citrus forward hop presence in the aroma.
552 characters
3.42
/5
rDev
-2%
look: 3.5 | smell: 3.25 | taste: 3.5 | feel: 3.25 | overall: 3.5
Figueroa's flagship Pale Ale pours with a pale honey-amber color and nearly bright clarity. It builds a creamy ivory-white head with firm retention and spotty lace. There's really nothing about the beer's appearance that causes deflation or celebration- its a common looking Pale Ale.
Malt-balanced in aroma, the scent of caramel projects over that of citrus hops. Void of spice and fruit, the nose is a straight-forward dialogue of malt and hops. Warming a bit, the beer takes on notes of light honey, butterscotch, and pine.
Also tilted slightly toward the malt- caramel, honey, and mild bread crust construct the foundation for hops to layer upon. Light grapefruit and orange peels, a tinge of spicy pine resin and grass come close to balancing the malts, particularly in finish as the bitterness grows.
The beer's light body is dry, mostly crisp, and mostly crisp. Slight residual sweetness plays a receding role in finish but allows a slight slickness to persist. Mild alcohol warmth and a grainy-sweet finish lingers on the throat in aftertaste.
The Pale Ale is a common version of the style, but does little to become memorable.
1,139 characters
3.33
/5
rDev
-4.6%
look: 4 | smell: 3.5 | taste: 3 | feel: 3.5 | overall: 3.5
Type: 22-oz. bottle
Glass: Karl Strauss pint glass
From: Holiday Wine Cellar in Escondido, Calif., on Dec. 27
Price: $6.29
Misc.: N/A
Poured a golden pale clear color with two fingers of white head that initially lasted for quite some time. Sporadic, wet, foamy lacing on the side of the glass with a pretty good retention of thickest head all the way down.
Smelled fairly malty up front with caramel, honey and cereal leading the way. Got some grass hops as well. Reminded me somewhat of an amber or a pilsner rather than a pale ale.
Tasted more like a pale ale than the smell indicated. Bready malts along with cereal and honey notes. Some lemon grass hops. A lingering bitterness on the tongue after.
Light body. Oily texture. Average-to-soft (below average) carbonation. Long, bitter finish.
A decent pale ale overall. It was hit and miss for me in terms of the rating (liked it, didn't like it, liked, etc.). I liked the Davy Brown Ale a bit better and I'm looking forward to the IPA and IIPA.
1,009 characters

3.6
/5
rDev
+3.2%
look: 4 | smell: 4 | taste: 3.5 | feel: 3 | overall: 3.5
BevMo – Paso Robles, CA
(Notes from Sunday 06-10-12)
22oz bomber with a standard pint glass
A: Pours a brilliantly clear golden-brass color adorned with a lasting thick ivory soap cap. Some freckled patterns of lace cling to the glass as I make my way through the drink.
S: Smell is a nice mixture of citrus and pine hops. Real zesty with a good lime fruit influence. Some light pale malts and a bit of fruity esters.
T: Taste is real light and hoppy with a nice citrus zing. Notes of tangerine and lemon zest. Underlying pine elements. Perceptible bready cracker malt backing. Void of alcohol at 4.3%. A nice light and refreshing sessions APA.
M: Mouthfeel is a bit weak and watered down as to be expected. Good carb levels give a light and somewhat creamy aspect with a super dry finish.
D: A sessions geared APA with some nice citrusy hops and a bit of breadiness to hold it all together. Not a must try but tasty none the less. Light and refreshing for sure.
973 characters

3.67
/5
rDev
+5.2%
look: 3 | smell: 3.5 | taste: 4 | feel: 3.5 | overall: 3.5
Visited Figueroa Mountain Brewing Co. over the labor day weekend and had a chance to try all of their beers. Being a busy weekend, and with a large group of family (not BA's) my notes are shorter than I would like, however were taken as I sampled each beer in a taster flight.
A: The beer pours clear, and is a dark straw or hay color, with a half inch of white bubbly head, leaving light smooth lace.
S: Scents of mild hop notes, and a touch of hay or grass, but that's about it.
T: Mild and light sweet malt, with a touch of light/faint bitterness. The beer does have this great mineral quality to it though.
M: Medium carbonation, crisp, and slightly dry
O: Good pale ale, but fairly straight forward.
713 characters
Figueroa Mountain Pale Ale from Figueroa Mountain Brewing Co.
3.49
out of
5
based on
32
ratings.