Awesome IPL

The Brew Kettle Taproom & Smokehouse / Production Works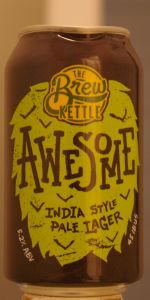 Write a Review
Beer Geek Stats:
| Print Shelf Talker
Style:

ABV:

5.4%

Score:

Avg:

4.04

| pDev:

7.92%

Reviews:

12

Ratings:

From:

Avail:

Rotating

Wants

Gots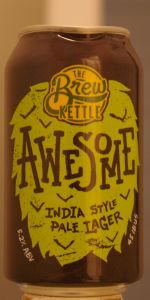 Notes: Easy drinking sessionable lager loaded with american and Australian hops for loads of citrus and tropical fruit flavor over smooth, clean and dry lager character. Brewed with awesome hops, awesome barley, awesome water and awesome yeast.....just for you, why? because your awesome man!

4.09
/5
rDev
+1.2%
look: 4.25 | smell: 4 | taste: 4 | feel: 4.25 | overall: 4.25
Pounder can > Stemmed tulip
A - Cloudy amber with a thick bubbly off white tw finger head, thick walls of lacing.
S - Nice aroma, some bready malt with nice classic hop aromas of citrus, some tropical and earthy notes.
T - Clean, mellow, smooth lager flavor with the bright flavor of some citrus fruits from the hops.
M - Light and smooth, classic lager feel
O - This is a solid IPL that is refreshing and packed with flavor and aroma.
435 characters
4
/5
rDev
-1%
look: 4 | smell: 4 | taste: 4 | feel: 4 | overall: 4
16 FL OZ can
Served in a pokal glass
This beer pours a brilliant amber color with burnt orange highlights. It is topped with an inch of beige head that leaves no lacing.
It has a fresh citrus aroma.
The taste is nice. Citrus dominates and the finish is crisp and clean giving it a refreshing appeal.
Medium to thin mouthfeel
It is a refreshing, clean alternative to an IPA. It is worth a try for sure.
406 characters

3.99
/5
rDev
-1.2%
look: 3.75 | smell: 4 | taste: 4 | feel: 4 | overall: 4
Smells like an ipa. Very floral with some tropical fruit. The malts let you know it is a lager. Crisp like a pilsner, but with a little more heft. Medium bitterness. Very easy drinking.
185 characters

4.1
/5
rDev
+1.5%
look: 4.25 | smell: 4.25 | taste: 4 | feel: 4.25 | overall: 4
Poured from a 12 oz can into a snifter.
L - Great looking beer. Light-medium golden color and perfectly clear. Off white head piles high on initial pour and maintains a thick layer and lots of lacing until the beer is gone.
S - Aromas show this to be highly hopped with Northwest style hops, as the beer's name would imply. Extremely strong and sharp aromas of pine, grapefruit and an earthy/woody note. They could certainly be described as "cat-piss", but in the nicest possible way. No malt or yeast notes break through the hops.
T - All hops. For a nanosecond when the beer hits your tongue there is a hint of malt, but it is immediately crushed by sharp, intense hops flavor and bitterness. The flavors are like the aromas: pine, grapefruit, cat, earth, wood. Nothing else comes through. Dry finish has just a hint of sweetness.
F - Light body; moderate carbonation. Bracing level of hops bitterness. No noticeable alcohol presence.
O - This is definitely a beer for hopheads. It's fresh, clean and well-made, but it's a bit too catty and over the top with hops for me. However, if you're into that you will love this beer.
1,144 characters

4.61
/5
rDev
+14.1%
look: 5 | smell: 4 | taste: 4.75 | feel: 5 | overall: 4.75
I have to say that I am heartened by whomever has taken over pic approval duties for this site! There is now a one-day (or less) turn-around time and the one shown is another of mine. One of the tenets of The CANQuest (tm) is that no CAN will be Crack!ed and Glugged unless an approved pic exists for posterity. Who knows if all of this isn't just a trend which might disappear?
From the CAN: "AWESOME is brewed with AWESOME hops, AWESOME barley, AWESOME water, AWESOME yeast, and just a splash of wizard magic!* JUST FOR YOU! ... because you are super AWESOME."; "Do yourself a favor and pour this AWESOME IPL into a clean glass."; "*We CAN not prove this beer was brewed with wizard magic. Sorry."; "THE BREW KETTLE PRODUCTION WORKS is the brewery arm of the Brew Kettle Tap Room & Smoke House Restaurant located in Strongsville, Ohio. We have been serving the craft beer community with a wide variety of award winning ales and lagers along with our famous hickory smoked BBQ since 1995. Come in for a visit the next time you're in NE Ohio!"
The Crack! revealed a CAN with a CANparative bit of headroom. At that rate, why not CANduct an inverted Glug? It was CANducted in accordance with CANQuest (tm) directives and produced two fingers of tawny head that withered in the face of today's humidity, but leaving nice lacing in its wake. Color was solidly Amber (SRM = > 7, < 9). Nose had a pronounced cattiness. That is a descriptor that I have not used in quite some time, but it definitely applied! Mouthfeel was medium-to-full, a nice surprise for the style. The taste was definitely hoppy, very grassy, so that it did not lend an unneeded bite to a lager. I liked this, a lot. It had a relatively low ABV (5.2%) and could easily fill my cooler when I mow the lawn on a day like today. Finish was dry, but in a refreshing, not gasping, way.
1,847 characters
3.88
/5
rDev
-4%
look: 4 | smell: 4 | taste: 3.75 | feel: 4.25 | overall: 3.75
Beautiful orange/amber/gold brew, quite clear, and topped by a solid white head. Good retention and OK lacing.
Lovely hop-forward aroma: floral and peppery. Dry, biscuity malts in the background.
Flavor follows, with more emphasis on the malts. Earthy profile reminds me of Pilsner malts. Hops complement it nicely, with earth, pepper, and floral notes, and a clean, grassy finish.
Lively and light; great drinkability. Refreshing, even.
Very solid IPL that really showcases malts typically associated with lagers, while adding nice amounts of hops for flavor and medium bitterness.
586 characters

3.68
/5
rDev
-8.9%
look: 3.5 | smell: 3.5 | taste: 3.75 | feel: 3.75 | overall: 3.75
Not sure I've had the IPL before, I enjoyed it very much. Definitely get the lager taste, but with the hoppiness you expect from a good IPA. Nicely done Brew Kettle.
167 characters

4.42
/5
rDev
+9.4%
look: 4 | smell: 4.5 | taste: 4.5 | feel: 4 | overall: 4.5
12oz can poured into a pint glass. Pours golden with a fluffy eggshell white head that fades leaving nice retention and solid lacing. The aromas are great. Smells like an IPA. Very tropical. Tons of pineapple and mango. The flavors are very clean and sharp. More tropical notes. Very nice bitterness. Fresh pine needles in the mix. Finishes dry. Mouthful is nice. It's light to medium-bodied with moderate carbonation. Very smooth and refreshing.
This is definitely a winner. It mimics an IPA, but a great one. TBK is great with hops, and this is no exception. Nice to see TBK canning.
586 characters

4.18
/5
rDev
+3.5%
look: 4 | smell: 4.75 | taste: 4 | feel: 4 | overall: 4
Look - crystal clear golden color with a slight head that went away quick has great lacing
Smell - very floral tropical fruit hops, incredible
Taste - if an ipa and a great lager mixed it would taste like this but not as great as the smell was making me think it would be. Great foral hop taste with some type of tropical fruit and citrus. Great malt backbone.
Feel - medium body with medium carbonation, very smooth
Overall - fantastic ipl, lagers are ok but ipl's are better and this one proves that point
509 characters
3.83
/5
rDev
-5.2%
look: 4 | smell: 4 | taste: 3.75 | feel: 3.75 | overall: 3.75
This tastes like an experiment. Let's see, session IPAs are too dry, maybe a little malt and yeast character from a beer will help. It does.
This stuff looks great in the glass. Darker than an IPA but still light. Very nice lacing. The aroma is great too - mostly of finishing hops.
The taste works for the most part. It's about what I expected - bitter, not too malty, but the beer gives it a little more character than those hoppy 5% alcohol ales. The aftertaste similarly has a bit of linger that isn't all bitter hops (although the hops certainly dominates). Recommended.
577 characters

3.43
/5
rDev
-15.1%
look: 3.75 | smell: 3.75 | taste: 3.25 | feel: 3.5 | overall: 3.25
It's all about the hops, but the bitterness overwhelms whatever else might be in this lager. I was still tasting the bitterness 30 minutes after I finished. It's not a bad beer, just not as well balanced as I've come to expect from The Brew Kettle.
250 characters

3.75
/5
rDev
-7.2%
look: 4 | smell: 4 | taste: 3.75 | feel: 3.5 | overall: 3.5
On tap at South Park Tavern, Dayton OH. 16oz shaker pint.
Appearance: Clear gold / amber. Thin white head with plenty of persistent fine lacing.
Smell: Quite hoppy. Lots of pine with just a hint of tropical fruit, grapefruit, and peach.
Taste: Hoppy as it smells. Pine and grapefruit up front and at the finish. There is the barest amount of malt to counter all the hops in the middle, maybe a bit cracker-like, but hard to pull out with all the hops. If there is a lager character to this beer I'm not detecting it.
Mouthfeel: Okay thickness, not too sticky on the teeth, carbonation not that notable - not fizzy but not what I would expect from a lager.
Overall / Drinkability: For me, this was a "session" IPA. If there is a lager character to it, I couldn't find it. If I was completely cynical about it, this was an attempt to make a low ABV IPA stick out vs. all the others currently out there. But as a beer, certainly full aroma and flavored, but I think I need more malt to counter the hops. Not possible really with this low of a ABV, I should probably just stick to 6-8% ABV IPA if I want that balance. But tasty enough and it went well with a Philly Cheese Steak pizza. That being said, one was enough.
1,245 characters
Awesome IPL from The Brew Kettle Taproom & Smokehouse / Production Works
Beer rating:
88
out of
100
with
67
ratings