Not Your Father's Fruit Punch
| Small Town Brewery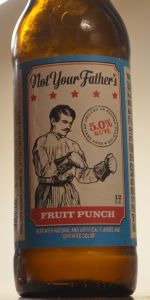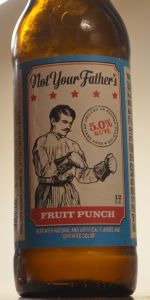 BEER INFO
Brewed by:
Small Town Brewery
Illinois
,
United States
smalltownbrewery.com
Style:
Fruit and Field Beer
Alcohol by volume (ABV):
5.00%
Availability:
Year-round
Notes / Commercial Description:
No notes at this time.
Added by basaywhat on 03-08-2018
HISTOGRAM
Ratings: 11 | Reviews: 4
3.74
/5
rDev
+1.6%
look: 3.75 | smell: 4 | taste: 3.75 | feel: 3 | overall: 3.75
2.3
/5
rDev
-37.5%
look: 3 | smell: 2.25 | taste: 2.25 | feel: 2.25 | overall: 2.25
Tuesday, December 11, 2018 11:08 PM
12 ounce bottle to wine glass
Sight: deep red color, no foam, appears clear, looks like juice
Smell: not a lot of aroma, smell of juice with artificial coloring
Taste: lightly bitter, sweet, very balance
Mouthfeel: low carbonation, flat, dry finish, slightly tart aftertaste
Overall: good, ok to repeat, not to look for
360 characters

4.69
/5
rDev
+27.4%
look: 4.75 | smell: 5 | taste: 4.5 | feel: 4.5 | overall: 4.75

4.5
/5
rDev
+22.3%
look: 4.5 | smell: 4.5 | taste: 4.5 | feel: 4.5 | overall: 4.5

3.84
/5
rDev
+4.3%
look: 3 | smell: 4 | taste: 4 | feel: 3.5 | overall: 3.75
I was lucky enough to stumble across a bottle of this Small Town entry during a recent shopping trip. I have drank & reviewed most of their entries but this one has eluded me until now.
From the Bottle: "Small Town Brewery makes specialty beers that utilize unique ingredients with an unmistakable taste of nostalgia"; "We've taken your favorite nostalgic flavor & made it a bit more grown up"; "It's like family trips in the summer except now you're in Vegas & you can't find your friend Randy".
Having Pop!ped the cap, I gave it an aggro pour followed by an in-glass swirl, but all to no avail. I simply could not raise any head. Color was a deep purplish-red (SRM = N/A) with NE-quality clarity. Nose was a mélange of fruit odors & I really have to agree with @czequershuus & his mention of Fruit Stripe chewing gum, whose flavors include Wet-n-Wild Melon, Cherry, Lemon, Orange & Peach Smash. Ha! I just can't help but laugh at this one. The taste was sweet & tangy and VERY
evocative of our afternoon snack drink, Hawaiian Punch Fruit Juicy Red when I was in K-4 & K-5. Ours came in a pre-aluminum steel can & had to be opened using a church key. I agree that it hardly seems like beer, but I am neither disappointed by nor angry at it. Finish was sweet, but again, if it evokes Fruit Stripe gum & Hawaiian Punch (Red), what would you expect? I would have this again if they put it in a CAN, but otherwise, it is more of a novelty.
1,442 characters
2.86
/5
rDev
-22.3%
look: 2.25 | smell: 3 | taste: 3 | feel: 2 | overall: 3
Small Town Brewery "Not Your Father's Fruit Punch"
12 fl. oz. brown glass bottle, coded "0958LX 0932FL-" whatever that means
$2 @ Giant, Havertown, PA
Notes via stream of consciousness: Well I certainly wasn't expecting it to be as reddish-pink as it is. It's pretty intense. There's no head at all. Nor do I see any bubbles rising to the surface. Odd. OK, so let's see. It smells like fruit punch, like Hawaiian Punch but not as strong. I'm not sure what the exact fruits are, pineapple and so forth, but it's exactly like Hawaiian Punch. On to the flavor... well no surprise here, it tastes like Hawaiian Punch. Watered down Hawaiian Punch, but Hawaiian Punch none the less. It's not as sweet as most of their other drinks, which is good in my opinion, but a little weird. And, of course, there's no perceptible bitterness. Oh, I just noticed, it's also at a more reasonable alcohol content (5% abv) than most of their drinks, and that's a change! There's hardly any carbonation to it, if any, which is a bit surprising as well. In the end it's no better than just adding some vodka to Hawaiian Punch so I'm not sure what's it's good for except that it's already packaged. Put it in cans and maybe I'd consider taking it camping, but in general I like to drink beer, and THIS IS NOT BEER. Disappointing, and probably their worst effort in that without any carbonation it has no head, so it doesn't look like beer, and without any carbonation it doesn't have the mouthfeel of beer. It doesn't seem like they're even making an attempt to make it seem like beer. On top of that, in all honesty, it's just not even a very good malternative as it just seems dull and lackluster, and certainly one-sided.
Review# 6,081
1,715 characters
3.63
/5
rDev
-1.4%
look: 3.25 | smell: 3.25 | taste: 4 | feel: 3 | overall: 3.75

3.41
/5
rDev
-7.3%
look: 3.75 | smell: 4 | taste: 3 | feel: 3.25 | overall: 3.5

3.79
/5
rDev
+3%
look: 3.75 | smell: 4 | taste: 3.75 | feel: 3.5 | overall: 3.75
4.01
/5
rDev
+9%
look: 3.5 | smell: 3.75 | taste: 4 | feel: 5 | overall: 4
This "beer" pours an alarming clear crimson with no head. The aroma is remarkable - it does expertly mimic name brand Hawaiian Punch - it has the vague, fruit flavoring smel that is somehow a blend of cherry, raspberry, strawberry, banana, and just plain sugar - honestly, this is like the zebra stripe bubblegum. The flavor is double strength kool-aid sweet, but again, absolutely nails the Hawaiian Punch taste. The mouthfeel is syrupy, with almost no carbonation. Overall this is a tough thing to judge - is this in any way a balanced, well thought out beer? No. But does it taste exactly like a third grade birthday party? Yes, These Small Town beverages alwasy seem to reproduce the best example of what they mimic.
721 characters

3.75
/5
rDev
+1.9%
look: 3.75 | smell: 3.75 | taste: 3.75 | feel: 3.75 | overall: 3.75
Not Your Father's Fruit Punch from Small Town Brewery
Beer rating:
3.68
out of
5
with
11
ratings