Adelais

Idle Hands Craft Ales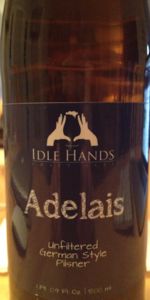 Write a Review
Beer Geek Stats:
| Print Shelf Talker
Style:

ABV:

5.2%

Score:

Avg:

3.93

| pDev:

9.41%

Reviews:

12

Ratings:

From:

Avail:

Rotating/Seasonal

Wants

Gots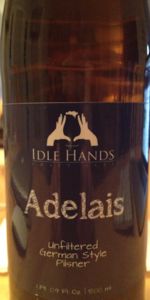 Notes: A nod to the venerable German Pilsner. Crafted with a blend of three pilsner malts and hopped with classic Hallertau Hersbrucker and newcomer Saphir, the end result is a beer with clean, crisp malt character, balanced bitterness and delicate noble and light citrus hop notes.
papposilenus from New Hampshire
4.12
/5
rDev
+4.8%
look: 4.5 | smell: 4.25 | taste: 4 | feel: 4.25 | overall: 4
From a 16oz can, dated 11/29/18. Served in an imperial pint pub glass.
Pours a super-pale, unfiltered straw-gold with a three-finger fluffy head that's so fat and chunky you can take bites out of it. Retention is very good, leaving a perpetual creamy cap and big, sticky gobs of lacing.
Nose is clean and outdoorsy, toasted white bread and spicy grass.
Taste is in line with the nose, very mildly sweet relative to the style with subtle, grassy bitterness, white toast, honey-lemon and tart apple fruitiness, and hay. A very minor treated-water aftertaste which does not significantly detract.
Feel is creamy and mouth-coating, medium-doughy bodied with fine, tingly carbonation. Again, probably not on the mark relative to the style but I like it, so screw the style anyway.
Overall, a fine take on a German pils. I may be misinterpreting the aftertaste but I grew up in the neighborhood and I know what MWRA water tastes like and I've lived away long enough to notice it when I come home. Regardless, nitpicking because, like I said, it doesn't particularly detract from the enjoyment; it's just noticeable, that's all.
Nov 30, 2018
angrybabboon from Massachusetts
3.97
/5
rDev
+1%
look: 4 | smell: 3.75 | taste: 4 | feel: 4.25 | overall: 4
Consumed 4/17/17
A: Medium to yellow gold - mostly clear - pours with a medium size, bright white head, retains a wispy cap and a medium collar
S: Pale and lightly toasted malts, grains - lager malts and lager yeast - some noble hops, with their herbal spice, and some hints of light citrus - overall a mild and soft aroma
T: Clean pilsner malts, light bread, lightly toasted bread, hints of dough, light grains, crackers, lightly cooked grains - soft malts at the beginning of the sip but they finish sharp and crisp - some citrus - herbal and floral hops, with a minor bite of spice - some light fruits, clean finish
M: On the light side of medium, smoother than some of the style, but also less crisp, somewhere in between
O: Bro do you even lager
Despite touting itself as a German Pilsner, I do not really think this fits the style. But that is merely my observation, not a complaint. I really like what Idle Hands has done here; Adelais takes everything great about a pils and smooths out the edges. This is supremely drinkable.
Apr 17, 2017
StoutElk_92 from Massachusetts
4.5
/5
rDev
+14.5%
look: 4.5 | smell: 4.5 | taste: 4.5 | feel: 4.5 | overall: 4.5
16 oz. can dated 03/13/17
Pours hazy straw yellow gold with a frothy white foam head. Smells like clean citrus, sweet lemon, grapefruit, orange, zesty lime, berries, bready crackery honey malts, some minty tobacco spice, with dank floral earthy herbal grassy pine. Tastes like lemon, grapefruit, orange, lime zest, berries, bready crackery honey malts, minty tobacco spice, with dank floral earthy herbal grassy pine. Feels medium-light bodied, creamy and smooth with moderate low carbonation. Overall a really nice unfiltered German style pilsner.
Apr 11, 2017

ichorNet from Massachusetts
4.17
/5
rDev
+6.1%
look: 3.75 | smell: 4.25 | taste: 4.25 | feel: 4.25 | overall: 4
I for some reason recall this being considered a kellerbier last time it was released (2014?), but it's on here as a German style pilsner now. Looks like IH is brewing a new beer called Emelyn that they consider a keller... well, whatever. Anyway, this is an unfiltered pilsner hopped with Hallertau Hersbrucker and Saphir. I really loved this beer when I first had it (when Ben was brewing for IH), so I'm hoping it lives up to my expectations now that I'm revisiting it.
Pours a semi-hazy golden yellow color with a retentive but small and rocky head of pure white foam. Surface is extremely cloudy, and there's a little lace sticking around as I sip at this. Not bad, but not incredible either.
Nose is wonderfully balanced with grassy notes, herbal hop elements, toasted bread crust, slight rye-like spice and a bit of light floral Noble-style hop notes as well. It's very delicate and only slightly honeyed, with most of the focus on the interplay between hops and malts, like most good German pilsners tend to. Clean ethanol component that comes out a bit once the beer warms. Very slightly sulfuric, but it works really well with the herbal and grassy hops.
Flavor is great as well... super-refreshing but also really complex with, again, a big component of toasted bread, rye earthiness, saltine crackers, and that classy Hallertau floral/spiciness with mineral-like notes towards the finish. Slight citrus in here too... kind of a rind-like lemon quality with more breadiness and a fairly bitter finish. Slight dusty yeast note in the mid-palate.
Soft carbonation, rather slick/full-bodied mouthfeel for a 5.2% beer and great balance make this a superb contemplation-worthy pilsner to drink and enjoy. As expected, the slightly unfiltered nature gives this a more characterful approach. It definitely tastes keller-like to me, but I guess that means I need to seek out Emelyn to find out what the differences are!
Apr 06, 2017
Sheppard from Virginia
4.46
/5
rDev
+13.5%
look: 4.75 | smell: 4.25 | taste: 4.5 | feel: 4.5 | overall: 4.5
Pours a slightly hazy golden, beautiful white head. Slightly fruity citrus aroma. Slightly fruity lime and orange zest. Crisp pilsner malt backbone. It's a great new world take (Saphir hops is a newer hop) on an old world classic.
Dec 27, 2016
Davepoolesque from Massachusetts
4.12
/5
rDev
+4.8%
look: 3.5 | smell: 4 | taste: 4.25 | feel: 4.5 | overall: 4
Golden yellow in appearance. Clear in appearance. Pilsner malt, toasted grain and earthy hops. Very light Noble hop bitterness. Light on pilsner flavor. It's good.
Sep 01, 2016
TheManiacalOne from Rhode Island
4.01
/5
rDev
+2%
look: 3.75 | smell: 4 | taste: 4 | feel: 4.25 | overall: 4
Poured from a 16.9oz bottle into a US tumbler pint glass.
A: The beer is a light yellow color, with a large white head that fades quickly and leaves a spotty lace on the glass.
S: The aroma contains citrus, lager yeast, light caramelized malts and a good amount of hops.
T: The taste starts out with some citrus and caramel sweetness that is quickly followed by some breadiness from the lager yeast and thin malt character. The hops presence is good for the style and brings a good balance. The after-taste is slightly sweet.
M: Smooth and very crisp, light-to-medium body, medium carbonation, finish is clean.
O: Tasty, goes down easily, not too filling, mild kick, good representation of style, this is a very solid beer to pound down for a while if you're in the mood for the style.
Jul 30, 2015

johnnnniee from New Hampshire
3.4
/5
rDev
-13.5%
look: 4.5 | smell: 3.75 | taste: 3 | feel: 3.25 | overall: 3.5
Bottle from Redstone
Pretty clear for an unfiltered lager. Light golden color with a huge frothy white head. Spicy, earthy, floral hops on the nose with faint sulfur and even fainter malt character. The flavor is sharp spicy earthy hops with an almost metallic edge in there. The malt has no character, it needs something to stand up to the hop bitterness and it just isn't there. I should have saved some of that Heide I just finished and mixed some in. Not horrible, but the recipe needs a little work imho.
Apr 27, 2015
GreesyFizeek from New York
3.68
/5
rDev
-6.4%
look: 3.5 | smell: 3.5 | taste: 3.75 | feel: 3.75 | overall: 3.75
On tap at Redbones BBQ in Boston, MA.
This one pours a light clear yellow, with a half inch head, and a little bit of lacing.
Smells grassy, with a good amount of citrusy hops, and some doughy, bready aromas as well.
This is fairly hoppy interpretation of the style, with some bitter grassy hops, some grapefruit., and some light biscuity and doughy/bready malts. The hop character is very grassy and floral. The lager yeast provides some fruitiness as well.
This is very light bodied, with a crisp, but slightly airy mouthfeel, along with a higher level of carbonation.
Not too bad, but ultimately, a little forgettable.
Mar 23, 2015
jlindros from Massachusetts
3.34
/5
rDev
-15%
look: 3.25 | smell: 3 | taste: 3.5 | feel: 3.25 | overall: 3.5
Pours a quickly rising 2+ finger bubbled head that fades back pretty quickly too, touches of spotty lacing, mostly clear slight chill hazed golden yellow color.
Nose brings a lot more doughy wheat, grassy, hay, grainy wheat, gristy grain, faint lemon in the background. Not nearly the hops I was hoping for, just a touch grassy, pretty light on the nose.
Taste brings a lot of hops thankfully, not very bitter at first, a fruity bubblegum, quite grassy floral hop character, a little noble like grassy too. Malts are more subdued or drowned, a little gristy grain and doughy malt note, hint of lemon cereal, etc. Finish dries as the bitterness ramps quite a bit, a little spicy hop note but mostly grassy floral hops lingering, lots of floral almost flowery like hops lingering.
Mouth is med to lighter bod, soft feeling little crisp lager, decent but not great carb.
Overall OK, btu not as good as I hoped. The hops came though decently on the flavor but almost non-existant on the nose, and the malts were the opposite. Not very well balanced, and the lager base was OK but not great. Could use more work but still tasty and enjoyable.
Nov 28, 2014
alexbutler from Massachusetts
3.2
/5
rDev
-18.6%
look: 3.25 | smell: 3.25 | taste: 3 | feel: 3.25 | overall: 3.5
A - A nice foamy head over a pale, yet cloudy body. This would account for the unfilteredness... the head mellows out to a very thin lace
S - Nothing overwhelming... Weirdly, it's almost like a fresh cut lawn.
T - If the smell was any indication, it's that the taste would be a bit muted and lo and behold - nothing too crazy. I'm not too sure if German style pilsners are meant to be cold or room temp. As my apartment is currently 100 degrees, I drank it cold straight from the fridge... though I could be doing the beer a disservice if it's meant to be room temp.
M - The malt flavor give it a nice full and balanced feel. Again, nothing crazy.
O - I would probably give this guy a whirl at room temp next time, as right now the flavors are very muted and tame. I expected a bit more... but on a hot summer night, and cold beer is welcome.
Jul 08, 2014
smcolw from Massachusetts
3.83
/5
rDev
-2.5%
look: 3.75 | smell: 3.75 | taste: 4 | feel: 3.5 | overall: 3.75
Cloudy, naturally, due to the unfiltered bottling. The liquid is a blend of white and gold. Some spots for lace.
This beer smells like light pale malt freshly fermented with a bit of sour milk in the background. No hop.
This pilsner is more prickly than most. Although the hop provides some of this bite, I believe most of this comes from the very dry pale malt base. The swallow is dry and balanced. The aftertaste is relatively brief. The mouthfeel is a bit watery but this might be enhanced by the high level of effervescence.
Jul 06, 2014
Adelais from Idle Hands Craft Ales
Beer rating:
86
out of
100
with
54
ratings