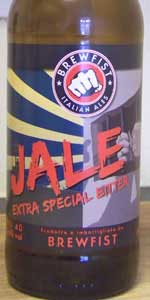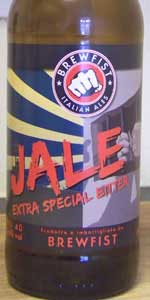 BEER INFO
Brewed by:
Brewfist
Italy
brewfist.com
Style:
Extra Special / Strong Bitter (ESB)
Alcohol by volume (ABV):
5.60%
Availability:
Year-round
Notes / Commercial Description:
No notes at this time.
Added by GONZALOYANNA on 05-26-2012
HISTOGRAM
Ratings: 10 | Reviews: 5
Reviews by Jeffo:
2.11
/5
rDev
-34.5%
look: 3 | smell: 2 | taste: 2 | feel: 2.5 | overall: 2
Got this one at the De Molen beer shop in Bodegraven.
From a bottle into a snifter
Best before 30 April 2014
IBU: 40
APPEARANCE: A definite foamer here. Eventually pours a three finger, looser, fizzy, foamy, off-white head with great retention. Hazy maroon red with higher levels of carbonation. Head fades to a full foam cap with lots of carbonation at the top. A foamy cap remains leaving decent lacing down the glass. The bad and good balance out to average.
SMELL: Grainy and grassy. Bread, with light caramel and grassy hops. Too grainy for the style.
TASTE: Grainy again, with light caramel sweetness up front before lots of bread and grainy malts at the swallow. Sweet grains, bread and some spicy yeast linger with a hint of grassy bitterness. Like the nose, this is just too grainy.
PALATE: Medium body with higher levels of carbonation. Airy on the palate, goes down smooth enough and finishes dry on the palate.
OVERALL: Not a very good bitter, as it is too grainy, light and overcarbonated for the style. It's not really bitter enough either. Definitely not something worth drinking again. Ended up leaving the glass half full and forgetting about it.
1,175 characters
More User Reviews:

3.2
/5
rDev
-0.6%
look: 3 | smell: 3 | taste: 3.5 | feel: 3 | overall: 3
On tap. ½ Pint glass. Enjoyed on may´12. Dark honey amber. White froth, thick layer, rocky, crown. Floral aromas with subtle caramel malt & slightly yeasty touches. Clear bitterness gets along with mildy maltiness, Medium to high body, moderate to high carbonation.
267 characters

3.47
/5
rDev
+7.8%
look: 3 | smell: 3.5 | taste: 3.5 | feel: 3.5 | overall: 3.5
Picked this up at my favorite beer store in Belgium, Dranken Geers. Cloudy dark amber-mahogany pour with two finger tan head with decent retention and nice lacing. Earthy, nutty, malty nose with hints of toffee, caramel, dark fruits, and molasses. The taste follows suit with hints of wood, dark fruits, toffee, tobacco, roasty coffee, chestnuts, and just a touch of chocolate. Mouthfeel is medium bodied and slightly oily with a nice subtle bitter hop finish. A solid interpretation of the style!
497 characters


2.79
/5
rDev
-13.4%
look: 2.5 | smell: 3.5 | taste: 2.5 | feel: 2 | overall: 3
Pours an bronze colour, somewhere between deep amber and brown. Very, very little head, just a speck of rim around the edge. More head would definitely be nice (amirite boys??? Eh?) Otherwise it's a nice colour.
Smells malty and English, with a good nutty edge to it. Hops are herbal, mild and English also. Fairly simple, but not too bad. Certainly within style but could have a bit more hop character.
Very simple on the palate too. Sweet grain upfront with a slight nutty edge. Gets more of a cereal edge midway, corn, oatmeal and honey. Not too bad, but really quite bland. Might be alright as a cleanser but doesn't really interest me.
Body is watery/thin, fairly flat. Nothing to hold it up.
Bland, English style bitter. I'd be inclined to call it a plain ol' bitter rather than an ESB, and it's not something that really interests me. Watery, and underwhelming.
872 characters
2.41
/5
rDev
-25.2%
look: 1.5 | smell: 3 | taste: 2.5 | feel: 2 | overall: 2
On-tap at the Italian SpecTapular event at Sydney's Local Taphouse.
Pours a clear amber colour, with a weak, light body and absolutely no head whatsoever. Zip. Nada. It looks as though someone's dropped a bit of amber colouring into a glass of water. Well wack.
Light caramel malt comes through on the nose, with snapped wood or bark aromas from the hops. Slight hint of vanilla to it as well. But it's all very bland and a little muted and muddled.
Taste is light and watery for the most part, with some wet, flat toffee characters making a strained but lethargic appearance mid palate, and a rather pathetically meek cheer of hops on the finish, giving a reedy aftertaste. Feel is weak.
Really, this is a pretty unpleasant brew, and it was up against Brewfist's other already unpleasant brews. Very unimpressed.
817 characters

3.69
/5
rDev
+14.6%
look: 4 | smell: 3.75 | taste: 3.75 | feel: 3.5 | overall: 3.5
Jale from Brewfist
Beer rating:
3.22
out of
5
with
10
ratings