Fresh Hop IPA - Cluster

Almanac Beer Co.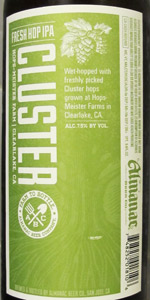 Write a Review
Beer Geek Stats:
| Print Shelf Talker
Style:

ABV:

7.5%

Score:

84

Avg:

3.67

| pDev:

11.72%

Reviews:

11

Ratings:

From:

Avail:

Retired (no longer brewed)

Wants

Gots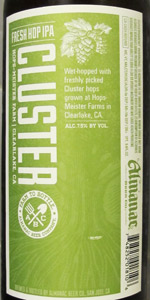 Notes:
Reviews: 11 | Ratings: 62
3.55
/5
rDev
-3.3%
look: 4.25 | smell: 3.5 | taste: 3.25 | feel: 4 | overall: 3.75
From 750 mL bottle to pint glass
A: Yellow-tan in color, clear, a medium pour produces a pillowy, 2-inch head, leaving lacing everywhere.
S: The nose is fairly straightforward, almost simple, with pleasant notes of citrus and grass. Bread-y, grainy sweetness rounds the bouquet with a slight resinous note lingering.
T: The flavors are fairly simple on the palate as well. Clean fresh hop essense at the front, with a citrus-y bend. Toasty malts add grainy balance with a touch of honey sweetness poking through. A earthy, resinous bitterness takes over toward the finish, presumably from the Cluster hop (I don't think I've had these hops as a beer's feature) which leads to a long, bitter finish.
M: Medium-bodied, fairly oily, slick complexion. Ample carbonation helps clean the bitter aftertaste.
A pretty refreshing stab at a West Coast style, but it's not all that remarkable. Cluster hops as they were used in this brew lead to a strangely bitter finish.
966 characters

3.74
/5
rDev
+1.9%
look: 4 | smell: 3.75 | taste: 3.75 | feel: 3.5 | overall: 3.75
A - Nice clarity on a light orange gold body. Creamy off-white head with nice retention and lace.
S - Lemon zest, honey, dandelion, green plant stems, wort.
T - Dusty plant forward profile with honey, arugula, lemon, and caramel.
M - Medium body with par carbonation.
O - Better than the Cascade imho.
305 characters
3.73
/5
rDev
+1.6%
look: 4 | smell: 2.75 | taste: 4 | feel: 4.25 | overall: 4
Served in a footed glass at Ale Arsenal. From notes. Reviewed 24 September 2013.
A: Pale gold. Clear. Creamy head. Heavy lace.
S: Super faint. Earthy.
T: Herbal, spicy, grassy. Big and full. A hint of chocolate? Very English. Pleasant malt base with a hint of fruit at the finish.
M: Full and nice.
O: Great beer. Recommended.
331 characters

3.92
/5
rDev
+6.8%
look: 4.25 | smell: 4 | taste: 3.75 | feel: 4 | overall: 4
Beautiful amber color in the tall maredsous glass with a fine-grained tall foam. Pleasant sudsy mouthfeel. Something like sweet, fresh alfalfa in the aromatics. Aroma is a little piney with plenty of flowery hops.
Big resiny flavors with that slightly murky fresh hop taste. The flavor is rather grassy and herbal, as most of these green cone brews seem to be. But this is quite rich and mellow and overall it's a well-made and highly drinkable beer. The fresh hop seems to be the flavor of the week, but it's an interesting way to learn something about hop flavors. From the 22 oz bottle bought at Bottlecraft in San Diego.
625 characters

3.49
/5
rDev
-4.9%
look: 4 | smell: 3.75 | taste: 3.25 | feel: 3.5 | overall: 3.5
Bottle from MeadMe thanks for the opportunity!
Pours a brilliantly clear medium gold color with a huge bubbly off white head that persists forever and is fed by a constant stream of carb bubbles rising from the bottom of the glass. Aromas of caramel and pine with a woody earthy edge. The flavor is as the aroma promised with a hint of sulfur and earthy tartness added in. Medium body with a moderate to high level of carbonation and a sweet slick bubbly mouthfeel. Decent drinker, nothing objectionable here, but nothing earth shattering either.
546 characters

4.68
/5
rDev
+27.5%
look: 4.5 | smell: 4 | taste: 5 | feel: 5 | overall: 4.75
Poured from a bottle into a tulip glass.
A - Nice, bright orange-copper body with tons of micro bubbles, creating a thick, cushiony head. Fine sea-foam lacing throughout.
S - The smell of the hops is dominant, yet not overpowering by any means. More of a floral hop scent. Grassy and woodsy notes finish off the hop scent. A lighter malt, kind of like honey-wheat bread. Seems like a great balance.
T - The taste is perfect to me. Extremely well-balanced hops and malt, with nothing overpowering the other. The above-mentioned smells permeate the palate, as well as earthiness to a minor degree. The cluster hops are something I am not too used to, but now I want to try more. Just extreme goodness.
M - Great carbonation. The thick foamy head maintain the carbonation throughout and gives a very smooth mouthfeel. Alcohol is evident yet not biting.
O - This has got to be one of my new favorite IPA's I've had in quite some time. Great look, smell, mouthfeel and most importantly - an overall GREAT TASTE. I hope to be able to try some more of it if Almanac decides to brew this in the future. Luckily, I was able to try this one as it was the last one available on the shelf. Will be seeking some more brews that use cluster hops now because of this guy.
1,262 characters
3.84
/5
rDev
+4.6%
look: 4 | smell: 3.75 | taste: 3.75 | feel: 4 | overall: 4
A - pours a bright orange hue with a thin, Lacey head
S - bready, sweet, hints of pine
T - bready, citrus, tinge if bitterness up front and a lasting bitter note on the finish
M - medium bodied with ample carbonation
D - overall a solid beer. The sweetness throws me off a little.
284 characters
3.71
/5
rDev
+1.1%
look: 4.25 | smell: 3.75 | taste: 3.5 | feel: 4 | overall: 3.75
Pours gold with a mild chill haze. Formidable two finger head with retention that lasts throughout the drink, tight lacing.
Aroma is earthy, grassy and a bit of young wood and new shoe smell in there as well. Allows the honey soaked bread malt and spicy nuances come through. Very balanced aroma, a bit dank.
Balanced bready malt with touches of brown sugar, honey and corn meal. Hops are grassy and earthy, mineral tasting medium bitterness follows up with a rising of alcohol. Bitterness is long standing.
Medium body with adequate carbonation. Dries really well and the alcohol is present but not abrasive. Somewhat sticky malt.
The first beer I've had to solely feature this historic hop variety. The balance is great but this hop variety doesn't hit hard enough in aroma or flavor to match the IPAs of today. The Cluster hops remind me alot of hops usually featured in lagers like Saaz and Goldings with their grassy flavor but the long lasting bitterness and drying of the palate really stand out here.
1,013 characters

3.68
/5
rDev
+0.3%
look: 4 | smell: 3.5 | taste: 3.75 | feel: 3.5 | overall: 3.75
Pours amber with a thick, quick fading head. Good lacing. Earthy aroma with some sweet malt notes. Bitter resinous hops hit the palate first followed by faint grass balanced by a sweet malt backbone. Medium bodied with decent carbonation. Overall a great showcase for the Cluster hop!
285 characters

3.78
/5
rDev
+3%
look: 4.25 | smell: 3.75 | taste: 3.75 | feel: 3.75 | overall: 3.75
A: Pours a really beautiful clear amber color with copper highlights. Nice one finger off white head that leaves good lace.
S: I really don't know much about Cluster hops and this is the first time I've ever seen them on their own. Very strange smell. Faint with a distinct hop spiciness and an earthy, almost woody scent. Slightly floral with a tinge of bitterness. Mysterious.
T: Really different here. Opens smooth and creamy with some light almost rye-like hop spiciness and some toasted bread. A touch of floral bitterness before a creamy, almost nutty finish that brings some creamy oak flavors and light pine. Mouthfeel is almost buttery. Had the Cascade last night and I'm gonna say that one was better, but I'm really glad I got to get acquainted with this varietal.
777 characters
4.35
/5
rDev
+18.5%
look: 4 | smell: 4 | taste: 4.5 | feel: 4.5 | overall: 4.5
One week old, poured from 1 pint bomber into a tulip.
Appearance- pours a lovely amber color with a thick creamy white head with lots of lacing.
Smell - earthy, really creamy, with lots of caramelized malts and some vanilla notes.
Taste - initial flavors are toasty malts, caramel and vanilla- very unusual for an IPA. As it leaves the tongue though, you're left with more of the cluster hop bitterness you'd expect. I was drinking this with a chicken and cauliflower curry and it complemented it beautifully.
Mouthfeel - absolutely fantastic- smooth, silky, creamy, feels like velvet as you swill it around your mouth. The feel ends slightly sweet and sticky.
Overall - this is a great advertisement for the cluster hop, although the malt backbone is a big player here too.
Almanac have hit another home run. I've had their Chinook wet hop offering too but this beats it hands down.
Very impressive.
908 characters
Fresh Hop IPA - Cluster from Almanac Beer Co.
Beer rating:
84
out of
100
with
62
ratings