Heurich's Lager

DC Brau Brewing Co.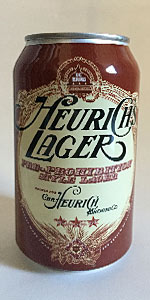 Write a Review
Beer Geek Stats:
| Print Shelf Talker
Style:

ABV:

7%

Score:

Avg:

3.53

| pDev:

14.73%

Reviews:

6

Ratings:

From:

Avail:

Rotating

Wants

Gots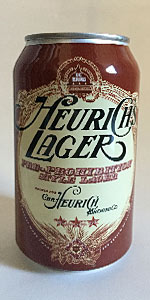 Notes: Heurich's lager is, for all intensive purposes, a traditional pre-prohibition lager. It differs slightly due to the fact that it incorporates flaked rice as well as flaked corn making it almost a hybrid of pre and post prohibition lager styles. Additionally, the lager incorporates 2 row Czech Pilsner, Wheat, and Vienna Malts with Czech Saaz hops and Bavarian Lager yeast.

If you want to enjoy the beer like Christian Heurich did, let the beer warm up well past serving temperature to experience all the nuances that this lager has to offer. If that's not you cup of tea, or beer, then enjoy it in the manner of how most traditional lagers are served, cold and crisp!

This lager has a deep, golden color with brilliant clarity, and attractive lacing created by the lively carbonation. The beer's flavor is one of distinction in which the mild sweetness of the corn is noticeable but plays well with the malt-forward base of this strong lager. A substantial amount of hops are present and identifiable, but not overwhelming. They also contribute a strong level of bitterness to balance the malt character and aromatically give the beer a rustic, herbal note with a mild spice profile.

36 IBU

3.94
/5
rDev
+11.6%
look: 3.5 | smell: 3.75 | taste: 3.5 | feel: 4.25 | overall: 5
I got a late start on NBS (Week 774) & I did not finish up my DelMarVa (+ DC) adventure as planned. 8=( Further, I promised that NBS (Week 775) & now, Week 776, would be dedicated to the wonderful beers sent to me by @jkblr who seems to have a real handle on my drinking habits. CANsparency is key in these things! As a result, I am going to CANcentrate over the next few days on eradicating everything that would have CANbined to form the finale of the DelMarVa (+ DC) adventure. Sit down, strap in & hang on. It's gonna be a wild ride! That last one kind of put me off of Maryland, at least for the moment, so it's time to visit some of the other victims, I mean, honorees.
From the CAN: "Pre-Prohibition Style Lager"; "Brewed for Chr. Heurich Brewing Co."; "Does NOT Contain More Than 7 Per Centum of Alcohol By Volume"; "Serve in Your Favorite Glass or Enjoy From the CAN".
As to the Notes, I despise cold beer! "... [W]ell past serving temperature" is JUST the ticket! No shaking, no inversion, just a Crack! of the vent followed by a slow, gentle C-Line Glug into the awaiting glass. Perfect! It quickly became clear that clarity was not a CANcern so I allowed it to run fairly freely. I was met with two-plus fingers of foamy, soapy, rocky, eggshell-white head with moderate retention. Color was a deeply-hazy/lightly-cloudy Golden-Amber (SRM = > 5, < 7). Nose was quite interesting in that I immediately noted both corn and the grassy, hay-like smell of Saaz hops! 8=O They were not kidding in the Notes! Mouthfeel was medium-to-full, big for a Lager. The taste was somewhere between a Czech Pils and an AAL with the corn & the Saaz hops just going head-to-head throughout. This really hurts, though in rating to Style, as the hops were too assertive & the malt bill getting lost in the forest as a result. 8=( This is the kind of Lager that I would want to see in my beach-bound Summer cooler, but it is a stylistic nightmare. 8=( I usually eschew corn as an adjunct, but here, it worked nicely with the hops plus the malt bill was not overwhelming. Was it really 7%?!? It did NOT drink like it! Finish was semi-dry to dry with a very pleasant, but hoppy, aftertaste. 8=( YMMV.
2,189 characters
3.32
/5
rDev
-5.9%
look: 4 | smell: 3.25 | taste: 3.25 | feel: 3.5 | overall: 3.25
A thanks to the founding father of the canquest, woodychandler, for this beer. Poured from a 12 oz. can. Has a golden color with a 1/2 inch head. Smell is mild, some malts and grains. Taste is grains, lemons, malts, light and easy drinking. Feels medium bodied in the mouth and overall is a decent beer, but not a great example of the style.
341 characters

3.77
/5
rDev
+6.8%
look: 4 | smell: 3.75 | taste: 3.75 | feel: 3.75 | overall: 3.75
Poured from the can into a can glass, and also a Libbey style pilsner. Throwback! 1860DOB03813 on the bottom of the can. Great now we aren't even using standard can dating any more apparently.
In the pils glass, a brassy 14 carat gold body color, more dull looking in the can glass, with excellent rising carbonation, very fine, slight slow creep and then some faster racing towards the top. Real nice existing head for a lager, simple bleach white and at two fingers. Leaves a light creamed puck, thin, and small soaped ring. More whipped and flattened creamy quality but also good staying power.
Aroma is pretty basic, not too exciting, but also hardly faulty or terrible. Light malts and a bit of very faint toast hiding in the background. Clean, not much sticky yeast quality, or heavy sugar sensing. Has a basic classic American lager quality but more subtle and not completely dumbed down. Pretty keeping it safe here.
Palate takes a very interesting turn. There's a very herbal hop sting at first, then followed with some sweet character. Slightly syrupy but also with a real honey and green herb bitterness in the mix. Real mid palate and front forward flavors that are thick, virtually no aftertaste. No crispness, but an almost ale like body that forgoes clean lager finish, for more thicker malt and possible adjunct tones. Eventually repeated sips bring out a VERY noticeable hop bitterness that meets with some honey character, and dextrose like sensing sugars. A bit of strangely boozy warmth in the stomach but not so much in flavor at least.
This is quite an interesting take on a historic ale, It is far more hop forward than I was anticipating. It doesn't remind me so much of clean lager, but far thicker and aggressive. I do enjoy this, but it's also just a bit too sweet for me, but it's a fun brew, totally drinkable, and stands out easily amongst the large mass produced stuff of the same "style".
1,941 characters

3.38
/5
rDev
-4.2%
look: 3.5 | smell: 3.5 | taste: 3.25 | feel: 3.25 | overall: 3.5
32oz brewery filled growler. Pours a clear paler gold color, topped with a frothy covering of bright-white head. This maintains a moderate richness, leaving back a smattering of rich lacing down the sides of the glass. The nose is fresh with a combo of floral, grassy, and spicy notes. A tangy mix of green citrus and sweet bready character sits along the back. The taste has a crisp and zesty bitter bite to it that finishes dry and spicy. The hops are barely holding that bready sweetness back (made even stronger by the alcohol) but manages to just keep the overall flavor profile balanced. The mouthfeel is fuller bodied with a crisp feel on the tongue and then more of a firm creaminess along the back. Alcohol does add some thickness to the body and ends things a bit too much on the warm side. This was interesting. I liked the crisp and spicy mix of German and Czech hops here but the high alcohol cut back on the overall smoothness and drinkability of this. It's definitely still worth a look though, plus it's a cool bit of history as well.
1,054 characters
3.88
/5
rDev
+9.9%
look: 4 | smell: 3.5 | taste: 4 | feel: 4 | overall: 4
Nice historic research and reinterpretation of a local lager. Tasty and stimulating.
Presentation: Growler from DC Brau's NE headquarters. Small dry board with general growler offering notes. Served in a tall pilsner glass.
A - Straw to pale gold pour, assertive frothy head, moderate to small retention with a nice memory ring, and attractive lacing.
S - Soft nose, bready touch with a pleasant hint of lemon and grain on the nose…
T - Sweet initiation, bready notes, sweet lemon with a soft lingering bitter nose over the lager sense with a somewhat grassy touch..
M - Medium body and carbonation, nice lingering texture, with a pretty solid feel.
O - Rather stimulating, this flows very nicely...
Notes: …while nothing that would drive me crazy by style this is surprisingly tasty. Very likable, and something worth celebrating. Nice research and collab story with a rather tasty brew to back it up.
915 characters

3.94
/5
rDev
+11.6%
look: 4 | smell: 3.75 | taste: 4 | feel: 4 | overall: 4
Pours a straw golden yellow, really airy and foamy head sits on the beer for a while.
Smell is earthy, straw, grains, piney hops.
The flavor is a little sweet and spicy at the same time. pepper, straw, grassy. Some bitterness from the hop content.
The mouthfeel was thicker than I expected upon looking at it, but it still finishes crisp. Very refreshing.
Honestly, a very cool idea to work with the family to brew this classic recipe again.
454 characters
Heurich's Lager from DC Brau Brewing Co.
Beer rating:
81
out of
100
with
21
ratings