Holgate Nut Brown Ale
| Holgate Brewhouse / Keatings Hotel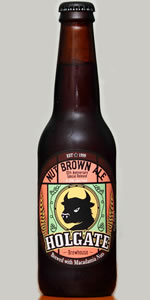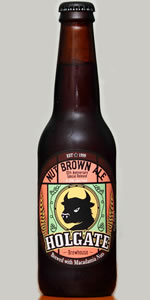 BEER INFO
Brewed by:
Holgate Brewhouse / Keatings Hotel
Australia
holgatebrewhouse.com
Style:
English Brown Ale
Alcohol by volume (ABV):
5.30%
Availability:
Year-round
Notes / Commercial Description:
No notes at this time.
Added by ADZA on 07-05-2009
HISTOGRAM
Ratings: 13 | Reviews: 10
Reviews by dansmcd:

3.68
/5
rDev
-4.4%
look: 4 | smell: 3.5 | taste: 3.75 | feel: 3.5 | overall: 3.75
More User Reviews:
3.77
/5
rDev
-2.1%
look: 3 | smell: 3.5 | taste: 4 | feel: 3.5 | overall: 4
Poured from a 330ml bottle into schooner glass
Appearance: Pours a clear chestnut brown. I under did the head a little and it's dissipated very quickly, halfway through there is no lacing at all.
Smell: Leather, woody, toffee/caramel, xmas pudding.
Taste: Nuts, chocolate and toffee with some spicy dryness.
Mouthfeel: I was expecting a viscous syrupy nut cracking ale, bit thin but not watery the nuttiness and hops add enough to make it interesting to drink but not overly challenging.
Drinkability: Not my preferred Holgate drop, probably not something I could have a big session on but it goes down nicely, a few of these would definitely pair well with soft cheese and quince jelly.
692 characters
3.64
/5
rDev
-5.5%
look: 3 | smell: 4 | taste: 3.5 | feel: 4 | overall: 3.5
Mahogany pour with small creamy head.
Aroma is pretty delightful, with caramel, toffee, toast, chocolate and some nutty notes.
Similar flavours: Toasty, nutty, chocolate grain. Aftertaste is seriously toasty (literally, like "fresh outta the toaster" toast) with hints of roasted coffee. Again, pretty delightful, even if simple.
Low carbonation works well with the style.
Really enjoyed this one, not sure how much the macadamia nuts add, but Holgate are definitely on the right track with this.
496 characters
3.89
/5
rDev
+1%
look: 3 | smell: 4 | taste: 4 | feel: 3.5 | overall: 4
Pours a flat copper red with very low carbonation and little to no head with no retention. Don't think my bottle carbonated properly.
Great smelling nose of honey, roasted coffee and - you guessed it - nuts, or more appropriately "nuttiness". Some hoppy fruitiness in there as well. Really nice.
Great flavour on the palate also. Again, that really roasted nut flavour is present along with chocolate and strong hop flavours of fruit and spice. Good intensity and balance.
Mouthfeel is typically Holgate in that it is full and well balanced. Finishes a little short, but that's a bit of nit-picking. However, it is lacking carbonation in my opinion (which could account for the finish).
Great beer, let down by the carbonation. Isn't the first time with Holgate, which is disappointing as I love their beer. It seems their bottles are either bursting at the seams with gas or totally lacking. Never in between! Oh well, nice beer though!
942 characters

4.1
/5
rDev
+6.5%
look: 4.5 | smell: 4.5 | taste: 4 | feel: 3.5 | overall: 4
Pours a deep cherry red colour with pleasant yellowy beige head, not ridiculously thick but sticking around bloody well. Very small bubbles, almost nitro-dense, with divine sticky lacing.
Rich, sweet but dark smell, kind of jaffa-esque with an espresso roastedness behind it. Some dark cocoa as well, maybe even some Irish cream. Brooding and delicious, I like that smell a lot.
Taste is very nice but a bit of a hodge-podge. Very sweet and toffee on the front, gets more roasted in the middle with hints of burnt cereal grains, barbecued corn and rich cocoa. Slightly metallic hops with moderate phenols on there, while finish is a bit dry for my taste. Rich, burnished toffee and kind of brassy on the back palate.
Pleasant smooth mouthfeel, but a bit watery for the fullness of the flavour. Pleasant, smooth drinking, with a lot of good characters to enjoy here.
868 characters
4.25
/5
rDev
+10.4%
look: 4.5 | smell: 4.5 | taste: 4 | feel: 4 | overall: 4.5
On tap, at the Sydney Local's Beer SpecTapular.
Brilliantly clear dark amber brown, with a fine bubbled head of creamy offwhite bubbles. Excellent lacing, just gorgeous as hell. Awesome really really wonderful looking beer.
Lovely rich roasted grain notes on the nose, lots of dark bread rye caraway and a nutty sweetness lying underneath. Lightly astringent notes of charred hazelnuts.
A really lovely roasty sweetness on the palate just toasty and delicious. It's not terribly complex, but the flavours are really nice. Mouthfeel is rich and slick and shiny. Just wonderful
An excellent beer, with a great drinkability. Has roastiness, character but nothing is overdone. Delicious.
687 characters
3.53
/5
rDev
-8.3%
look: 4 | smell: 3.5 | taste: 3.5 | feel: 3.5 | overall: 3.5
Appearance - Reddish brown, 3 fingers of head with good retention.
Smell - Very sweet malts.
Taste - Plenty of nut flavour both upfront and in the finish. The malts are surprisingly chocolatey, but it is a little too sweet.
Mouthfeel - Fairly light, higher than average carbonation.
Drinkability - Decent.
Overall - A good nut brown ale with some weaknesses.
363 characters
3.73
/5
rDev
-3.1%
look: 4 | smell: 3.5 | taste: 4 | feel: 3.5 | overall: 3.5
This is their special 10th anniversery special release brewed with Macadamia nuts so i was was looking forward to trying this beer and seeing if it was any good as i do like macadamia nuts,it pours a real jet burnt copper colour and on the nose the smell of macadamias is very strong along with a bananna aroma it tastes exactly like a nice brown,nutty ale and has that nice nutty finish aswell definately an interesting beer and i love that in a beer.
452 characters

3.96
/5
rDev
+2.9%
look: 2.5 | smell: 4 | taste: 4 | feel: 4.5 | overall: 4
From Leura Cellars
Pours a brown mahogany. Lovely colour but no head after the initial pour. Zero lacing.
Aromas are sweet and malty with caramels to the fore. Little butterscotch.
Taste is creamy and smooth. Luscious integrated malts intertwine with nuts and caramels.
Mouthfeel silky smooth with low carbonation.
A really good beer. Pleased Holgate rereleased it. Only minus is not cheap...
397 characters

3.56
/5
rDev
-7.5%
look: 4 | smell: 3.5 | taste: 3.5 | feel: 3.75 | overall: 3.5
3.8
/5
rDev
-1.3%
look: 3.5 | smell: 3.5 | taste: 4 | feel: 3.5 | overall: 4
Pours a deep mahogany brown with a thin tan head. Very little by way of head retention or lacing.
Chocolate, nuts and plenty of malt sweetness permeate through the aromas. They are all good but it lacks a little bit of punch.
A nice nutty, chocolatey beer. There is plenty of malt sweetness up front with a good balancing dose of hop bitterness backing it up. On the whole good but lacking in depth and power.
A bit thin and watery with average carbonation. I think this could do with being just a little bit thicker and richer to help accentuate the flavours.
Very drinkable brew with good flavours even if they lack power. A good beer.
641 characters
3.94
/5
rDev
+2.3%
look: 3 | smell: 4 | taste: 4 | feel: 4 | overall: 4
Appearance - 3.0
Pours a finger of cream to beige head that quickly reduced to a thin patchy layer over a clear copper body. No lace.
Smell - 4.0
An appealing aroma of roasted macadamias, caramel and fresh baked malt loaf.
Taste - 4.0
Rich, malty and nutty as a nut brown ale ought to be. I'm not sure if I can actually taste macadamia nuts, or whether my mind is tainted by the knowledge of their presence - regardless, there is an almondy nutiness, rich toasted and slightly roasty malt with a little dried fruit. Finishes dry with a strong punch of steely hop bitterness. Almost too much hops.
Mouthfeel - 4.0
The medium body and fine carbonation couple to give a smooth mouthfeel.
Drinkability - 4.0
A little strong for a session beer, but certainly something I would buy again.
OVERALL - 3.8
One of the best Australian ales I have tried. There aren't many breweries making a nut brown ale in Australia, but drinking this makes me wish there were more. I would prefer less hops, as I like a more traditional brown ale, but I am nitpicking - a very good beer.
1,067 characters
Holgate Nut Brown Ale from Holgate Brewhouse / Keatings Hotel
Beer rating:
3.85
out of
5
with
13
ratings