508 Gastrobrewery
BEER AVG
-
none
Awaiting 10 Ratings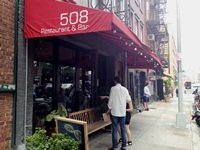 PLACE INFO
Type:
Brewery, Bar, Eatery
508 Greenwich Street
New York
,
New York
, 10013
United States
(212) 219-2444
// CLOSED //
Notes:
No notes at this time.
Added by mcallister on 06-27-2011
Reviews: 12 | Ratings: 20
5
/5
rDev
+14.2%
Gastrobrewery is great! It features live music on most nights with an emphasis on jazz. The decor of the place is well done and the atmosphere is cozy and comfortable. The food, particularly the burger, is delicious. Most importantly the beer, expertly crafted by master brewer Chris Cuzme, offers a diverse selection of creative and tasty flavors. I highly recommend it.
371 characters
4.64
/5
rDev
+5.9%
vibe: 4.75 | quality: 4.5 | service: 5 | selection: 4.25 | food: 5
There seems to be a bit of a dearth of brewpubs in downtown Manhattan, likely because the overhead is so insanely high it prohibits small spots from starting up on a shoestring budget. Enter already established restaurants look to stand out, which is the history that I bet 508 Restaurant & Bar has.
What an elegant spot. Everything from the tables and chairs to the decorations to the lighting was spot on. I'd feel comfortable coming here on a first date or a 20th anniversary, or even by myself with a book, as was the case on this evening. And I'm not alone on the reverence for the vibe; the guy sitting next to me was putting down a deposit on the place for his engagement party.
I'll let some pictures do the talking for the location and move on to the food and booze, both of which I also found fantastic. Torn between homemade pasta and decadent burgers, I went with the latter to provide a better base on which to drink. A sizable chunk of cow comes perfectly cooked on a Portuguese muffin – whatever the hell that is – adorned by… actually… I don't remember. But it was juicy and damned good.
Next to the excellent burger came some obviously hand-battered onion rings. Crisp on the outside with excellent flavor, they embodied my preference in O-ring style, though the breading fell off pretty readily after a single bite.
On to the beer.
I didn't expect much, as this place is a nanobrewery at best. I'm not even sure they produce a barrel at a time. Working on such small equipment, I expected the brews to taste like homebrew. But they didn't. Everything was clear and crisp, and the number of different beers was astounding for the small operation. I think they had ten of their own brews on tap that night.
Since the beers change basically on a nightly basis, I don't know that it makes any sense to talk about my favorites as they likely won't be there should you ever decide to check the place out yourself. But there was one of note – a "donut stout" infused with coffee and perfect for dipping carbohydrates. The keg blew on that one before I got through the sampler, however, so I went with a Belgian dubbel, which was spot-on in my opinion.
Finally, the bartender was awesome. She knew when to chat and when to tend bar, always kept my drinks full, and gave knowledgeable recommendations. She's clearly been at it a long time, both at 508 and other locations. A real pro, which I really appreciate.
2,461 characters
4.45
/5
rDev
+1.6%
vibe: 4 | quality: 4.5 | service: 4.5 | selection: 4.5 | food: 4.5
I've been meaning to come here for a while. They do eclectic brews, and they do them well. For a 2ish barrel system, they seemed to have a lot of variety. Each beer had a unique take on the typical style. I had everything from a drier than normal wheat wine to a coconut and coco cream ale. Beers were perfectly matched to incredible food. Expensive, yes, but well prepared. The appetizers were small, but they were the type you'd enjoy carefully thinking about each bite. Kind of like each sip of beer. Entrees were huge, and the ribs were paired well with charred brussel sprouts and unique mac and cheese. Someone I was with bought the lamb lasagna and really was impressed. When I was there, it was very quiet, which is tough to see on a Wednesday, but I understand that based on the location and the price, not everyone wants to go there mid-week. Finally, I'll tell you the beer was highly original, unpretentious, and the menu had an interesting solid selection. If you don't like beer, they had a full bar as well. But if you didn't like beer, I doubt you'd be on BA.
1,075 characters
4.34
/5
rDev
-0.9%
vibe: 4.25 | quality: 4.25 | service: 4.5 | selection: 4.25 | food: 4.5
The place was located a bit off the beaten path but was quite nice - the place was inviting and would make a great date night place if you are looking to impress that special someone in your life. The lighting was mood appropriate dim and soft while the music was not so loud as to make it difficult to have a conversation. We went fairly late on a Friday night so it was not too busy.
Beers were served at a proper temperature with proper glassware including snifters and chalice. The beers were also poured with a proper amount of head rather than just trying to fill the glass as full as possible of beer.
The staff was very knowledgeable about the beers that were available and knowing that these beers change very regularly, I was impressed - he even asked the person I was with if they knew what they were getting when they ordered a Gose... The service was attentive and quick though the place was not overly busy when we visited. The brewmaster noticed us as total beer geeks when we were there and made a point to stop over our table and chat about the beers/answer any questions we had - seemed really nice.
While there were only six taps available (all beers brewed in house) there was a good representation of different styles and not necessarily styles that you find everywhere - a mild smoked beer, gose, pumpkin saison, scotch ale, and an amber with lychee + lapsang souchong tea.
I found the food to be quite good - we had bbq duck nachos and octopus for appetizers as well as Pat LaFrieda burgers all of which was prepared very well. Definitely upscale food but worth the price.
This place is not cheap - $8 beers and rather expensive entrees and appetizers but the quality of the ingredients used and the preparation is worth it in my opinion. Though a touch on the expensive side, this is a place that would appeal to beer connoisseurs and foodies alike.
===
Vibe: Located near the Holland Tunnel, this place is off the beaten path but worth a visit. The interior looks like a trendy restaurant and has some interesting décor on the wall opposite the bar with lots of books and glasses on counters and shelves.
2,137 characters
4.26
/5
rDev
-2.7%
vibe: 4.25 | quality: 4 | service: 4.5 | selection: 4.25 | food: 4.5
Vibe: Located near the Holland Tunnel, this place is off the beaten path but worth a visit. The interior looks like a trendy restaurant and has some interesting décor on the wall opposite the bar with lots of books and glasses on counters and shelves.
Quality: Beers were served at the proper temperature using a variety of glassware such as snifters.
Service: Our waiter was very knowledgeable about both the menus and the beers and wanted to make sure I knew what I was getting when I ordered a gose beer. The restaurant wasn't that busy so the food and beers arrived rather quickly and the brewmaster even stopped by to introduce himself and talk about the beers.
Selection: Six beers were available on-tap, four of which were very unique (e.g., a gose, a mild smoked beer, an ale with lychee fruit and Lapsang Souchong tea, and a pumpkin ale with pumpkins, squash, herbs and spices)
Food: I tried two appetizers (octopus and roasted duck nachos), both of which had a nice presentation and tasted excellent. The Pat La Frieda burger was also excellent and came with rosemary fries.
Value: Both the food and beers were pricy, but were of high quality and seemed well worth the prices. The menu will satisfy both beer and food connoisseurs alike.
1,253 characters
4.45
/5
rDev
+1.6%
vibe: 4 | quality: 4.5 | service: 5 | selection: 4 | food: 4.5
After walking around the West Village of lower NYC and looking for someplace interesting to have a beer after work, I walked by a few notables and found they were packed on an early and cold Saturday night. Checking the BA, I remembered the 508 from a listing at ICE-Institute of Culinary Education and turned south from the Spotted Pig and headed to Spring Street.
Among a desolate stretch of Federal and industrial buildings, the 508 stood out like a red beacon in the fog, with a couple faux Irish bars in the vicinity. Once inside, warmth of the modern and alternative design clearly welcomed me in amongst the lightly crowded bar, though the dining room was full.
The menu of beer wss clearly of their own design and brew, nor did I see anything else. Going with their list, I choose the Stout, which the bartender (Rachel) suggested. It was a good session style ale with nuances on the lighter side. Then I tried the Saison, which I loved, and then I met the new brewmaster, Chris, who recognized me from my beer group on LI.
We talked about his new tenure at 508 and he showed me some of the new things he was working on. An impressive IPA and exceptional Dubbel will be coming up to their tap lines soon and had the honor of tasting both.
As we parted ways and he had brewing to do, I had a great burger there, which was apparently a short rib derived burger and of exceptional taste. The crispy fries paired with the plate were also exceptional.
In review, the 508 only serves the beer it creates and it's lively character is very inviting. I look forward to returning.
1,586 characters
3.83
/5
rDev
-12.6%
vibe: 2.5 | quality: 4 | service: 4.5 | selection: 3 | food: 5
Heard about the "other" brewpub in town and I immediately hoped this one would be good since Heartland in NYC is such an epic fail...
This place is a little strange. Located in Greenwich, the atmosphere is almost an awkward combination of dive bar and upscale eatery. Decent bar area but overall its pretty small. Restaraunt seating area is nice and formal but the decor and surrounding furniture is divey.
Quality of the food and beer is pretty solid. Great presentation of the food although the correct glassware isn't always used for the beer. Also, even though they're a brewpub, their wine list far outpaces their beer list.
Service was pretty good. Our waiter was attentive, funny and fast. Truth be told, they have too many servers for such a tiny space.
Selection is average for a brewpub. Their brewing system is in the basement and to be honest, most of their offerings are pretty good. Their house yeast imparts a bit of an odd soapy flavor but the beer is, for the most part, well crafted.
Food is amazing. We got the empanadas, lobster mac & cheese, short rib sliders, and italian sausage pizza. Everything was amazing though at the end of the night, we were still hungry.
I'd definitely recommend this place as it is a gem in Manhattan. Decent brewpubs are very few and far between in NYC and I expect to pay a premium when it comes to good on-premise made beer. That being said, I'd definitely come back for the beer but not the food. Even though its great, the $24 for a individual size lobster mac & cheese, the $13 for 2 small empanadas, and the $12 for 2 short rib sliders is outrageous.
1,618 characters
4.23
/5
rDev
-3.4%
vibe: 4.5 | quality: 4 | service: 4.5 | selection: 4 | food: 4.5
On the radar a while but still hadn't seen, it is geographically down & out there, you know? Spun from the Tiger to 7th Ave, and then struggled down Varick, across Canal (being most careful not to get sucked into the whirlpool of Holland Tunnel traffic), onto uptown Greenwich, and parked just across the street. Saturday late afternoon after opening...
Red strung bulb lined awning over a sit & wait bench curbside, fronting the accordion vertical glass front wall of glass. And in, though a curtain wrapped front vestibule to a single room, narrow and deepish. Black block tile floorings, a light painted ceiling with center spinnys, spots pointed this way and that, and drop single bulb baby spots with origami paper swans entwined over the bar.
Walls of wood plank, concrete, & brick. Long horizontal triptych panel mirrored piece on the far wall over books & pieces, and candle lined above the seating there. Shelving inlayed brick archings on both ends, holding bottles, glassware, & books. Another of those panel mirror pieces on the opposite wall, down past the bar, and wall mounted candlings about.
Laminate over something of a honeycomb pale greenish bar to the right; an 'L' with a baker's dozen shorty backed chairs. Barback is a stripped concrete wall with a center flatscreen. Slight glow lit shelving holding booze to both sides and running 2 tiered, much of the length of the stainless steel counter below, and glassware of all sizes & shapes shelved down under. Vertical 508 beer board to the left listing draft & bottled selections with ABV's, and East & West $1 oysters. And there's a growing collection of drawings, writings, scribblings, & receipts of crazy pasted alongside that board. 6 tap tower off the bar with logo handles, and wines stacked a bit further down the way.
Hightop table for a dozen to the rear, and some 2 dozen small 2-seat tables pushed together as necessary for any more than, you know, 2; most of them running the length along the far wall below brick and stripped concrete; plus a handful more up front in the windows and tucked past the bar. Small glass candles line the bar and tables throughout.
6 beers on tap, dealt on a pricey $16 sampler (Lil' Bitter Session IPA, 4.4%, hoppy, crisp, floral, good bitterness; Summer Saison, 5.4%, dry, slightly spicy, as it should be, solid; French Farmhouse, 5.5%, soapy, perfumey floral, a bit spicy; Nut Brown Ale, 5.6%, toffee, nutty, caramel; Kristalweizen, 5.3%, spritzy, citrus, tart; Cluster Common, 5.8%, dry, floral, quite nice). Summer Saison, Nut Brown Ale, & Cluster Common were the best of 'em.
And 7 house bottles (Montezuma Imperial Stout, American Strong Ale, Amber Trippel, Weizenbock, Greenwich Gueuze, Sour Dark Ale, Porter). We split a bottle of the Gueuze, tart, crisp, bright, a bit acidic, refreshing, it was a very nice Gueuze, That shit should be on tap. And now a bottle of the Sour Dark Ale, as we had it sold on us. Yep, that's a sour something, all right. Musky, and a little funky, tart, didn't love. The Gueuze was the better of the two. They've also got a dozen+ wines by the glass (white, red, sparkling, dessert), although there are 100+ bottles, and a dozen house cocktails.
The place was dead and I mean dead empty when we got here; now it's a hassle to get a table, but upon Bethy's arrival, we are seated. Started with a few apps for the table; roasted duck empanadas app (with red pepper cilantro sour cream), Greek Mezza Platter (hummus, babaganoush, tzatziki, greek olives, pita), and the 'Double Diablo' (spicy deviled eggs with beer battered jalapeno stuffed fried oysters, bacon crumbles, horseradish aioli). Empanadas rocked, and the hummus was win (smoked paprika love), and the tzatziki didn't suck. And I will be having the 10oz Pat La Frieda shortrib burger. Burger with L, T, & O, and my choice of chee, which will be ched, on a Portugese muffin. Sure, I'll pay a $1 for bacon more; who wouldn't? It was a serious burger.
Revisited, and parked again right across the street due to awesomeness, mine. Found a different set of 6 beers up (Chinook Witbier, 5.4%, fresh hop, citrusy, crisp, coriander nose; Simcoe Common, 5.8%, fresh hop, grapefruit, a bit of medicinal alcohol; Amarillo Saison, 6.3%, fresh hop, boozy, orangey citrus; Belgian Golden Strong, 8.6%, big, candy sugar, a nice beer; Parting Glass Belgian Dubbel, 8.5%, roasty, a toffee sweety; Old Newark Ale, 5.5%, dry, a bit phenolic, maybe). The Belgian Golden Strong & Parting Glass Belgian Dubbel were the best of this round.
And I'll lunch with the roasted duck pasta, with pine nuts, spinach, pancetta & olive oil over a spinach & egg fettucini, but please hold the evil disgusting brussel sprouts, thank you. It was one savory dish, real tasty; the duck & pancetta dance, and I love pine nuts, I just do. It all worked real well, yes, it had the good on.
Cool scene in a corner of downtown I don't see often ever. Comfortable, very good food, and they're making some nice beers too.
5,040 characters

4.2
/5
rDev
-4.1%
vibe: 4.5 | quality: 4.5 | service: 4.5 | selection: 3.5 | food: 4
Who knew this place existed? Very nice atmosphere in a building off the beaten path, I was shocked when they told me that they have been around for 4 years. I enjoyed a flyte of beer, six in all, and really enjoyed 5 of them, the other being too strong for my taste at 8.8 percent abv. The atmosphere was really nice-trending towards upscale but not snobby. Service was very good and the selection was good, with only microbrews in bottle (a good selection) and their house beers. Food was excellent. As Arnold the terminator once said, and the Beatles once sang, "I'll be back".
579 characters
4.2
/5
rDev
-4.1%
vibe: 4.5 | quality: 4.5 | service: 4 | selection: 4 | food: 4
Let's see, non descript location.. CHECK, Quite Sunday night, CHECK, craft beer made on site, CHECK, Relative wine list and knowledgeable staff CHECK, tea candles peppering the intimate space CHECK, let's CHECK IT OUT!
Had my eye on this place being a bit of a beer fan, but I was also more than happily surprised by the food items and wine. The beer list is done real nicely representing several styles that are made on the premises. The Montezuma Imperial Stout was particularly great on a cold night when I was visiting.
The place also has a real nice romantic setting when it was sparsely attended during my visit. Tea candles fluttered not just on tables, but at the bar, on nearby book shelves and so forth. I missed the $1 dollar oysters at the bar unfortunatly but there are plenty of others things to enjoy.
Double Diablo deviled eggs oysters with Jalapeno are done real well. The Jalapeno is just the right amout of heat, and not too acidic either, melding with some crisp bacon and some oyster underneath. Highly recommend the "Panzenella" cucumber salad, a great marriage of all the ingredients. Too often I get feta cucumbered salads that just don't cut it, this one.. shines.
I went for the Pork, nice and pink and warm throughout, glistening with jeweled fat. Side sweet potato was not too sweet or maple sugary either, the house Lavendar and Lamb pasta is extremely rich. It's tasty, and my partner was enjoying it, she felt the pea shoots though should have just been perhaps placed on top raw instead of served within the dish. It did make it look a little un-appetizing in appearance as you pull you fork and there is string all about. The gnochi though is perfectly done.
Even the simple green tea ice cream is a perfect palate cleanser and a good way to finish the meal off. Service is solid, unpretentious, well dressed in appearance, and knowledgeable about what is being served.
This is a great place and there's plenty to explore here. I'd go back for many things just to try them.
2,012 characters
4.78
/5
rDev
+9.1%
vibe: 4.5 | quality: 5 | service: 5 | selection: 4.5 | food: 4.5
I happened to be staying at a hotel a few blocks from 508, and couldn't turn down the opportunity to try a new brewpub. All I can say, is what a find. I'm shocked at it's rather low profile on BA. Maybe it's because 508 doesn't bludgeon you with the fact that there's a brewery in the basement. It's not afraid of cocktails, and contemporary ambiance.
It's the type of place I'd want people to discover craft beer. Not from one or two interesting taps at the end of a row of mass produced alcohol, but where high quality beer is set equally among other high quality drinks, and paired with high quality food.
At 6pm on a Friday, 508 was uncrowded, and suitably lo key for some relaxing drinks and apps. The decor is modernist, and yet feels very warm. There were six house taps, and a number of 508 beers in bottles.
Our lovely bartender was highly knowledgeable, and delighted to have beer fans sitting at her bar. She cheered our choices, and went out of her way to provide water when we transitioned from stouts/porters to IPAs.
The beers are robust, interesting, and contemporary using Sorachi Ace, Citra, and other hops to create beers that are stylistically appropriate, west coast in spirit, but hardly a shallow NYC based imitation.
The only negatives I can find are with beer prices. $8 drafts, and $9 - 12.50 seem on the high side. Although, the 12.50 was for a 9+% imperial stout with an absurd abundance of coffee and espresso. That was fair. It would easily get $8 - 10 in a Boston bottle shop.
1,513 characters

4.22
/5
rDev
-3.7%
vibe: 4.5 | quality: 4 | service: 4 | selection: 4.5 | food: 4.5
I had never heard of 508 until a fellow user posted about it on the BA forum. This restaurant and bar has been around for a while (a couple of years), but only now (as of June 2011) did the owners turn it into in a so-called "gastrobrewery", with eight house beers brewed on premises.
I decided to check it out and ventured there on a very quiet Monday evening at around 6pm. That area of SoHo (west of 6th Avenue and past the traffic-clogged access to Holland Tunnel) is like a desert island equipped with gold-lacquered bathrooms, if you know what I mean. Neighbors and beer nerds are the only ones who could possibly know about this place- this ain't a 'hood where you just happen to be strolling!
Pretty much empty when I went in, the joint started to pick up steam after seven. The 508 looks good, sort of urban-chic or something that you'd see in a decor magazine. Music was chill and never loud, something I appreciate. Dim lights and overall a cozy ambience.
Bartender was friendly but still unfamiliar with the new beers, so I got the Lager instead of the IPA I ordered. Not a bad mistake, though, as the Lager is an outstanding brew and I also got it off the bill. Thank you.
Food menu looks very good, with an emphasis on handmade pastas and a mixture of "Nuevo Latino" fare (ceviche, octopus, croquetas) and meat-heavy entrees (a short-rib burger that looks yummy). I had an incredibly delicious serrano-ham-and-blue-cheese flatbread, super thin and with an unforgettable rosemary aroma.
I do find the food to be too expensive. $25 pastas? For that price, you could eat a world-class pasta at one of NYC's best restaurants...
BEER! Here is the scoop... right now there are eight brews, four on tap and four on bottles. Check out beermenus.com or 508's website for details, but I do recommend the bottled Lager. Also tried the 508 Strong Ale, which is good but too boozy. There are two additional lines for upcoming draughts and at least one more bottled beer (508 Belgian) that was not available yet when I visited.
All beers are brewed at the restaurant, downstairs from the bar, by Chef and Brewer Anderson Sant'Anna de Lima. This makes 508 only the second brewpub to create beer in Manhattan (after Chelsea Brewing, and not counting Heartland because their suds come from Brooklyn).
Their website lists all beers as being $7, which I find reasonable, but they are actually $8 (tap) and $9 (bottle). Not so reasonable, even though the bottles are 16 ounces.
One beer and one flatbread pizza ran me almost thirty dollars. Not a cheap place by any means.
The owner's wife saw me writing notes and introduced herself. You can tell they're eager to please and get the word on their little "gastrobrewery" out. They deserve success, and I will go back despite the priciness.
2,799 characters
508 Gastrobrewery in New York, NY
4.07
out of
5
based on
0
ratings.