Barrel Aged Dystopia
| Greenbush Brewing Company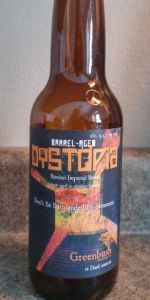 BEER INFO
Brewed by:
Greenbush Brewing Company
Michigan
,
United States
greenbushbrewing.com
Style:
Russian Imperial Stout
Alcohol by volume (ABV):
9.50%
Availability:
Rotating
Notes / Commercial Description:
Aged in Journeyman Distillery whiskey barrels.
Added by atoulouk on 07-21-2013
Reviews: 13 | Ratings: 100

3.88
/5
rDev
-2.3%
look: 3.75 | smell: 3.75 | taste: 4 | feel: 3.5 | overall: 4
Poured 12oz bottle into snifter. Color is brown/black with a thin tan head. Head doesn't last long and forms a thin ring around the glass that stays until the end.Mild bourbon smell, with oak, vanilla and some chocolate. The taste is a a bit of bourbon and vanilla along with some light oak char. Other notes of bitter chocolate with roasted malt. Mouthfeel is medium but there is a chewiness to it. Carbonation is lower due to aging. This was a nice BB RIS.
459 characters

4.04
/5
rDev
+1.8%
look: 4 | smell: 3.75 | taste: 4.25 | feel: 4 | overall: 4
Pitch black with off-white lacing. Nose is hot, harsh with some strong stout backbone. The taste is fairly smooth with some good bourbon notes. Finish is enjoyable. Overall a very solid beer.
195 characters

3.86
/5
rDev
-2.8%
look: 4.25 | smell: 3.75 | taste: 3.75 | feel: 4 | overall: 4
very heavy on the bourbon flavor in both the nose and taste, almost to the point of dominating all the other flavors, very faint notes of chocolate in the taste. Nice and thick in the mouthfeel thou..a solid BA Stout..not the best, but not the worst either
256 characters
3.96
/5
rDev
-0.3%
look: 4 | smell: 4.25 | taste: 3.75 | feel: 4 | overall: 4
Bottle #5 from the Advent Calendar, bottled on 9.11.14 and enjoyed from a snifter
The whiskey is strong with this one. BA Dystopia pours a cola brown with almost no head, only a thin khaki ring at the edge of the glass. Whiskey and straight alcohol dominate the nose, but there are nice notes of oak, vanilla, char, and chocolate. Taste is heavy on roasted malts, straight whiskey, wood shavings, and chocolate. The finish is very bitter. Mouthfeel is light and creamy.
Overall, I think this is a nice BA stout that manages to taste much bigger than its 9.5% ABV. The heavy whiskey and wood presence was a bit much for me, but the nose is great and I can appreciate the flavor profile Greenbush is aiming for here.
716 characters
4.36
/5
rDev
+9.8%
look: 4.25 | smell: 4.5 | taste: 4.5 | feel: 3.75 | overall: 4.25
Appearance - The beer was a deep black color with a generous mocha color head. Some lacing was left on the sides of the glass.
Smell - The whiskey comes through in the aroma, but it is not overpowering. Dark fruits and coffee notes are also present.
Taste - On the initial taste, I note the sweet malts. The sweetness is warmed with whiskey notes that are mild and pleasant. With the whiskey comes dark fruits (particularly raisins), milk chocolate, and a modest amount of coffee. The dark fruit notes linger in the aftertaste, paralleling the whiskey notes. There is no burn from the whiskey. In fact, the whiskey notes are close to perfect.
Mouthfeel - When presented with a Russian Imperial Stout, I think of motor oil. Dystopia has a level of thickness more appropriate for a black ale or porter. Regrettably, the taste does not coat the tongue and linger.
Overall - I have yet to be overwhelmed by a Greenbush offering. This barrel aged Russian Imperial Stout is pretty solid.
986 characters

4.31
/5
rDev
+8.6%
look: 4 | smell: 4.25 | taste: 4.5 | feel: 4 | overall: 4.25
Thanks jas44678 for the bottle...
Poured into a mini snifter. ..
Pours a tad thin black brown color that lets some light in around the edges. 1in head thats burnt brown sugar in color. Went away fairly quickly which left a ring that was super thin, almost non existent by the end. Very sparse lacing but the brew has some legs on her. Constant bubbling initially which gave me the perfect chance to smell...
Man... I got some good dark fruit and cherry up front.. really dark cherry followed by the typical ris smells of liquorice, anise, dark bitter chocolate. Midway thru a nice whiskey scent is picked up.. this is more prominent as it warms.
Wow.. what a beautiful meld of a ris and a whiskey barrel. Whiskey tends to be strong and boozy and this one has some characteristics but this bad boy is smooth as he'll. Tastes like a beautifully crafted ris in whiskey barrels. The base beer is very good but the dance it has with the whiskey is like none other. Your reminded of it upfront, midway and in the aftertaste. Classic ris taste with a toasty malt. Liquorice and really really bitter chocolate. Dark fruits, dark bread, slight vanilla taste...
A tad thin on the pour and was reflected in the feel. Not overly, but nice and creamy. Medium to heavy in feel. Not sticky.. can seem a bit sweet but trust me the bitter is well matched and the whiskey kills all sugary sweet thoughts. Carbonation is right in between a lot and a little.
Overall was very impressed with this brew. I wanted to save it for a bottle share as its a small brewery one off essentially. Kind of mad I didn't cause this was a treat and others would of enjoyed it. A really solid base beer matched with perfect barrel character imo.. perfect timing and an excellent balance. This hit the spot big time.
1,784 characters

3.79
/5
rDev
-4.5%
look: 4.25 | smell: 4 | taste: 3.75 | feel: 3.75 | overall: 3.5
Thanks to TheSevenDuffs for the bottle
Jet black, 1.5 fingers tan head, good lace. Smell is of barrel and oak, roast malt up front with chocolate, coffee and vanilla points, a bit of bourbon comes out but more of an oak presence. Taste is well roasted, smoke and some deep char, whisky and oak, dark fruit with chocolate and anise. Light-med carb, medium body. Not bad, but not a stand out for the style, still fairly drinkable.
429 characters
3.54
/5
rDev
-10.8%
look: 3.75 | smell: 3.5 | taste: 3.5 | feel: 3.75 | overall: 3.5
Thanks to GRG1313 for sharing this one at his tasting.
Pours an almost opaque super dark brown with a foamy dark khaki head that settles to a partial film on top of the beer. Small streaks of lace form around the glass on the drink down. Smell is of dark roasted malt, cocoa, bourbon, and wood aromas. Taste is much the same with cocoa and char flavors on the finish. There is a mild amount of roast and wood bitterness on the palate with each sip. This beer has a lower level of carbonation with a slightly crisp and medium bodied mouthfeel. Overall, this is a pretty good beer with a barrel aged presence that is somewhat subdued.
636 characters
3.47
/5
rDev
-12.6%
look: 3.5 | smell: 4 | taste: 3.5 | feel: 3 | overall: 3
12 oz. bottle poured into a snifter.
Appearance - Black with a big khaki head. Medium collar. A few islands.
Smell - Huge whiskey aroma. Buckets of liquor. Slight vanilla. More just whiskey. Some fruitiness.
Taste - Strong whiskey again. Fruity malt flavor. Chocolate. Muted by caramel malt. Boozy, but mostly barrel heat.
Mouthfeel - Medium high carbonation. Barrel booze. Medium body.
Overall - A ton of whiskey. Too much.
429 characters
3.77
/5
rDev
-5%
look: 4 | smell: 3.75 | taste: 3.75 | feel: 3.75 | overall: 3.75
2013 Vintage poured in to snifter.
A - Black with one finger of light brown head.
S - Roast, charred oak and whiskey notes up front with hints of vanilla and cocoa.
T - Big charred oak presence with whiskey and sweet vanilla notes. The base beer adds hints of chocolate fudge and molasses, but the barrel definitely dominates this one.
M - Medium to full body. Creamy. Light carbonation.
393 characters

4.04
/5
rDev
+1.8%
look: 4.25 | smell: 4 | taste: 4 | feel: 4.25 | overall: 4
12oz bottle poured into a 18oz Funky Buddha snifter. Thanks Matt (Phishisphunk) for the bottle.
A- Pours an opaque jet black with a thick creamy mocha brown coffee head that has excellent retention and slowly recedes to a thin layer coating the glass fully in lacing that clings. Decent carbonation with a nice consistency.
S- Licorice, cream, dark chocolates, some oak, a hint of smokiness. Fairly aromatic with an interesting, decently complex aroma.
T- Black licorice, lactose sugars and cream, bitter dark chocolate (comes out more as it warms) with a little bit of cocoa powder, light smokiness, finishes with a tiny bit more smokiness, slight presence of dark fruits, and some light integrated bourbon. Creaminess lingers as an aftertaste. Not my favorite barrel-aged stout, would have liked a little bit more cocoa, but a nice complexity with lots of well balanced flavors coming out.
M- Thick, almost shake-like, nice carbonation, easy drinking but definitely a sipper.
O- This was a decent stout, like I said in the taste comments not my favorite, but it had a nice complexity with a nice thick mouthfeel that went well with the beer. I don't know if I'd seek this out, but it was definitely a nice beer to try.
1,225 characters

4.59
/5
rDev
+15.6%
look: 4.5 | smell: 4.25 | taste: 4.75 | feel: 4.5 | overall: 4.75
Thanks to my buddy Chris for picking up this bottle from the brewery. Poured at cellar temperature from a 12 oz. bottle into my bell's tulip. Writing this review as I drink it
A: Pours a very dense, opaque blackness with a decent thick creamy tan head. About 15 minutes into this beer and there is still a decent head
S: roasted malt, caramel, molasses, brown sugar, and of course lots of nice whiskey
T: nice malty sweetness up front with molasses and a hint of coffee. a good boozy finish but not over the top
M: a bit thinner than other imperial stouts that I enjoy, with a medium body. Also a bit more carbonated than I prefer, but neither of these detracted from my enjoyment.
O: I have enjoyed watching Greenbush from their beginnings. I haven't had a single beer from them that I haven't enjoyed, and many of their beers more than that. This is a perfect example of what they are capable of brewing. Other than being a bit more carbonated and having just a slightly thin mouth feel, I thought that this was an amazing beer. Wish I had another bottle to put down for awhile
1,084 characters
4.67
/5
rDev
+17.6%
look: 4.5 | smell: 4.25 | taste: 5 | feel: 4.25 | overall: 4.75
Poured from a 12oz bottle into Night Shift Tulip Glass. This beer is Greenbush's Dystopia RIS barrel aged in whiskey barrels from Journeyman Distillery which is not far from Greenbush.
A: Pours jet-black into the glass leaving a thin deep brown head. Pours like an RIS should, silky smooth but not as viscous as an American Imperial stout, the head stays for longer than expected.
S: The whiskey barrels are certainly the headliner here, semi-sweet but drier than many BA stouts. The oak from the barrels is present as well as a nice toffee. I'm not picking up much from the RIS other than a faint roasty nose that has a nice smokiness to it, would liked for the nose to be a little more balanced and let the smell of the base beer come out.
T: Wow. This beer is balanced. I'd put it right up there with BB Pt5 and Silva stouts as the examples of perfectly blending the whiskey/bourbon flavor with a great stout. The bourbon is present initially, bringing a nice sweetness but its not over the top sweet. The notes I get are oak and toffee as in the nose. The RIS comes forward now with a very strong roasty character, almost smoky. As the beer lingers on my palate the whiskey comes back again with a nice warming kick but not boozy. Very nice balance.
M: This is in line with a traditional RIS, smooth silk without a huge body and a little more carbonation than other BA imperial stouts. My personal taste would prefer something a little more rich, thick and viscous. Again on the back of the palate you can feel the 9.5% without tasting it, really well done there.
O: This is an incredible beer from a really up and coming brewery. There is just something about a really well balanced BA stout that is impressive and this one is very impressive. Just below BB Pt5 in my book as the body of the beer left just a little to be desired, but the flavors of this beer are spot on. Well done Greenbush.
1,914 characters
Barrel Aged Dystopia from Greenbush Brewing Company
3.97
out of
5
based on
100
ratings.