Gwiniz Du

Brasserie Britt de Bretagne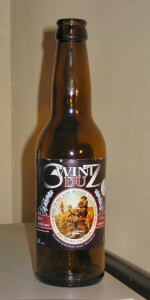 Write a Review
Beer Geek Stats:
| Print Shelf Talker
Style:

ABV:

5.4%

Score:

Avg:

3.73

| pDev:

10.46%

Reviews:

15

Ratings:

From:

Avail:

Year-round

Wants

Gots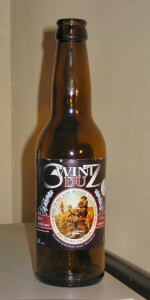 Notes:

The_Bujon from Ireland
3.6
/5
rDev
-3.5%
look: 3.5 | smell: 3.5 | taste: 3.75 | feel: 3.5 | overall: 3.5
Pours a hazy copper body, head white and foamy in nature, quickly dissipates.
Aroma is quite fruity, mainly ripe plum. There is a touch of sour/vinegar wafting through too, not unpleasant.
Taste is pretty nice, the plum is the main thing hitting me, and leaves a sweet aftertaste.
Feel is a touch on the artificial side, you sense the sweeteners and perhaps just a hint too much effervescence for this kind of beer.
Overall not bad at all, it isn't an American Dark Wheat Ale, more of a French farmhouse ale.
Aug 15, 2017
benfons from Belgium
2.99
/5
rDev
-19.8%
look: 3.75 | smell: 4 | taste: 2.5 | feel: 2.5 | overall: 2.75
A: clear, dark amber colour, big light brown head, lots bubbles rising up from the bottom, almost no lacing
S: loads of malts, hints of chocolate, honey, orange peel and granny smith apples
T: doesn't deliver on the aroma, some roasted malts, some hints of red fruit, but all rather flat
M: too thin, undercarbonated
O: lots of promises, but in total a sub-par beer
Apr 23, 2014
IPA35 from Netherlands
3.83
/5
rDev
+2.7%
look: 3.5 | smell: 3.5 | taste: 4 | feel: 3.75 | overall: 4
A hazy amber beer with lots of visible carbonation. A large white head with big bubbles, settles quickly.
A big wham of doughy malts in this one. Appearantly buckwheat is used in this one but I have no clue what that smells like.
Caramel, citrus zest.
Unexpected flavour, pretty fruity with a nice spiciness to it.
Not really dark fruits, nor light fruits. More like middle of the road red fruits.
Doughy malts and a certain tartness.
The mouthfeel is light to medium with plenty of carbonation.
Overall a nice beer. Would drink again.
Aug 12, 2013
Mar02x from Netherlands
3.53
/5
rDev
-5.4%
look: 4 | smell: 3.5 | taste: 3.5 | feel: 3.5 | overall: 3.5
I got this bottle from my mother in law. Yes people there good ones out there. For one reason or another I left it on the shelf for about a year and a half. Lets hope its still good.
A - A nice inviting beer thats for sure. A nice off white cap that slowly retracts. The beer itself is brown red colored, slightly hazy and with just a tiny amount of carbonation bubbles running to the top.
S - Citrus, pine, wood, yeast and some hints of alcohol. Overall is promising, inviting you to take a sip. And this one is right out of the fridge.
T - Overall its good balanced, its got bitterness, its got sweetness, its got spices, its got sourness and saltiness., but its all a bit thin.
M - A bit to much carbonation for the taste. Slightly sticky in your mouth with no alcohol to be detected.
O - A nice refreshing beer, a bit thin in body but it has good flavor.
Oct 01, 2011
rtepiak from Poland
4.15
/5
rDev
+11.3%
look: 4 | smell: 4 | taste: 4 | feel: 4.5 | overall: 4.5
a great deproef style primitive but an american wheat and completely without category. Pour is dark orange amber with a smaller white head. Nose of funk that i'm associating with curdling honey. Palate is that... A floral note of funk... Mild carbination. Hint of bitter orange peel but not bittering. Finish is brisk. Pollen and plum. Broad drink for abv... Fantastic for lamb, parsley, and brie.
Aug 15, 2011
ruppert2p from Ohio
3.81
/5
rDev
+2.1%
look: 4 | smell: 3 | taste: 4 | feel: 4.5 | overall: 4
Drunk on a picnic at a layby in Brittany France and poured into a plastic cup. The beer is a warm amber color with a tight head of buff-colored bubbles. Sweet malt dominates the nose (think digestive crackers). The flavor is also dominated by rich, bready malt which is joined by warming alcohol in the finish. Gwiniz Du paired nicely with a Babybel cheese and an apple.
Jun 15, 2011
John_M from Oregon
3.62
/5
rDev
-2.9%
look: 4 | smell: 4.5 | taste: 3.5 | feel: 3 | overall: 3
On tap at Max's today. Not really sure the style description on BA for this beer, but I guess it makes as much sense as what the beer menu at Max's says (french buckwheat ale?). In any event...
The beer pours an orange amber color with good head retention and lacing. The nose is pretty interesting in this one, with a complex aroma profile of orange citrus, funk, light clove and some honey. OK. Color me impressed so far. On the palate, however, everything sort of falls apart. The beer is light and kind of watery, and is dominated by the barnyard funk. Otherwise, there's some very light citrus, as well as some "wheatiness." It's OK, but given how great this beer smelled, I'm a bit disappointed. Mouthfeel is light and kind of watery, with a barnyard funk finish (something I'm liking less and less). Drinkability is OK, but the beer is kind of watery, and the funk flavor is just a bit too pronounced.
Mehhhh.... not a bad beer, but not something I want to revisit any time soon.
Jan 08, 2011
nokes from Canada (ON)
3.65
/5
rDev
-2.1%
look: 4 | smell: 4 | taste: 3.5 | feel: 3.5 | overall: 3.5
Poured into a pint glass, beautiful red/gold colour with light tan bubbly head. The head dissipates quickly, and didn't leave much by way of lacing. Gorgeous colour, the sediment clouded things up a bit (oops...not very careful pouring), which is fine, but I wish the head would have stuck around a little better.
Smells nice...fruity with sweet malts and some spices.
Taste is good, but not as good as I thought it would be from the smells. And it's a bit of an odd duck. Spicy, and tangy too; light yet with dark fruit heaviness. For all that, it somehow seems a bit unsure of where it wants to be rather than balanced like one might imagine it could be. Good, interesting, certainly worth trying, but not memorable.
Mouthfeel is a bit thin for my liking; I think I like the level of carbonation, but again, it's hard to pin this one down, so I was never quite sure.
Drinkability...no problem. It's here, then gone. Easy to drink...just not sure I want to drink another. Not sure I don't, though, either. I'm a bit ambivalent.
Mar 16, 2010
brc from Michigan
3.93
/5
rDev
+5.4%
look: 4.5 | smell: 4 | taste: 4 | feel: 3 | overall: 4
Poured from 75cl bottle into tulip. Copper or orange color with a generous light tan head, leaves great lacing.
Smells like orange zest, other herbal and floral notes.
Tastes bready or biscuty upfront. A herbal hop flavor blossoms as you taste it, though not bitter. A hint of coriander spiciness in the finish.
Medium mouthfeel, effervescent carbonation.
Easy drinking. More like a Belgian Wit or Bell's Oberon than the other blé noir beers of Brittany.
Apr 30, 2009

thierrynantes from France
3.95
/5
rDev
+5.9%
look: 4 | smell: 4 | taste: 4 | feel: 3.5 | overall: 4
Beer bottle (33cl), tasted in 2003.
Appearance : dark color, with white foam head
Smell : buckwheat, caramel
Taste and mouthfeel : smooth and creamy, notes of caramel, coffee
Drinkability : a good beer in the style buckwheat beer, brewered by Britt in Britany (France)
Mar 14, 2008
Absumaster from Netherlands
3.7
/5
rDev
-0.8%
look: 3.5 | smell: 3.5 | taste: 4 | feel: 3.5 | overall: 3.5
A brown beer with a small head and sufficient carbonation to maintain the small head.
Smell was grainy (wheat) with some yeast-like smells. Some caramel and fruit like raspberry and peaches.
Taste was fruity of red fruit. The dark wheat give the beer a nice roasted, grainy wheat taste and really adds to the overall complexity. Some caramel which gave the beer it's body and chewiness. There is some bitterness which goes well with the style. Body is medium and drinkability is OK.
Aug 23, 2006
stcules from Italy
3.58
/5
rDev
-4%
look: 4 | smell: 3.5 | taste: 3.5 | feel: 3 | overall: 4
Dark red color. A beautiful still foam, cream color.
In the smell burnt caramel, berry-fruit, buckwheat, roasted. A light cocoa (beans).
The taste starts with a pleasant roasted, and a more sharp cocoa. Quite watery and drinkable.
In the aftertaste cocoa and roasted, and buckwheat over all. After a while, a strong note of pineapple.
Light in body, and also in the aftertaste, quite short.
Pleasant beer, very drinkable.
Apr 15, 2006
mdagnew from Northern Ireland
3.75
/5
rDev
+0.5%
look: 4 | smell: 4 | taste: 3.5 | feel: 3.5 | overall: 4
330ml bottle in Au Trappiste, Paris, March 2006...
Poured a dark brown colour with copper tinges... Creamy tan head poured thick and foamy and faded to thin layer...
Aroma - Fruity (blackcurrent), sweet malts, aniseed hints, light hops, some spiciness, noticable alcohol, yeasty...
Taste – Toasted malts, port notes, light spiciness, dark fruits (raisins, figs), woody oak hints, some brown sugar...
Feel - Quite dry. Medium body. Pretty drinkable...
Overall - A pretty good beer... Recommended !!
Mar 14, 2006
Rastacouere from Canada (QC)
3.19
/5
rDev
-14.5%
look: 3 | smell: 4 | taste: 3 | feel: 2.5 | overall: 3
Deep orangey copper body with no head, but intense carbonation. Light malty aroma with licorice and dark fruits. The flavors come out rather strong at first, but they just don't carry in the finish, that is particularly watery while being slightly tart. In the middle, there's a big sugary and peppery rye and acid fruits aspect, but the shortness kills it. A bit too candyish, but I like its differences, if only it had a bit more lenght...
Sep 28, 2004
tjd25 from France
4.38
/5
rDev
+17.4%
look: 4.5 | smell: 4 | taste: 4.5 | feel: 4.5 | overall: 4.5
A nice and fine white collar on a dark purple mahogany color body. It's a buckwheat beer, and therefore smells like buckwheat. The smell is dry and salty. The taste is very refined and enjoyable. Dark malts create a nut and even chestnut flavor. Some winy aspects, wooden red fruits flavor with the nut or chestnut aspect remaining longer in the aftertaste. Very light hints of caramel and coffee. Nice notes of smoke. Mouthfeel is so smooth and creamy. A great beer.
May 21, 2004
Gwiniz Du from Brasserie Britt de Bretagne
Beer rating:
83
out of
100
with
22
ratings