Sun Drenched Exploratory Ale

Denver Beer Co.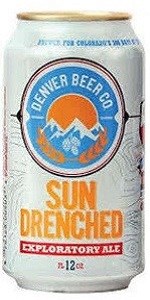 Write a Review
Beer Geek Stats:
| Print Shelf Talker
Style:

ABV:

5%

Score:

Avg:

3.72

| pDev:

10.75%

Reviews:

13

Ratings:

From:

Avail:

Year-round

Wants

Gots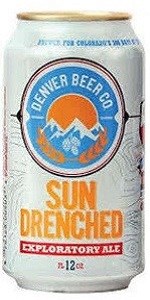 Notes: Brewed for Colorado's 300 days of sunshine, this is our twist on a refreshing American ale. Part IPA, part American wheat, she is a perfect thirst-quenching reward after a long day of adventure. Sun Drenched is a straw-colored ale loaded full of hops with a crisp, dry finish. Dry hopped with generous amounts of Simcoe, Cascade, and Mosaic hops, she is highlighted by a bright floral and citrus aroma. Remember your sunscreen while enjoying this beauty in our sun-drenched state!

3.85
/5
rDev
+3.5%
look: 3.75 | smell: 3.75 | taste: 4 | feel: 3.75 | overall: 3.75
I bought a can of this at a Denver Airport kiosk. It poured a clear yellow with white head that is leaving a spotty lace. The scent had hints of lemon citrus. The taste was nicely balanced and easy to drink. Hints of lemon and clean slight bitter finish. The mouthfeel is lighter in body with good carbonation. Overall it was a solid beer.
342 characters

4
/5
rDev
+7.5%
look: 4 | smell: 4 | taste: 4 | feel: 4 | overall: 4
12 oz. Can
Pours a pretty nice yellow color, nice carbonation, with a pretty nice one-finger off-white head, which leaves some sticky lacing behind. The nose is hoppy, malty, with some citrus. The taste is hoppy, malty, citrusy. Medium body. Overall, a pretty tasty brew.
272 characters
3.73
/5
rDev
+0.3%
look: 3.5 | smell: 4.25 | taste: 3.5 | feel: 3.5 | overall: 3.75
Poured from a can with a canned on date of 9/26/16; into a pint glass.
Appearance- very light, straw colored gold, similar to a cider; a touch hazy, with a lot of bubbles building a medium thick, white head. Lacing is
Smell - passion fruit, pineapple and grapefruit; I love a tropical and citrus nose!
Taste - watered down version of what you get from the aroma; this is supposed to teter on IPA or session, but it definitely weighs more on the session IPA side.
Feel - very light, even watered down with enough hop bitterness to help keep this from being lame. Easy drinker for a hot day though.
Overall - love the aroma and the fact this is sessionable, but it lacks substance.
681 characters
3.06
/5
rDev
-17.7%
look: 4 | smell: 3 | taste: 3 | feel: 3 | overall: 3
12 oz can. Pours slightly hazy light yellow with a medium fluffy white head that retains well and leaves some lacing.
The aroma is subdued - some fruity piney hops.
The flavor is crisp malt with some sweet fruity resiny hops. The mouthfeel is medium bodied with smooth carbonation.
Overall, an OK hoppy wheat.
314 characters
3.69
/5
rDev
-0.8%
look: 3.75 | smell: 4 | taste: 3.5 | feel: 3.5 | overall: 3.75
Aroma: crackers and hops. Taste: a pilsner-like crackeriness with a bit of citrus. Some pineapple and mango. Very dry and biscuity. A refreshingly bitter aftertaste. Light bodied and effervescent. A session IPA that tastes like a pilsner. Highly refreshing if not particularly exciting.
286 characters
3.69
/5
rDev
-0.8%
look: 3.25 | smell: 3.5 | taste: 3.75 | feel: 4 | overall: 3.75
12oz can. Poured out a clear, golden-yellow color with little to no head. It smelled fruity with notes of orange. Sweet caramel and malt taste up front and a light citrus kick.
176 characters

4.07
/5
rDev
+9.4%
look: 3.5 | smell: 4 | taste: 4.25 | feel: 4 | overall: 4
Wow, I wasn't expecting such a good taste coming from a light American lager looking beer. A light pale straw colored beer that has a nice light but full citrus hoppy aroma that is relayed quite nicely to the taste. With a lasting lacing and a small biscuity mound of froth remaining in the middle of the glass as the beer below it disappears. Finishes off with a lasting light drying aftertaste that carries with it the citrus taste. I'm pretty happy I picked this up when I was in Colorado last week.
504 characters

3.91
/5
rDev
+5.1%
look: 3.75 | smell: 4 | taste: 4 | feel: 3.75 | overall: 3.75
Hoppy, Fruity, Refreshing, Moreish
Pours straw with a huge, foamy white head. Fruity, hoppy and crackery in the nose. Light on the palate, but not in flavor. It's floral and fruity, a bit tropical with a mild sweetness, a smack of citrus, bready malts, a wheat edge and an underlying dryness and crispness that greatly increases the beer's drinkability. Sun Drenched is pitched as an American IPA-wheat ale hybrid, this brew was made as an easy drinking ale for the 300 days of Colorado sunshine. I dig it, and I'm glad they didn't call it a "Session IPA."
As reviewed in BeerAdvocate magazine #107 (December 2015).
620 characters
4.07
/5
rDev
+9.4%
look: 3.25 | smell: 5 | taste: 3.75 | feel: 3.75 | overall: 4
Great to quench your thirst and relax after mowing the lawn or working out in the sun. Nice citrus flavor fills your mouth and leaves a clean feel afterward.
157 characters

4.14
/5
rDev
+11.3%
look: 3.25 | smell: 3.5 | taste: 4.5 | feel: 4.5 | overall: 4.25
No clue what exploratory ale is, but that's what they went with so cheers and f**k it at the same time.
A: Pours and insanely light pilsner color, very delicate one finger head. Not clear but visible through, no carbonation moving in there.
S: Smells pilsner/ wheaty with fermented pineapple and just a hint of passion fruit and tangerine.
T: Lines up with the scent, very light taste and very crisp while having slight pineapple, passion fruit, and tangerine refreshing taste; there's an almost coconut ending too. The taste is so light that you immediately want another sip to get it again; a taste so fine while being wispy and elusive. The malt is clean and clear while not intruding on the delicate hop flavors.
M: Great mouth feel, light as a bud light while still having lots of character.
O: This is a great day/session/ adventure/ lazy beach beer. It's light and as drinkable as water while still having interest and layers. Not clear if there is fruit juice added to the fermenter or if it's done through hopping, but the fruit taste in here is insanely refreshing. Great beer, 86
1,116 characters

3.35
/5
rDev
-9.9%
look: 3.5 | smell: 3.5 | taste: 3.25 | feel: 3.5 | overall: 3.25
This is my second taste of Denver Beer Co, and I have to say I'm not really feeling it. This seems like a pale-IPA hybrid, a bit too hoppy to be a straight pale but right in line with the new hop-forward trend. I suppose if you like this style it's a good version of it, but I have other styles I like a lot more. It's a nice session beer but that's about it for me.
369 characters
3.91
/5
rDev
+5.1%
look: 3.25 | smell: 4 | taste: 4 | feel: 4 | overall: 3.75
Nice straw yellow pour, mild haze, half finger of eggshell white, soapy foam. Looks more like a pale lager than an IPA. Nose of very ripe fruits; pears, grapefruit, pineapple. Sweet smelling aromas, lots of lightly toasted pale malts in this one. Taste is is similairly sweet, crisp apples, honey, grass. Lingering bitter touch. Medium-light body, low ABV.
Another tasty Colorado IPA. Recommended!
398 characters
3.34
/5
rDev
-10.2%
look: 3.25 | smell: 3.5 | taste: 3.5 | feel: 3 | overall: 3
i know, lets put out a low alcohol watery filtered wheat beer for the holidays, call it an ipa, and see what happens. it looks like the once clever denver beer company is running out of good ideas, or even decent ones. ill timed release on a beer that might do well in summer, and a weird choice for their fourth package. the beer is clear and yellow and it cant hold a head, it looks like a coors light in the glass, maybe a little brighter, but similar on many levels. the nose here is the same as the taste, juicy hops in very light proportion, and a strained wheat malt base thats not even close to big enough. i get what they were going for here, but its not successful. the beer doesnt taste all that bad, because it really doesnt taste like much, and its a terrible call for a winter seasonal, thats my biggest issue. carbonation is just fine, expressive even, but the body just isnt there. i bet if they make this again for summer it will do well, or maybe it will just sit around on shelves til then...
1,011 characters
Sun Drenched Exploratory Ale from Denver Beer Co.
Beer rating:
85
out of
100
with
44
ratings