Canoe
| Carton Brewing Company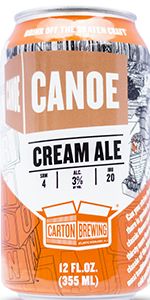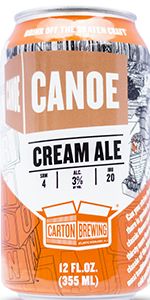 BEER INFO
Brewed by:
Carton Brewing Company
New Jersey
,
United States
cartonbrewing.com
Style:
Cream Ale
Alcohol by volume (ABV):
3.00%
Availability:
Rotating
Notes / Commercial Description:
Can you strive for meh? Should you? At the height of midsummer there is genius in a beer that is "like sex in a canoe." Simple, clean, classic flavors put together in a format that is meant to stop you from being thirsty more than to transcend. For Canoe, we looked to the indigenous classic of the Atlantic Northeast, the cream ale, and respected its most traditional constraints. Barley and corn, on ale yeast, fermented cold and decorated with hops more than flavored. The simplest of American beers for the simplest of reasons: It's hot, late on a summer day, and you're thirsty. Drink Canoe 'cause so far that grass hasn't learned to cut itself.
Added by superspak on 07-09-2017
HISTOGRAM
Ratings: 13 | Reviews: 4

3.6
/5
rDev
-3.5%
look: 3.75 | smell: 3.75 | taste: 3.5 | feel: 3.75 | overall: 3.5

3.67
/5
rDev
-1.6%
look: 3.75 | smell: 3.5 | taste: 3.75 | feel: 3.5 | overall: 3.75
Poured into Carton teku glass. It pours a hazy, light golden color with one finger of milk-white head and lacing. There's not much on the nose; mostly biscuit, lemon peel, and orange zest with a hint of corn meal. Considering the style and the ABV, Canoe has a fairly bold taste: there's the anticipated corn meal, biscuit, and grass but there's more than a little lemon, and a hint of hops (despite the 20 IBU). This ale is light but pleasantly carbonated. At 3% ABV, the alcohol isn't noticeable. I have to say that I was skeptical about Canoe but Carton is really good at the Cream Ale style. Carton has achieved the near impossible: a simple, 3% Cream Ale that it flavorful and satisfies. Got to give credit where credit is due!
735 characters
3.75
/5
rDev
+0.5%
look: 3.75 | smell: 3.75 | taste: 3.75 | feel: 3.75 | overall: 3.75

3.81
/5
rDev
+2.1%
look: 3.75 | smell: 4 | taste: 3.75 | feel: 3.75 | overall: 3.75
Enjoying this canoe on 9-7 evening after my own kayak (canoe) among reeds... and a visit to the brewer... perfect with goat cheese and breadsticks for dessert. After a dinner of grilled onion, pepper, tomatoes, basil, fennel from garden and chicken sausage (heaven).
Found this over-priced at $15 for a mixed 6 with Rabaska - felt the price should be $8 or half that and I'd buy cases!
Perfect for summer afternoons, could drink it all day. (Love that!) and perfect for 3.0 college towns. Keggers.
a) Cloudy gold body with a flimsy but lacing 1 finger head.
s) Lots for cream ale: More Lemon first than Rabaska, then Orange, yeast, melon, herbs.
t) More orange, melon, and lemon, thinner, less creamy, less bitter finish. But perfect 3.0 beer.
f) Light, ample carbonation, crisp and refreshing, great food beer, summer beer.
831 characters
3.41
/5
rDev
-8.6%
look: 3.25 | smell: 3.5 | taste: 3.5 | feel: 3.25 | overall: 3.25
3.99
/5
rDev
+7%
look: 3.75 | smell: 4 | taste: 4 | feel: 4 | overall: 4
Can dated 7/13/17. Poured into Belgian ale glass.
L: Light gold, mostly clear with visible carbonation bubbles. 2F head with good retention, leaving lacing and a cap and ring.
S: Lactose, malts, and ale yeast. Quite simple.
T: A touch of citrus hops, but mainly lactose, malt, and yeast through and through. Pretty neutral finish.
F: Light body, light to medium carbonation. Reasonably crisp and refreshing. Balance and construction are good.
O: A nice light cream ale for the summer.
489 characters

3.75
/5
rDev
+0.5%
look: 3.75 | smell: 3.75 | taste: 3.75 | feel: 3.75 | overall: 3.75
Simple cream ale. That's all.
29 characters

3.75
/5
rDev
+0.5%
look: 4.25 | smell: 3.5 | taste: 3.75 | feel: 4 | overall: 3.75
Sample from the brewery. Transparent and a pale straw color in the glass with a snow-white cap of foam. Certainly an attractive "light" beer. The fruity suggestion of hops in the nose tells you decidedly that this is no ordinary offering, however. Grassy notes and lemon candy mingle with a whisper of corn grits in the background. Clean on the palate, with a dill-like flavor that lingers into the finish. Canoe is light-bodied without straying into watery territory, and that fact, along with its gentle bitterness, low ABV, and citrusy edge, make it quite refreshing. Crushable and just flavorful enough, this Cream Ale is another creative success from Carton.
663 characters

3.75
/5
rDev
+0.5%
look: 3.75 | smell: 3.75 | taste: 3.75 | feel: 3.75 | overall: 3.75

3.75
/5
rDev
+0.5%
look: 3.75 | smell: 3.75 | taste: 3.75 | feel: 3.75 | overall: 3.75

4
/5
rDev
+7.2%
look: 4 | smell: 4 | taste: 4 | feel: 4 | overall: 4

3.63
/5
rDev
-2.7%
look: 4 | smell: 3.5 | taste: 3.5 | feel: 4 | overall: 3.75

3.66
/5
rDev
-1.9%
look: 3.25 | smell: 3.5 | taste: 3.75 | feel: 3.75 | overall: 3.75
Canoe from Carton Brewing Company
Beer rating:
3.73
out of
5
with
13
ratings