Breakfast With Wilford Oatmeal Coffee Stout
| Latitude 33° Brewing Company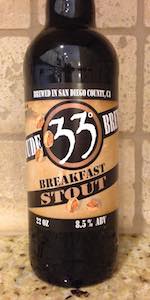 BEER INFO
Brewed by:
Latitude 33° Brewing Company
California
,
United States
lat33brew.com
Style:
Oatmeal Stout
Alcohol by volume (ABV):
8.50%
Availability:
Rotating
Notes / Commercial Description:
No notes at this time.
Added by HopHead84 on 07-17-2012
Reviews: 7 | Ratings: 37
4.23
/5
rDev
+3.2%
look: 3.75 | smell: 3.75 | taste: 4.5 | feel: 4.5 | overall: 4.25
Type: 22-oz. bottle
Glass: Clear 14.75-oz. porter/stout glass
From: Barons Market in Alpine, Calif.
Price: $5.99
Purchased: June 4, 2016
Consumed: June 11, 2016
Misc.: No BOD on the bottle
Had this one time before at their brewery and liked it a lot. Latitude 33 is an underrated brewery in my opinion and I would like to try everything I can from them. Glad to finally review this one.
Poured a black color with 2-to-3 fingers of khaki tan, frothy head. Below average lacing. Very good retention. (Sight - 3.75)
Smelled pitch black coffee, ashtray, caramel, hazelnut, roasty nuts, oatmeal, toasted brown sugar, thick molasses, char wood and hints of licorice. (Smell - 3.75)
Taste was even better than the nose, getting black coffee, dark chocolate, hazlelnut, oatmeal, molasses, char wood, ashtray, dry cocoa nibs, toasted brown sugar and black licorice. Did not taste 8.5 percent. (Taste - 4.50)
Full body. Creamy texture. Average carbonation. Long, roasty finish. (Feel - 4.50)
Was really good. Taste was so much better than the nose. Loved it. (Overall - 4.25)
4.23 | 94 | A-
1,088 characters
3.78
/5
rDev
-7.8%
look: 4 | smell: 4 | taste: 3.75 | feel: 3.75 | overall: 3.5
On tap *and* nitro at the brewery, Vista, CA.
Jet with a creamy beige ring. 4
Lots of coffee with root beer sweetness underneath. 4
Coffee front and back, honey syrup middle and a bit of hop wood. 3.75
Grinds end and woody linger.
Almost medium, round, smooth. 3.75
CO2 adds some sugar in the middle; Nitro kills that balance. But too thin and too heavy on the coffee. Ruins a hard-to-botch style. 3.5
404 characters
3.74
/5
rDev
-8.8%
look: 3.75 | smell: 3.5 | taste: 3.75 | feel: 3.75 | overall: 4
Looks a little more like beer and a little less like a cup of black coffee than a lot of coffee beers, so points for that.
The smell is subtle black coffee, roasted malt, a hint of chocolate.
You can of course taste the slightly bitter black coffee, but it also has the nice, sweet "roundness" you would expect from an oatmeal stout. It doesn't have the layered complexity of Founders Breakfast Stout or Péché Mortel, but it's also less heavy and less bitter, making it easier to drink.
It's a little bit light on the tongue but still has the soft, rich feel of an oatmeal stout.
Overall: considering the price on this bomber, it's a great value for a coffee oatmeal stout. If it comes across your path, grab one.
715 characters

4.1
/5
rDev 0%
look: 3.75 | smell: 4.25 | taste: 4.25 | feel: 3.5 | overall: 4
On Tap at O'Brien's Pub
*Standard pint
A: Super dark root beer brown body that thins towards the edge of the glass. Light whisp of dark khaki tan head with some poor retention. Only a few light dots and squiggles of lace running down. Looks fine but something tells me the shaker pint is not doing this beer any justice.
S: Aromas permeate with fresh mild-roast java beans, bittersweet chocolate, and toasted cereal/oats. Coffee is strong but not overpowering the other elements and there is a bit of brown sugar sweetness coming through. Real nice and expressive nose with an overall nutty quality to it. I could pick this one up from across the table.
T: Smooth roast coffee bean flavor combines with cocoa and nutty toasted grains sans any type of harsh astringency here. The trio complement each other incredibly well and the oats really come through in flavor which is nice for a change. I get some supporting brown sugar/molasses sweetness and am finding the chocolate character to be quite diverse. There is a low hoppy bitterness to the beer with a light earthiness accentuating the other elements. Balance is quite astounding with alcohol well masked for this Imperial. Great flavor overall.
M: Feels more like a Porter should with a bit of thin and watery consistency. Medium body overall with a nice smooth and creamy texture. Minor alcohol warmth and a nice drying towards what seems to be a pretty clean finish. Could really benefit from a thicker feel with some soft chew on it.
D: Great aroma and flavor with an approachable drinkability. I really wanted to love this one. A little more thickness on this and it would have been a homerun for me. Needs a bit more silky lushness on the palate. Great breakfast stout none the less.
One day I will eventually make it over to the brewery and try this live and direct.
1,840 characters
4.25
/5
rDev
+3.7%
look: 4.5 | smell: 4.5 | taste: 4 | feel: 4 | overall: 4.5
Cask **Special cask version with vanilla bean and bourbon French oak**
Churchill's Pub & Grille
San Marcos, CA
Dark brown with a creamy, small brown head that leaves the glass coated in a sticky sheet of lace. Appropriately pretty.
Very nice aroma with the vanilla bean and the oak taking the lead, along with mild roast, earthiness, bittersweet chocolate, and coffee. Full and complete.
The flavor is, like the aroma, full of earth and sweet vanilla and definite oak presence, though the coffee-forward and chocolate elements from the stout are still able to shine through quite nicely. Moderate bitterness and incredibly drinkable.
Medium bodied with low carbonation--creamy.
Fantastic. I've had multiple pours of this cask at the pub. It's lovely.
756 characters
4.34
/5
rDev
+5.9%
look: 3.5 | smell: 4.5 | taste: 4.5 | feel: 3.5 | overall: 4.5
On tap at Latitude 33 Brewing Company in Vista, CA.
Pours an almost opaque super dark brown with a foamy dark khaki head that settles to a film on top of the beer. Small dots of lace form around the glass on the drink down. Smell is of dark roasted malt, roasted coffee beans, brewed coffee, and cocoa. Taste is much the same with a medium amount of roasted coffee bitterness on the palate after each sip. This beer has a lower level of carbonation with a slightly crisp and medium bodied mouthfeel. Overall, this is a very good beer with great coffee aromas and flavors that make is super easy to drink.
606 characters

4.25
/5
rDev
+3.7%
look: 4.5 | smell: 4.5 | taste: 4 | feel: 4 | overall: 4.5
7/15/2012
On tap at Latitude 33. Snifter.
A: Black. Very black. Monstrous creamy beige head with great retention and lots of lacing.
S: An excellent combination of earthy coffee and oatmeal. Big dark chocolate presence meets roasted grains. The coffee profile is awesome.
T: Rich bittersweet dark chocolate blends with molasses, oatmeal, and a pronounced coffee presence that's most excellent. Roasted grains are prominent. There's a restrained nutty quality. No alcohol is evident. Smooth bittersweet dark chocolate oatmeal finish.
M: Full body with medium carbonation. The mouthfeel is chewy, sticky, and creamy.
Overall: Excellent stuff. La Costa Coffee Roasters did a custom Papua New Guinea medium roast for this beer, and the quality of the coffee matches the quality of the brewing. Check this out.
811 characters
Breakfast With Wilford Oatmeal Coffee Stout from Latitude 33° Brewing Company
4.1
out of
5
based on
37
ratings.