Rabbit In The Rye PA
| Good Nature Farm Brewery & Tap Room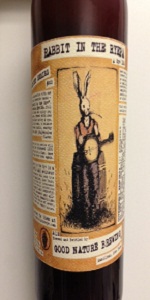 BEER INFO
Brewed by:
Good Nature Farm Brewery & Tap Room
New York
,
United States
|
website
Style:
Rye Beer
Alcohol by volume (ABV):
5.00%
Availability:
Spring
Notes / Commercial Description:
No notes at this time.
Added by CaptDavyJones on 04-27-2013
Reviews: 3 | Ratings: 31

4.15
/5
rDev
+0.7%
look: 4 | smell: 4.5 | taste: 4 | feel: 4.25 | overall: 4
Straight pour from a 750ml cork-and-cage bottle to my DFH IPA glass; no bottling date, but this was released just over a week ago and I know from facebook posts from this brewery that it was bottled on April 11 (give or take), making this about three and a half weeks old.
Appearance (4.0): This pours with a rich, full head of tight foam rising immediately to a good four fingers before dying down, very very slowly, to leave a few wide, thick splotches of lace and a couple of thin collars. The body is a warm honey-gold color with just a slight chill haze.
Smell (4.5): Veeeery nice fruity hop aromas coming from this immediately: punchy pineapple and some gooey mango mix with slight resin and spicy, rustic, bready undertones—all with an undercurrent of toffee and pumpernickel. This is actually really, really good.
Taste (4.0): The palate is more malt-driven, with a nicely toasted, nutty body that finishes dry. It plays off a grassy, lemony hop bitterness and flavor nicely that clocks in at moderate (bitterness) at best. There's a very floral flavor that comes from the hops, too, which is unexpected and very tasty. The rye malt character lends only a moderate spice, but it works well with the nutty, bready tones as an added dimension of depth. Overall on the modest side, but very, very refreshing for 5% ABV and 50 IBUs.
Mouthfeel (4.25): The carbonation is soft and full, not tingling or prickling but foaming nicely. The body is on the light side of medium-weight, spritzy, and finishes nicely on the dry side. Very, very refreshing.
Overall (4.0): This is a pretty solid, really spritzy, enjoyable pale ale with a surprising depth of malt character and a snappy hop note with a great aroma. I've only had one other beer from Good Nature (their Solera Porter, which was excellent), but judging by this one I'd say they have some potential. Looking forward to more bottle releases in the future.
★
1,930 characters

4.19
/5
rDev
+1.7%
look: 4.5 | smell: 4.25 | taste: 4 | feel: 4.5 | overall: 4.25
A: This beer is a medium amber with an orange hue and slight haze, probably from dry hopping but I did shake it up a bit getting the cork out. It pours with a finger and half of off-white head that is mostly made of compact bubbles with some rocky/soapy larger bubbles mixed in. The head is persistant with excellent retention.
S: A strong citrus and tropical fruit hops aroma with some grass character. The hops bring citrus and pineapple with a touch of pine. There is a medium-low spicy note and a medium-low malt sweetness. It smells like a solid, dry hops American IPA with a an interesting choice of grains.
T: Hops again dominate with a strong hops bitterness and a lot of citrus hops flavor. There is characteristic rye spice at a moderate level. The malt bring a little sweetness some biscuit and just a touch of caramel but the balance is firm bitter from the hops. The finish is dry and the aftertaste if a lingering hops bitterness with some citrus and some spice.
M: A moderately creamy, medium bodied beer with a moderately-strong level of carbonation.
O: For a session strength beer this one brings a lot of flavor to the party and it's a wonderful and lively beer on the palate. I love the hops flavor and the choice of the hops, there is a lot of citrus and tropical fruit flavors with some floral notes and I always enjoy the spice that rye brings so this beer is a hit with me. It great as is but I'd love to see full a full strength version with more malt, hops and ABV.
★
1,495 characters
4.19
/5
rDev
+1.7%
look: 4.25 | smell: 4 | taste: 4.25 | feel: 4.25 | overall: 4.25
Poured a clear amber color from a 750 mL cork and cage bottle, with ABV (5%) on the label. The label also says this is Artist Series # 002.
Perfect two finger egg-shell white head with lots of tight bubbles. Looks very good in my tulip.
Aroma is a very nice blend of fresh floral hops, some citrus, malt. The rye is very noticeable in the nose.
The aroma is translated very well into the taste. Crisp fresh hops upfront, with tongue-tickling bitterness and firm malt notes from the middle to the finish. The finish is almost dry.
Very refreshing and surprisingly good. To be honest, I did not have any expectations when I cracked this bottle, but it turned out to be a very good rye ale.
It says Rye IPA on the label, but to me it seems like a very crisp rye pale ale.
Definitely worth a try and in my opinion a very tasty ale.
★
833 characters
Rabbit In The Rye PA from Good Nature Farm Brewery & Tap Room
-
out of
100
based on
3
ratings.