Tiger! Tiger!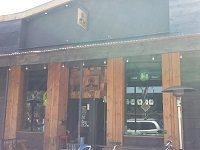 PLACE INFO
Type:
Bar, Eatery
3025 El Cajon Blvd
San Diego
,
California
, 92104-1315
United States
(619) 487-0401 |
map
tigertigertavern.com
Notes:
No notes at this time.
Added by mactrail on 11-20-2011
Reviews: 12 | Ratings: 45

4.11
/5
rDev
-1%
vibe: 4.25 | quality: 4.25 | service: 4 | selection: 4
Tiger! Tiger! is located in the North Park area near other bars. It's got a very cool vibe, somewhat similar to Small Bar nearby. Once you enter there's plenty of seating inside and out along with more area in the back.
The day I went they had a lot of Automatic Brewing beers, so I tried a glass of that. I received good service from the guy behind the counter. I didn't order any food but looking at what was coming out of the kitchen it looked tasty. Maybe next time.
I came here after work during a business trip. I'm glad I did. It wasn't crazy busy and loud, so it was a nice time to wind down and enjoy my beer.
628 characters
4.29
/5
rDev
+3.4%
vibe: 4.5 | quality: 4.5 | service: 4.25 | selection: 4
Stopped in this place while in SD and did not regret it. Super chill vibe and the people working there made it a fun environment. Tap list was solid and though I didn't eat there, I heard from other patrons it is very good.
225 characters

4.56
/5
rDev
+9.9%
vibe: 4.5 | quality: 4.5 | service: 5 | selection: 4.25 | food: 4.5
Among the best spots in San Diego, and probably the U.S. too. It's small, but that doesn't take away from the cool people that work there and the welcoming vibe they cultivate. The tap list fluctuates in quality (from pretty good to excellent), but it's obviously never tough to find a great brew at the bar. If you haven't been, time to get yourself there.
357 characters
4.5
/5
rDev
+8.4%
Dig the food and the atmosphere. Wish the IPA bar would be open all day every day, but maybe it's for the best. Great spot to unwind solo or with a group.
155 characters

4.53
/5
rDev
+9.2%
vibe: 4.75 | quality: 4.75 | service: 5 | selection: 3.5 | food: 5
What Tiger! Tiger! does so well (as does Lee Chase's flagship spot, Blind Lady Alehouse) is blend a tavern with a restaurant. Tiger is well organized, with a long bar to the left and several long, picnic style tables to the right. There are a few high, long tables- every spot encourages a social experience, but you can certainly still have a private, romantic dinner if you wish.
The beer list is always solid (one of the best SD Dogfish Head locations) and occasionally superb (especially during beer week and anniversary week). New IPA only 4-tap bar out back only helps with this.
The food is among the best in San Diego. Wood-fired oven used to create awesome dishes ranging from meaty to vegan. We have tried most of the menu (and specials, which change often) and have never been disappointed. Sunday brunch is among the top 2 or 3 in SD.
849 characters

4.4
/5
rDev
+6%
vibe: 4.5 | quality: 5 | service: 4 | selection: 4 | food: 4.5
Tiger! Tiger! is one of the better beer bars in San Diego. They've got outdoor seating if it interests you, a small bar and a plethora of picnic tables. I've been here many times and each time their beer selection is very nice and different enough from Blind Lady (their sister location) that it's worth checking Tap Hunter if you're not sure of which one you want to go to.
The food here, in my opinion, is better than Blind Lady's by a long shot. The sandwiches are absolutely insane! Delicious! Their bread has a tendency to be really hard though, so definitely try to cut the sandwich into smaller pieces if at all possible. Makes it much easier to handle.
This is practically the perfect place to start a 30th St pub crawl. Hit up Coffee & Tea Collective for an espresso beforehand so you can just stay up all night and hit all of the 30th St locations.
862 characters
3.27
/5
rDev
-21.2%
vibe: 3.75 | quality: 3.75 | service: 2.25 | selection: 3.5
Medium-large inside bar area with a smallish outside area out back.
Selection was a little disappointing as was the service. Guy tried to rush me to order when there was no one there and I really hadn't taken a long time.
Inside was too dark and the bar setup was lackluster.
Was such a disappointment after I enjoyed my time at the Blind Lady so much. Really shows regardless if a place is owned by the same people that your staff really makes a place worthwhile to comeback to.
Also the food and beer selections were sub-par compared to the sister location.
566 characters
3.95
/5
rDev
-4.8%
vibe: 3.5 | quality: 4 | service: 3.5 | selection: 4.5 | food: 4
We wanted to go to Blind Lady for lunch but it was closed for a private fundraiser so we decided to try their sister restaurant Tiger! Tiger!. We were not disappointed. Love the style of this place. Rustic comfort. Belle and Sebastion music playing. Long plank tables with benches, cement floors. Great beer selection, my son and husband said it was excellent! I thought the food was also very good. Banh Mi Pork Belly sandwich was fantastic. I had a vegan grilled cheese which was very good. I always appreciate restaurants that have anything vegan. The Brat sandwich also looked really good. We would go there again and might even pick it over Blind Lady which is my favorite S.D. pizza stop.
694 characters
4.28
/5
rDev
+3.1%
vibe: 4.5 | quality: 4.5 | service: 4.5 | selection: 4 | food: 3.5
I've eaten here about a dozen times since they opened in October. It has been a kind of extended soft opening, so it is finally feeling like they have nailed down their evolving menu and atmosphere.
About 25 beer taps plus wine taps. As the owners have proven with their sister restaurant Blind Lady Ale House, they know and care about the quality and maintenance of their tap system. The cleanest and truest in San Diego. I'm always confident that I am tasting beer as the brewer intended.
The menu is mostly sandwich based. They always have a few vegan options. I love that they feature house made bread and pickles. I don't eat oysters, but I hear great things about the fire-rosted Po Boys. My absolute favorite thing is their Sunday morning brunch with vegan donuts -- always paired with a coffee profiled beer,(Last time was Dogfish Chicory Stout).
EDIT: They have corrected the seating issue. New tables and chairs inside that fit adults.
949 characters

4.06
/5
rDev
-2.2%
vibe: 4.5 | quality: 4 | service: 4 | selection: 4
Stopped in here for the first time on New Years Eve and I was pretty impressed with the place. The interior is really clean and simple. It has some long tables and benches that stretch the length of the floor and a few smaller tables off to the side. The walls have some cool woodwork and almost reminded me of a hunting lodge. The beer selection was really similar to BLAH, with some solid offerings and around 20 taps. The place doesn't feel to stuffy or too hipster-y. I would (and will) definitely go back here.
515 characters

3.94
/5
rDev
-5.1%
vibe: 3.5 | quality: 4 | service: 4 | selection: 4
We stopped here in between our stops at blind lady alehouse and ritual tavern. Pretty cool wide-open space with "barstools" (actually really uncomfortable metal stools) on the left a bunch of tables on the right. They were doing and allagash event for SDBW when we visited so plenty of good stuff was on tap.
We did not try the food for the pizzas looked pretty good. As with many places in San Diego, There is no table service you just order at the window.
Service was good for a brand-new place. We enjoyed our stop.
HV
524 characters

3.88
/5
rDev
-6.5%
vibe: 4 | quality: 4 | service: 3.5 | selection: 4 | food: 4
Anchoring the 30th St. beer corridor at busy El Cajon Blvd. It's yet another hip beer joint with upscale hip food. I counted 22 taps with a few Belgians (Rodenbach, Lucifer, St. Louis) and national oddities like DFH Theobroma, but mostly California beers. Two from Craftsman, Hangar 24, Bear Republic, Lost Abbey, Alesmith, Mongo from Port, Firestone, Sierra Nevada, etc. Emphasis seems to be on change. Service, even at the bar, is like Blind Lady: stand in line and pick your brew while they ring it up. Nice glassware in different, appropriate sizes. Many beers are 0.25 liter, a few in 0.5. The "happy hour" special is a full liter for $8.
Food is interesting though pricey. Unusual pizzas. Oysters in various ways are a feature. The fried oyster Po Boy was ok, but I didn't care much for the soft roll. Clam chowder had actual bivalves but was way salty with bacon. Salads and bread sampler plate looked great, I'll try that next time.
Spacious place with no TVs in the concrete floor old garage style. Take your choice-- uncomfortable metal drafting stools at the small bar or uncomfortable wood benches at the picnic tables. A few sidewalk tables for smokin' and mopin'. At a recent visit they were talking about an actual garden patio in the back, which would be great. Supposed to be the only restaurant with a parking lot on 30th St.
The place was started just this fall by Lee Chase, who spent 10 years brewing for Stone and is a co-owner of Blind Lady. The hope is for Tiger Tiger to get a license to move Automatic brewing to this location. They also talk about an in-house bakery.
1,598 characters
Tiger! Tiger! in San Diego, CA
4.15
out of
5
based on
45
ratings.