Feines Ahonberger Landbier
| Ahornberger Landbrauerei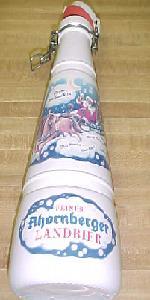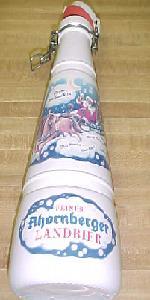 BEER INFO
Brewed by:
Ahornberger Landbrauerei
Germany
ahornberger.de
Style:
Munich Helles Lager
Alcohol by volume (ABV):
4.80%
Availability:
Year-round
Notes / Commercial Description:
No notes at this time.
Added by paterlodie on 11-05-2005
Ratings: 9 | Reviews: 7
Reviews by jonb5:

3
/5
rDev
-9.4%
look: 3 | smell: 3 | taste: 3 | feel: 3 | overall: 3
Half litre bottle which again bore no resemblance to the picture shown here. Poured into a pint glass, one and a half finger thin head, pale golden colour, clear. Aroma was mainly Spalt hop, slight yeast and tiny malt. Tasted a hint of apple, not really bitter or malty. Carbonation on the heavy side of medium, body normal, crisp texture. Overall fairly bland, not really a pils or a helles. Not offensive in any way but easy to forget.
437 characters
More User Reviews:
3.05
/5
rDev
-7.9%
look: 3 | smell: 3 | taste: 3 | feel: 3.5 | overall: 3
0.5 litre brown flip-top bottle, obtained in Berlin and brought home to review at leasure. Best before 2nd April 09, drank Jan 09.
Poured into a UK pint sleeve glass.
I was expecting a cloudy Landbier, what sat before me was a Helles or Pilsner in looks. Golden, bright, clear and bubbley with a good white head on top. The large head which greated me tried to stay, but a wispy covering and collar were all that was left at the end.
Gets my normal average lager score for smell, there isn't any as usual for this style.
Dry and fairly ordinary. If I had known it was this bland it wouldn't have been flown back with me. Typical helles with all the normal character you know about.
Nothing wrong with the beer, I just feel cheated, my German is obviously not as good as i thought! Pleasant enough for a lager based beer, some body and flavours to almost chew on.
867 characters
2.49
/5
rDev
-24.8%
look: 3.5 | smell: 2 | taste: 2.5 | feel: 4 | overall: 2
Transparent, deep golden beer colored beer holds a couple of lazy bubbles. Short, fine, bright-white head fades quickly to a thin film. The aroma is overrun with butterscotch, and it's hard to pick up anything else. The flavor is a mix of fine maltyness and delicate spicy hops smothered in butterscotch. There is a last minute hint of bitterness, but it's not enough. Low carbonation and a moderately full body as per the Landbier style. A little quality testing and this would be a fine beer, but unfortunately it's just a mess.
530 characters
3.68
/5
rDev
+11.2%
look: 3.5 | smell: 3 | taste: 4 | feel: 3.5 | overall: 4
500 ml bottle, it bears no similarity to the conic white bottle visible in the photo.
Pours pale amber with small slightly off-white head that soon dissipates to patchy layer, some patchy lacing. Faint malty aroma with weak bittery background.
Taste is sweetish malt upfront, although some doubts linger in my mind about whether or not it is bland. Slightly spicy bittering in the finish with clean aftertaste dominated by hints of sweetish citrus. Mouthfeel is medium with moderate carbonation.
Overall, clean and drinkable Helles. Not bad, but it somehow seems that the label is more interesting than its contents.
619 characters
4.1
/5
rDev
+23.9%
look: 4 | smell: 4 | taste: 4 | feel: 4 | overall: 4.5
BB 22-01-06. Nice white and lasting thick head and a pale golden beerolour. Good nose with mega maltiness ans some hopping in the back witch gives nice lemon arome next regular greenness to the brew. Further clean and good beernose. As is taste, that's conform nose namely very malty and full bodied without sticky feeling. Moderatly but very fine bittering and a clean beertaste. Yes another great Bavarian helles. Some may think it's a dull style but IMO the are very fine ones as this is an example of.
505 characters


2.97
/5
rDev
-10.3%
look: 3 | smell: 2.75 | taste: 3.5 | feel: 2.25 | overall: 2.5
A: Pours clear golden with small bubbles. The light white head is rather tall, but sinks after a little while. Small lacings.
S: Mild malty, semi-sweet smell. Light bitter hops. Very mild in every way. Some buttery notes.
T: Light buttery, bready malt. A bit sweet. Nettles and fresh cut grass alongside with the bitter hops make this a better tasting than smelling beer.
M: Light in body, rich in carbonation and poor in aftertaste.
O: Not worth the effort actually... Too mild and boring.
495 characters

3.54
/5
rDev
+6.9%
look: 3.5 | smell: 3.25 | taste: 3.75 | feel: 3.5 | overall: 3.5
Pours clean golden, one finger fluffy foam, nice retention.
Not much in the smell, biscuits, grains, some (bit metallic) hops.
Sweet(ish) grainy malts in the taste, bit bready. A nice mustiness, some green apple. German noble hops, with a bit of coins, easy to bear.
Medium body, fizzy, refreshing.
Pretty run-of-the-mill, but decent enough in its style.
354 characters
Feines Ahonberger Landbier from Ahornberger Landbrauerei
Beer rating:
0
out of
100
with
9
ratings