Peach Pale Ale
| Lone Tree Brewing Company
BA SCORE
84
good
10
Reviews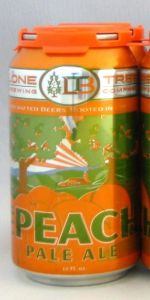 BEER INFO
Brewed by:
Lone Tree Brewing Company
Colorado
,
United States
lonetreebrewingco.com
Style:
American Pale Ale (APA)
Alcohol by volume (ABV):
5.70%
Availability:
Rotating
Notes / Commercial Description:
No notes at this time.
Added by StonedTrippin on 05-28-2014
Reviews: 10 | Ratings: 48

4.02
/5
rDev
+8.4%
look: 4.25 | smell: 4 | taste: 4 | feel: 4 | overall: 4
12 oz. Can
Crafted On: 10/19/16
Pours a pretty nice clean/clear dark golden yellow color, pretty nice carbonation, with a pretty nice one-finger plus white head, which also leaves some pretty nice sticky lacing behind. The nose is hoppy, malty, some citrus. The taste is hoppy, malty, citrusy. Medium body, with a nice little dry/bitter finish. Overall, a tasty brew, but not quite an APA to me.
396 characters
4.02
/5
rDev
+8.4%
look: 3.75 | smell: 3.5 | taste: 4.25 | feel: 4 | overall: 4.25
Look: 3.75
Slight hazy hue and a great deal of foam. Head retention is pretty good. Lacing / Outer ring formation continues throughout.
Smell: 3.5
Only slightly fruity, malty, and hops. Not very strong but an acceptable level of aroma.
Taste: 4.25
Hop bitterness right off the bat and very dry. Earthy hop flavor and herbs seem to rush in. Sweet caramel and biscuit then come in with a strong peach tang. Soon after, this brew gets really yeasty and Saison-like before fading out. I was left with an herbal notes, peach, and a slightly smoky wood flavor.
Feel: 4
Medium body. Slightly slick. Decent amount of fizz throughout.
Overall: 4.25
I was skeptical at first, but really liked this one. It is much more flavorful than I expected. It usually takes a lot of peaches to bring out the finished peach flavor because they tend to fade out in brew. This one is just right for the amount of peach. It's not too much where it tastes like a peach wine, and the base beer is really good so it doesn't have to rely strictly on the peach flavor for interest. I would buy this one again for sure.
1,124 characters
4.13
/5
rDev
+11.3%
look: 4.5 | smell: 4 | taste: 4 | feel: 4.5 | overall: 4.25
Pours a light peach golden color, with a slight haze that beautifies the body. Some sediment (peach?) floats around. The head is fluffy and large, 3 fingers. Stays awhile and leaves lace where it receded.
Aroma of toasted grains, slight herbal/grassy, with a faint peach note. It's simple but so on point.
Flavor starts out with a grapefruity pine bite, fades into cling peach, and then ends on a very nice malty herbal note. This is an enjoyable IPA.
Feel is creamy and huge. I am reminded of this huge orb that just develops in your mouth, it doesn't thin out, and it doesn't back down. The carbonation is spicy and it ends on a semi-dry peppery parch.
Overall this is an IPA I could pick up by the sixers. I love the added peach and it doesn't add too much sweetness or overwhelm the style with fruitiness. It compliments very well and an excellent synergy is going on right here. Highly recommended.
911 characters
3.4
/5
rDev
-8.4%
look: 3.5 | smell: 3.5 | taste: 3.5 | feel: 3 | overall: 3.25
Smell is a light peach aroma, a bit of artificial sweetener, and floral aroma. Taste is big peach flavor right up front, hint of citrus, a little bit of breadiness, and a slightly bitter finish. Overall, a little too sweet for a pale ale but it might be a good fit as a summer beer.
284 characters

3.92
/5
rDev
+5.7%
look: 3.75 | smell: 4.25 | taste: 3.75 | feel: 3.75 | overall: 4
Poured from a can into a pint glass.
L: Transparent golden yellow with a about an inch of pale white head that dissipates quickly, leaving a small white lacing.
S: Smells great! Peach scent is prominent followed by hops and malts
T: Tastes like a refreshing pale ale with a delicious peach finish that lasts a little while.
F: lightly carbonated, crisp finish, easy to drink
O: I liked this beer and would recommend it to others. It would be perfect on a hot day. I could see myself having a few of these....
509 characters
3.46
/5
rDev
-6.7%
look: 2 | smell: 3.5 | taste: 4 | feel: 2 | overall: 3.5
12 oz can. Pours clear straw yellow with a smallish white head that quickly goes to a thin collar that leaves a little lacing.
The aroma is lots of peach and some malt.
The flavor is bready malt with a nice peach finish and enough hops to balance the sweetness. The mouthfeel is a bit thin bodied with low carbonation and a bit watery.
Overall, a nice well balanced peach beer. A bit watery.
397 characters

3.24
/5
rDev
-12.7%
look: 3.75 | smell: 3.5 | taste: 3 | feel: 3.25 | overall: 3.25
I wasn't that impressed by this one - not much peach flavor or smell at all, just a wee bit of a hint of it on top of a traditional pale ale. Should have been better.
167 characters
4.5
/5
rDev
+21.3%
Love it - for a girl who loves fruit beers but doesn't like them super sweet, this is a perfect beer for me. Refreshing, drinkable, all around great beer.
154 characters
4.75
/5
rDev
+28%
This is how I want my fruit beers...a solid pale ale as the base with just a hint on the nose and tongue of delicious fresh peach. This is refreshing in the hot months and helps me remember summer in the cold months.
217 characters
3.54
/5
rDev
-4.6%
look: 3.5 | smell: 3.75 | taste: 3.5 | feel: 3.25 | overall: 3.5
new canned seasonal from lone tree, an american pale with peach puree added. i wanted to love this, it sounds so perfect for the season, beer first, fruit second, but its just not all that good. orange in color and rather flat looking, a sign of things to come. the nose is nice, a lightly hopped pale ale at its base, with floral blossoming orchards and summer breeze feelings all the way through it. the peach smells sweet and a little artificial, but its not out of proportion or anything. the peach is all in the finish of the flavor, the front end is a generic and bland pale ale, unremarkable. the peaches are sweet, making it a long and less refreshing finish than it could be. i still like it well enough until i get to the feel, which is hopelessly under carbonated. to put a beer out like this, at this time of year, thats so under carbonated is terrible. its supposed to be a refresher, my new go to summer beer, and it falls flat. i would like this considerably more if it had better carbonation, but for now its real average. still worth a try, probably more of a beer than dry docks apricot or some of the other fruit ales out there.
1,147 characters
Peach Pale Ale from Lone Tree Brewing Company
3.71
out of
5
based on
48
ratings.