Missouri Mule IPA
| Piney River Brewing Co.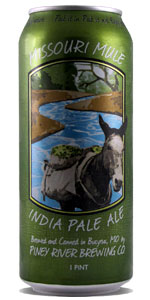 BEER INFO
Brewed by:
Piney River Brewing Co.
Missouri
,
United States
|
website
Style:
American IPA
Alcohol by volume (ABV):
7.00%
Availability:
Year-round
Notes / Commercial Description:
Missouri mules hauled hundreds of wagons across the West and packed supplies in World Wars I & II. For decades, mules were also the most reliable Ozark farm hands. Like a Missouri mule, you can rely on our handcrafted India Pale Ale. This IPA packs a hop explosion that will not let you down.
70 IBU
Added by indiapaleale on 12-07-2011
Reviews: 15 | Ratings: 76

4.37
/5
rDev
+10.9%
look: 4.5 | smell: 4.25 | taste: 4.5 | feel: 4.25 | overall: 4.25
Pours out a Great Caramel Orange color.
Thick caramel smell to go along with the color, and continues on with a taste to match. This is a great ipa that does it in its own unique way. at least for me, the malt and sweetness was up front and the heavy hops came in on the tail. Very Nice.
★
287 characters

4.44
/5
rDev
+12.7%
look: 4.25 | smell: 4.5 | taste: 4.5 | feel: 4 | overall: 4.5
I take my IPAs very serious, believe Heady is the basis for all to follow so happy to say that I found this one from S. MO. This is an unknown gem. Drinks closely to a Double IPA. Wonderful hop aroma out of the can. Balance of citrus and pine. Orange amber if you pour out of can. Wish the can listed hop bill since I think it's so nice. Right amount of bitter on the back. Well balanced with malt. Buy and try if you can find it. Delicious IPA. I want to vist brewery soon...just gotta figure out where the hell Bucyrus, MO is.
★
539 characters
4.24
/5
rDev
+7.6%
look: 4 | smell: 4.25 | taste: 4.25 | feel: 4.25 | overall: 4.25
Honey-orange colored body; thick, dense head. Bold pine aroma with touches of orange peel. Bready malt tones couple with a fine hop bitterness to make for a well-balanced flavor. Medium-heavy body; slight sugary residuals; finishes dry.
It's nice to come across well-made IPAs from throughout the country. With beers like this, there's no need to be concerned with chasing down (generally) over-priced and over-hyped whalez. From this beer's sticky sheets of lacing and deep amber color to its heady aroma and well-balanced and complex flavors, this beer delivers an exciting and extremely satisfying IPA experience.
★
617 characters

3.74
/5
rDev
-5.1%
look: 4.25 | smell: 4 | taste: 3.5 | feel: 3.75 | overall: 3.75
Look: Amber with off white head that settles to a film with bubbles around the edges and leaves a bit of lacing on the glass
Smell: Sweet piney and tropical fruity aromas. not much citrus. slightly soapy
Taste: Sweet mango and pine with a decently strong bitterness in the finish. Fairly well balanced but quite strong both in sweetness and bitterness.
Feel: Medium full body, thick almost syrupy mouthfeel with fine carbonation.
Overall: This struck me as a pretty well crafted IPA, although I found the flavors a bit intense and fatiguing towards the end. There is both a fair maltiness evidenced by the sweetness and thick mouthfeel, and a pretty big hops kick with a long bitter finish. Not necessarily my favorite type of IPA, but not bad either.
★
757 characters
3.17
/5
rDev
-19.5%
look: 4.5 | smell: 3.75 | taste: 2.5 | feel: 4 | overall: 3
Poured pints on four separate occasions from an aluminum 4-Pack. Not impressed. Looks great. Nose is underwhelming. Taste is quite bitter, and not in a good way. A real piney bitter bite with nothing to even it out. I love bitter, but in this case it fails.
★
263 characters

4.25
/5
rDev
+7.9%
look: 3.75 | smell: 4.25 | taste: 4.5 | feel: 4 | overall: 4
I've seen this here in town a lot and they are never fresh, but finally I found a fresh one today. Poured from the pint can into a pint glass.
Look: Hazy orange-amber that doesn't play with the light. Head is white and lacing is strong.
Smell: Classic pine, buiscuity malt, honey like sweetness.
Taste: Bursting with very piney hop bitterness and complex flourishes of fruity, floral deliciousness.
Feel: Very satisfyingly smooth and thick in nature with a complex coating aspect that diminishes little over time.
Overall: Excellent. I would love to have this one on tap!
★
578 characters
4.09
/5
rDev
+3.8%
look: 3.75 | smell: 4 | taste: 4.25 | feel: 4 | overall: 4
Pours a clear, copper/golden color. 1/3 inch head of a white color. Great retention and great lacing. Smells of strong hops, slight alcohol, sweet malt, and slight floral aromas. Fits the style of an American IPA. Mouth feel is smooth and clean, with a low carbonation level. Tastes of alcohol, hops, citrus, slight sweet malt, and a hint of pine. Overall, decent appearance, good aroma, feel, and body.
★
403 characters

4.35
/5
rDev
+10.4%
look: 4.75 | smell: 4 | taste: 4.5 | feel: 4 | overall: 4.5
I am surprised by some of the low marks this beer is getting as it really hits the mark for me. I like an IPA that has some bitterness to it along with the hops and this one does it! I travel to Springfield MO for business so I'll stock up each trip!
A-This beer deserves to be poured in a glass, but you gotta love the full pint cans. Hello other brewers? Love live the big cans.
S-Not bad but could use a little more, still, very nice.
T-This is where the bang happens. This is piney but not too crazy. It's a great hop bang with a solid bitterness, it has a borderline Belgium flavors.
M-This is not a watery beer. I drink this one slow and enjoy!
O-This is not your typical IPA so maybe that is why it has some lower scores. I really enjoy this beer so I encourage you to search this one out.
This one will be a staple in my fridge. Thanks Piney!
★
854 characters
2.56
/5
rDev
-35%
look: 4 | smell: 3 | taste: 2 | feel: 2 | overall: 3
Serving type: Pint size can poured into standard 16 oz beer mug. No 'best by' date on can.
A - This IPA pours a beautiful amber color with a ton of carbonation. About a finger and 1/2 of thick head that retains well 'til the end. This beer is a joy to look at.
S - Very earthy. Detected notes of strong hops (the strongest I've smelled from any beer...ever). Very floral with notes of grass, orange, various other fruits and again, hops. Not the best I've smelled, but still not unpleasant.
T - This is hit and miss for me. It seemed as though some sips tasted different than others while drinking the same beer. This beer is harsh to say the least. On the back of the can it says that this beer is a hop explosion that won't let you down...They mean it. It's a hop explosion, but almost too much. Needless to say, I was a little let down. It's hard to taste anything but the hops.
M - This beer is bitter, and left my palette feeling dry, but not quenched. A little unpleasant.
O - This beer is not terrible by any stretch, however, it's just not for me. I enjoy IPAs very much, this one will not stay on my list. Certainly worth trying though if you really like hops.
★
1,175 characters
3
/5
rDev
-23.9%
look: 3 | smell: 3 | taste: 3 | feel: 3 | overall: 3
The beer pours an orange-amber color with a white head. The aroma is full of caramel malt and grass, with not too much else going on. The flavor is similar, with caramel and toffee. There is also a little bit of grass from the hops, as well as some butter notes which take away from the flavor. Medium mouthfeel and medium carbonation.
★
335 characters
3.45
/5
rDev
-12.4%
look: 3.5 | smell: 3.5 | taste: 3.5 | feel: 3 | overall: 3.5
My first beer from these guys, if I like this I will buy their amber...
Pours amber with 3 fingers of rocky cream colored head. Above average head retention, average lacing
S: Grassy & piney
T: Lemony, grassy & catty hops up front, along with some butterscotch sweetness & some breadyness up front. Honey malt mixes with pineyness, minty & more catty hops. Finishes catty with sharp pineyness with a touch of bready sweetness
MF: Medium bodied, firm carbonation, balance
is a bit skewed by the sharpness of the hops, not unpleasant, but could be better
An alright IPA, the hop mix isn't really wowing me. This isn't really selling me on the idea of buying their amber...
★
676 characters
3.72
/5
rDev
-5.6%
look: 3.5 | smell: 4 | taste: 3.5 | feel: 4.5 | overall: 3.5
A - Poured out a clear, golden amber color with a one-finger, white head of sudsy foam. It left some thin rings of lace on the glass.
S - It smelled very piney/resiny with a good dose of citrus. Some burnt toast maltiness was present, too.
T - Very piney and grassy with a strong bitterness. Quite a bit of yeastiness made is seem slightly unbalanced. It has a nice caramel backbone.
M - It was crisp, sharp and very smooth. A medium bodied ale with a dry, clean finish.
O - This is a nice IPA. It's nice to have a good, local IPA in a can.
★
544 characters
4.92
/5
rDev
+24.9%
look: 4.5 | smell: 5 | taste: 5 | feel: 4.5 | overall: 5
It's a full pint can that I poured into a full pint Bass pub glass. I (accidentally!) let it breath for about 15 or 20 minutes. Still very cold to the touch. Just figure that's worth noting. :)
Appearance - 4.5/5 - Pours well, and only after fully poured does the head swell up and then holds for a while. Has a beautiful orangish red color with a very faint transparency. Looking closely, you can see thousands of tiny tiny bubbles. I wonder how it would appear in a snifter?
Smell - 5/5 - Big citrus/pine aroma perfectly balanced by a big malty smell. Very inviting!
Taste - 5/5 - Follows the expectations of the aroma. Spicy piney citrus hops coat the mouth as the malt tantalizes the tongue. It's hard to imagine more hop flavor in a 7.5% IPA ale.
Side note: I've had this beer on tap at the brewery where it does taste even better, as taps usually do!
Mouthfeel - 4.5/5 - Wonderful tiny bubble carbonation adds to a refreshing sensation. The body is medium (but not heavy). The hops linger for a long time in the mouth.
Overall - 5/5 - A truly wonderful IPA, among the very best Missouri has to offer.
★
1,113 characters
3.9
/5
rDev
-1%
look: 3.5 | smell: 3.5 | taste: 4 | feel: 4.5 | overall: 4
Kinda reddish, pretty clear with a fair head and pretty good lacing.
Smell is malty, caramel malts are accented with nice piney, grapefruit rind and floral hop notes.
Taste is somewhat of a malt bomb at first, really good tasting caramel malts, followed up by a bold, bitter hoppiness. There's a little bit of sweet fruit too.
Mouthfeel is great, very rich and bold, smooth, and full bodied. Bitter aftertaste is really nice.
Overall I really like this beer and certainly plan to buy it again.
★
498 characters
4
/5
rDev
+1.5%
look: 4 | smell: 4 | taste: 4 | feel: 4 | overall: 4
Pour – fills the glass with a dark amber, reddish-auburn color with a soapy head that quickly dissipates leaving a perfect ring around the inside of the glass and some specks of lacing.
Aroma – caramel malts, Tootsie rolls, sweet oranges, lemon, pineapple juice and some floral hops.
Taste – That first sip hits the back of your palate with a wave of bitter sweet citrus that is followed by big malty aftershock. Very balanced with a great body and flavor profile. Some nice tropical fruit notes pop up from time to time as this one settles a bit. This ends with a bitter finish and just a kiss of sweetness. Nothing is too out of balance and I'd say a conservative take on a style that is often taken to extremes will serve this brewery well. Well done Piney River.
Overall – This seems to fall somewhere between a hopped up amber ale, a malty IPA and a strong pale ale. Wherever it lies in the beer style spectrum its certainly a worthwhile brew and is definitely making hop-loving outdoorsy folks happy down in the Ozarks!
★
1,042 characters
Missouri Mule IPA from Piney River Brewing Co.
3.94
out of
5
based on
76
ratings.