No Place Like Home
| 4 Hands Brewing Co.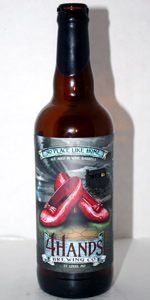 BEER INFO
Brewed by:
4 Hands Brewing Co.
Missouri
,
United States
4handsbrewery.com
Style:
American Amber / Red Ale
Alcohol by volume (ABV):
10.00%
Availability:
Limited (brewed once)
Notes / Commercial Description:
No Place Like Home is our barrel aged version of Home and our first anniversary beer. NPLH is a double red we aged in Cabernet wine barrels for 6 months. NPLH pours a dark amber with mahogany highlights - aromas of stone fruit and oak dominate this rich and beautiful beer. Enjoy now or cellar.
Added by Jason on 01-09-2013
This beer is retired; no longer brewed.
Reviews: 3 | Ratings: 39
4.33
/5
rDev
+4.8%
look: 4.25 | smell: 4.25 | taste: 4.5 | feel: 4 | overall: 4.25
A: Pours an incredibly deep red color similar to a dark cherry cabinet. Clear, but such a deep color that it is still hard to see through the beer. Moderate carbonation. Incredibly thick and creamy head that was 2" thick and took over five minutes to disappate after a vigorous pour. Really nice retention and lacing. After I finished my first pint, the lacing remained until I rinsed the glass later that evening.
S: Mmm, love the smell. Malty sweetness with just a hint of oak and wine. Getting a little chubby as I sit here and observe it.
T: Well, this one is a winner in my book. A beautiful blend of sweetness, tanginess, and oak. There is even a bit of longlasting bitterness as the taste fades. I can't really tell if that is the hops or the wine barrel. Unlike others, I don't get alot of citrus,but I do get just a hint of wine flavor. Complex and subtle at the same time if that makes any sense at all. A full flavored red that packs a wallop at 10% alcohol and yet is quite drinkable. Certainly not a traditional red, but one that has a mind of its own.
M: Slightly oily and smooth with an almost creamy texture..
O: This is just one of those beers that needs to be tried. Four Hands has created a unique beer that manages to blend several components that you might not traditionally think would go together. Yet, they pull it off masterfully. For a red ale, this is one of the better ones I've ever had - complex and yet utterly drinkable. Bravo!
1,463 characters

3.87
/5
rDev
-6.3%
look: 4 | smell: 3.75 | taste: 3.75 | feel: 4.25 | overall: 4
Pours a dark ruby red and brown. Once the head disappeared, had a bit of a wine appearance.
Light sweet candy malt, faint dark fruit. Hints of dry oak.
First thoughts, double red ale that has lots its hops but retained a nice complexity. Very malt forward, light citrus flavor. Slightly abrasive properties. The cab wine barrel aging added some interesting highlights. Red fruit and light dry oak.
Very easy, mild to moderate carbonation. Sweetness, lightly dry.
At first I was unsure but as my glass emptied, I yearned for more. It just worked.
553 characters
4.38
/5
rDev
+6.1%
look: 4.25 | smell: 4.25 | taste: 4.5 | feel: 4 | overall: 4.5
Poured into a tulip glass from a 22oz bottle.
Brewed July 2012
Aged for 6 mo in Cabernet wine barrels.
Bottled January 2013
Pours a nice mahogany and deep ruby red color. A nice dense light cream colored head forms to about 1 inch thick. It is quite sticky and has nice retention. Looks very similar to its non BA counterpart. As it recedes there is some nice thick sticky lacing left on the sides of the glass.
Aroma is a bit more lively than Home. There is some nice fruit sweetness. some peach and some apricot as well as some midl caramel sweetness. There is some tartness to the brew in the nose. Slightly vinous and some earthy woody oak. There is some grassy aroma that can be perceived as well in the nose. I suspect some nice hop notes trying to make it through. Surprisingly but in a good way the nose has some nice woody oaky funk that almost smells like Roquefort cheese. Yum.
Wow. So complex and interesting. Very interesting and different from Home. Starts off with some earthy wood funk notes, followed by some nice smooth caramel and toffee sweetness. some boozy heat is perceived but its not too intense. Quite complex. The Cabernet barrels add a nice deep dark fruit notes to it, such as plums and some grape/raisin notes. This barrel sweetness and the malt and fruit notes work well so together and have a nice bready and sweet finish to it with even some coca notes. As the brew warms there is a nice herbal and piney character to the brew as well. I am pretty impressed right now. So complex. Every sip is a different combinations of flavors. The great blend of the grainy and sweet malt notes with the barrel notes and the hops (that shine as the brew warms) is near perfection to me. Mouthfeel is smooth with a good slightly sticky and oily finish. Some good carbonation and a nice slightly bitter finish. So complex.
Overall. 4 Hands did well with this brew. It is definitely complex and not traditional at all. The flavors that are there are a bit unexpected but they are delicious and so well crafted. Every sip is a bit different than the former. Great mix of toffee and dark fruit sweetness with some nice barrel woodyness and some slight grassy herbal hops on the back end.
2,206 characters
No Place Like Home from 4 Hands Brewing Co.
4.13
out of
5
based on
39
ratings.