Yule
| Boom Island Brewing Company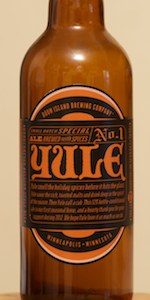 BEER INFO
Brewed by:
Boom Island Brewing Company
Minnesota
,
United States
|
website
Style:
Belgian Strong Dark Ale
Alcohol by volume (ABV):
12.00%
Availability:
Winter
Notes / Commercial Description:
No notes at this time.
Added by yamar68 on 12-30-2012
Reviews: 8 | Ratings: 41
3.48
/5
rDev
-6.7%
look: 3.75 | smell: 3.75 | taste: 3.25 | feel: 3.5 | overall: 3.5
This is the 2012 version, cracked open up on the North Shore on New Year's Eve, crossing into 2016. A real gusher...massive foamy khaki head on top of a kind of hazy brackish sienna that subsides after a minute and leaves spotty lacing. Nose has some muddy sweetish chocolate, overripe banana, toffee candy, and light fruitcake...seems promising. Taste: this is a bit disappointing, the chocolate and banana are there, with some breadiness, but the spice or yeast notes are far too muted, and things just don't come together very well...in most respects, just doesn't have the complexity that one might hope for from the style. Fairly light body for the style, and a little too sweet for me, too. Glad I finally cracked this one open, but glad we had something else on hand to really bring the new year in right.
Wouldn't go looking for another bottle of '12, but I'll keep an open mind about later editions, especially since the brewery is a bunch of good guys who keep on working on their craft from year to year.
★
1,022 characters

3.6
/5
rDev
-3.5%
look: 3.75 | smell: 3.75 | taste: 3.5 | feel: 3.75 | overall: 3.5
I ordered this without looking at the ABV. Although I could tell it was on the boozy side, I definitely didn't think it was 12% until I got towards the bottom. Uff. ABV aside this is more or less what I expect from the style, but nothing to go out of the way for.
★
263 characters

2.96
/5
rDev
-20.6%
look: 4 | smell: 3 | taste: 2.75 | feel: 3 | overall: 3
Black currant flavors were extremely sour. This is the second time that I've had this beer and both taste like they could be infected but I have been assured by each sender that they were not as they drank bottle from the same purchase.
★
236 characters
4.35
/5
rDev
+16.6%
Slightly overripe fruit with a dash of spice on the nose over a suggestion of fruit cake.
Pours brilliant deep dark brown with a dense 3" foamy light tan head.
Fruit cake, spicy palate with toffee and caramel notes, prune, dried fig and a dash of anise lead the palate to pleasant bitter hop finish.
Very rich and creamy with a medium full body and above average effervescence.
★
379 characters

4.07
/5
rDev
+9.1%
look: 4.5 | smell: 4.25 | taste: 4 | feel: 3.75 | overall: 4
Corked & caged 750ml from laymansbeerfan (thanks!), one year old, popped & shared on Thanksgiving and poured into a pint glass.
A: Extremely effervescent, slightly cloudy. Body is dark brown and opaque, with tons of tan head. Soapy lace coats the glass.
S: Big, dark malty tones, very fruity with notes of apple and clove, allspice and some nutmeg. Belgian yeast pokes through too...very fruity overall.
T: More of the same, lots of BSDA qualities with malty notes and even some caramel, apple skins, plum, and holiday spices. Alcohol heat is darn near invisible.
MF: Full bodied, yeasty and a bit chalky on the finish.
O: A really good holiday beer in my opinion, a nice age to enjoy it. Malty, fruity and spicy.
★
718 characters

2.95
/5
rDev
-20.9%
look: 4.25 | smell: 3.5 | taste: 2.5 | feel: 3.5 | overall: 2.5
750 ml bottle split 3 ways
A: Pours a slightly hazy dark amber with three fingers of off white head. Great retention.
S: Fairly light for the style. Plums, dried apricots, with fairly strong, yet straightforward yeast esters. Booze is evident.
T: Dark fruits, though they seem a bit rotten. I get a bit of metallic flavor, almost blood-like. The flavors are sharp and unrefined, I think a bit of time might help this beer.
M: Medium to thick with appropriately high carbonation.
O: The aroma is decent on this beer, but certainly not excellent. The taste is full of off flavors and lacks complexity.
★
604 characters

4.01
/5
rDev
+7.5%
look: 4 | smell: 4.25 | taste: 4 | feel: 3.5 | overall: 4
Boom Island Yule. "Small Batch Special Ale Brewed with Spices, No. 1."
Let's pour this guy into a glass and contemplate, shall we?
Dark brown color, reddish highlights, slim, cocoa-toned head, small, but lasting.
Aroma: Warm and malty, certain spice showing up, but nothing too distinct, a nice and spicy blend. Light cinnamon and clove, nothing too loud. Nutmeg? Nonetheless, evident, and very pleasant. Sweet, malty, spicy, and yum.
Taste: Spices jump on board right off, then alcohol, then malt. Then spice! That cinnamon and clove factor really reigns high on this one, with dark fruit, some chocolate, plenty of dark malt, and more providing ballast. Small hops in this affair, but a plentitude of, as they say, "holiday spice."
Medium-ish body, with a long, lingering fruity, spicy finish. Fairly nice in that regard.
Unfortunately, I'm not getting enough Belgian yeast in this, which would have really made me wonder if they switched this bottle with a Gouden Carolus Noel or a Corsendonk Christmas. One thing I'm not missing, but might be regretting is the high alcohol. Twelve percent puts it in the range of such great beers as Scaldis Noel, but is it necessary? One wonders. Before you can think on it too hard, BOOM!. BooM!, BooM!, as the corners of the braincase are threatened.
The bottom line is, this gets dangerously close to a real, true, authentic, hand to heart, eyes of God, etcetera, real Belgian Christmas Ale…and yet not quite. Much like the rest of their releases. Pretty close. A faint echo away. Tasty enough..but I'm keeping the damned cigar.
I'll ash it in a northwesterly direction, however.
★
1,632 characters
4.05
/5
rDev
+8.6%
look: 4 | smell: 4 | taste: 4 | feel: 4.5 | overall: 4
Muddy dark chocolate brown with a healthy dose of creamy burnt latte head that leaves thick drapes of carbonation across the glass.
Caramel malts, cherry bark, molasses, almond, some milk chocolate, brown sugar, really damn smooth given the ABV.
Much better than the few reviews I've seen have indicated. The cherry and raspberry flavors are pushing tartness on the tongue... some cinnamon, more brown sugar, it finishes long and truly Belgian. Fruity yeast and sweet dark malts make for a wonderful aftertaste. No real discernible alcohol character.
Tasty.
★
567 characters
Yule from Boom Island Brewing Company
-
out of
100
based on
8
ratings.