La Sirene Wild Saison
| La Sirène Brewing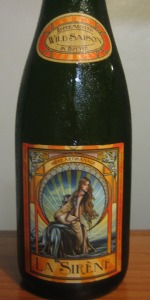 BEER INFO
Brewed by:
La Sirène Brewing
Australia
lasirene.com.au
Style:
Saison / Farmhouse Ale
Alcohol by volume (ABV):
6.50%
Availability:
Year-round
Notes / Commercial Description:
No notes at this time.
Added by CrazyDavros on 09-03-2012
Ratings: 14 | Reviews: 7
4.24
/5
rDev
+14.6%
look: 4 | smell: 4.25 | taste: 4.25 | feel: 4.25 | overall: 4.25
this is a lovely glass of beer, thanks to drlovemd87 for sharing this rarity with me! its got a ton of sediment in it, fish food all the way, with just a little bit of haze and a tall airy expansive head on top of a light copper colored brew. i get such a cool nose here, wild yeast sure, but not the stuff we are used to here in the states. this is a totally different kind of yeast driven beer, fruity like a belgian, but with some cool drying funk to it well apart from any strain of brett i know anything about. i really love the flavor, i swear i get fresh raspberries on it. im sure it isnt fruited, but there is this incredible tangy jammy thing going on that is so unique, must be from the yeast. bottle conditioned for sure, and very effectively, the yeast profile is well mature and developed, and it has a ton of funk and wildness to it, dry though for how fruity it is, champagne notes, apricots, white grape, hay. its summery and awesome. it looks like these guys do a bunch of clever saison types, i would love to get my hands on some of the others. this is wholly unique, not like anything you can buy here, and a different kind of wild. dry and bubbly, really lovely, the sediment doesnt slow me down a bit. loved this one, loved the art on the label too, gorgeous inside and out!
1,296 characters
4
/5
rDev
+8.1%
look: 4 | smell: 4 | taste: 4 | feel: 4 | overall: 4
4
/5
rDev
+8.1%
look: 4 | smell: 4 | taste: 4 | feel: 4 | overall: 4

4.38
/5
rDev
+18.4%
look: 4.25 | smell: 4.25 | taste: 4.5 | feel: 4.5 | overall: 4.25

3.34
/5
rDev
-9.7%
look: 4.5 | smell: 3.5 | taste: 3 | feel: 3.75 | overall: 3.25

3.81
/5
rDev
+3%
look: 3.75 | smell: 4 | taste: 3.75 | feel: 3.75 | overall: 3.75

3.38
/5
rDev
-8.6%
look: 4 | smell: 3.5 | taste: 3 | feel: 4 | overall: 3.5
Deeply hazed golden straw with a dangerously large white airy head that drops with spidery lacing to a resilient ring and film.
Nose shows modest Bretty mustiness and savoury, horse blanket character. Nice clean lemony, green apple sourness together with moderate marmalade and grapefruit pith notes. The estery character of the original is very subdued.
Flavours display even less of the original. Almost like the clean Brett tartness strips away the Saison yeast characteristics. Yet at the same time, it's not sour or acidic enough to double as a lambic.
Again, owing to the Brett acidity it's much lighter bodied than the original. It's pretty refreshing and easy drinking as a result.
Concur fully with the previous reviewer. Defying intuition, more is less with this beer. Interesting lesson here about relative dominance of different yeast types.
858 characters
3.68
/5
rDev
-0.5%
look: 4 | smell: 3.5 | taste: 3.5 | feel: 4 | overall: 4
375ml green bottle purchased from Slowbeer in Melbourne.
Uncaps with an elongated hiss, followed by several inches of foam out of the bottle and onto the table top. Once it's caught, it's a pale, slightly cloudy, and incredibly effervescent golden hue, with a crackling, frothy head of white. Lacing sits in clumpy chunks across the inside of the glass, but clearly the main event in the appearance are those bubbles: masses of tiny streams running through the beer and making it look wild and alive.
Nose is clear and slightly acidic, with a hint of almost lambic-like funk to it. Slight apple cider characters come through, along with a zest of carbonated water, even a puff of chlorine. Something peppery as well. It's quite subdued, but reasonably pleasant.
Taste is very mild and light, surprisingly, much more so than their regular Saison. Slight pepper notes around the edge of the palate, and on the back, with a rounded Belgian fullness to the palate. But apart from the feel, and the structure, there's not an awful lot of real flavour to it. That's really quite strange because I expected this to be amped up over the regular.
Feel is good, however. Smooth and clear throughout, despite the visible carbonation.
Overall, this is solid, drinkable and enjoyable stuff. It's clear and clean and quite refreshing. However, it also seems more bland and tepid than the original La Sirène Saison—I was expecting this to be more extreme, and more risky (and hence potentially less successful). I was a little disappointed that it was less successful just because it's less interesting.
1,596 characters
3.95
/5
rDev
+6.8%
look: 4.5 | smell: 4.5 | taste: 3.5 | feel: 4 | overall: 4
Drank from my Cantillon Geuze glass
A - Pours a very pale straw colour with high fluffy white head that reduces to a decent film and laces.
S - This thing stinks authentic Lambic, with maybe a touch of White wine sweetness.Definitely some horse blanket in there.
T - Bit of a let down with not enough sourness/brett in there, if this is to be a wild ale. The sweetness is a little too much.There are saison like characteristics which rescue the beer to something very tasty. Lots of funk and nice bittering hop flavours.
M - Light to medium body and medium carbonation. A little sticky.
O - This has to be one of the best attempts at a Belgian beer ever in Australia. I get excited when they display authentic character. Full marks for having a stab at these difficult to replicate styles. This brewer has serious potential. I can't believe some of the previous scoring.
875 characters

3.55
/5
rDev
-4.1%
look: 4 | smell: 4 | taste: 3.5 | feel: 3.5 | overall: 3
From Platinum. BB 0613.
Opens with a ppfffttt. Pours a lemon/straw, casual pour fills the Duvel tulip to the brim with a third of the bottle in the glass. Lovely white bubbles in head. Tornado of bubbles rise from etched D in glass.
Aromas of funk, lemon zest, straw.
Taste in the same vein with a welcome sour edge. However the flavour is a bit of a let down after the wow factor of the pour and the aromas. Lemons, citrus, barnyard. Hint of bread/dough and a little vinegar. All of the above are in moderation, not a strong flavoured beer at all.
Mouthfeel is a let down, and I think the carbonation has been killed in the head. Not carbonated , and with a lightish ody, it needs the lift. Second pour (carefully!) yields a better result.
Good beer, but not as good as I would have thought from La Sirene given their recent hype. 0.5 off for $12 price as well.
867 characters
3.65
/5
rDev
-1.4%
look: 4 | smell: 4 | taste: 3.5 | feel: 3.5 | overall: 3.5
Pours a hazed lemon hue which leaves a huge creamy head and similar lacing everywhere.
The smell is a touch of funk,lemon cream pie,lavender and fresh country air.
On taste i get light lemon,some funk,floral hops,bready malts,a slight touch of vinegar and the finish is dry and zesty.
Mouthfeel is light bodied with minimal carbonation.
Overall its nice but i cant see too much difference to this and their original offering and would of liked to see more of a wild influence.
480 characters
3.07
/5
rDev
-17%
look: 3 | smell: 3.5 | taste: 3 | feel: 1.5 | overall: 3.5
Pours hazy light amber with a large, sudsy head.
Nose shows funky Brett notes, spicy phenols and lemon notes. Refreshing.
Light flavours, more lemon and soft malt but also prominent doughy notes to the point of being distracting.
Carbonation is waaaay too high.
A little disappointing considering how well the original hit the mark.
336 characters
La Sirene Wild Saison from La Sirène Brewing
3.7
out of
5
based on
14
ratings.