A Midsummer Night
| Pipeworks Brewing Company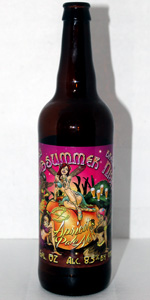 BEER INFO
Brewed by:
Pipeworks Brewing Company
Illinois
,
United States
pdubs.net
Style:
American Pale Ale (APA)
Alcohol by volume (ABV):
8.50%
Availability:
Limited (brewed once)
Notes / Commercial Description:
Ode To an Apricot Pale Ale
Sweet summer swells like heaven's breast
And glimmers with politest sweat
Come now our friends and take your rest
With apricot pale upon your breath
Like love and youth seasons do die
So savor sweet summer the hour is nigh
"Puck"er your lips and giv'er a try
This is beer it sure ain't Shakespeare
Tho' either is nice for a midsummer night
Added by ThatsThatDude on 07-22-2014
This beer is retired; no longer brewed.
Reviews: 7 | Ratings: 49

3.63
/5
rDev
-0.5%
Light golden pour with a generous white porous merengue head. Definite floaties. Sticky lacing left throughout session.
Aroma of spice drop candy. Sourness and hints of vinegar.
Initial taste of some booziness followed by tartness then mild bitterness that comes and goes. Pick up on the apricot dryness and otherwise other fruity essences.
Medium body that is creamy. Carbonation is maintained throughout.
I love apricots so giving this a try without reading any other reviews. Can't say that I'm wowed but definitely worth a go. Booziness noted that does provide for a quick buzz. Would not buy again but would love to try on tap when available.
659 characters
3.65
/5
rDev 0%
look: 3.5 | smell: 3.5 | taste: 3.75 | feel: 4 | overall: 3.5
Appearance: Pours with a finger of head which settled in to the sides of the glass while drinking. Bright orange color with a cloudy body. Sticky random lacing left behind with each drink. Active carbonation is what it should be.
Smell: Light tropical fruits jump out at the drinker right away. Caramel malts with some airy grains make up a formidable body. I get just a touch of the apricot on the nose but it is very subtle, getting buried under the hops and malt backbone. Bright hops continue to shine on the back end.
Taste: Easy front that is very much what you'd expect from a pale ale. Nice hop additions are supported by a prevalent malt backbone. The tropical hops continue to pick up and the apricot shows up mid palate. The apricots are most present as they leave a dry, fruity, pruney flavor.
Mouthfeel: Drinks like a smaller pale despite being 8.5% abv. Apricots are most felt here with their dry, fruity texture being left behind.
Overall: Pretty much what I expected from this brew. The apricots are there but not a huge player. Typical Pipeworks delivering a super bright hop forward pale. Decent but nothing special like most of the Pipeworks I've had in the last year.
1,194 characters
3.91
/5
rDev
+7.1%
look: 3.75 | smell: 4 | taste: 4 | feel: 3.75 | overall: 3.75
Pours hazy and golden yellow in color with a big fluffy 2 finger white head.
Smell is pretty good with citrus hop profiles and some very faint hints of sweet apricot. Tropical and slightly herbal hops finish.
Taste follows the nose with some big oily hop herbal was frat to hit the palate along with a mildly sweet fruit flavor. There is a fair amount of bitterness in the finish along with some hints of grainy malt.
Mouthfeel is medium bodied moderate carbonated high bitterness for a pale and full of hop oils and resin.
527 characters

4.05
/5
rDev
+11%
look: 4 | smell: 4 | taste: 4 | feel: 4.5 | overall: 4
22 oz. bottle, with Batch #459/460 printed on the label. Another new pale ale creation from the geniuses at Pipeworks; expectations are great based on this knowledge.
Poured into a Duvel tulip glass.
A - It pours a light yellow color; appears a nice golden orange in the glass with some small sediment lurking about. One to two fingers of fluffy soapy white head that leaves behind some nice looking lacing. Looks very nice. The second pour yields a much murkier orange colored body.
S - The aroma is fairly neutral, but a fleshy authentic peachy / apricot presence makes itself known. I wouldn't know this was brewed with apricots though, just by the smell. Some sort of orange / citrus fruit aromas present also, but it is probably all the apricot.
T - The taste is very juicy and fruity - very authentic tasting apricot flavor balanced by a honeyed bready malt backbone. Fruity, juicy, & citric.
M - The feel is extremely crisp, fruity, & juicy. Mostly clean on the finish, with some fruity stickiness leftover on the palate. Medium bodied with good carbonation, and excellent drinkability for the moderately high 8.50% abv.
Overall, another wonderful beer from Pipeworks, but I'm not surprised. These guys have been on a roll for quite a while now. Highly recommended if it is available to you.
Pipeworks A Midsummer Night ---4/5.
1,341 characters

1.92
/5
rDev
-47.4%
look: 3 | smell: 3.5 | taste: 1 | feel: 1 | overall: 2
Looked and smelled promising, but it was like chewing on a sun dried grapefruit rind reconstituted in Heineken. I poured it out.
* I HONESTLY COULDN'T DRINK ENOUGH OF THIS BEER TO GIVE A 250 CHARACTER REVIEW.
** I DO HAVE ANOTHER BOTTLE I AM GOING TO AGE FOR YEARS AND THAT HORRIBLE OVER HOPPING DIE OFF.
306 characters

3.77
/5
rDev
+3.3%
look: 4 | smell: 3.75 | taste: 3.75 | feel: 3.75 | overall: 3.75
A: Slightly hazy bright golden yellow in color. Forms a moderate sized fluffy white head. Decent retention. Moderate lacing.
S: Aroma is a blend of citrus hops and dried apricots. It's distinctly the dried apricot smell - that sort of sweet, sort of earthy fruitiness.
T: Taste starts off fairly sweet with a dried apple, dried fruit sweetness. Then fruity apricots and then a punch of grapefruit hops along with dried fruit along the lines of mango and papaya. That said, this isn't necessarily a tropical flavored beer. More of a dried fruit flavored beer.
M: Medium bodied. Low-medium carbonation. Mild bitterness.
O: I'm a bit torn on this beer. On the one side, I like the idea of a fruited pale ale, but in the end this tastes like a pale ale with fruit in it. The fruit and the hops seem to conflict somewhat, though I wouldn't say the result is horrible.
870 characters

4.1
/5
rDev
+12.3%
look: 3.75 | smell: 4.25 | taste: 4 | feel: 4 | overall: 4.25
Pours a light golden rust orange with a crisp and well carbonated head.
Smells of apricot grace the nostrils with a perky sour and citrus haze.
Apricot comes on very faint and recedes relatively quickly, but is followed up by a sweet bread-like malt backbone to cut the bitterness of the apricot.
This packs a punch in the mouth. Highly carbonated and apricot sourness is on the attack with this one.
Overall a very good summer brew, tart, crisp, and hoppy, can't complain!
477 characters
A Midsummer Night from Pipeworks Brewing Company
3.65
out of
5
based on
49
ratings.