Froggy Style
| Pipeworks Brewing Company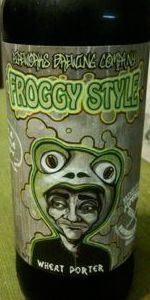 BEER INFO
Brewed by:
Pipeworks Brewing Company
Illinois
,
United States
pdubs.net
Style:
American Porter
Alcohol by volume (ABV):
8.80%
Availability:
Rotating
Notes / Commercial Description:
No notes at this time.
Added by emerge077 on 07-01-2012
Reviews: 12 | Ratings: 49
3.61
/5
rDev
-5.7%
look: 4.5 | smell: 3.5 | taste: 3.5 | feel: 4 | overall: 3.5
Appearance: Rich brown almost black until held to light. Creamy tan head drops to a small cap with a chunky collar. Decent retention. Notches of lacing. Smooth pour.
Smell: Solidly roasted with a bunch of chocolate. Dark and milk chocolate coupled with some roasted malt sweetness. Solid hop presence pushes some oily pine and citrus. Almost phenolic with some alcohol. Some grass and a touch of char. Some smoke and a ton of deeply cooked malts. Wheat is overpowered.
Taste: Roasted chocolate and coffee beans. Very faint old coffee. Milk chocolate sweetness layered through the back. A good punch of cocoa and some bitter dark chocolate. Hops push a touch of pine needle bitterness and some citrus. A bit of dark fruit coupled with a slight grassy and herbal thing. Slight alcohol heat and a very slight hint of wheat as it warms. Crazy amounts of cocoa. Herbal finish.
Mouthfeel: Nice and smooth with a medium leaning toward full body. Moderate carbonation with a relatively clean finish.
Overall: There are better positions.
An unabashed hoppy porter. Loses a little in the long run as the hops dominate some of the more subtle malt flavors. Solid.
1,162 characters

3.78
/5
rDev
-1.3%
look: 4 | smell: 3.5 | taste: 4 | feel: 3 | overall: 4
bomber into a nonic. batch #14.
a - pours a murky, dark brown with a finger and a half of rocky, light brown head. after calming, i'm left with a thin cap and thick rings of lacing in the glass.
s - dark chocolate, wheat bread, faint molasses.
t - big dark chocolate flavor with a bready backbone, reminiscent of fresh pumpernickel. has a faint spiciness underlying the chocolate and a noticeably boozy kick in the finish. hop presence doesn't really come out til the beers warms up a bit, then exhibits a subdued, earthy character.
m - medium in body, though lighter than expected presumably from the wheat content. adequate carbonation though the co2 profile is on the coarse side.
o - tasty and enjoyable, especially once it warms up. this is a nice take on the style while keeping most of of the characteristics i expect in a porter. Would certainly buy this again.
874 characters
4.1
/5
rDev
+7%
look: 4 | smell: 4 | taste: 4 | feel: 5 | overall: 4
Batch 14
Appearance: Pours with a foamy tan head plopped on top of the fudge brown liquid; very tight bubbles and great retention though just a few dots of lace
Smell: Very roasty, with burnt wheat bread, old coffee and bitter hops
Taste: CItrusy hops and the roasty flavors of burnt wheat toast and old coffee clash, at the outset, with the hops edging out the malt in the middle; in the finish, however, it is a different story as the burnt flavors build into the aftertaste
Mouthfeel: Extremely creamy, with a full body and moderate carbonation
Overall: Another interesting beer from Pipeworks; love the mouthfeel though I would prefer a more harmonious blend of flavors
678 characters
3.95
/5
rDev
+3.1%
look: 4 | smell: 4 | taste: 4 | feel: 3.5 | overall: 4
Batch 14
A - Black deep brown with a big foamy tan head. 1-2 fingers of foam remain for quite some time.
S - Citrus and piney hops with roasted malts, milk chocolate and coffee.
T - Roasted malts with some burnt notes, baker's chocolate, pine and citrus hops on the finish. Light yeasty nite.
M - Medium body with a grainy texture and a good amount of carbonation. The wheat is definitely noticeable in the mouthfeel.
D - On the hoppy end but still very drinkable.
470 characters
3.9
/5
rDev
+1.8%
look: 4 | smell: 4 | taste: 4 | feel: 4 | overall: 3.5
Served in a nonic
Batch #14
A- The jet black body supports a thick ring of tan foam and gentle bubbles glide up the side of the glas
S- The green earthy pungent hops blend with dark roasted black wheat that has a mellow roasted aroma and some nice dark fruit qualities.
T- The smoky hint and mellow charred black roasted wheat is followed by an earthy hops and a dry roasted flavor lingers just for a moment.
M- The medium-light mouthfeel with no alcohol heat.
O-This beer has nice roasted wheat notes with some earthy hops and a mellow but nice depth flavors thanks to that midnight wheat.
597 characters

3.88
/5
rDev
+1.3%
look: 4 | smell: 3.5 | taste: 4 | feel: 4 | overall: 4
A- Pours a dark brown, near black, with a 1 finger tan head. Some blotches of lacing on the glass.
S- Chocolate, some coffee, roast and citrus.
T- Roasted malts, coffee, citrus not as prevalent at in the nose, crisp pine/citrus bitterness.
M- Medium body and carbonation. Has a bit of a prickly feeling.
O- Nice roast and chocolate flavors with just enough citrus and bitter hop finish.
390 characters

3.6
/5
rDev
-6%
look: 4 | smell: 4 | taste: 3.5 | feel: 3 | overall: 3.5
Pours deep dark brown with cocoa colored head, minimal retention. Nose is full of green in your face hops. The pine and earth melds with roasted malts and chocolate. Nice combo. Taste starts bitter and hoppy. The roasted profile is tame on the Tate as the hops steal the show. Not getting much in the way of wheat. Floral finish. Mouthfeel is highly carbonated and somewhat prickly. Body is moderate. Overall, this beer is very different. I'm missing the wheat, seems to be overshadowed by the assertive hops.
509 characters

3.7
/5
rDev
-3.4%
look: 4 | smell: 4 | taste: 3.5 | feel: 4 | overall: 3.5
Served in an Innis and Gunn cervoise.
The end of my post-bachelor party mini-haul. Get some, I guess. This stuff pours a stark black-brown minorly tinged in auburn and topped by a finger of sandy gray-brown foam. The nose comprises dark-ish chocolate, light grapefruit rind, and an underlying sense of toasted wheat. I guess this makes sense, considering the beer is billed as a hoppy wheat porter. The taste amps up the hop oils a good deal, to the point where they compete with the dark chocolate for who can produce the stronger bitterness. All the while, some soft cocoa sits in the background, minding its own business, providing a vain attempt at balance with its sweetness. This isn't to say the bitterness is overdone, though the finish, which sneaks up and shocks you Shinobi-style (or maybe it'd be more of a Tenchu-style, given the surreptitious nature of the assault), certainly smacks of nothing but. It's a bit much at that point, but it's not so strong for the rest of the proceedings. The body is a strong medium, with a light moderate carbonation and a slightly silky feel. Overall, a pretty nice porter, one that, if nothing else, shows how wheat can be employed in this particular style (gotta love the lightness provided thereby).
1,251 characters

3.88
/5
rDev
+1.3%
look: 4 | smell: 3.5 | taste: 4 | feel: 4 | overall: 4
A: Very dark brown and rather cloudy. Forms a moderate sized light tan head that reduces fairly quickly to a thick surface coating and a thick ring around the edge. Very little lacing.
S: There is a powerful hit of fresh yeasty bread on the front end, but it is quickly overcome by citrus hops, orange, and orange juice before revealing roasted malts and burnt coffee. Interesting and complex, though I'm not convinced it really works.
T: Starts on the thin side with notes of deeply roasted malts and char before turning slightly acidic with notes of thin black coffee. Then the hops show up in the form of citrus, grapefruit, and orange. Flavor returns to the roasted malts on the finish.
M: On the heavier side of medium. Not sour, but slightly acidic (in an acidic coffee sort of way). Moderate bitterness.
O: Overall, I enjoyed this beer. It's got a good dose of both roasted malts and hops and could probably pass for a Black IPA. However, the more I drank it, the more I started to think this now was more reminiscent of a thiner, more acidic Alpha Klaus.
1,070 characters
3.93
/5
rDev
+2.6%
look: 4 | smell: 3.5 | taste: 4 | feel: 4.5 | overall: 4
22 oz. bottle served in a CBS snifter. Batch #14.
A: Pours a black color with brown edges. A thin light khaki head forming on the pour. It recedes quickly to a thin ring. Splotches of lace are left down the glass.
S: Some light coffee bean, milk chocolate, roasted malts and mild citrus hops. There are some other fruity esters present as well that push towards the forefront of each sniff.
T: More roasted malts flavors with dried black coffee and bitter bakers chocolate. The citrus flavors are toned down and have minimal bursts of flavor here and there. The finish has some cracked wheat dryness, sweet creamy malts, and hoppy greenness.
M: Medium bodied with a medium, semi-prickly carbonation. The finish is roasted and sweet.
O: I definitely enjoyed this porter. Glad the fruity esters from the nose weren't present (or noticeable) in the taste. Nice roast and chocolate with a balance of mild citrus hops. Must try.
928 characters

3.88
/5
rDev
+1.3%
look: 4 | smell: 3.5 | taste: 4 | feel: 4 | overall: 4
Bottle purchased at West Lakeview Liquors. Served in a pint glass.
A - Light tan foam settles to a thin cap and thicker collar. Very dark brown body that's lighter at the fringes.
S - Some cognitive dissonance here - lots of orange citrus flavors, with a vague creamsicle note as well. There's a bit of cocoa and an odd yeasty note that I don't entirely enjoy.
T - I think the taste is better, as it has a bit more balance between the hops and porter flavors and loses the yeast note I don't like the aroma. A nice mix of chocolate, light roast, and citrus. A tad understated, but with extremely well-hidden alcohol.
M - Chaffed wheat and toasted grain texture, medium-full body, minimal alcohol presence, and pleasant carbonation.
D - Really easy to drink for a near-9% brew - had no problem drinking the whole bomber with a friend. There's an slightly incongruous vibe, particularly between the aroma and the other elements of the beer, but on the whole this was pretty enjoyable.
987 characters
3.92
/5
rDev
+2.3%
look: 3.5 | smell: 4 | taste: 4 | feel: 3.5 | overall: 4
A hoppy wheat porter, sounds good to me. Poured into a tulip glass, it has a murky brownish black with a thin skim of foam on the surface. Doesn't generate much head to speak of.
Light yeast esters in the aroma, some fruity plum, some light roasty malt. Flavors are similarly fruity, roasty, and hoppy. Some light coffee and plum notes, with a firm piney hop bitterness in the finish. Light in feel, light carbonation that seems to ebb away over time. Easy drinking, doesn't feel at all like it's nearly 9% abv. Not over the top on hop additions either, the yeast plays an equal role. Overall a nice beer, would drink again.
628 characters
Froggy Style from Pipeworks Brewing Company
3.83
out of
5
based on
49
ratings.