Crop Bistro & Brewery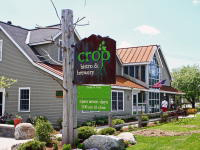 PLACE INFO
Type:
Brewery, Bar, Eatery
1859 Mountain Rd
Stowe
,
Vermont
, 05672-4890
United States
(802) 253-4765
// CLOSED //
Notes:
Replaced by Idletyme Brewing Co.
https://www.beeradvocate.com/beer/profile/43069/
Added by stoutluvr420 on 01-24-2012
Reviews: 7 | Ratings: 38
3.6
/5
rDev
-6%
vibe: 3.75 | quality: 3.5 | service: 3.75 | selection: 3.75 | food: 3
Definitely a very nice dining room and pub area. A decent menu and nice beer selection. On occasion a menu pairing is offered with beer or wine. Service was good but the food selection and quality was a let down. The appetizers were phenomenal but the main courses were a let down.
281 characters
3.75
/5
rDev
-2.1%
vibe: 4 | quality: 4 | service: 3.5 | selection: 3.5 | food: 4
Crop has come a long way in the last year. While I'm not in love with their in house brew list, the Idletyme IPA is legit. Great beer and very reasonably priced. They sell 22s to go or growler fills. They typically have one tap of Hill Farmstead (usually Edward) and a good offering of bottles/cans too (including Heady Topper). The new outdoor bar is a slice of heaven under some shady trees, right off the Stowe recreation path and the westbranch river. A little lawn with cornhole and ladder balls makes it like your backyard with a bartender and some good food. Chef Steve has really brought some great changes to the menu. We met the baker who makes the pretzels and they were excellent and the baker was very nice and gracious. The beer cheese sauce is drinkably good. Short rib poutine...need I say more?
Indoors there are two bars. The old Shed bar is a no frills good space and the brewing setup is in that space too. When they expanded a couple of years ago they built another huge upscale bar also. Something for everyone here. Check it out if you haven't already.
Bonus points, they are across the street from the Liquor store which sells crop 22s so if they are out of your choice at the brewery itself, check across the street.
1,245 characters
3.98
/5
rDev
+3.9%
vibe: 4 | quality: 3.5 | service: 4.5 | selection: 4 | food: 4
Last time I was here, it was on the 'Shaun long gone Shed slide down'; oxidized wet cardboard bad beerness. But you know how the scene goes, i.e., somebody left here and went there, things have changed, we'll see. Parked while Witz set out for a not functioning backyard ATM behind a barber shop, I think, and I set out for the bar...
The room pretty much looks like I remember it 6 years back. Small 'J' shaped wood laminated topped bar, panel base, & piping foot rail; seating for 10 on high top wood chairs. Overhang tracing with baby spots inlayed with guest tap handles lining the top side and a hanging glass rack for things stemmed and snifted on the end. Barback is a nook under a stairwell, with mug club mugs dangling on the front side, triple wide cooler space below housing bottled selections, and tiered booze above fronting a mirrored piece and another hanging glass rack.
Yellow ochre walls over paneled lowers, wood rafter ceilings with blended ducts, and wide plank floorings, worn & yellowy. Copper kettles in the front corner and flats on opposite walls. Pics of people and places, and a blackboard piece lined with coasters all around on the far wall listing tap selections, upcoming music events, and a few food specials. 8 shorty tables and a pair of raised roundies in the center of the room. Drop green lamps over the far wall seating.
And through to the dining side; a front space with a dozen tables, a stone fireplace, and a horseshoe bar with trees running through it holding its overhang with seating for a dozen and a half to the rear. Behind it, an open room with a dozen tables, and a room off the backside holding another dozen running an 'L' along the window two sides around. Apparently, there's a spacious backyard area that I've never seen it open during the colder winter months I've been up here.
8 house beers, I did on sampler (Bavarian Weizen, 5%, a good enough Hefe, a whole lot of clove buries the banananana; Dunkel Lager, 5%, solid dunkel, good malt backbone; William Ale, 5.4%, they call it a London Ale, it's an easy drinking EPA; Crop Bock, 8%, smooth, a bit boozy, but nice; Vermont Pale Ale, 5.5%, hop forward, floral; Willi Vanilli, 5.7%, vanilla-ey porter, all right; Crop Stout, 4.5%, weird, thin, and a bit sour for a dry Irish stout; Idletyme Double IPA, 8%, a good double IPA, not cloying or too sweet), and a pair of guest taps (Hill Farmstead Edward & Citizen Cider Unified Press). Dunkel Lager, William, & Crop Bock were the best of 'em.
Guest bottles, 30 or so. Mix & match macros, micros, imports, N/A's, & gluten free. Heady for $7 and Orval for $8 are reasonable; Rodenbach vintage 2009 for $40 seems a bit steep though.
As we're here due to a lack of available tacos in Waterbury, I would say lunch is in order. I did the French onion soup (crusty & cheesey gooey), and the Thai chile wings (sufficient heat), there were a mountain of them and they did me well. Witz the beer battered fried pickles with a remoulade sauce and Poutine (French fries, Vermont cheddar curds, & duck veloute), which was deemed 'delicious'.
Restaurant side looks a whole lot nicer than what I remember the Shed looking like. Beers are certainly better than end game Shed. Chill afternoon, not a lot going on. Just Jasontender, an asshole bartender in the best of ways, and the old codger at the end of the bar talking his crazy Canarsie talk, he's fun, too. But it's time to make tracks for G bend.
3,484 characters
3.88
/5
rDev
+1.3%
vibe: 3.75 | quality: 4.25 | service: 2.5 | selection: 4.5 | food: 4.75
I live in New Hampshire and often make the trip up to Waterbury to get my Vermont beer fix so I was inspired to check out this place where Will Gilson, former head brewer at Moat Mountain, has set up shop. This visit was 10/13/13, Columbus Day weekend.
The atmosphere varies. The pub side, which I'm told has not changed much since its previous incarnation as The Shed, seemed very cozy. We ate on the bistro side, which to be honest had a bit of a hotel restaurant feel - not much character. Large windows in the rear of the room which meant wearing my sunglasses inside to protect from the glaring sunlight coming through - they may want to invest in some window shades. There is also a beautiful patio out back with the bike trail and a stream running right by.
Service was mixed. The host seemed very frazzled although the restaurant was not full - he was very short with the people ahead of us, who wanted to sit on the patio which had at least a 30-minute wait. We were promptly seated in the bistro, however a server did not come over for at least 10 minutes, by which time we were more than ready to order food and drink. Everything came out very promptly, however once we were done our server again disappeared for over 10 minutes leaving us waiting to cash out.
Selection is very good, with 8 house beers as well as Hill Farmstead Edward on tap and Heady Topper in cans. I did a sampler of house beers which were very solid but pedestrian when you're in the home base of Hill Farmstead, Lawson's and The Alchemist. Moat Mountain's beer was always solid as well but they're the only game in town out in North Conway - Will's going to have to step it up to keep pace and compete with his Vermont neighbors.
The food was excellent - I had a bratwurst sandwich and my wife had a pretzel and a soup. The brats were cooked to perfection, and came on a pretzel roll with some very nice kraut. I had to ask for mustard, though, which I think would be a no-brainer to come with such a sandwich.
Overall, this is a very nice place. If you're in Stowe to ski or you're basing yourself here for foliage, it's an excellent option. I'm glad I made the trip, but considering I have to pass Three Penny in Montpelier and the golden triangle in Waterbury to get here, I don't see myself returning often.
2,301 characters

3.85
/5
rDev
+0.5%
vibe: 4 | quality: 3.5 | service: 4 | selection: 4 | food: 4
Crop Bistro is a huge departure from its previous life as The Shed. While the pub side remains, it is very different from the cozy apres hangout for ski bums that existed in its former life. There is also a fancy new bar in the center of the formal dining area. I was there on a nice August evening, so we ate out back on the patio.
No in-house brewing yet. Draft list was decent, but no Hill Farmstead or Lawson's that day, so I had a couple of Heady Topper cans ($7), which are always nice. The appetizers were very unique and tasty. Entrees are pricey (this is Stowe, after all), and to be honest my $30 fillet didn't wow me as much as the apps and was overcooked.
Overall this is a nice place for good beer just down the road from the mountain. However, the Waterbury triangle is a better option for beer and food if you don't mind the 20-minute drive.
858 characters
3.8
/5
rDev
-0.8%
vibe: 4 | quality: 3.75 | service: 4 | selection: 3.5 | food: 4
Nice place here, that should make a great beer destination once their microbrewery is up and running. Crop Bistro is about a 45-minute jaunt from Burlington in a small town with several other seemingly good quality dining/drinking establishments nearby. There are actually two bars here, on in the restaurant section and one in the pub section, and both are very nice. The restaurant bar is much bigger, seating about 20 people in a neatly arbor-decorated semicircle. The pub bar (where we sat) seats maybe 10 people and is much more intimate. The place is pretty immaculate with notably clean restrooms as well.
Ten beers on tap, including several good local selections (Heady Topper, Hill Farmstead, and Lawson's all making an appearance on the menu I saw), and a few others, as well as a modest but decent bottle selection including Rochefort and the like. Nice cocktail menu too, including a hop-centric drink made from Heady Topper! Food menu contained a decent selection with lots of local ingredients. Prices border on "reasonable" and "a bit pricey." Much of the menu was decently priced, with the entrees getting into some more serious coinage. I had a grilled tuna nicoise sandwich, which was pretty amazing for a mere $12. Entrees are about twice as much price-wise. Service was fine. The bartender was well-educated in regards to the pub's offerings, and on the ball with our service.
Overall this was a very good experience, and considering we decided to go at the last minute, I was quite pleased. I would definitely like to revisit during my next trip to VT when they have the house beers on.
*Second visit*
The brewery was in operation during my last visit. Eight beers on tap now, all pretty standard stuff with a heavy leaning towards German styles. Nothing really mind-blowing going on. Unless they up their game, I might just pass over this place in the future. I'd still recommend it for a good dining experience if you're in town, just perhaps don't go out of your way to get there.
2,008 characters
4.08
/5
rDev
+6.5%
vibe: 4 | quality: 4 | service: 4.5 | selection: 4 | food: 3.5
Crop has a great variety of beers on tap. Of the ten, there was a couple German, a Belgian, and about half were local Vermont beers. The service was very friendly; all of our ridiculous questions were answered. If the waitress didn't know the answer, she found out.
I got the poulet confit sandwich, which was delicious. Perusing the menu showed an emphasis on local offerings, which is appreciated.
We thought the prices were reasonable considering the selection, but don't expect a $4 pint.
We will definitely be back, especially once the brewery is fully operational.
573 characters
Crop Bistro & Brewery in Stowe, VT
3.7
out of
5
based on
517
ratings.