Sunnyland IPA
| Kulshan Brewing Company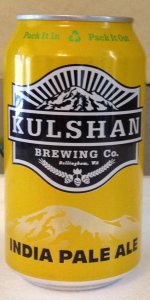 BEER INFO
Brewed by:
Kulshan Brewing Company
Washington
,
United States
kulshanbrewingcompany.com
Style:
American IPA
Alcohol by volume (ABV):
6.00%
Availability:
Rotating
Notes / Commercial Description:
Formerly called "Orange Blossom Special".
Added by beertunes on 07-29-2013
Reviews: 6 | Ratings: 17
3.56
/5
rDev
-4.3%
look: 4 | smell: 3.5 | taste: 3.5 | feel: 3.75 | overall: 3.5
A twelve ounce can with a best by date of 08/22/16 poured in a 13oz. tulip glass.
Look- Pours a transparent gold with a finger of white foam.
Smell- Malt, some grapefruit and faint floral esters.
Taste- Grapefruit followed by floral notes washed down with a hearty dose of malt.
Feel- Chewy malt with a slight bitter hop bite.
Overall- A decent enough IPA in a sea of many great ones these days. While I wouldn't turn one down, I certainly wouldn't go out of my way to seek one out.
492 characters
3.77
/5
rDev
+1.3%
look: 3.5 | smell: 4 | taste: 3.75 | feel: 3.5 | overall: 3.75
On a small note, I think that Kulshan will be the most northern brewer that I will taste from thus far among those breweries within the continuous United States. 12 ounce yellow can purchased in Seattle, on to the beer:
Looking paler orange mixed with yellow, Sunnyland IPA is topped with a half-inch of slightly creamy head and lace. A soft aroma, however what it packs is appealing. I smell cantaloupe, honeydew, sweet citrus fruits, and grass. At 5.5% ABV, Sunnyland IPA does blur the line between IPA and pale ale, but with the balance leaning towards the hops,, I'll let it slide as an IPA. Soft in overall flavor, backed with a honey and dry malt base, and kisses of mixed melon and grass, this is an IPA that takes a relaxed attitude while remaining interesting.
770 characters

4.04
/5
rDev
+8.6%
look: 3.75 | smell: 4 | taste: 4 | feel: 4 | overall: 4.25
Poured from the 32 oz growler purchased this afternoon at the brewery tap. Clear golden yellow with attractive pure white foam in the Avec les Bons Voeux chalice. Light bodied but with a malty heft to it. Flowery and citrusy aroma is also very enticing.
Some sweetness and a lemony taste. It's hard to find fault with this. A touch of grapefruit but mostly an aromatic orange, so I wouldn't be surprised if there's some Citra hops here. Overall this is a lighter style of IPA, very friendly and drinkable. Nothing dank or "Cascadian" here, folks, just keep sipping.
566 characters

3.56
/5
rDev
-4.3%
look: 3.5 | smell: 3.75 | taste: 3.5 | feel: 3.5 | overall: 3.5
Served On-Tap
A — Pours a really light and clear pale yellow color into the glass, with a puffy white colored head that sits on-top and leaves some fairly nice lacing behind it.
S — Smells of fresh hops and a bit of citrus, quite floral, and orangey, maybe Amarillo here?
T — Tastes of fresh hop flowers and is lightly spicy as well, light pine and a bit of a floral component as well.
M — Light in body, crisp, clean, dry, and a quick finish.
O — OK overall, better than some others from Kulshan, still a bit light and too dry though.
554 characters

3.72
/5
rDev 0%
look: 3.25 | smell: 3.75 | taste: 3.75 | feel: 3.75 | overall: 3.75
Poured into a Seattle Beer Week pint glass. Pours a pale golden amber with a half finger white head that dissipated to a thin film and ring around the glass. Aroma of grassy and citrus hops with some floral elements, light sweet malt, grapefruit. Flavor follows, with citrus hops, grapefruit, orange and lemon citrus, somewhat bland malt that still supported the hops well. A nice floral hop character even stronger in the taste than the aroma. Light to medium bodied, the carbonation was a bit low, but I think it was the fault of my mini growler. A nice citrus IPA that was pretty well balanced, but could use a bit more character to the malt support. Kind of pale looking in the glass. Nice Citra hop finish with a lingering, aromatic hop bitterness. I'll try the next offering I see from this brewery.
805 characters
3.63
/5
rDev
-2.4%
look: 3.5 | smell: 3.5 | taste: 3.5 | feel: 3.75 | overall: 4
Served in straight pint glass. Poured a clean, clear pale golden straw color with under 1/4 inch of white head that had OK retention and lacing.
The aroma was was a nice blend of floral and citrus hops (not surprising given the use of Citra in this beer), with light grain undertones. The flavor was very similar, a bit of floral, big blasts of citrus and a good grainy malt base for contrast.
The body was light-medium, very crisp and had a dry finish. Drinkability was excellent, I knocked off 4 of these in less than an hour, without even trying (or noticing). Overall, a pretty nice beer that's a welcome addition to the Fourth Corner beer scene. I'm not sure how long this will be around, or if it will ever be brewed again, the owner said it would depend on their being able to secure more Citra hops. If this beer leaves the brewery, and you see it, it's a must try.
880 characters
Sunnyland IPA from Kulshan Brewing Company
3.72
out of
5
based on
17
ratings.