De Boomgaard Peche
| Brouwerij Liefmans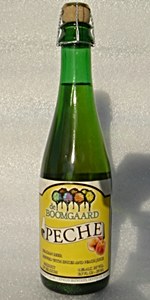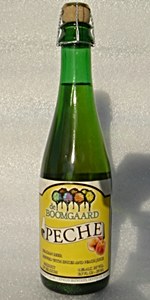 BEER INFO
Brewed by:
Brouwerij Liefmans
Belgium
liefmans.be
Style:
Fruit / Vegetable Beer
Alcohol by volume (ABV):
4.10%
Availability:
Year-round
Notes / Commercial Description:
No notes at this time.
Added by TheLongBeachBum on 03-19-2006
This beer is retired; no longer brewed.
HISTOGRAM
Ratings: 9 | Reviews: 9
Reviews by BlueHammer:

3.67
/5
rDev
+24.8%
look: 3.5 | smell: 4 | taste: 3.5 | feel: 4 | overall: 3.5
The color is a cloudy golden peach, minimal head, no lacing. The smell is sharp and sour. Surprisingly, the taste is dramatically different from the smell. It's very sweet. The taste is mellow, very static. This gives it a very balanced feel from start to finish but doesn't give it much excitement -- nothing to look forward to from the next sip. There is a smooth apple/peach flavor throughout the entire swallow. Aftertaste is also very sweet -- like nectar. It's way too sweet to take the next sip right away -- you must space it out and drink it slowly. If you drink it too fast it's distasteful. Drunk slowly, it can have a pleasing taste on the palate.
659 characters
More User Reviews:

3.05
/5
rDev
+3.7%
look: 4.5 | smell: 2 | taste: 3 | feel: 4 | overall: 3.5
I found some notes from Turkey Day of '06.
Looks like a banana yellow and peach that's a little foggy wtih a creamy frothy white head with a nice stream of carbonation coming up from the bottom.
Smells of aluminum, white flour and corn syrup.
Tastes like the same AL sting witha syrupy peach juice from a can. The white flour comes back too with a lfew walnuts in the finish.
Feels a bit heavy and syrupy with a prominent and tingly carbonation.
When it wasn't tasting bad, it tasted like candy.
504 characters

2.04
/5
rDev
-30.6%
look: 3 | smell: 1.5 | taste: 2 | feel: 3 | overall: 2
Ooooh, a retired Belgian! How shiny, you can even taste the rarity! Sadly, this was not the case. 2005 on the cork, and the only number I can make out on the cage is 2007. Cork came off with a nice enough pop. 375ml bottle.
A - Apple juice body, a tiny white head that disappears really quick. Carbonation is minimal. Little bit of sediment. Its not yeast, just some floating bits of brown substance which I can only imagine is cork.
S - Is putrid the right word? I guess not. Its certainly unpleasant though. Like stale spicy bread with some strong offensive odors towards the end. Just a hint of rotten peaches.
T - Bread and some light peach flavor that's followed up by some spice and off flavors. I can't finish the bottle due to the flavor, but it is a bit better than the aroma.
O - This beer did not age well. I know it didn't have the most humble of beginnings (artificial sweeteners and spice?) but I have had success with some other aged liefmans beers. The kriekbier and frambozenbier actually held up quite well to 5 years. I'm afraid the de Boomgaard line falls short. I would avoid any and all bottles of this since they are now ALL past their prime...if it ever did have a prime.
1,199 characters
3.07
/5
rDev
+4.4%
look: 2.5 | smell: 3 | taste: 3 | feel: 3 | overall: 3.5
Poured into a tulip it forms a decent ivory white head, mostly made up of fizz at it fades to a ring around the edge. Hey what do you know...its peach colored.
Smells fruity, although more subdued than I had anticipated. Ripe peachy taste, leaning heavily to the sweet side of things. Almost tastes blended at times, like a tropical mix. Gets crisp in the middle with a hit of carbonation but doesn't finish very clean as the lingering sweetness tends to stick around for a little bit. The finish is not annoying at all as the fruit profile is rather tasty.
Notes: Its decent for what it is trying to be. Sweet but far from candied, Peachy but not over the top. I bit like fruit juice when all is said and done. Pretty easy drinking and a nice way to start the night.
773 characters
1.94
/5
rDev
-34%
look: 3.5 | smell: 2 | taste: 2 | feel: 1.5 | overall: 1.5
Presentation: 375ml (12.7 fl.oz.) green glass flask dimpled based bottle sealed with a thumbed cork, cage and steel cap. Cork is dated 2.005 whilst the yellow steel cap seems to have a sate of Sept 2007 on it, surely a Best Before Date?! Listed on the main label as "de Boomgaard Peche" a "Belgian beer brewed with spices and peach juice". Listed at 4.1% Alc. By Vol.
Appearance: Hazed pale orange body with some golden marmalade thrown in for good measure. Big head on the initial pour, but it soon runs away and drops down to a thin broken scattered junk yard of froth. Streamers add some excitement to the boredom.
Nose: Half-assed old peaches left over from earlier in the week on the Friday market stall. Damp straw stained by dark yellow Bull urine fights with the fuzzy peach skins and sweetness. Sickly fluffy nose to a degree.
Taste: Thin start with a sickly peach middle. Incredibly one-dimensional, flaccid, debilitating and lifeless. If this was radioactive it would have a Half-Life of 1.2 seconds. Very forgetful…….and erm, I'm sorry what was I saying…..
Mouthfeel: Thin, diluted, and like sucking on a silver plated knife that has some broken plating. Carbonation is fine but the overall montage is something terrible. Hard to get to grips with.
Drinkability: I was at least expecting an overtly sweet Peche, which I could have handled, even if I did not enjoy it!! But this…..heck, it has a terribly wanting watery feel and the "Peche"-ness is woefully inadequate. The metallic plated lingering finish is disgusting.
Overall: Terrible stuff, thin and insipid at times, allegedly made with spices but I never got any in the nose or taste. This is unbalanced, piss-thin and too sweet - at least when you can get over the watery body and break away from the metallic finish.
Urgh!! No sign of James or any Giant Peach here.
1,869 characters

3.53
/5
rDev
+20.1%
look: 4 | smell: 3.5 | taste: 3.5 | feel: 3.5 | overall: 3.5
03/30/06- Purchased at Bevmo in San Mateo, CA.
Presentation- 375ml bottle, caged and corked. Poured into my Duvel tulip. Year 2005 imprinted on the cork.
Appearance- Apricot and golden pour. About a 3/4 inch pillowy head. Light streams of carbonation rush up to the top. About your average lacing.
Smell- Super sugary candied peach scent. Kinda like the juice at the bottom of a can of peaches with a bucket of sugar dumped in. An alcoholic whiff as well.
Taste- About the same as the scent. Doesn't really taste like freshly harvested peaches like other quality lambic's do. For of a canned peach with infused sugar taste. Definite alcohol flavor as well.
Mouthfeel- Well carbonated with a sugar coating in the mouth.
Drinkability- To much sugar going on here. Almost like they are trying to mask a flavor or something. Not bad, but there are many better. If you want a nice peach...go Lindemanns.
917 characters

3.21
/5
rDev
+9.2%
look: 4 | smell: 3 | taste: 3 | feel: 3.5 | overall: 3.5
The beer poured into the chalice clear golden amber with a white and frothy head which fell slolwy to the edges of the surface and laced the glass.
The aroma was lightly spicy with an earthy and lightly peppery mix coupled with a fairly strong apricot fruit presence and some diacetyl buttery character.
The flavor was fairly strong peach, like opening some canned peaches and drinking the liquid from the can. The flavor was strong and sweet, almost to the point of being cloying. Luckily the flavor died off with a light bit of tartness in the flavor so that it did not overpower the entire experience with the brew. A very light spice was present but was overshadowed by the forced peach flavorings.
The finish was even and long into the aftertaste the peach flavor eventually turned dry. The body was just below medium with a fairly high carbonation level. Not one to seek out, definitely a bit too sweet.
12.7 ounce corked and bailed bottle. 2005 on cork, Sept 2007 on top of bail. The label says brewed with spices and peach juice.
1,049 characters
3.06
/5
rDev
+4.1%
look: 4 | smell: 3 | taste: 3 | feel: 3 | overall: 3
Pours a nice clear golden color with a nice amount of carbonation to keep a nice thick white head going. The smell was nice. Very much peach. Nothing else really very sweet smelling. The taste is much as the smell. Sweet. Too sweet for me, very peachy. I couldnt tell any other flavors present besides the fruity flavors.
321 characters
2.91
/5
rDev
-1%
look: 4 | smell: 3 | taste: 2.5 | feel: 3.5 | overall: 3
"Movin' to the country, gonna eat a lot of peaches"
--Presidents Of The United States Of America
I wish I could say De Boomgaard Peche is peach colored, but it's more of a bold amber... like tens of thousands of other beers on the planet. The regal white cap is heavily creamy and should be around for quite a while. It's still too early to see any lace and I'm already thinking this might be one of the highest quality heads that I've ever seen on a fruit beer.
The nose is a few peaches short of a bushel. How is it possible to brew a beer with peach juice and not have it smell much like peaches? Repeated sniffs bring out a musky fruitiness that I could probably identify as peaches if given at least two guesses. Minor spice notes help a little.
Peche has to be the least fruity fruit beer on record. I thought the nose was just an anomaly, but I was wrong; the flavor is even more deficient. Everything else is present and accounted for... the almost cloying sweetness, the full mouthfeel... there just isn't enough peachiness to go around.
The spices (I won't even guess) are still in the background; no surprise when there's nothing in the foreground. Although warming helps a little bit, average is still not attained. It should be noted that my standards for average when it comes to fruit beer are laughably low. Peche doesn't even warrant a chuckle.
Like most beer with this much added sugar, the mouthfeel is to my liking. It isn't as full as the mouthfeels on most such offerings, but then it isn't as overly sweet either. A few more bubbles might improve things.
De Boomgaard (which means 'The Orchard') Peche isn't offensive beer in the least, it just doesn't have enough fruit flavor. I shouldn't even have to ask the question, but what's a fruit beer without fruitiness? I certainly hope the rest of the De Boomgard beers have more going for them than this one.
1,904 characters
De Boomgaard Peche from Brouwerij Liefmans
Beer rating:
2.94
out of
5
with
9
ratings