Fluffy

Night Shift Brewing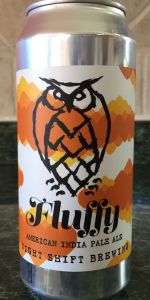 Write a Review
Beer Geek Stats:
| Print Shelf Talker
Style:

ABV:

5.9%

Score:

Avg:

4.11

| pDev:

9.73%

Reviews:

15

Ratings:

From:

Avail:

Rotating

Wants

Gots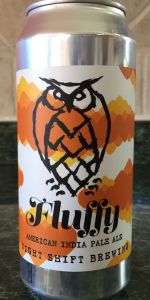 Notes: IPA brewed with Topaz, Vic Secret, and Hallertau Blanc hops.
4.13
/5
rDev
+0.5%
look: 4.25 | smell: 4.25 | taste: 4 | feel: 4 | overall: 4.25
Long lasting head with ample lacing.
Both the flavor and smell are grassy and weedy. The aftertaste lasts a very long time. A straight up New England styled IPA.
163 characters
4.55
/5
rDev
+10.7%
look: 5 | smell: 4.25 | taste: 4.5 | feel: 4.75 | overall: 4.75
Great NEIPA by Nightshift. Canned on 7/13 , strong orange/mango/grapefruit taste with hints of vanilla. Sweet and citrusy, but not to bitter, there is lot to explore and enjoy. Visually spectacular in tall pilsner glass.
222 characters
2.18
/5
rDev
-47%
look: 4 | smell: 4 | taste: 1 | feel: 3.75 | overall: 1
Not sure if this was a bad batch, but this was the only NEIPA I have tried that I could not finish. If this was not a bad batch, I'm not sure what the brewery is trying to do with this beer. Had on tap at the Everett location on July 22, 2018. Their other beers varied from good to great, just thought this one was a big miss.
327 characters

4.31
/5
rDev
+4.9%
look: 4.25 | smell: 4.5 | taste: 4.25 | feel: 4.25 | overall: 4.25
Moderate pour yields a 1/2 inch white head over a hazy golden body with a bit of sticky lacing. Nose of slight tropical fruit, some sweet citrus, and a hint of pine. Taste mirrors nose with a dry citrus pith/pine resin finish. Nice feel and overall, a very enjoyable, well balanced offering from Everett, MA. Cheers to Craig K. for the hook-up!
344 characters
4.21
/5
rDev
+2.4%
look: 4.5 | smell: 4 | taste: 4.25 | feel: 4.25 | overall: 4.25
Canned 1/31/18. Poured into a Willi becher tumbler.
Pours a hazy yellow with a fluffy white foamy head that leaves great lacing on the glass.
Tons of pineapple and mango on the nose. I also detect Mandarin oranges for the sweetness and a bit of pine.
Upfront sips give you subtle orange juice and peels. It's very similar to a mimosa. Serious juice flavors come alive here. It finishes with a bit of floral and some of the malt comes through with a bit of biscuit hints. Great balance.
Very good carbonation and medium body. There is a bit of stickiness to it that doesn't want to go away so quickly. It wants to be savored.
Great addition to the rotation for these guys. Great juice bomb and shows what a New England IPA is about. If it comes back make sure you grab some.
778 characters
4.25
/5
rDev
+3.4%
look: 4.5 | smell: 4.5 | taste: 4 | feel: 4.5 | overall: 4.25
16oz can dated 09/30/17 poured into can glass
Cloudy orange pour with abundant foam. Mild bitter hop taste that washes away quickly. Fresh grapefruit. Very clean. Pillowy soft feel.
182 characters
4.25
/5
rDev
+3.4%
look: 4.25 | smell: 4.25 | taste: 4.25 | feel: 4.25 | overall: 4.25
16 oz can was poured into a pint glass.
Appearance: A one finger head was poured that reduced to a thin layer. It is a hazy orange color with no vision of anything. Spotty lacing down the glass as the beer was drank.
Smell: Orange, citrus, strawberry, lemon, honey dew, and floral hops followed by pale, caramel, and wheat malts.
Taste: Hop flsvor fliws throughout the whole palate with every sip. Nice pale and wheat backbone that brings out some creaminess and chewy notes. Slight slight bitterness in the rear too.
Mouthfeel: Smooth, light bodied, solid hop flavor, a little chewy, and light bitterness.
Overall: Every batch of this beer since it's been released has been solid. Looking forward to the next batch in the near future.
751 characters
4.09
/5
rDev
-0.5%
look: 4.5 | smell: 4.25 | taste: 4 | feel: 4 | overall: 4
Smell: Really citrusy. Orange, tangerine, orange Gatorade powder, yellow grapefruit . Some candied grape and melon. Also get some malt sweetness.
Taste: A little bit lighter on the palate then on the nose. Light citrus notes upfront orange and tangerine. The orange flavor carries to the mid plate were you also get a hint of melon and some grainy malt sweetness. The beer finishes with some floral hops and a little bit of grapefruit rind bitterness.
Feel: Light medium body. A little bit of creaminess. Not nearly as creamy as most of the beers in this style. But it's soft and easy drinking. This is a crusher. It's what you would expect from a 5.3% ABV beer.
Overall: This is really nice and what you would expect out of a lower ABV beer. Nothing special, but really solid. It would be really easy to drinking more then one of these. Side note, I give this brewery a lot of credit for going away from the hop profile that must of these NE IPA'S have. I can honestly say I've never had a beer with the hop profile there using. So great job on being creative and different.
1,079 characters

4.1
/5
rDev
-0.2%
look: 4 | smell: 4 | taste: 4.25 | feel: 4 | overall: 4
A good beer, but kind of a misnomer. New England IPAs almost have an anti-bitterness to them and let the juicier qualities of the hops shine. This beer, however, has a rather pronounced bitterness. And I kind of love it.
Sharp notes of pineapple and oj on the nose - I little hint of citrus oil also sneaks in. The taste cuts through the "fluffier" body and hits the palette with lime zest and a subtle piney resin. Malt brings just enough sweetness and the yeast helps bring a dry, almost tart finish to the proceedings.
523 characters

3.96
/5
rDev
-3.6%
look: 4.25 | smell: 4.5 | taste: 3.75 | feel: 3.75 | overall: 3.75
Thanks Kevin!
A- Can cascades into a tall chalice with a hazy yellow body and a thick white cap. The foam rises up to a few fingers high with good retention. Eventually a medium belt around the edges leaves sheets of lace that cover about half of the glass.
S- Juicy tropical fruits with mango and pineapple especially strong as the hops dominate the smell. A bit of citrus like grapefruit and tangerine join the show with hints of melon, mint and fresh orange juice all over a bed of pale cereal grains.
T- Follows up on the aroma but in stride with many other hop bombs I have had lately it contains a very resiny, oily citrusy bitterness that starts to overshadow the more delicate things the hops bring to the table. Zesty grapefruit bitterness leads to notes of melon, mango, tangerine and oranges with hints of cereal grains, bread, bubble gum, mint and dankness as well. A lot of the great character in the smell is eventually lost to generic grapefruit pith bitterness.
MF- Puffy and..... fluffy texture to the light-medium overall body. The carbonation is at a high level, about where it should be, but unfortunately it helps promote the aforementioned abrasive oily bitterness. Silky and smooth.
Starts off extremely promising with an inviting look and aroma as juicy fruits blast out of the glass with tropical and citrus fruits in harmony. The flavor brings an abrasive generic hoppy bitterness that seems to be trending upwards lately in the good IPAs that don't quite reach greatness.
1,503 characters
4.43
/5
rDev
+7.8%
look: 4.5 | smell: 4 | taste: 4.5 | feel: 4.5 | overall: 4.75
Had on tap. Pours hazy, orange-yellow in color with minimal head. Taste is pineapple, guava, grapefruit, and cracker. Medium bodied, moderate carbonation, slightly bitter with lingering sweetness on the end. Makes for a really really good New England style IPA. Dry juice more in line with Trillium's feel than Tree House's. Will surely pick this one up if I can find it in cans.
385 characters

4.19
/5
rDev
+1.9%
look: 4.25 | smell: 4 | taste: 4.25 | feel: 4.25 | overall: 4.25
Pours a turbid pale orange-straw in color with a finger of fluffy white head that never quite fully disappears and leaves behind sporadic lacing. Aroma is a bit subdued but I get some candied pineapple and a little bit of mango. The taste has the candied mango but without any of the sweetness; the mango is also present. This beer leans dry throughout and ends with a little yeast bite in the lightly bitter finish. Good mouthfeel, medium-ish body and moderate+ carbonation do lend a certain fluffy-ness to the texture. Overall a pretty tasty beer. It's not exactly what I usually expect from Night Shift but I'm digging it. A solid NE style IPA.
647 characters
4
/5
rDev
-2.7%
look: 4 | smell: 4 | taste: 4 | feel: 4 | overall: 4
Had on tap at night shift 3/12/17
Pretty good. I wish it had a stronger aroma. While it's a juice bomb there are juicer beers out there but I'm hoping this is a staple from Night Shift. Taste is fruity but it could use some more umph. Overall a good beer, not at the TH or Trillium level yet.
294 characters

3.18
/5
rDev
-22.6%
look: 4.5 | smell: 4 | taste: 2.5 | feel: 3.5 | overall: 3
I taste mint toothpaste in almost every beer that has Vic Secret hops, and this does not buck the trend. I wonder if I'm alone in that regard? Would love to try this beer with a slightly different hop bill.
206 characters

3.85
/5
rDev
-6.3%
look: 5 | smell: 3.75 | taste: 3.5 | feel: 4.5 | overall: 4
[Edit March 2017] - they finally did a full release and while they just ran out of cans while I was in line I had it on tap.... They screwed up the first run IMO. It was lacking the aromatic orange flavor of the first limited batch. Truly a travesty for those of us who had the original. I was so disappointed. I am dropping my score from perfect 5 as a result. They know they screwed it up. If the next batch is wrong then it will need to be adjusted way down. Ugh! This was my perfect beer. *Please fix it*
Had at the brewery in a pint glass poured from tap.
Pours a thickly opaque bright orange juice color with a one finger frothy head. Lacing is clumpy. The aroma has strong wafts of orange and grapefruit - enough that you can smell it a foot away.
The taste complements the smell with a smooth, creamy orange hop flavor balanced perfectly with the moderate to light hops. With such a low alcohol content it is difficult to say this falls under IPA but there is enough lingering bitterness to remind you that it is definitely not a pale. It almost tastes like there is orange juice added to the brewing process, but again, so well balanced this is an asset. Accordingly the mouth feel is smoothly creamy with a little tang. A light bitterness hangs on the tongue to the end after the juicy hop flavor begins to fade - another reason why I think it has over-achieved for the category.
This is the epitomal juice bomb in the NE style IPA tradition. Night shift has hit the nail squarely on the head here. I challenged the guy behind the bar about characterizing this as an "experiment" like it was a just a happy mistake. It seems improbable that they were not trying to go for a copy of Treehouse's Orange Julius (and they succeeded). This took skill and thoughtful craft. Given the raves this beer has received in such a short time I was told it will likely be in cans by Spring. God I hope that is true. I believe it could become their flagship beer rather quickly. As such and unapologetically, I have no knocks for this beer. Just awesome, assuming you like the style.
2,106 characters
Fluffy from Night Shift Brewing
Beer rating:
90
out of
100
with
77
ratings