Bee Tea

Night Shift Brewing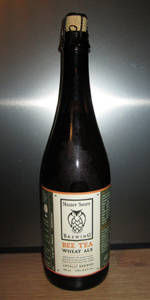 Write a Review
Beer Geek Stats:
| Print Shelf Talker
Style:

ABV:

8%

Score:

Avg:

3.62

| pDev:

14.36%

Reviews:

11

Ratings:

From:

Avail:

Rotating

Wants

Gots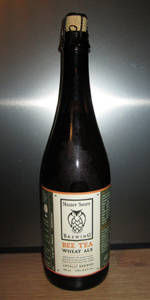 Notes:
Reviews: 11 | Ratings: 123

3.86
/5
rDev
+6.6%
look: 3.5 | smell: 3.75 | taste: 4.25 | feel: 3.5 | overall: 3.5
750ml bottle into teku glass. Bottled 7/16/13. Thanks Kevin!
A: Pours a burnt amber orange color with a couple fingers of fizzy tan head that faded into a fuzzy collar.
S: Lots of spice on the nose. I get scents of peppery yeast, apple juice, green tea, orange, honey, and golden fruits. Smells intriguing.
T: Honey, orange blossom, and peppery spices dominate alongside hints of green tea that is flavorful and still easy to pick out. Wheat base is crisp and grainy. The finish has a fruity quality to it that reminds me of an apple juice blend. The aftertaste is sweet, spicy, and lingering.
M: Medium-full body, tingly and and fuzzy carbonation, fuzzy and mildly drying mouthfeel.
O: Complex and interesting flavor. Green tea, orange, honey and wheat worked well together. Very delicious. Thanks again Kevin!
812 characters

4.21
/5
rDev
+16.3%
look: 4.5 | smell: 4 | taste: 4.25 | feel: 4.25 | overall: 4.25
ABV: 8.5% Batch #: 9 Bottled on: 7/16/13 Dude at the brewery mentioned they used a new type of loose leaf tea.
A: Hazy and opaque, deep orange-brown with shades of copper. I like to think it's burnt sienna. Big, fluffy, pillowy, off-white head that settles into some good lace and a bit of retention.
S: Very herbal. Spicy, malty, rich, earthy, sweet, brown sugary, and definitely some loose leaf tea. But I also get some soy sauce and cured meats with a bit of smoke. Hmmmm...
T: Similar to the nose. Strong but balanced flavors that I really enjoy. Top notch for the style. Very little booze shows up. And you can discern the wheat. There's also a very slight hint of the orange peel and some honey. But maybe it's because I knew to look for them?
M: Rich, smooth, sweet, properly carbonated, and so easy to drink. I'd even call it refreshing. Can be a bit cloying after a while, though.
O: Perfect for drinking anytime but it really stands out to me as a fall brew. The flavors and the body call for a bit cooler weather. An outstanding beer by itself but even better for the style.
1,090 characters
4.81
/5
rDev
+32.9%
look: 4.5 | smell: 4.75 | taste: 5 | feel: 4.5 | overall: 4.75
Batch 9, 7-16-13, 8.5% ABV, was told at the brewery that they recently changed the tea they age it on.
Pour: Hazy copper with vigorous, but fading off-white head.
Aroma: Honey dominates the aroma with orange peel and a light hint of pepper. Sweet wheat malt and wildflower as well.
Taste: Nice creamy mouthfeel, sweet malt flavor, with a hint of hop bitterness. The tea flavor becomes apparent toward the end and int he aftertaste. Definitely some rooibos, lemongrass, and green tea in there with a hint of what could be maté. There's a nice floral note from the tea, as well as undertones of chocolate. I like how the green tea bitterness balances with the hop bitterness. Has a nice finish, very refreshing.
Overall: Night Shift somehow found a way to combine two of my favorite things into one. I've had a few beers brewed with tea in the past, and tried homebrewing one myself, and all have disappointed. This one, however, doesn't. This is the perfect union of tea and beer, and I wish I had more of it. Right now.
1,030 characters

4.2
/5
rDev
+16%
look: 3.75 | smell: 4.25 | taste: 4.25 | feel: 4 | overall: 4.25
The beer pours a pink-brown with orange highlights. The beer pours with a nice big head of medium sized, pebble-like, creamy yellow bubbles. The head leaves a lacing of small splotches along the side of my glass. In body, the beer is hazy and dark, sort of like a tea, which makes sense since tea was added to this beer… On the nose, the beer smells of sweet honey with a grassy, herbal flourish to the nose. Orange peel bitters and a touch of mint also come into the nose, buoyed by faint, caramelly malt with a touch of Belgian esters. On the tongue, the beer tastes sweet with bitter, tannic touch on the sides and a slight tart pucker from the citrus. In flavor, the beer begins bitter with hops, but then opens into creamy honey with accents of citrus that build into bitter orange peel in the finish. Tannic green tea slides across the middle palate and the finish is sweet with honey, citrus, and a light minty herbal flavor. Candied caramel malt sits below everything else as a nice base to the beer. There is a light booziness to the beer, which blends well with the other flavors. Aftertaste is light and herbal. In the mouth, the beer feels on the heavy side of medium in body, with a prickly carbonation that works to scrub away the heavier sweetness in the beer, while not harming the tongue at all. The mouth is left with a light scrim of stickiness, dry and begging for more drink. Overall, this is a terrifically complex beer that marries its ingredients nicely. A true summer delight.
1,503 characters

4.12
/5
rDev
+13.8%
look: 4 | smell: 4.5 | taste: 4 | feel: 4 | overall: 4
Poured from the tap at the brewery on September 8th, 2012.
This beer was amber in colour with a hint of orange and an off-white head that settled quickly. The smell was very sweet and floral with a nice earthiness to it and hints of orange peel. The taste was pretty in-line with the smell... A slight sweet and citrus flavour initially, finishing with a jasmine tea earthiness. Very refreshing.
Would I buy it again? Absolutely.
431 characters
2.23
/5
rDev
-38.4%
look: 1 | smell: 3 | taste: 1.5 | feel: 3.5 | overall: 2.5
Batch #6, Bottled 7/10/12;
Poured with a beautiful head: long lasting and nice lacing, but very cloudy/muddy looking. No shaking or stirring, just really muddy.
Smells nice; a bit sour as expected with a wheat beer, bit of floral from citrus and honey and a note of the tea but not much hops, also a touch of bubble gum.
Mostly sour and astringent tastes, not much malt, as you would expect but it lacks the spiciness I was hoping for. Tastes like over brewed tea and citrus pith.
The body and carbo are right on the money.
Drinkable: OK, doesn't taste as though it is 8.4%, but really not what I was hoping for.
Over all, very disappointed, I was hoping for a spicy and zesty Belgian wheat beer. The flavors seem kind of muddy: distracting from each other rather than complimenting each other.
I remembered the name from an Edible Boston article, I love the local aspect and I love wheat and wit beers. Honey tea wheat ale seemed right up my alley and I was hoping for a special occasion beer. This is not it for me. It could be a poor batch and I will certainly try other beers of theirs but I will not recommend this beer to friends.
1,145 characters
4.15
/5
rDev
+14.6%
look: 4 | smell: 4 | taste: 4.5 | feel: 3.5 | overall: 4
Growler from their brewery, a shining beacon in the middle of the 6th ring of gnarly warehouse hell!
Golden-orange amber pour with a finely laced just offwhite head, looks beautiful.
Nose of sweet floral honey and a hint of the tangy orange additions.
Taste is sweet honey front and center, with the tangy-sweet orange following it in short order, before finishing beautifully dry and astringent from the green tea. The tea lingers on the palate with the honey, in a bitter-sweet medley of awesome. Perfect malt backbone, lightly toasted.
Mouthfeel as silky smooth as can be throughout, the result of wheat certainly, and perhaps the honey. Sweet silkiness hides the 8% abv.
I'm loving this beer, and Night Shift's unique approach to melding classic styles. Their approach reminds me of Element Brewery of Millers Falls - both refuse to adhere to a single style, but combine disparate styles into something memorable. Night Shift has the unique ingredient niche cornered with this and their other brews - utilizing habaneros, green tea, lemongrass and ginger, just a grab bag of ingredients seen in their other styles.
1,126 characters

4.09
/5
rDev
+13%
look: 3.5 | smell: 4.5 | taste: 4 | feel: 4 | overall: 4
Drank on-tap at Flatbread Company, Somerville, MA
Served in a pint glass
Hazy, glowing, orangey-amber in appearance. The liquid was topped by a small, creamy, off-white head that quickly fell to a clingy ring.
The nose was unique and quite pleasant. Floral, slightly fruity, jasmine tea-like notes came through strong. Lots of honey. Some orange peel was detectible as well.
The flavor profile was also quite distinct. Jasmine tea was most noticeable. Citrus notes appeared in the center. Biscuity malts showed up on the back end. This beer looked and tasted more like an amber ale with flavor added than a wheat ale. Lots of sweet honey notes. The finish was dry and tannic and seemed to contain a green tea-like flavor. No hops were detectible. At 8% ABV, I was amazed by how remarkably well the alcohol was buried.
The mouthfeel was smooth and creamy with an ultra fine, medium effervescence.
This is the first Night Shift beer that I have sampled and I was quite impressed. I look forward to trying their other releases.
1,029 characters

3.6
/5
rDev
-0.6%
look: 4 | smell: 4 | taste: 3.5 | feel: 4 | overall: 3
Batch 4, bottled 5/30/12, ABV 7.1%
A: A really opaque orange pour. Big fluffy light tan head. Fades slowly, leaving nice lacework behind.
S: Decent amount of green tea. Very wheaty with some nice honey too. Refreshing.
T: Green tea up front, which fades into a nice wheaty malt with a hint of honey. Wheat fades and the green tea remains; quite strong and bitter. Finish is pure green tea and it lingers for a long time in the aftertaste.
M: Medium bodied, decent carbonation.
O: A unique brew. It's a good combination of the green tea, wheat and honey at first. However the second half of the taste is pure green tea. It's like drinking cold, carbonated green tea once the initial flavor fades. Which I suppose would be fine if you love green tea, but I'd like a little more beer in my beer. Better balance would make this tasty and refreshing I think.
860 characters

3.55
/5
rDev
-1.9%
look: 3.5 | smell: 3.5 | taste: 3.5 | feel: 4 | overall: 3.5
750ml bottle (Batch#1, Bottled on 3/8/12) courtesy of a co-worker. Thanks Don! Poured into a Harpoon 100 Barrel stemmed glass. Love the simple design of the label...very cool logo and like the hand written batch information on the label too.
A - Pours out of the bottle with a thick and dirty/muddy appearance to it. In the glass the appearance remains consistent with marginally improved clarity. Quite a bit of haze and sediment in the otherwise pale amber body. Three fingers of dense tan foam shows excellent staying power, slowly fizzling down to the surface leaving behind foamy off-white lacing on the glass.
S - An interesting array of aromas. Green tea is easily noticed up front. Strong notes of lemons give a fresh citrusy kick to the aroma...very faint orange blossom aroma comes and goes only making an impression on non-consecutive whiffs. A muddy and somewhat off smelling yeasti-ness mars the overall effect a bit, but doesn't ruin it. A bit of a spicy saison-like wheaty and more traditional smelling yeasty aroma helps make up for things also.
T - Quite interesting...not really what I was expecting. Very strong malt base that is toasty and biscuity. Orange blossom honey comes thru nicely with a citrus kissed sweetness that works well against the malt. The green tea presses thru all of this and almost takes over the flavor stage. Its seemed like the tea is in the center with the other flavors playing off of it...honey and hints of lemon complement the tea as one would expect. A touch of tartness rounds things out.
M - Well carbonated but not overly fizzy...very fine bubbles give more of a creamy carbonation which I really like. The creaminess seems to bump up the body to a medium level...fuller feeling than the beer probably actually is. Quite herbal, spicy, malty and full of green tea.
O - Very interesting beer. I like the idea of the tea addition, but this might be a bit too intense...too much the center of attention. Instead of complementing, it actually takes over the beer a bit too much. Cut back the tea a little and figure out what the somewhat offputting dirty/yeasty off-flavor and this could be a real winner. Overall a pretty decent beer, definitely drinkable and better for warm weather.
2,240 characters
3.96
/5
rDev
+9.4%
look: 4 | smell: 3 | taste: 4.5 | feel: 4 | overall: 4
I found this bottle at Pemberton Farms - Cambridge MA.
750 ml w/ cork and cage. Handwritten! Batch #1, B.D. 3-8-12.
Solid carbonation/roaring cork. Immediately smells of wheat and banana yeast. Orange zest really comes through. Also hints of booze. Kind of crazy smelling.
Pours a murky darker orange color. (I was very conscious not to stir up the yeast.) Its very light colored yet completely opaque. Looks kind of like fresh squeezed apple cider, with a creamy cream colored head. Head does a decent job of lacing the glass.
Incredibly earthy flavors from tea, honey and yeast. Yeast lends a fruity banana/berry character. Citrus flavors from zest and hops most likely. I keep getting new flavors as I sip on and my palate adjusts.
Acidic from high carbonation, but smooth for the 8% ABV. Belgian yeast and wheat content really soften the blow of high alcohol. Very pleasant mouthfeel.
Truly scary looking, but highly drinkable. I'm all about trying "new" beer, and this is completely unique. I've never had a single beverage like it. And the three brewers from this company are great guys, and that doesn't hurt in my book. Best of luck fellas!
1,157 characters
Bee Tea from Night Shift Brewing
Beer rating:
82
out of
100
with
123
ratings