Quad Reserve

Night Shift Brewing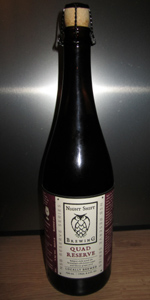 Write a Review
Beer Geek Stats:
| Print Shelf Talker
Style:

ABV:

10.5%

Score:

88

Avg:

3.95

| pDev:

11.9%

Reviews:

11

Ratings:

From:

Avail:

Retired (no longer brewed)

Wants

Gots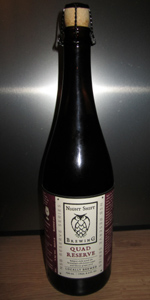 Notes:
Reviews: 11 | Ratings: 46

4.05
/5
rDev
+2.5%
look: 4.25 | smell: 4.25 | taste: 4 | feel: 3.75 | overall: 4
Poured from a 750 mL bottle into a tulip. This is batch #1 - bottled on 11/29/13.
Appearance: Pours a deep cola color with a slight reddish hue. The head is several fingers and is tan with that same reddish hue.
Smell: Mild cherries/raspberries, oak, mild funk, an interesting musty smell, light figs & dates.
Taste: Interesting combination of flavors, and much different from the aroma. Tobacco, oak, berries, plums, a dash of dark chocolate. That 'must' from the smell does come through a bit in the taste as well. Finishes with some mild dark fruits, malts and figs.
Mouth-feel: Low to moderate carbonation with a smooth, medium body.
Overall: An interesting brew for sure. The oak and tobacco notes take the center in the flavor profile which is interesting albeit not unpleasant. Nice, subtle fruit notes help the experience. I would've guessed the alcohol was lower - it is masked well.
897 characters
3.36
/5
rDev
-14.9%
look: 4 | smell: 3.5 | taste: 3 | feel: 3.75 | overall: 3.5
Poured from a corked and caged 750mL bottle into a goblet. Batch #1 Bottled on 11.29.2013. Reviewed on 12.26.2013.
Pours up a dark mahogany with very little head which dissipates leaving only traces on the surface. The aromas are of sweet dark fruits. The wine smells come through as well. The flavor has a sweet grape tang. There is very little of the caramel and dried dark fruit flavor that I would like from a quad style. There is a distinct booziness and a hint of oak at the end. This beer is light on the tongue and does not feel like a 10% beer.
Overall, I would like more of the deep flavors of prune and fig that I want from a Quad. I have three more bottles. We'll see how they hold up.
699 characters
3.95
/5
rDev 0%
look: 3.5 | smell: 4 | taste: 4 | feel: 3.75 | overall: 4
Not a classic Quad by any means. If you go into this thinking it's going to taste like Westy, St. B or Rochefort you're going to be disappointed. I would say it has elements of a quad with dark fruit flavors, but it's a little more lively due to the barrel aging. Carbonation was lower than average for a quad and the wine barrels imparted a slight sourness that really worked well. Booziness started to take over as it warmed up.
430 characters

4.19
/5
rDev
+6.1%
look: 4 | smell: 4.25 | taste: 4.25 | feel: 4.25 | overall: 4
750ml bottle.
Pours dark mahogany with a thin tan head. A partial skim coat and a few dots of lacing for the duration.
Aromatics feature plenty of grape jam, raisins, brown sugar, and dark fruit. Candied apples and bubblegum follow through.
Medium bodied with a sticky, tacky mouthfeel. Slickish and lush.
Candied fruit, grape jelly, sugar-dusted plums, and rum-soaked raisins start the palate. Finishes sweetish with shades of dark rum, grapes, and raisins.
Tasty quad with plenty of ripe, purple grapes and dark fruits under sweet malt. A bit too sweet and undercarbonated for the style though.
601 characters

4.29
/5
rDev
+8.6%
look: 3.5 | smell: 4.5 | taste: 4.25 | feel: 4 | overall: 4.5
Dark brown to eggplant color with a dark tan head. Served in a red wine glass because all my beer glassware is packed. Hearty collar of retention circles a few wispy island bridges of foamy skim. Batch #2, bottled 4.30.12.
Brown sugar, toffee and date aroma. I really like the rich brown sugar.
Brown sugar with a grapey dark fruit finish. Plum and black pepper in back. The dark fruits are brighter than the aroma indicates. Nice to see the 2 special ingredients (brown sugar and Shiraz) in the forefront but still well blended in the overall flavor. Mouthfeel is a little furry, I'm guessing due to the Shiraz tannins?
Another superb beer by Night Shift, one of their best IMO.
685 characters

4.27
/5
rDev
+8.1%
look: 3.5 | smell: 4 | taste: 4.5 | feel: 4 | overall: 4.5
Poured from the bottle at the brewery on September 8th, 2012.
Poured a hazy brown and slightly purple with hardly any head. It smelled like a wine with figs, grapes, and a sweet spiciness. The taste was like a mixture of a wine and beer, but in an amazingly balanced way. A subtly fruit taste, with a great balance of sweet and tart, and a finish of dark chocolate.
Would I buy it again? Absolutely.
401 characters

3.97
/5
rDev
+0.5%
look: 3.5 | smell: 4 | taste: 4 | feel: 4 | overall: 4
Pours a solid dark brown with very faint garnet when held to light and a smallish tan head that dissipates slowly. The grapes have filled my nostrils since I popped the cork on this guy. There is quite a vinous aroma along with lots of brown sugar and molasses with a hint of alcohol. There are dark fruity malt aromas, but that's kind of blurred from the abundant grape onslaught. The flavor is a bit vinous with some more dark fruits coming through as well as lots of molasses and brown sugars. Sweet and fruity with a hint of alcohol seems about right for a quad. Medium to thick body with a light to moderate level of carbonation and a sweet vinous mouthfeel. I liked this one, I thought it was quite interesting and odd at the same time. This could use a hint more bubbles for the style. Maybe I'm just looking for a quad to be a certain way, but I think the addition of the grapes muddies the dark fruit like raisins and plums and prunes that I usually expect in a quad. The brown sugar works to amplify the dark and burnt sugar flavors from the malt. Kudos for the experimenting, I could drink this again.
1,112 characters

3.17
/5
rDev
-19.7%
look: 3 | smell: 3.5 | taste: 3 | feel: 3.5 | overall: 3
25.4 fl oz champagne bottle caged & corked served in a tulip.
Batch #1, bottled on 03/28/2012.
Dull oak in color with a shade of plum. The slightly off-white head is very superficial sparked with a lot of carbonation and as a result diminishes within less than a minute. Little to no lacing.
Young, assertive vinous fruit aromas: grape, cherry. Sharp alcohol whaffs that add an acidic quality. Rather than sweet aromas that I would expect from a Quadrupel, a musty Saison-like quality is most prominent.
A nice initial brown sugar sweetness gives a touch of richness, before being overtaken by a sharp, acidic-sour quality. Slick grape, cherry, and orange predominate. Following the sour shock, the malt richness just falls off leaving a bland wheat and corn base highlighted by only a surge of slick alcohol. Notes of nutmeg in the finish.
Nearly full in body. Very slick on the palate for the style, or for any style for that matter, but there is still enough of a malt backbone to stabilize most of the flavor profile range.
An interesting idea, but the true characteristics of a Quadrupel never really came through; why mess too much with such a great style?
1,167 characters

3.51
/5
rDev
-11.1%
look: 4.5 | smell: 3.5 | taste: 3.5 | feel: 3 | overall: 3.5
Hand-written on bottle: 4/30/12, Batch 2, 9.8% APV.
Nicely carbonated with a small beige head. Pours the color of a ripe plum. Sweet, fruity aroma of grapes and plums with a hint of raisins and a bit of booze. Smells like a toned-down red wine.
A touch of hops and a some carbonation differentiates this beer from a medium bodied red wine. Slightly fruity and refreshingly dry.
I'd be interested to see what this beer tastes like after a couple of years in the cellar.
Would pair nicely with a big bowl of spaghetti and meatballs.
534 characters

3.65
/5
rDev
-7.6%
look: 4 | smell: 4 | taste: 3.5 | feel: 3.5 | overall: 3.5
750 ml bottle picked up at brewery poured into snifter
batch #2, bottled 4/31/12, 9.8% abv (all hand-written)
Label says it was aged for 60 days in fermentation
Cork popped open very easily with a nice loud pop
A- Pours an opaque dark purple almost black, about a half finger of purplish white head that dissipates to covering about half the surface, slightly above average carbonation. Leaves layered lacing around the glass.
S- Very strong red wine taste, grapes, some light malts. If you blindfolded me I probably would have thought this was a wine and not a beer. Definitely a fairly strong aroma.
T- Grapes, grape juice, red wine, a little bit of raisins, tart raspberries, cherries, blackberries, grainy malts, lightly sweet and a little bit bitter on the finish. Leaves a lightly sweet grape aftertaste.
M- Medium bodied, smooth, drinkable, a little bit above average carbonation, abv very well hidden.
O- This was an interesting Quad. Definitely very strong presence of fruit, almost feels like more of a red wine then a beer, but definitely a malty presence characteristic of a beer. This beer was easily drinkable, but I don't think I would drink it all the time. Not my favorite beer from Night Shift, I like some of their others a lot better- Somer Weiss and Taza. I feel like this is still a little bit of a work in process, but good for a start-up. If you are in the area I would recommend picking some up if you don't mind wine-tasting beers. I would definitely like trying one aged a little bit or a few batches down the line.
I highly recommend visiting the brewery in Everett. The brewer's are all very friendly, there's a great laid-back atmosphere, you can support a local star-up nanobrewery, and you can buy growlers of some quality beers only available in the area! I highly recommend the Somer Weiss. The Taza Stout also was pretty good.
1,872 characters

3.67
/5
rDev
-7.1%
look: 3.5 | smell: 4 | taste: 3.5 | feel: 4 | overall: 3.5
Batch 1, bottled 3/28/12
A: A super dark amber/brown pour. Huge fluffy tan head. Fades pretty quickly. No lacing at all.
S: Smells strongly of slightly tart grapes. Raspberries and cherries too. Surprisingly strong fruit aroma.
T: Tart raspberries and grapes up front. Cherries in the middle. Finishes just a little sweeter with a touch of caramel. Hints of spices and cocoa in the lingering aftertaste. Fairly drying. No indication as to the 10.5% ABV at all.
M: Somewhat heavy and smooth. A little astringent.
O: Very unusual quad. Pretty much all fruit, and a little tart at that. It's a borderline fruit beer, especially since I didn't really get any belgian yeast characteristics. Hell, it tastes more like a carbonated mead or something like that. Not bad but very different.
798 characters
Quad Reserve from Night Shift Brewing
Beer rating:
88
out of
100
with
46
ratings