Passive Aggressive Pale Ale (P.A.P.A.)
| Outlaw Brewing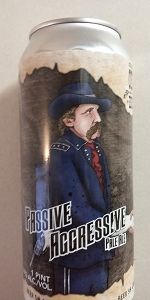 BEER INFO
Brewed by:
Outlaw Brewing
Montana
,
United States
outlaw-brewing.com
Style:
American Pale Ale (APA)
Alcohol by volume (ABV):
6.75%
Availability:
Year-round
Notes / Commercial Description:
It's the beer that talks softly and carries a big stick. Enjoy the maltiness and slightly spicy, earthy Liberty hops on the finish. Passive = easy drinking. Aggressive = 6.7% Alc. 'Nuff said.
IBU 32
Added by LXIXME on 05-30-2014
Ratings: 12 | Reviews: 2

3.35
/5
rDev
-10.7%
look: 3.5 | smell: 3.5 | taste: 3.25 | feel: 3 | overall: 3.5
4.55
/5
rDev
+21.3%
look: 4.25 | smell: 4.25 | taste: 4.75 | feel: 4.75 | overall: 4.5

3
/5
rDev
-20%
look: 3 | smell: 3 | taste: 3 | feel: 3 | overall: 3

4.13
/5
rDev
+10.1%
look: 4.25 | smell: 3.75 | taste: 4.25 | feel: 4.25 | overall: 4.25

3.4
/5
rDev
-9.3%
look: 4 | smell: 3.25 | taste: 3.25 | feel: 3.75 | overall: 3.5
3.77
/5
rDev
+0.5%
look: 4 | smell: 3.75 | taste: 3.75 | feel: 3.75 | overall: 3.75
not a bad little beer here, my first from outlaw brewing. real neat artwork on the label, makes sense for where its from. the beer is unique, very very red for an american pale ale, and well hoppy. its clear as day, sunny rose red color, with a little less than an inch of head on it. smells balanced, as it should for the style, but its a different balance than normal. instead of bready pale malts balancing hop bitterness, its like a sweeter caramelized red malt balancing an oily rich hop profile, a different breed of pale ale for sure. the bitterness is still there in the taste for sure, and the malt isnt as sweet tasting as it smells like it should be, so the result is actually rather dry and intensely flavored. very distinct, but not sure it meets the american pale ale style guidelines all that well. no yeast flavor to this, a hint of can taste metallics at the end, and less hop flavor to it than i was hoping for, but something a bit different than the normal is always welcome in my book. i will have to swing up to this place when i get to bozeman this summer/fall. great artwork, solid brew.
1,110 characters

3.94
/5
rDev
+5.1%
look: 4 | smell: 3.75 | taste: 4 | feel: 4 | overall: 4

3.6
/5
rDev
-4%
look: 3.5 | smell: 3.5 | taste: 3.75 | feel: 3.5 | overall: 3.5

3.75
/5
rDev 0%
look: 3.75 | smell: 3.75 | taste: 3.75 | feel: 3.75 | overall: 3.75

3.76
/5
rDev
+0.3%
look: 3.25 | smell: 3.5 | taste: 4 | feel: 3.75 | overall: 3.75
Served on tap in a pint glass
Appearance – The beer pours nice golden color with a small head of white foam. The head has a decent level of retention, fading to leave a lighter level of foamy lace on the sides of the glass.
Smell – The aroma of the beer is mainly of a malty nature with a rather strong bready and slightly grainy smell. Along with these aromas are some lighter notes of a light fruit smell of apple and pear as well as some hints of a more earthy and grassy hop aroma.
Taste – The taste begins with a clean malty flavor with a breadier and slightly cracker like taste mixed with some grainy flavors and a little bit of caramel. As the taste advances, the bready and cracker tastes take on a little bit of a more rich buttery flavor giving a more doughty like malt base to the brew. All the while, the caramel gains a bit of a fruity counterpart with some peach and pear coming to the tongue. Along with these flavors though, comes a nice bit of a grassy and earthy flavor, which balance nicely the doughy and sweeter tastes of the brew, leaving one with a very approachable and enjoyable pale ale flavor to linger on the tongue.
Mouthfeel – The body of the beer is on the slightly thinner side for the 5.6 % abv. of the brew with it containing a carbonation level that is rather average to a little bit lighter. For the style and the flavor profile the feel is rather nice as it creates enough thickness to uphold the mix of malt, sweet, and hop all while keeping it a more refreshing and crisp brew overall.
Overall – A quite easy drinking and very enjoyable pale ale overall. Lots of flavor with a nice drinking feel.
1,659 characters


Passive Aggressive Pale Ale (P.A.P.A.) from Outlaw Brewing
3.75
out of
5
based on
12
ratings.