Double Shot - Hair Bender

Tree House Brewing Company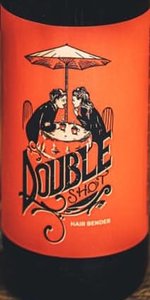 Write a Review
Beer Geek Stats:
| Print Shelf Talker
Style:

ABV:

9.1%

Score:

Avg:

4.49

| pDev:

5.79%

Reviews:

11

Ratings:

From:

Avail:

Rotating/Seasonal

Wants

Gots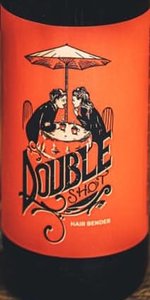 Notes: This batch of Double Shot features a memorable coffee blend revived from the early days in Monson - Hair Bender! Hair Bender provides layers of complexity over an individually crafted batch of Double Shot, with notes of dark chocolate, molasses, dark chocolate covered espresso beans, and a kiss of citrus-like acidity. Slow carbonation imparts fine bubbles that melt away on the tongue and provided buoyancy for the wonderful flavors contained within the beer. Carefully crafted with the best German and American malts we can source, Double Shot - Hair Bender is an excellent campfire beer that can be enjoyed any time of year! Keep it cold and enjoy it fresh.

gcasher from Pennsylvania
4.45
/5
rDev
-0.9%
look: 4.75 | smell: 4 | taste: 4.5 | feel: 5 | overall: 4.5
Bottle
Stored in the fridge about 3 months
This one is as black as night with a mocha head about a finger big, but dissipates quickly.
The aroma and taste are initially sour, but eventually mellow out to roast coffee.
The mouthfeel is extremely soft and heavy, creamy if you will.
The alcohol is not overpowering, but provides a nice warmth.
Overall, once the sourness passes, this is a very enjoyable coffee stout.
Oct 27, 2019

TheDoctor from Canada (QC)
4.49
/5
rDev 0%
look: 4.25 | smell: 4.5 | taste: 4.5 | feel: 4.5 | overall: 4.5
Serving: Bottle
Bottled: No discernable date (Consumed Sep-7)
A:
Pours a crazy-thick pitch black with a nice puffy, swirled brown/tan head that lasts and leaves confetti lacing. (4.25)
S:
Mocha, molasses, roasted nuts, milk chocolate, cinnamon, vanilla, lingering sweetened condensed milk and espresso. (4.5)
T:
Big, sweet kick in the mouth. Descends through the same aroma character and mellows out into Dr. Pepper brandy. (4.5)
M:
Big, heavy, sticky, diabetic stout with moderate carbonation, perceptible alcohol warmth and a lingering sweet/toasty finish. (4.5)
O:
This is a nice beer and will most definitely make your chest hair curly.
In most ways it is similar enough to the other one (or two? I didn't think to look) of these beers that I've had. Big, sweet, decadent. This one has a very clean molasses, vanilla, spiced milk chocolate, and coffee vibe that I guess is in part due to the coffee they used here. A very nice beer that could only be improved by a fluffier feel and a little more beery bite. On the other hand, I feel like the smooth, warming alcohol presence played nicely in this beer. I don't recall perceiving that as clearly in the other one I had (I'll have to check my notes) I'd gladly have it again. (4.5)
Sep 09, 2019
Arjen from Netherlands
4.3
/5
rDev
-4.2%
look: 4.25 | smell: 4.25 | taste: 4.25 | feel: 4.25 | overall: 4.5
From bottle, another one-off at De Bierkoning, enjoyed at home. Pours a pitch black colour and a dense brown head with a thin layer retention. Aroma's or hard roasted malts, moccha, some vanilla-ish sweetness. Retronasal it's sweet roasted, mocha, molasses and light coffee sourness. Flavour is quite sweet but with roast and light coffee sourness for balance. Soft mouthfeel, medium to full bodied. Light alcohol heat. Long finish with dark chocolate and roast. Very nice!
Aug 21, 2019

agreenman19 from Connecticut
4.6
/5
rDev
+2.4%
look: 4.5 | smell: 4.5 | taste: 4.75 | feel: 4.5 | overall: 4.5
L - loving the vibrant orange label. Pours a thick motor oil that oozes down the sides of the glass. Leaves some legs behind beneath a thick, fluffy, caramelized tan brown head. On the darker side of Double Shots.
S - roasty, bittersweet black coffee notes independent of baker's chocolate and fudgepops. Burnt popcorn kick and fresh, nostalgic, dragonfruit earthiness.
T - fudge brownie ice cream. Aggressively bittersweet dark chocolate and bright, tickling lemon-lime citrus bitterness on the mid-finish. Ending is dry and herbal with robust coffee ground tanginess.
F - a soft and silky dream, per usual. Lively carbonation and a body that's not too heavy make this surprisingly drinkable. Slightly sticky toward the end to remind you that, yes, there is alcohol to be found in here.
O - preeeeeeeeetty sure this ain't the original recipe, but is a welcome variant all the same. Features the filling, hearty facets of ice cream and rich chocolate, balanced by bitey, roasty coffee to keep you on your toes.
Aug 03, 2019
DaveMaciolek21 from New Jersey
4.94
/5
rDev
+10%
look: 5 | smell: 4.75 | taste: 5 | feel: 5 | overall: 5
OMG! Beautiful dark tan head, smooth substantial mouthfeel. And the flavors! Chocolate up front, coffee and molasses in support, with a bit of a citrus bite sneaking in ever so subtly. Complex, robust, world class!
Aug 03, 2019

ScaryEd from New Hampshire
4.42
/5
rDev
-1.6%
look: 4.5 | smell: 4.25 | taste: 4.5 | feel: 4.25 | overall: 4.5
Poured from a 16.9 oz bottle into a stemmed harmony glass.
The pour is jet black with 2 fingers of creamy, mocha head. The head leaves a crown of sticky, cobweb lacing before settling into a thin film.
The aroma brings notes of dark roast coffee, chocolate, vanilla, and sweet cream. There are some very subtle notes of almonds and toasted pecans on the back end.
The flavor is very chocolate forward, bringing notes of fudge and chocolate syrup. There's some coffee, almonds, caramel and vanilla, before a wave of chocolate wafers and sweet dough on the finish.
The feel is medium-full bodied with soft carbonation. Creamy and smooth with a surprising amount of alcohol warmth.
Overall, a great imperial stout that is perhaps a bit too sweet and unbalanced. Still, it's quite flavorful and relatively drinkable for its ABV.
Aug 01, 2019

Rub_This_BBQ from Massachusetts
4.52
/5
rDev
+0.7%
look: 5 | smell: 4.75 | taste: 4.25 | feel: 4.75 | overall: 4.5
L: pic perfect stout 2+ finger tan head with dark thick body
s:is rich coffee roasted malt
T: touch sweet not has much coffee as thought with nose but still super tasty.
Over all killer stout smooth and creamy
Jul 27, 2019

scotorum from Massachusetts
4.49
/5
rDev 0%
look: 4.25 | smell: 4 | taste: 4.75 | feel: 4.25 | overall: 4.75
TREE HOUSE DOUBLE SHOT HAIR BENDER COFFEE STOUT 7/15/19
Acquired at the brewery last Thursday. Poured from the 16.9 oz. bottle into a Samuel Smith English tulip pint.
a: Opaque black with a finger thick light brown head which receded fairly quickly to uneven surface foam and patchy lacing.
s: Mild creamed coffee.
t; Black coffee and milk chocolate with a moderate hop bite. Bitterness lingers qum:ite a bit on the bittersweet finish. 9+ ABV is very well covered.
m: Medium, excellent body and carbonation tingle.
o; A superior and very pleasant coffee stout which, unlike the DS Costa Rica Torres Family stout reviewed yesterday, belies its high ABV with relatively easy drinkability and sweetness rather than powerful sip-demanding taste.
Jul 16, 2019
rudzud from Massachusetts
4.49
/5
rDev 0%
look: 4.25 | smell: 4.5 | taste: 4.5 | feel: 4.5 | overall: 4.5
Thanks to JLindros for sharing this growler
A - Poured into a Kate the Great tulip a nice dark black with a thin mocha head that fades to leave a nice light creamy halo.
S - Aromas of bright coffee, rich roast, creamy vanilla, great chocolate, smooth.
T - Taste is similar to the nose, great dark chocolate, rich coffee grounds, light darker fruit. Light vanilla, caramel, delicious stout. Good malt sweetness, light roast, delicious coffee.
M - Mouthfeel is nice and creamy, smooth, very nice.
O - Overall this beer was really nice, great chocolate and coffee, very potent rich coffee, nice caramel and vanilla. Delicious
Serving Type: Growler
Oct 31, 2014

dar482 from New York
4.71
/5
rDev
+4.9%
The beer comes in an opaque obsidian with a fluffy light brown head.
The aroma has medium roasted malt, milk chocolate, a bit of sugary sweetness. Almost a nutty note along with coffee grounds and fresh espresso beans.
The flavor follows with that caramel sugar sweetness in the front. Almost like a sugar covered espresso bean. The mid offers lots of milk chocolate, cocoa, almost like a chocolate drink. Then onto a smooth longing melted chocolate note that is balanced by the beer's sweetness, roasted malt, and coffee bitterness.
The mouthfeel is medium to medium plus and drinks above its ABV.
One of the best coffee stouts I've had, even up against some double digit ABV stouts.
Oct 20, 2014
jlindros from Massachusetts
4.5
/5
rDev
+0.2%
look: 4.5 | smell: 4.5 | taste: 4.5 | feel: 4.5 | overall: 4.5
Pours a dark creamy mocha color 1/2 finger head fades at a med pace decent lacing, nice legs, pitch black beer.
Nose big roasty coffee, earthy and nutty but smooth and rich coffee. Some fudge and dark choc, creamy milk choc and cocoa, nice mild coffee bean char, little biscuit wafer candy.
Taste brings lots of choc, fudgey cocoa, then coffee, fresh roasted coffee, little roast flavor, mild char, but lots of fresh coffee, mild earthy nutty, smooth and almost velvety with nice coffee that blends well. Little bitter slight earthy hop and bitter roast. Finish is fairly bitter, nice mild smooth roast and fudge lingering, nice coffee mild earthy nutty coffee lingering.
Mouth is fuller bod, creamy and smooth, nice carb,
Overall quite nice, rich smooth, earthy mild nutty coffee but smooth with nice fresh roasted coffee, etc, but I wouldn't call this better than the other special double shots.
Oct 11, 2014
Double Shot - Hair Bender from Tree House Brewing Company
Beer rating:
96
out of
100
with
61
ratings