Homemade

Tree House Brewing Company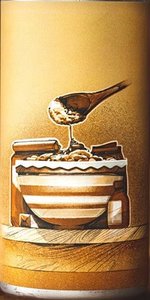 Write a Review
Beer Geek Stats:
| Print Shelf Talker
Style:

ABV:

9.6%

Score:

Avg:

4.38

| pDev:

5.02%

Reviews:

11

Ratings:

From:

Avail:

Rotating/Seasonal

Wants

Gots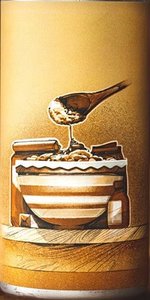 Notes: Homemade is a milk stout made with chocolate fudge, walnuts, and a hint of maple syrup. It pours a silky black in the glass with a dense, marshmallow-like head. We taste and smell milk chocolate, chocolate covered walnuts, and maple walnut truffles. Yum! It calls to mind a confection you might find at a back road general store. A decadent, smile inducing concoction, indeed - just in time for Halloween!
SawDog505 from New Hampshire
4.48
/5
rDev
+2.3%
look: 4.75 | smell: 4.25 | taste: 4.5 | feel: 4.75 | overall: 4.5
Another gem from Tree House Brewing Co., INC. Poured into a 20 oz giant tulip glass canned on 3/04/20. Pours a midnight black on a cloudy day, with a giant 3 plus finger mocha head that leaves a few thin wisps of lace with excellent retention. 4.75
Smell is maple syrup, dark chocolate, vanilla, and expresso. 4.25
Taste follows maple, fudge, vanilla, and expresso one dimensional but really really tasty. 4.5
Mouthfeel is big, gentle slightly dry carbonation, and at 9.6% a sipper that goes down far too easy. 4.75
Overall this is a very tasty Imperial Milk Stout, that showcases maple, but also has rich chocolate, vanilla, and coffee notes that makes for a near perfect nightcap. 4.5
May 11, 2020

Damian from Massachusetts
4.45
/5
rDev
+1.6%
look: 4.5 | smell: 4.5 | taste: 4.25 | feel: 5 | overall: 4.5
Drank from a 1 pint can purchased at Tree House Brewing Company, Charlton, MA
03/04/20
Served in a Tree House teku
Super oily and viscous, completely pitch black appearance. The ominous looking body was topped by an uber tight and creamy, mocha colored crown that fell to a thick, frothy collar. Odd shaped streaks and spotty droplets of lacing trickled down the sides of the glass.
Terrific aroma. Dry, flinty, roasted malts came through strong initially. Slightly smoky. Chocolate fudge notes were also apparent. Some brown sugar too. Nice balance between roasty and sweet. Touch of espresso. As the beer warmed, the chocolate intensified.
The flavor profile was similar to the nose. Really rich and robust. Big roasted and caramel malt presence on the front end. Chocolate notes appeared next. Chocolate syrup came to mind. Some creamy lactose appeared in the center. More roastiness on the back end and the finish. Slightly ashy. Notes of bitter espresso lingered after the swallow.
Outstanding rich, creamy, full bodied mouthfeel. The liquid contained a super fine, moderate effervescence that turned amazingly slick and smooth on the palate.
Although I failed to pick up the maple and walnut notes entirely, Homemade is still a very tasty and enjoyable imperial milk stout with an incredible mouthfeel. Unlike many reviewers, I found this beer to be surprisingly balanced and drinkable given the style.
Apr 29, 2020

agreenman19 from Connecticut
4.58
/5
rDev
+4.6%
look: 4.5 | smell: 4.5 | taste: 4.75 | feel: 4.25 | overall: 4.5
L - been jonesing after this one ever since it was first released. Bummed I missed it then, especially since it was during that heartbreaking time I stopped chasing TH beers because they simply make too many unique beers these days. Life is hard. Pours a black motor oil with a big, fluffy, crimson head. Looks like mocha. And seriously, this shit is B L A C K.
S - fudgey brown sugar and cinnamon. Chocolate-covered maple candies, freshly-shelled walnut, and vanilla ice cream.
T - milk chocolate with the slightest hint of dark chocolate twang. Features a light, vanilla-esque flavor that borrows heavily from the light nuttiness of walnuts or cashews. Hershey chocolate syrup, truffle oil, and sweet, sugary maple cream. Chocolate pudding. Finishes with an almost tart, acrid coffee ground bitterness. Leaves a sticky residue all over. Lingering flavors of peanut butter and Royal Dansk cookies.
F - not as sickly sweet as a 9.6% might suggest. More of a fluffy, mellow mouthfeel that's not too thick, but still silky enough to satisfy.
O - one of TH's sweeter stouts. I gotta say, it hit the spot I was looking for, even if it might be a little too sweet at times. Impressive, but definitely in moderation. It's a good thing I only snagged one; not looking to catch the beetus tonight.
Apr 27, 2020

mnj21655 from Massachusetts
4.44
/5
rDev
+1.4%
look: 4.5 | smell: 4.25 | taste: 4.5 | feel: 4.5 | overall: 4.5
Pours a deep black in color with a finger of dense medium brown head that leaves behind sticky lacing. Aroma is sweet milk chocolate, a bit of maple, and some walnut. Taste is very sweet. There are nutty, chocolate, and maple notes. Very smooth. Medium-full bodied with moderately low carbonation and sweet but not overly cloying. Typically I don't love adjucnted beers but there is enough subtlety to the additions that I find this enjoyable. The flavors are well balanced and the sweetness is just restrained enough to keep this drinkable. I really enjoyed this one.
Apr 04, 2020

beersampler6 from Michigan
4.06
/5
rDev
-7.3%
look: 4 | smell: 4.25 | taste: 4 | feel: 4 | overall: 4
Very nice milk stout - canned date 3/4/20. Pours a thicker dark brown color with very little light penetration, tan head with some nice small rings of lingering lacing. Smells of darker chocolate, medium roast coffee, creamy vanilla, caramel, bread, malt, a little nuttiness. Taste follows the nose, not quite as rich and deep as the aromas would have you believe but still very tasty. Could have been a little smoother considering this was a sweeter milk stout. Smooth, slightly sticky mouthfeel, good carbonation even as the beer warmed. Not my favorite stout from Tree House by any means, but still very good and better than many other ones out there.
Mar 30, 2020

ScaryEd from New Hampshire
3.92
/5
rDev
-10.5%
look: 3.25 | smell: 4.25 | taste: 4 | feel: 3 | overall: 4
Poured from a 16 oz can into a tulip glass.
Pours a near pitch black color with a thin caramel head. The head is gone quickly, leaving no lacing as it settles into a golden crown.
The aroma brings a ton of dark roasted malts, milk chocolate, and maple syrup. There's a ton of nuttiness here, bringing notes of pecans, walnuts, and toasted peanuts.
The flavor starts off with a wave of chocolate fudge, followed by some roasted nuts and fresh maple syrup. Comes pretty much exactly as advertised.
The feel is full bodied with low carbonation. Sticky and syrupy with plenty of alcohol warmth.
Overall, this is a great milk stout, however it's disappointing by Tree House standards. It's just a bit too sweet and frankly the mouthfeel is pretty bad. I really wish TH would make balanced stouts again instead of the sugary pastry bombs they brew now. All that said, it's a very good beer. Just not up to Tree House standards.
Mar 27, 2020
BeerBaronBear from New York
4.27
/5
rDev
-2.5%
look: 4.5 | smell: 4.25 | taste: 4.25 | feel: 4.25 | overall: 4.25
A sweeter stout, with little to no coffee flavor. Instead, it has a rich fudgy flavor with a pleasant nuttiness and marshmallow aspect. My favorite thing to do with some of these stouts is to take a medium-sized mouthful and froth it inside of my mouth. It puffs up the mouthfeel and opens up a ton of flavor, which in my view improves greatly on the syrupy feel of the beer if you just pour it down your throat. This is a really enjoyable sipping stout, but not my favorite overall - the sweetness gets to be a bit sickly for my palate, and I would love a bit more carbonation.
Mar 18, 2020
tigg924 from Massachusetts
4.41
/5
rDev
+0.7%
look: 4.5 | smell: 4 | taste: 4.5 | feel: 4.75 | overall: 4.5
Pours opaque, black in color with one third inch head. Taste is milk chocolate, big maple and light walnut. Heavy bodied, low carbonation, very sweet and roasty. Makes for another nice sweet stout. In the middle of their recent stouts. Would get again.
Nov 09, 2019

scotorum from Massachusetts
4.5
/5
rDev
+2.7%
look: 4.75 | smell: 4.75 | taste: 4.5 | feel: 3.75 | overall: 4.5
Bought at the brewery last Friday 11/1/19. Canned 10/30. Poured from the 16 oz. can into a Tree House stemmed tulip.
a: Opaque black with an inch olus brown head which receded to thin surface foam and dense lacing.
s: Milk chocolate and hazelnuts
t; Follows the nose with a moderate hop bite over which lingers on the sweet finish. High ABV not evident.
m: medium, good body and carbonation tingle.
o: A very tasty stout, seemingly a bit light weight in feel but tremendous in flavor. The nut additives dominate any smoky/coffee notes stouts are known for. And like "Candy Shop," their chocolate milk stout, exceptionally expensive at $8.50/16oz.
Nov 07, 2019
jlindros from Massachusetts
4.04
/5
rDev
-7.8%
look: 4.25 | smell: 4 | taste: 4 | feel: 4.25 | overall: 4
Thanks to rudzud
Pours a medium sized almost black colored thicker frothy rich semi dense head with medium to lower retention, a fair soapy lacing, light legs and pitch black beer
Nose some dark chocolate with plenty of hazelnuts and a little walnuts, fair maple, big toasted nuts, some toasty brown malts, a little vanilla icing, mild lactose and marshmallow, faint fudge in the background
Taste rich creamy milk stout, lactose and fudgey cocoa, with some toasted nuts, hard to specifically say walnuts, maybe even hazelnuts again, but a fair maple again, rich maple and toasted brown malts, fair sweetness, a bit of vanilla as well, a little warming alcohol turning slightly tingly, some chocolate fudge, medium to lighter bitterness some from dark malts and a little spicy hop, sticky finish
Mouth is fuller bod, a bit creamy, medium carb, a little warming alcohol
Overall OK but not great, decent nutty notes but not a ton, nice maple at least, bitterness is OK, base malt is OK,
Nov 01, 2019
rudzud from Massachusetts
4.18
/5
rDev
-4.6%
look: 4.25 | smell: 4.25 | taste: 4.25 | feel: 4 | overall: 4
Shared with JLindros.
A - Poured into a Kate the Great tulip a nice dark brown almost black with a thin mocha head that fades to leave light lacing and thin wisps.
S - Big aromas of maple syrup and chocolate candy. Good maple cream candy, light roast and nuttiness, alcohol hidden wonderfully.
T - Taste is similar to the nose with nice slightly sweet maple notes. Big coffee ice cream flavour, flashes of nuttiness. Good nice sweeter lactose. Almost takes like a coffee ice cream sundae.
M - Mouthfeel is lightly carbonated, creamy, alcohol hidden very well.
O - Overall this was a solid enough milk stout, good chocolate and walnuts. Good sweetness.
Serving Type: can
Nov 01, 2019
Homemade from Tree House Brewing Company
Beer rating:
93
out of
100
with
50
ratings