Dragoon Brewing Co.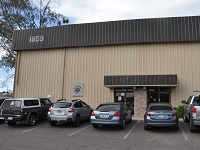 PLACE INFO
Type:
Brewery, Bar
1859 W Grant Rd
Ste 111
Tucson
,
Arizona
, 85745-1214
United States
(520) 329-3606 |
map
dragoonbrewing.com
Notes:
No notes at this time.
Added by Gueuzedude on 04-19-2012
Reviews: 12 | Ratings: 47

4.29
/5
rDev
-2.3%
vibe: 4 | quality: 4.25 | service: 4.5 | selection: 4.25
I got to visit several breweries while in Tucson, July 2016, and Dragoon beers were the best I had. A wide selection of styles from simple to complex. The place is rather nondescript from the outside and clean and open on the inside. If in Tucson, this place is recommended for the beer. No food available, but there was a food truck serving outside.
350 characters

4.58
/5
rDev
+4.3%
vibe: 4.5 | quality: 4.75 | service: 4.5 | selection: 4.5
Located in an industrial area. Kinda hard to find if you don't know where you're going. Taproom is located in the warehouse with a view of the brewery and the aging barrels. Long bar with stools and tables/benches in the open area. Full Dragoon selection on tap along with a cask option. No food, but often times there are food trucks outside. Fridge with beer to go. Growler fills and t-shirts/merchandise on site. Good service.
429 characters
3.54
/5
rDev
-19.4%
vibe: 3.25 | quality: 3.5 | service: 3.75 | selection: 3.5
Located in warehouse industrial type building like that Sandwinds bar in Fallon. Vibe is alright, everything in Tucson is kinda middling, same hipsters you see in every town, dressed the same way, same opinions on everything. I would say the beers are better than average, but nothing really stood out either as being very good or great.
Service was good. Attentive. Styles were all pretty straightforward, nothing crazy like a smoked gueuze or whatnot. I don't think they had food. Went here with my brother. I'd go again, but I also wouldn't go out of my way to go again.
581 characters

4.8
/5
rDev
+9.3%
vibe: 4.5 | quality: 5 | service: 4.5 | selection: 5
Tap room is in industrial warehouse w/ view of the brew house, oak storage, etc. Decor is simple and clean
There has been a member of the brew house staff behind the bar every time I've been in and they've been happy to answer questions about style, process, etc.
Beer selection is phenomenal (12 in all) with an ambitious array of styles. Barleywine, Belgian, Dortmunder all accompany their flagship IPA (awesome) and a great Dark Mild. Obviously several different yeast strains, processes, etc, yet all of the beers are technically impressive. I can't say enough good things about these guys
599 characters

4.54
/5
rDev
+3.4%
vibe: 4.25 | quality: 4.5 | service: 4.5 | selection: 4.75
Alonside Fate, probably my favorite brewery in AZ, and their tasting room stands up to their brewing prowess. Expansive tap list with a huge variety of selections -- on our latest trip, they had a BA barleywine, BA stout, tequila-BA saison, rye-barrel aged porter, plus a huge variety of brews, from an English dark mild, to witbier, to double IPA, and so on. And, frankly, most of those styles were on point. No food, and a random industrial location, but inside the vibe is cool, modern, and a fine setting for settling in with some damn good beer.
550 characters

3.78
/5
rDev
-13.9%
vibe: 3.75 | quality: 4.25 | service: 3.25 | selection: 3.75
This was stop #5 along a pub crawl for my wife and I and two friends in the greater Tucson area. The pub is located in a newer industrial area in a multi-suite building. The entrance to the brewery is on the rear side of the building. Contrary to a tasting room description in a previous review, this taproom is new and is spacious. It really doesn't have a whole lot of character being a large, partitioned space with a high ceiling, a long bar and long community tables, but this is an industrial building. Several large windows do allow a nice view of the brewing equipment and the barrel room, so there is some ambiance here.
But the beer here is what is the crowning glory of the experience. Being on a pub crawl, we couldn't try as many beers as what we would have liked, so we had a sampler glass of only four of them. We chose three of the beers (Dragoon IPA, Lazarus, and Super Stronghold) because of our appreciation for the styles, and the fourth (Fumacabra) was chosen out of curiosity because we've never had a mesquite-smoked bock (or any mesquite-smoked beer, for that matter). The IPA and Super Stonghold were probably the best two beers that we experienced during our week-long trip, so we rated them at a B+ grade. Lazarus, in spite of its high hype, was a let-down. It became cloyingly sweet at 13.25 ABV as it warmed up, but was a very good beer when it was cold. Not having any comparison for a beer similar to Fumacabra, it was difficult to give it a rating. Its taste lived up to its description, so that's about all I can say for it.
We enjoyed this place and the beers enough that we had hoped to make a return trip before out vacation ended, but sadly, we didn't find the time. However, this pub will be at the top of our list if we ever return to Tucson.
1,784 characters

4.5
/5
rDev
+2.5%
Second time visiting Dragoon this past weekend. All the beers were clean and the mens urinal is really high up on the wall, which is perfect for tall guys like myself. No flush either as it's one of those water saving units.
I really liked the Munich Dunkel and the American Mild. Fun place with solid beers and the bartenders are pretty cool. The woman was a bit gloomy, but they say that's just how she rolls.
I will go back for sure.
442 characters
4.04
/5
rDev
-8%
vibe: 2 | quality: 4.25 | service: 5 | selection: 3.75
In terms of brew, it's probably currently the best of the ever-expanding circuit of breweries in Tucson. Definitely has the most mature offerings, which is odd in that it's a relative newcomer. It's a commercial brewery with an attached office space they serve tastings in, so the atmo is about as bad as possible (think: you're still in your cubicle). I was there the day they opened to the public, and back then they let you drink in the warehouse brewing area, and that was a lot better. Probs illegal tho. No food, and beer selection at the brewery at any one time is limited, but they do have a decent range of offerings throughout the year. Their IPA deserves its cred as the best of the locals in Tucson, and probably Arizona. It's not world-beating, but it's absolutely consistent at several notches above solid.
Editing my review to note that there are often food trucks outside, particularly during happy hour times, and Tucson's burgeoning food truck scene is a pretty good one.
990 characters

4.17
/5
rDev
-5%
vibe: 3.5 | quality: 4.5 | service: 4.25 | selection: 4
First off, the Dragoon IPA is as good as the reviews on Beer Advocate led me to believe, which is to say they're a close second to La Cumbre's Elevated IPA for best IPA in the southwest.
Second, every other beer in here was either outstanding or so adventurous as to be deserving of praise. The Imperial Stout here was superb--- rich and malty, a great complex profile and was not dominated by alcohol like many ISes. The double IPA was, interestingly enough, a shadow of the IPA but still good. The Berlinerweiss was intensely tart, yet light and refreshing. The dark session beer had great roasted malt nose and flavor and did great justice to the name session.
Oh, and they had the IPA on cask when I arrived and it was mind-blowing.
Add to this a cool staff that are laid-back and not the least bit pretentious, plus very reasonable prices of $5-6 a beer and $7 for a flight and this place would easily be my go-to brewery if I lived in Tucson.
The only drawback is that it is a bit of a journey to get to and if the place every really gets popular they do not have the space to accommodate folks, but I'm sure they'll cross that bridge when they get to it.
1,168 characters
4.87
/5
rDev
+10.9%
vibe: 4.5 | quality: 5 | service: 5 | selection: 4.75
This is a great place. They are a brewery with only a tap room and no food, but often times have food trucks outside and don't care if you bring something in from anywhere else either.
The beer is great, as you can see from all of the ratings. They are producing some of the highest quality beers, if not the highest, in Southern Arizona. They have a wonderful selection and are constantly rolling our new brews. The staff is great. They are all so friendly and easy to talk to.
I would highly recommend seeking this place out.
530 characters
4.79
/5
rDev
+9.1%
vibe: 4.5 | quality: 4.75 | service: 5 | selection: 4.75
This is definitely an up and coming brewery to watch. The taproom is not open everyday, but it is not meant to be a bar, so I am more than fine with that. When you drive up, the space is some random warehouse that is next to an indoor batting cage. When you walk inside you will see about 8 tables along with a small bar, with glass doors leading to the actual brewhouse.
The size is both a good and a bad a thing, finding a table can be hard if there are more than 20 people, but you also don't have to worry about service, which has been great. The taproom manager, appropriately named Stout, keeps everything running as smoothly as possible and takes care of his regulars.
The selection seems appropriate for a brewery of this size. The last time I went in, there were about 8 beers on tap that were varied in style. Not an overwhelming selection, but there are plenty of things to try in a couple of sessions, not to mention they would have trouble making more than that with consistent quality. Growler fills are also possible if you find something you like and want to drink it at home.
The beers I have had have been good overall. They typically have a saison, a session, an IPA, a stout or porter, and a pale. I have only found the IPA and session ale around town, so if you want to try their other offerings, you need to stop by. I haven't had anything yet that made me regret making the drive.
The only gripe I have is that the location is further away than I would prefer, but you can't have your cake and eat it too. The breweries that are downtown, Thunder Canyon and Borderlands, are easily forgotten when I make the trip. Another smaller gripe is the lack of a TV which is important during football season.
They don't have a kitchen, but they do have food trucks that come by. You could also easily bring your own food and no one will hassle you.
If you are in Tucson and like beer, you should stop by and at least grab a growler. Don;t be discourage by the other local breweries which I find to be mediocre. You are missing out if you don't give it a try.
2,079 characters

4.74
/5
rDev
+8%
vibe: 4 | quality: 5 | service: 5 | selection: 4.5
Its just basically a small, air-conditioned room separated from the brewery itself. They have about 7 or 8 tables, the bar, and a bar against the wall. The employees are helpful and awesome, the brewery tour is cool (even though its just a small one room warehouse) and they offer all of their current beers on tap. The option for flights to try them all is great and the glassware is perfect. They actually serve beer in something besides pint glasses, which seems to be rare. I thought it seemed like a cool place to go and hang out to get a few beers with friends.
Apparently they also have food trucks come by a few days a week, but I haven't been there for the food yet.
676 characters
Dragoon Brewing Co. in Tucson, AZ
4.16
out of
5
based on
452
ratings.