Creekfestbier Lager
| Neshaminy Creek Brewing Company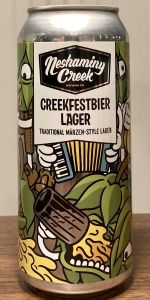 BEER INFO
Brewed by:
Neshaminy Creek Brewing Company
Pennsylvania
,
United States
neshaminycreekbrewing.com
Style:
Märzen / Oktoberfest
Alcohol by volume (ABV):
5.20%
Availability:
Fall
Notes / Commercial Description:
Traditionally brewed in March just before brewing was banned for the Summer, Märzenbiers are malty, smooth, clean, and rich lagers that have a distinctive malt backbone and complexity for a style that can be so understated. Brewed with German Munich and Pilsen malts as well as German Hallertau and Tettnanger hops, this distinctive brew is conditioned at cold lagering temperatures for five months; some things you just can't rush. This is a true Oktoberfest offering, one that is prominently featured during our Oktoberfest celebration at the brewery, and at 5.2% ABV it's a crisp, smooth, and easy to drink beer perfect for the chilly Fall nights ahead.
Added by xnicknj on 09-12-2013
Reviews: 8 | Ratings: 38

4.09
/5
rDev
+1.5%
look: 4 | smell: 3.75 | taste: 4.25 | feel: 4 | overall: 4.25
10/8/16...pours rich bright amber with fluffy head of 1/4 inch white pillowed foam. Spicy malt nose. Smooth malty taste, heavy caramel flavoring. Chewy. Malty, yet crisp, simple straightforward excellent Octoberfest.
216 characters

4.42
/5
rDev
+9.7%
look: 4.5 | smell: 4.25 | taste: 4.5 | feel: 4.25 | overall: 4.5
22 oz bottle. Clear honey brown body with a thick white head. Great lacing and retention. Aromas of toasted malt, bread, caramel and toffee. Flavors are lots of semi-sweet caramel malt, a bit of roast, dough and a touch of nuttiness. A really fantastic beer, I very much enjoyed this.
284 characters

4
/5
rDev
-0.7%
I like this beer it was very good.
Pours a rich copper with a tall beige head.
Smells malty and bready and the taste is similar with a big biscuit malt taste.
158 characters
3.95
/5
rDev
-2%
look: 4 | smell: 4 | taste: 4 | feel: 4 | overall: 3.75
Quite a good find I walked into my House of 1,000 beers and saw they were clearing these out for just 4 bucks a bomber marked down from 7.95. Into a pint glass.
A - Quite a deep shade of orange brown, very dark for a marzen. Clear looking with a 1/2 inch of off white head.
S - Really stands out with nutty and bready malts, some bittering hops, some skunk, and mostly caramel sweetness.
T+M - Quite good the body was on par maybe drank a bit heavy with a medium body. Just busting with sweet malts, bready malts, and very little skunked hops.
Overall not the best Oktoberfest but a very good malty version of one. Finished the bottle and wish I bought two for the price.
674 characters
4
/5
rDev
-0.7%
look: 3.5 | smell: 4 | taste: 4 | feel: 4.25 | overall: 4
Burnt orange in color and a bit murky which was surprising for beer lagered for 4 months. Poured with a short off-white foam that quickly reduced to a wispy cap. Sweet, bready and caramel malt aromas at first followed by toasted malt, dark ripe fruit and herbal hops. On the heavier side of medium bodied with a big oily feel down the middle and spicy, tangy feel on the edges. Big sweet caramel malt up front followed by dark, fruity raisin-like sweetness. Toasted malt and spicy, herbal hops through the middle with expanding hop bitterness toward the end. Finished with a lightly crisp feel and a tangy herbal hop bite. Along with the big malty presence, the dark fruit notes were very unique.
697 characters
4.6
/5
rDev
+14.1%
look: 4.75 | smell: 4 | taste: 4.75 | feel: 5 | overall: 4.75
After my first favorable try in 2013 at the brewery, I picked up a few bottles back in 2014 at my local bottle store/pub (Blue Dog). My first impression was good but the hop level for this style was excessive. My 2013 experience: Very flavorful, malty oktoberfest poured a clear medium amber with substantial white head. Aroma if caramel and fresh bread. A bit too much hops on the finish.
After aging for two years, one year in cellar, one year in fridge, a bottle was sampled on 5-10-16: Super malty rich taste with just the right balance of hops on the finish. The caramel predominates upfront with a pleasant roasted malt finish. The cloudiness has increased with age along with the rich flavor.
701 characters
4.11
/5
rDev
+2%
look: 3.5 | smell: 4.25 | taste: 4 | feel: 4.25 | overall: 4.25
22oz bottle poured into a shaker pint.
Appearance
Brownish amber with 1 finger of off-white head that dissipates quickly. Very cloudy.
Nose
Toasted bread, caramel, nuts, banana bread and cocoa.
Taste
Caramelized brown sugar, toasted brown breads, molasses and nutty malts. Light notes of banana bread and cocoa nib. Finishes with an earthy and somewhat leafy hop bitterness.
Mouthfeel
Medium bodied, crisp, smooth and clean.
Overall
Ziggy Zaggy is brewed in March and cold conditioned for 5 months before its fall release. A lot of love from NCB in this one. A top notch Oktoberfest!
588 characters

3.74
/5
rDev
-7.2%
look: 3.5 | smell: 3.75 | taste: 3.75 | feel: 3.75 | overall: 3.75
Growler from the brewery - poured into pint
Deep chestnut color with soft orange tones, topped by a frothy layer of beige head. Retains for a moment while drinking before fading, leaving a few spots of lacing on the glass. Nutty and malty in the nose with sweet caramel and leafy hops. Complex layering of malts on the tongue, mild sweetness with caramel and bread crust. Crisp and clean drinking - refreshing enough for the waning days of summer but flavorful enough for early fall.
Neshaminy's strong suit definitely appears to be their lagered beers, I'd be happy to see this make an appearance every fall.
616 characters
Creekfestbier Lager from Neshaminy Creek Brewing Company
4.03
out of
5
based on
38
ratings.