Good 'n Evil
| Evil Genius Beer Company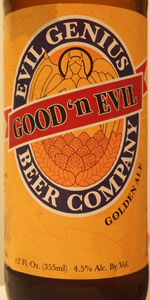 BEER INFO
Brewed by:
Evil Genius Beer Company
Pennsylvania
,
United States
evilgeniusbeer.com
Style:
Kölsch
Alcohol by volume (ABV):
4.50%
Availability:
Year-round
Notes / Commercial Description:
No notes at this time.
Added by NeroFiddled on 05-17-2012
This beer is retired; no longer brewed.
Reviews: 7 | Ratings: 23

2.62
/5
rDev
-10.6%
look: 4.25 | smell: 4 | taste: 1.5 | feel: 3.5 | overall: 2.25
Poured from bottle into a pint glass
Appearance – The beer pours a super hazy golden-yellow color with a huge billowy white head. The head has a decent retention power fading slightly faster at first, but then slowing quite a bit and maintaining its strength. While rather persistent it does fade over time and does diminish to fade a decent level of lace on the sides of the glass.
Smell – The aroma is heaviest of a bready nature with a moderately strong grainy wheat smell. Along with these aromas is a nice blend of grassy and citrus hop as well as a bit of caramel and orange sweetness which when combined with the rest create a very nice and balanced kolsch aroma.
Taste – The taste begins with a dry grainy and malted taste. It begins strong with lots of grass and hay flavors and only gets stronger in the flavors to the end. While a bit of caramel and orange sweetness were in the nose, there was almost none on the tongue. The grass and hay flavors grow stronger and more off to the end where they combined with a lemon and slightly earthy flavor to leave a very off and slightly astringent tanniny taste to linger on the tongue.
Mouthfeel – The body of the beer is quite light with a carbonation level that is rather average. While good for the style, the off flavors of the brew can't be helped and any which way you slice the mouthfeel it just can't cut it.
Overall – While the aroma and smell were very pleasant (as with many of the evil genius brews) the taste was quite off (again a bit too common of a trend for their brews; but not all…). This is not one I will come back to and I would suggest to leave it by the wayside.
1,662 characters
3.56
/5
rDev
+21.5%
look: 3.5 | smell: 3.75 | taste: 3.5 | feel: 3.5 | overall: 3.5
Poured from a brown 12 oz. bottle. Has a golden color with a 1 inch head. Smell is malty, sweet, some biscuits. Taste is malts, some hops and biscuits, easy drinking and mellow. Feels medium bodied in the mouth and overall this is a pretty solid beer.
251 characters
2.56
/5
rDev
-12.6%
look: 3.5 | smell: 2.5 | taste: 2.5 | feel: 2.5 | overall: 2.5
I poured this into a pint glass, it has a murkey golden color body with a very large white fluffy white head that hangs arounds for a while. The aroma has a faint malt to it. The taste is sweet of malt and that is about it. The mouth feel is kinda watery, leaves a little bit of a aftertaste. Overall i'm not really liking this beer. Since it doesn't have a date on the bottle, i'm not sure how old it is.
405 characters

3.48
/5
rDev
+18.8%
look: 3.5 | smell: 3 | taste: 3.5 | feel: 3.5 | overall: 4
Picked up at the Wegmans the other day and thought to give a chance.
No bottle date, age unk.
Definitly golden in color maybe even a bit darker for a kolsch style.
Head is bright white and is billowy and fluffy but fades rather quickly. Really light carbonation.
Aroma is crisp clean malts.
Taste is sweet malts. I can also taste a spicy and pepper element too, similar to a wit.Mouth feel is dry and puckering in the aftertaste.
I'm not sure if I like this one yet, though it's not bad.
487 characters
2.7
/5
rDev
-7.8%
look: 3 | smell: 3 | taste: 2.5 | feel: 3 | overall: 2.5
Single from Abe's. Price?
Hazy pale yellow body, topped by a level finger of white bubbly froth.
Aroma is strong grass/hay. A little too assertive.
Sweet malt beginning. Rounds out a bit before the surprisingly aggressive hop bite at the swallow. Sweetness reemerges in the aftertaste.
Light mouthfeel.
Needs a little less malt sweetness and a bit more malt depth.
370 characters

2.3
/5
rDev
-21.5%
look: 3 | smell: 3 | taste: 2 | feel: 2 | overall: 2
A bright pale gold in the glass with a slight foam up, which dissipates to a nearly flat mouthfeel. There is a slight waft of perfume as you bring the glass up to your lips.
Taste is an eye opener, however. Green tea with mineral water. Day old tonic water minus the sugar. Perrier left to go flat in a plastic water bottle. No malt to speak of. The bitter aftertaste borders on the medicinal. I haven't been keeping score on the worst pseudo-Kölsch beers I've had but this is a contender.
Contract brewed in Indiana. Claimed to have
Perle and Tetnang hops and a variety of malts. Tastes much more bitter than the 13 IBU stated. From Food and Friends in Philadelphia in the 12 oz bottle.
692 characters
3.45
/5
rDev
+17.7%
look: 3 | smell: 3 | taste: 4 | feel: 2.5 | overall: 3.5
Evil Genius GOOD 'n EVIL Golden Ale
12 oz. bottle, no apparent freshness dating
Brewed and bottled by Four Horsemen Brewing Co, South Bend, IN
"A refreshing German Style Kölsch, with a mild floral flavor and a clean hop finish".
Good 'n Evil pours a lightly hazy golden body of 4 SRM which is spot-on for the style. The haze is not, but it's still OK. And, as often happens with Kölsch-style beers, the bright white head dissipates almost immediately leaving no chance of any lacing on the glass.
The aroma offers a light bit of malt with some mineral character backed by a very nice whiff of light fruit. There are no hops, but again, that's OK for the style.
In the mouth it's fairly thin, being more of a "light-medium" than a "medium-light". The carbonation level, however, is what hurts it. I'd guess that it's at about 1.8 to 2.0 volumes of CO2 where it really needs to be at least 2.4 to 2.6. That leaves it smooth, to be sure, but it's also essentially flat. Hopefully this is a single batch issue.
The flavor is as the nose suggests. There's a small amount of fairly nice malt to it, and an apple-like fruitiness. Hops, however, are very minimal, and only in the background. Additionally, there's a thread of tartness to it which appears mainly in the finish (as is common for the style), but you sometimes find it upfront on the sides of your tongue as well.
Overall it's a pretty decent start at a Kölsch-style ale - most breweries ride roughshod over the subtleties of the style altogether, basically producing a blonde ale - but it still needs some work. I'd give it a shot and see if it's improved any.
1,624 characters
Good 'n Evil from Evil Genius Beer Company
2.93
out of
5
based on
23
ratings.