Blind Eye PA
| Evil Genius Beer Company
BA SCORE
81
good
11
Reviews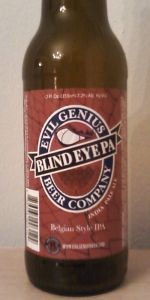 BEER INFO
Brewed by:
Evil Genius Beer Company
Pennsylvania
,
United States
evilgeniusbeer.com
Style:
Belgian IPA
Alcohol by volume (ABV):
7.20%
Availability:
Year-round
Notes / Commercial Description:
No notes at this time.
Added by Darkmagus82 on 11-19-2012
This beer is retired; no longer brewed.
Reviews: 11 | Ratings: 43
3.7
/5
rDev
+7.9%
look: 3.75 | smell: 3.75 | taste: 3.75 | feel: 3.75 | overall: 3.5
Blind Eye PA pours a pretty standard amber brown color with a surprising 1/4 inch of head and some sticky lacing. I say I am surprised since most of these beers are an over carboned mess. Smells of some mild earthy hops, fruity dry yeasts, and some bready caramel malt. Taste echo's the same pretty balanced hop to malt profile but doesn't really bitter the tongue enough. Mouthfeel is actually great hiding the 7+% well and giving me a medium bodied drink experience.
Overall again I am most shocked that this beer is actually good rather than the other beers I have tired from Evil Genius which have enough carbonation to be a champagne making the mouth feel too bubbly and thin. Its a pretty standard Belgium IPA which was totally worth the $1.75 price tag.
761 characters
3.43
/5
rDev 0%
look: 3.5 | smell: 3.5 | taste: 3.5 | feel: 2.75 | overall: 3.5
Pours a light bronze color, minimal head and lacing. Aroma of Belgian candi sugar, earthy, weedy hops and both herbal and sweet. In the taste, candi sugar and caramel meet a woodsy hop profile with even bitterness. Finishes more bitter than sweet, thus deserving the IPA title. Medium bodied, moderate carbonation, a bit thin. I would recommend this to any fan of Belgian beers or to IPA lovers who want to branch out. Solid.
425 characters
3.52
/5
rDev
+2.6%
look: 3.5 | smell: 3.25 | taste: 3.75 | feel: 3.25 | overall: 3.5
A nice blend of Belgian yeast and "west coast" tropical fruit hops, but don't know that the high 7.2% ABV is justified by the complexity of the taste - and it means only having one.
Pours a clear copper-amber with a limited head that disappears pretty quickly. An oilier mouthfeel than expected, which doesn't suit this low carbonation bottle of beer. Very mild aroma with only a hint of Belgian yeast and some nice caramelized malt elements. The flavour is more powerful and shows off the hops, with an initial tropical fruit sweetness leading into a black-tea bitterness before more fruit in the lingering finish...
A decent attempt from a brewery who are still pretty new (to me), but not a beer I'd rush out to buy in large volumes. I look forward to Evil Genius' future endeavors!
788 characters

3.16
/5
rDev
-7.9%
look: 4.25 | smell: 3.25 | taste: 3 | feel: 3.25 | overall: 3
they (evil genius) offers a nice mix 6 of their IPAs, not sure if this is to introduce the brand or what, but either way it seems like a good idea. I grabbed the belge IPA first, so here goes...
eyes...
large and fluffy head, kind of a slow sizzle, orange with an absolute crush of carbonation rushing to escape, hazy with small snowflakes in suspension, good lacing, the head retains from the amount of action happening in the glass, definitely a nice looking brew
nose...
initially yeasty with a tropical fruit undertone, some bright citric high notes, the yeast really keeps a lid on most everything else. not bad.
taste etc...
this is going to sound weird... or maybe it is just me, for me this beer feels like it can't decide if it wants to be belgian or an american, meaning ? neither of the trace characters of the styles of the mash up are strong, it has a nice carbonation signature... but not quite enough fluff to be belgian, it has some hop character but er... not enough for an american IPA. Everything is a bit subdued here, and if that is the brewers intent ? ok then but I (and my formidable taste buds) do not love it.
verdict?
not a bad beer, but nothing special.
1,185 characters

3.22
/5
rDev
-6.1%
look: 3.25 | smell: 3 | taste: 3.25 | feel: 3.5 | overall: 3.25
a hazy deep orange pour with a finger of head which quickly dissipated. barely any lacing. smells of caramel, belgian yeast strain (banana/black pepper). the flavor is slightly acidic, with a basic belgian blonde ale flavor.. mostly yeast is present in the taste, along with a peach-like tartness (but not flavor). medium body with high carbonation, pretty refreshing.
this is from a 6pk that was clearly sitting on shelves far too long, should be better fresh, but not bad as it is.
484 characters

3.76
/5
rDev
+9.6%
look: 3.5 | smell: 3.75 | taste: 3.75 | feel: 4 | overall: 3.75
Appearance: pours an orange color with a one finger head that breaks apart quickly.
Smell: caramel and yeast are noticeable.
Taste: caramel, pear, green apple, big Belgian yeast flavor, and a moderate citrus bitterness are the main flavors.
Mouthfeel: medium bodied beer. Crisp to start, less crisp at the finish with some dryness late.
Overall: an easy drinking Belgian IPA.
379 characters
3.3
/5
rDev
-3.8%
look: 3 | smell: 3 | taste: 3 | feel: 4 | overall: 4
Clear dull orange color with a thin white head that dies rather quickly. Lots of clove and banana on the nose. Little musty. Medium bodied with a low amount of carbonation. Flavor is mostly belgian yeast flavors. Clove and banana like the nose, a bit of yeast snap. There's an underlying european hop flavor and bitterness but really not very hoppy at all. Touch of citrus hop flavor if you really dig for it. It tastes good but definitely doesn't remind of much an ipa. A little simple but good drinking. Maybe it could pass as a belgian pale ale.
548 characters
3.24
/5
rDev
-5.5%
look: 3.5 | smell: 3.25 | taste: 3.25 | feel: 3 | overall: 3.25
Picked up the eyeclops variety pack of ipas to get a better handle on evil genius.
Poured into a pint glass, head presents at about 1/4" thick and off white color, body is transparent copper, pretty high carbonation at first, then bubbles less noticeable.
Smell is slightly phenolic, some malt, maybe caramel notes and a solid grass hop scent.
Taste is thinner than expected, clean malts, light yeast and phenol note, but underdone, hops are very present in the finish, more grass than pine, some citrus.
Mouthfeel is lingering, sweetness comes through more in mouthfeel than in taste, carbonation is higher than perceptible from the appearance, bitterness balances the other noted characteristics.
Overall, more pale ale than ipa or belgian to me, yeast flavors mix strangely with the thin malt bill and selected hops. probably my least favorite of the eyclops.
868 characters

4.18
/5
rDev
+21.9%
look: 2 | smell: 4 | taste: 5 | feel: 3 | overall: 4
More bottles from my latest Philly run. I am feeling adventurous today and may try to eradicate the bottle backlog that has been an albatross since school started back.
Unlike Black/Cascadian IPAs, I am not totally averse to this emerging style. I got a finger of quickly disappearing off-white head from my pour. Color was a deeply hazy orangish-amber complete with floaties. I have seen this style MUCH better executed, believe me. Nose was pleasant, though, with the hops interacting with the musty yeast, rather than being overwhelmed by it. It took on a peppery/spicy/musty aspect which was a welcome change from earlier. Mouthfeel was medium, but the taste was all over the map, including tart, dry, peppery, even spicy. Wow! It did not look like much, but it sure tasted good! Finish was bone dry and very tasty. This is a hidden gem.
842 characters

3.08
/5
rDev
-10.2%
look: 3.5 | smell: 3 | taste: 3 | feel: 3.5 | overall: 3
12oz bottle poured into a modified tulip
A murky burnt orange body with a fluffy off-white cap. The cap rose to fill the tulip and fell fairly quickly. A thin layer of powdered sugar-like foam with a thick collar. Some stray dots of lace.
Big Belgian yeast nose. Bubble gum, spicy phenols, caramel, ethanol, and earthy malt. There is an overwhelming bubble gum/solvent aroma that is not inviting in any way.
Some floral and citrus notes hit the palate first. Bubble gum and spice mix with earthy malt and caramel through the middle. The finish is some earthy and citrus bitterness mixed with some sweet bubble gum notes.
Medium body with sturdy carbonation. The finish is mildly bitter with some dominant earth, spice, and caramel.
Fairly average Belgian IPA. The flavors are a little all over the place and really don't hit the style. A different yeast strain would do wonders.
883 characters

3.21
/5
rDev
-6.4%
look: 4 | smell: 3 | taste: 3 | feel: 3.5 | overall: 3.5
Poured from bottle into pint glass
Appearance – Pours a hazy amber-orange color with some light red highlights. Upon pouring there is a nice 1.5 finger white head. The head has a good level of retention, fading slowly over time and leaving a decent level of lacing on the side of the glass.
Smell – The nose is overall very light. The aroma is mainly of a bready and a light yeast smell, mixed with some grapefruit citrus and pine hop and a bit of orange citrus sweetness.
Taste – The taste begins with a bready and sweeter citrus flavor. The citrus starts largely orange in nature, but soon grapefruit comes to the tongue. The grapefruit at the start is on the sweeter side with some flavors of yeast mixed with it. Some pine hop and other lighter fruit flavors come to the tongue more toward the middle of the taste. At the end, the citrus flavors of orange and grapefruit change more from sweet to bitter and mix with some herbal hop flavors to cast a bitter to linger on the tongue which leaves a somewhat off flavor that does not fit with the rest of the flavors to linger on the tongue.
Mouthfeel – The body of the beer is average side in terms of creaminess with a carbonation level that is slightly on the lower side. A boost in the carbonation may have been nice to accentuate the fruit flavors and to meld out the strange bitter flavor it leaves on the tongue.
Overall – Its taste was fairly nice upfront but with the lingering off-bitter at the end it is not one I would likely go to on more occasion.
1,527 characters
Blind Eye PA from Evil Genius Beer Company
3.43
out of
5
based on
43
ratings.