Kirin Enjuku
| Kirin Brewery Company, Limited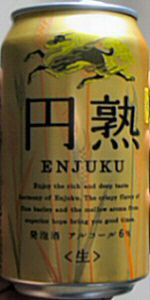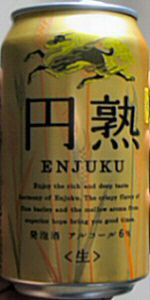 BEER INFO
Brewed by:
Kirin Brewery Company, Limited
Japan
kirin.co.jp
Style:
Japanese Happoshu
Alcohol by volume (ABV):
6.00%
Availability:
Year-round
Notes / Commercial Description:
No notes at this time.
Added by Naerhu on 02-14-2006
HISTOGRAM
Ratings: 10 | Reviews: 8
3
/5
rDev
-1.6%
look: 3 | smell: 3 | taste: 3 | feel: 3 | overall: 3

2.9
/5
rDev
-4.9%
look: 3 | smell: 3 | taste: 3 | feel: 2 | overall: 3
Hey, it's happoshu with a nice kick!
Appearance - Golden brown with a soda-like appearance.
Smell - It's a bit sweet smelling. As with all happoshu's, there's a bit of cardboard to it.
Taste - Definitely better than a Budweiser. Sweet with some malt flavor.
Mouthfeel - Not so great. It does remind me of soda.
Drinkability - Well if getting drunk for cheap in Japan on a Wednesday night is your goal, then you can't go wring with this one. It's easy to put down as long as you have a glass.
496 characters
3.17
/5
rDev
+3.9%
look: 2.5 | smell: 3 | taste: 3 | feel: 3 | overall: 4
Golden colour with a rapidly diminishing white head. Sweet malty aroma, with a touch of metal. Taste is a bit mild and bland, but perhaps par for the course for a happoshu. Malty sweetness more or less balanced by the leafy hops. Fairly soft and crisp. Light body and medium-high carbonation. Passable for the style, but I slightly prefer the Enjuko Kuro.
355 characters

3.18
/5
rDev
+4.3%
look: 3.5 | smell: 3 | taste: 3 | feel: 3.5 | overall: 3.5
Appearance: Deep gold brew with a frothy, off white head.
Smell: Mild malt, not much else to go on.
Taste: Unremarkable, but it has good light malt flavor. It seemed like it could have been more, but it was pretty good considering the style.
Mouthfeel: Light body.
Drinkablity: Pretty tame all around. Very easy to pound down.
333 characters
1.72
/5
rDev
-43.6%
look: 3 | smell: 1 | taste: 2 | feel: 2 | overall: 1.5
This one poured dark with little head and no retention or lacing. The smell was very influenced by the can, tinny and sulfurous. In terms of flavor, tin was the first flavor on the palate, too, and a weak barley flavor comes out last. My drinking partner agreed that it tasted like antique shops smell. You couldn't chug this beer, and since it's happoshu and it doesn't as good as some others, I'm not sure what to do with this one.
433 characters
3.6
/5
rDev
+18%
look: 3 | smell: 3 | taste: 4 | feel: 3 | overall: 4
I remember the first time I had this happoshu. It was Thanksgiving in Japan - friends over for turkey dinner, Chargers Broncos on the TV. I had great beer for myself for the evening but everyone else brought wine and happoshu. So, at the time, after drinking some doppelbocks and BSDAs, I thought this shit was foul. But now, I must admit there is a time and place, and right now this is not so bad.
Gold like the can it was poured from, fat, fizzy, short-lived head. Familiar happoshu appearance and smell. Sour, acidic, faintly reminiscent of actual beer. This is all normal for the style, but where this beer stands out is the decent taste and 6% abv.
The taste is pretty well-rounded, with a medium mouthfeel and finish. I give it 4s only for style of course. It's really not bad. In fact, it reminds me of it's great uncle, Kirin Lager! And that is all you can expect from this beer-like beverage. Cheaper than Japanese beer, with a higher abv, it's the obvious choice to go along with chu-hi for a cheep buzz. And it has a dark brother to add a little variety to your swilling!
1,089 characters
2.41
/5
rDev
-21%
look: 3.5 | smell: 2.5 | taste: 2 | feel: 3 | overall: 2.5
Appearance: The heads on most of these cheap Japanese swill beers never cease to amaze me; whipped egg white ivory with very good retention. Body is a generic, clear, orange-tinged gold with thick columns of carbonation throughout.
Smell: Weird, but not bad. Light, dusty malts; sweet corny adjuncts; pineapple LifeSaver-like candy (not candi) sugar; and herbal, floral, and freshly-mown grassy hops.
Taste: Light. Crisp. Not much in between. Very, very inoffensive and watery for most of the sip, with a light, funky, malt-ish cardboard frame covered by a zippy, herbal hop bitterness. Finish is pleasantly dry and fairly clean.
Mouthfeel: Thin and bubbly.
Drinkability: Not bad, but not good. Comes pretty close to tasting like an actual beer, but like most happoshu, it's got just a few too many off flavors that keep me from really wanting more.
861 characters
3.95
/5
rDev
+29.5%
look: 3.5 | smell: 3.5 | taste: 4 | feel: 4 | overall: 4.5
Slightly richer in color for a happoshu of norm perhaps. Big, intense soda-like bubbles form the head.
I have to admit that I doubted the relatively high cumulative score for this happoshu -- even if from only two other reviewers. But it's pretty dang good compared to its relatives. This must be the child that's going to move away certainly. Very well balanced, so that the malt/starch sweetness and graininess and hop flavors are presented softly without the normal roughness of alcohol. Clean finish.
This is sort of like a filtered american-style wheat beer. Gotta be the happoshu of choice at the moment. It is a bit pricier than others however, pretty much exactly in between the price of beer and happoshu.
720 characters
3.61
/5
rDev
+18.4%
look: 4 | smell: 3 | taste: 3.5 | feel: 4.5 | overall: 4
A - Big fluffy white head that turns into considerable lacing for a happoshu.
S - Big healthy pleasant grainy aroma.
T - Dry with a big, simple but pleasant grainy flavor. Next to no bitterness. No hoppyness.
M - Smooth, light carbonation, medium body.
D - This is an extraordinary Happoshu in its big flavor.
Less than 25% malt.
Ingredients: Malt (wheat and barley), hops, wheat, rice, corn, starch, sugars.
417 characters
Kirin Enjuku from Kirin Brewery Company, Limited
Beer rating:
3.05
out of
5
with
10
ratings