Honkaku Karakuchi Mugi
| Kirin Brewery Company, Limited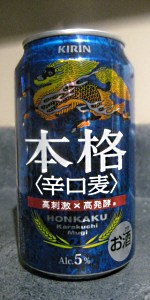 BEER INFO
Brewed by:
Kirin Brewery Company, Limited
Japan
kirin.co.jp
Style:
Happoshu
Alcohol by volume (ABV):
5.00%
Availability:
Year-round
Notes / Commercial Description:
No notes at this time.
Added by biboergosum on 12-11-2010
Reviews: 3 | Ratings: 4
3.11
/5
rDev
-4.9%
look: 3.5 | smell: 2.5 | taste: 3.5 | feel: 3 | overall: 3
I can't imagine a better happoshu. Its non-malt character made itself clear in the pour and the sake-like rice and wheat aroma. Fortunately it tastes better than it smells. Kirin has done great work blending the grains, and it feels light but with alcohol in the finish.
★
273 characters

3.34
/5
rDev
+2.1%
look: 4.5 | smell: 3.5 | taste: 3 | feel: 3.25 | overall: 3.5
Tasted On: 04-21-2013
Freshness: Best by 07-2013
Packaging: 12 oz. can
Glassware: Perfect pint
Purchased: Received in a trade
A big thanks goes out to HopFace for getting this from a friend in Japan. Happoshu is my last style to review, #104 after nearly 3 years on BA!
A: The beer is clear and pale golden in color, with a big offwhite head of 3+ fingers. Head retention is very good and lacing is pretty good as well.
S: Clean aromas are of sweet malts and corn, plus grassy hop notes. Smells much like a macro lager.
T: Taste is slightly sweet and bready with a low accompanying bitterness.
M: Mouthfeel is crisp, with medium-high carbonation levels and a light body. Finishes dry with a light bitter taste.
O: Overall I found this to be an enjoyable light-tasting lager. Not big on flavor, but served well as a thirst quencher.
★
838 characters
3.32
/5
rDev
+1.5%
look: 3 | smell: 3.5 | taste: 3 | feel: 3 | overall: 4
Brought back from Japan by a friend of mine - he said that this was the newest thing, beer-wise, in the land of the rising sun and ever chintzier malt bills...
This dai-san (near beer) pours a clear pale straw colour, with lots of effervescent rising bubbles, leading to three fingers of thin foamy eggshell-white head, which settles relatively quickly, leaving a few streaks of sticky, filmy lace around the glass. It smells of a somewhat strange grainy, musty wheatiness, and dry citrus rind. The taste is more of the same mild grainy wheat, some very soft hay, and a lessened citrus component. Quite simple, on the whole. The carbonation is moderate, the body light, mostly smooth, and with a touch of alcohol burn. It finishes clean and dry, dry, dry - in fact, I don't think I got much of anything sweet in the whole deal.
'Honkaku Karakuchi Mugi' apparently translates to 'dry tasting wheat', and thus Kirin pretty much nails it. Given that there is a perceptible wheat character, and no off-putting flavours, it's easy to see this being quite popular, given its presentation, price-friendly tax status, and full booze strength.
★
1,140 characters
Honkaku Karakuchi Mugi from Kirin Brewery Company, Limited
3.27
out of
5
based on
4
ratings.