Kolsch Blonde Ale
| Beer Academy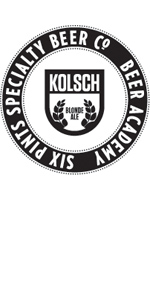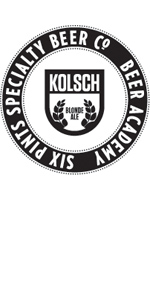 BEER INFO
Brewed by:
Beer Academy
Ontario
,
Canada
beeracademy.ca
Style:
Kölsch
Alcohol by volume (ABV):
5.20%
Availability:
Year-round
Notes / Commercial Description:
Inspired by the legendary light and refreshing ale from Cologne, Germany we wanted to create a Kolsch-Style Ale that captures the essence of pure malted barley flavours. Toasted (torrefied) and malted wheat add smooth flavour and textural sensations and help give the beer a stable foam. To bring a touch of bitterness and subtle hop aroma we focused on a gentle hopping using Hersbrucker hops Germany; keeping the style as authentic as possible. The yeast used to ferment this beer is a special Kolsch Ale yeast strain that creates an amazing profile of lemon zest, orange marmalade, fresh red apples and light pepper.
23 IBU
Added by Sammy on 06-22-2012
This beer is retired; no longer brewed.
HISTOGRAM
Ratings: 12 | Reviews: 5



3.99
/5
rDev
+2%
look: 3.75 | smell: 4 | taste: 4 | feel: 4 | overall: 4
625 mL bottle, 5.8%, into a tulip this pours a large rocky white head, hazy orange colour, very cloudy. Leaves pretty good lacing. 3.75
S – lemon and florals, with a fair bit of bright bready malts, good balanced bitterness, bright and some prominent minerally and floral notes. A full character of noble hops with baking bread. 4
T – some malty bread notes, full with honey, floral, orange marmalade. Citrus and a full profile of mineral and vinous notes, some pepper, grassy. Mild spiciness. Finishes dry with a minerally tang to it that sticks around. Full-flavoured and balanced. 4
M – light bodied and refreshing, some citrus acidity on the palate. Moderate carbonation and a fairly rounded body with some minerally acidity that works nicely. 4
Quite a nice, easy-drinking summery kolsch. Nothing too aggressive, but the bitterness with grassy and floral hops works well, the beer has a crisp edge with some minerality I appreciate. Good flavor, smooth refreshing feel. Higher ABV lends a bit of robustness, could be more complex but works well enough as a session ale.
1,084 characters



4.11
/5
rDev
+5.1%
look: 3.75 | smell: 4 | taste: 4.25 | feel: 3.75 | overall: 4.25
This hazy marmalade coloured beer has clearly been left unfiltered; a quick and obvious pointer to the fact that this isn't exactly your Großmutter's Kölsch. Its cloudiness takes nothing away from its looks, however, which are sleek, bright and translucent nonetheless. Its head is flat but well-built. It just looks like a normal Kölsch that's been toasted.
Speaking of toast, there's substantially more warm, bready malt flavour in this aroma than again is typical for the style; the style guideline may say 'Nein!' to this but I like it. Besides, the beer is never in danger of losing its form thanks to the strong presence of fruity notes which, funny enough, really does have the essence of, as a fellow reviewer pointed out, Juicy Fruit gum.
I'll cut straight to the chase: I love the flavour of this beer. It has a subdued pineapple-like citrus quality, the crisp sensation of biting into an apple and as much hearty, wholesome graininess as you'd get from a big breakfast of warm oats. All this rounded out with a few drops of lemon juice acidity and a dry, grassy finish courtesy of the Noble hops.
Senses accompany each of the flavours listed above - refreshment in the former two tastes, satiation in the third. There's enough wheat malt and tang to make me want to go out and sit out on the porch (even on a cold, snowy March afternoon). This Kölsch has mass appeal but also more dimension than most (likely because it still bears the fruity esters of its yeast).
The BJCP rulebook allows for a range of variation within the Kölsch style. Though Beer Academy's is among the loosest interpretations of those guidelines, it is also arguably my favourite example of the style I've ever tried. I've lost track of the number of times I've had it now, but each and every one of those occasions I was left genuinely impressed.
1,842 characters

3.92
/5
rDev
+0.3%
look: 3.5 | smell: 4 | taste: 4 | feel: 3.5 | overall: 4
625ml bottle poured into tulip 12/9/12 thanks liamt07 for sending the bottle
A hazed orange, a little peachy with lots of tiny particles and just a few bubbles feeding a thin film that leaves lots of polka dot lace, my second pour I just dump it down the middle and get a thumbs width of foam that falls fast and leaves the same polka dot lacing
S interesting nose with some juicy fruit gum, earthy yeast and hops, some over ripe tropical notes I just can't place, a slight metallic smell, some purple candy, butterscotch and a little wet wood. quite a bit going on here but I'm having trouble wrapping my head around it
T more grains and caramels then the nose, not the same complexity but the earthy notes are still there, metallic notes, grape candy and tropical flavors are toned down, I don't mind a simpler version of the nose though
M thicker then one would guess but there's just enough carbonation too give it some life, long finish of fruity butterscotch
O strong smell and flavor and a pretty decent brew but I'm not sure how close too style it is, that being said I enjoyed it and it didn't last that long
thanks again Liam, this is something different and I liked it and would have another
1,211 characters

3.7
/5
rDev
-5.4%
look: 4 | smell: 4 | taste: 3.5 | feel: 4 | overall: 3.5
On tap at the Beer Academy.
Unfiltered orange, with some lighter yellow tones in the body. White head, good retention and light lacing. Nose is sweet, some light fruit notes, wheat and a touch of spice. A bit grainy as well. Taste is again sweeter than expected, fruity notes, perhaps a bit tropical. Wheat and subtle spicing. No bitterness to mention. Mouthfeel is medium, with some texture. Relatively low carbonation. Didn't see this as much of a kolsch, but more of a hoppy wheat ale.
489 characters
3.65
/5
rDev
-6.6%
look: 3.5 | smell: 3.5 | taste: 3.5 | feel: 4 | overall: 4
Enjoyed on tap at the brewery. A true kolsch combined with significant yeast and left unfiltered. So altogether not true to the style, made for risk control safer. I am getting the kolsch taste, the hops, from within the yeast mixture. Average mouthfeel. Carbonation is right there. Very drinkable. Significantly lacey.
319 characters
Kolsch Blonde Ale from Beer Academy
Beer rating:
3.91
out of
5
with
12
ratings