Hay Fever Spring Saison
| Parallel 49 Brewing Company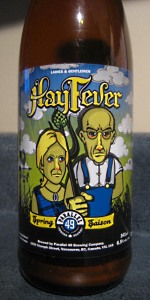 BEER INFO
Brewed by:
Parallel 49 Brewing Company
British Columbia
,
Canada
parallel49brewing.com
Style:
Saison / Farmhouse Ale
Alcohol by volume (ABV):
6.50%
Availability:
Spring
Notes / Commercial Description:
No notes at this time.
Added by canucklehead on 03-22-2013
Reviews: 9 | Ratings: 37
3.82
/5
rDev
-0.8%
look: 3.5 | smell: 4 | taste: 3.75 | feel: 4 | overall: 3.75
Pours a hazy golden-yellow with a foamy white head that settles to a partial film on top of the beer. Small streaks of lace form around the glass on the drink down. Smell is of grain, earth, spice, and yeast aromas. Taste is much the same with sweet grain, fruit, yeast, and spice flavors on the finish. There is a mild amount of yeast and spice bitterness on the palate with each sip. This beer has a good level of carbonation with a crisp but sticky mouthfeel. Overall, this is a pretty good beer with a great smell and tasty flavors, but it is much sweeter than I was expecting it to be.
Serving type: bottle.
613 characters
3.32
/5
rDev
-13.8%
look: 3.75 | smell: 3.5 | taste: 3.25 | feel: 3.5 | overall: 3
called a spring saison, but recently picked this up. No date. I def get plenty of hayfever myself so this works well.
Pours a large fizzy bubbly head that hits almost 2 fingers before fading back fairly quickly, mild soapy lacing, mostly clear slight chill hazed golden yellow color.
Nose brings typical saison notes, plenty of wheat, creamy like wheat, tons of coriander and orange peel, hint of a grainy husky note, mild fluffy wheat too, little lemony and grassy. Bit too heavy on the spices, and average.
Taste is more of the same, a typically over spiced and over flavored saison that almost has a fake flavor to it. So big on the spices, coriander, little clove, peppery, some phenols, etc, with big orange peel and lemon, citrus all over, a touch acidic even. Mild creamy fluffy wheat base with a little grainy grassy malt character. Semi sweet, with a little bitterness from lemony grassy hops, and that bitter citrus rind and lemon. Finish is still a bit sweet and sticky, more lemon rind and citrus, lots more coriander and spices, phenols, even mild fruity esters in there lingering, with a bit of bitterness.
Mouth is med to lighter bod, tons of fluffy carbonation almost distracting.
Overall OK, but nothing special. This is like the Americanized overly spiced overly citrus rind overpowering almost fake tasting saisons, where the brewers feel like they need to amp up a saison so much in order for people to like it that they just destroy all the things that actually make a saison nice.
1,507 characters
3.86
/5
rDev
+0.3%
look: 3.75 | smell: 4 | taste: 3.75 | feel: 3.75 | overall: 4
Parallel 49's current seasonal offering, bottle snagged from a six-pack and poured into a goblet. A cloudy light lemon yellow brew with a notably rich and creamy white head, releasing an aroma of fresh navel orange (probably the most obvious feature), coriander seed and clove, faint honey-like malt, and very fragrant grassy hops. A wonderful bouquet. Tastes like fermented honey, orange liquor, a decent dose of horse blanket funk, thistle, unripe pineapple, sour lemon and pincherry, and just a little aromatic alcohol. Rather tart, green, and full of citrus rind character, but featuring no shortage of spicy medicinal phenols and just the right amount of funk. Moderately chewy body and moderate to high carbonation, with a tart, earthy, herbal finish. A killer thirst quencher and true to style, if weighted towards the sour fruit as opposed to nutty malts. The malts are uber-clean and there's a boatload of citrus. A decidedly "North American" saison.
959 characters

3.73
/5
rDev
-3.1%
look: 3.75 | smell: 3.75 | taste: 3.75 | feel: 3.5 | overall: 3.75
341ml bottle poured into tulip 30/10/13
A hazy golden orange with about as many bubbles as one could fit in a glass, took a while to fit it all in my glass but the foam fell quickly after that leaving just a few patches of lace
S a little farmhouse yeast, lots of orange peel, marmalade, some mango, a little spice and some leafy notes
T more of the same really, lots of citrus and a little yeast, faint spice, pretty standard for the style
M medium bodied a little foamy, slick, with rind lingering
O decent beer, somewhat true to style, its not going to knock your socks off but easy enough to drink and I could have another few without getting board
not the best from these guys but nothing to be ashamed of either, try it if you get the chance but I wouldn't go out of your way
791 characters

3.93
/5
rDev
+2.1%
look: 3.25 | smell: 4 | taste: 4 | feel: 4.25 | overall: 3.75
A: Initially these were seriously cloudy, but after a few weeks in the fridge it's pouring clear... not as much head & retention as the fresh, cloudy pour though.
S: Light phenolic spicing, a little dried hay, hints of tropical fruit.
T: Pleasant phenolic spicing, dried papaya, a bit of grass, wheaty biscuit, modest bitterness with a mild hint of funk.
M: Well-attenuated, moderate body has a nice, crisp finish.
O: It's great to have a local saison, but this doesn't have quite as much character as some of the imports.
526 characters
4.21
/5
rDev
+9.4%
look: 4 | smell: 4.25 | taste: 4.25 | feel: 4 | overall: 4.25
Appearance - Pours a cloudy pale gold with two fingers of bubbly white head.
Smell - Spicy yeast, citrus, light hops.
Taste - Nice spicy yeast with citrus and light hop bitterness.
Mouthfeel - Medium bodied with lots of tingly bubbles. Crisp, dry finish.
Overall - A well-executed saison by Parallel 49. All the flavours were well balanced with one another (no overpowering yeast in this brew). Perfect for the changing seasons from winter to spring.
455 characters
3.8
/5
rDev
-1.3%
look: 3.5 | smell: 4 | taste: 3.75 | feel: 3.75 | overall: 3.75
Thanks to biboergosum for this one.
Poured from a 341ml. bottle, no freshness info..
Appearance: Very hazy, yellow lemonade-like color body. Average retention.
Smell: Bit of funk but mostly citrus fruit, strong yeast, breezy, banana (?)
Taste: Mild funk (very mild) but mostly citrus with lemon being predominant and again that banana presence.
Mouthfeel: Refreshing, good carbonation.
Overall: I liked it overall.
420 characters
4.01
/5
rDev
+4.2%
look: 3.5 | smell: 3.75 | taste: 4.25 | feel: 4 | overall: 4
341ml bottle, with a nice ode to the famous American Gothic painting, hop cones on the fork tine.
This beer pours a hazy medium golden straw colour, with two fingers of thin, shiny, puffy dirty white head, which leaves a few sparse streaks of construction crane lace around the glass as it quickly dips out of sight.
It smells of sharp wheaty, grainy malt, a wee barnyard funkiness, fleshy orange pith, hovering earthy yeast, a touch of sassy clove, and a twinge of warming alcohol. The taste is sweet, grainy wheat malt, edgy yeast, supermarket citrus salad rind, a prominent, but easy-going dusty mustiness, well understated earthy hops, and some tame savoury spices - maybe some black pepper, maybe some clove.
The bubbles are a mite bit playful, but settle to their primary function soon enough, the body a mostly medium weight, and smooth in the same manner - not too much, but nothing really impeding it either. It finishes well off-dry, the fruity malt, lingering yeast, and near-faltering dank spice carrying the day.
What we have here, is a pleasantly weighty saison - in mouthfeel, flavour, and booze alike. Robust, rounded, and agreeably drinkable, with a spunky warming worthy of keeping out the indeterminate coolness of the 'season' outside right now.
1,269 characters

4.49
/5
rDev
+16.6%
look: 4.25 | smell: 4.5 | taste: 4.5 | feel: 4.5 | overall: 4.5
A taste of Spring with the farmhouse funk combining with the citrus flavous found in the style. This is a great take on the Saison as it is not heavyhanded or too sweet. I loved the complexity yet the drinkability is off the charts. Another triumph from Parallel 49.
266 characters
Hay Fever Spring Saison from Parallel 49 Brewing Company
3.85
out of
5
based on
37
ratings.