Black And White Project: Paradox Of Tao - The Yin
| Paradox Beer Company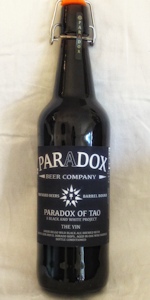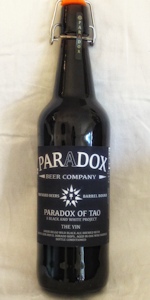 BEER INFO
Brewed by:
Paradox Beer Company
Colorado
,
United States
paradoxbeercompany.com
Style:
Belgian Strong Dark Ale
Alcohol by volume (ABV):
7.00%
Availability:
Limited (brewed once)
Notes / Commercial Description:
No notes at this time.
Added by Mebuzzard on 03-01-2013
This beer is retired; no longer brewed.
HISTOGRAM
Ratings: 14 | Reviews: 7
Reviews by beergoot:
3.21
/5
rDev
-10.6%
look: 3.75 | smell: 3.25 | taste: 3 | feel: 3.5 | overall: 3.25
Bottle 123 of 1200
Dark brown body with a tan head; clinging foam rings on the glass. Phenolic nose tamed with dark, roasted grain notes. Fair roasted grain taste with a hint of chocolate and a bold alcohol and medicinal flavor presence in the background; a bit wine-like. Smooth, medium bodied, clean feel.
There is no indication what kind of wine was previously aged in the oak barrels, and that may explain my perception of phenols. Personally, whatever the cause, it was too distracting, especially at the finish, from an otherwise decent beer. I found the Yang version (a Belgian strong pale ale style) much better in taste and balance.
643 characters
More User Reviews:

1.4
/5
rDev
-61%
look: 2.75 | smell: 2 | taste: 1 | feel: 1.5 | overall: 1
Poured vigorously, but produced no head whatsoever; somewhat unusual for a Belgian. A year after release, this beer tastes like a porta-john smells. Roast malt combined with an odd, plastic nose. Thin in mouthfeel, oily and tannic, and finished with a chemical bitterness. Punishingly dry. Bonus: half a teaspoon of yeast was floating at the top of the bottle upon opening.
373 characters

3.15
/5
rDev
-12.3%
look: 3.25 | smell: 3.75 | taste: 2.75 | feel: 3 | overall: 3.25
Dark brown and clear in the New Belgium snifter with a coarse, short-lived head. Not much carbonation which leaves the flavors flat before long. A little oak with a whiff of vinegar in the nose. Such a light body, I'd have to call it watery.
Flavor seems rather tart and peculiar at first. It does get better after some sipping. I think of Rodenbach, but the Yin is so much duller and less fruity. There are some very dark flavors but more like burnt cardboard. The Brettanomyces pretty well takes over the flavor. The aftertaste is bitter yeast, grape leaves, and over-steeped green tea.
It's kind of hard to review this, if they were trying to make some kind of sour out of it. As a Belgian Dark it's pretty mediocre. This is at least drinkable, unlike some of the other Paradox bacteria parties in a bottle. From the 750 ml swingtop purchased at Grapevine Liquors in Denver.
880 characters
4.27
/5
rDev
+18.9%
look: 3.75 | smell: 4.25 | taste: 4.25 | feel: 4.25 | overall: 4.5
Gotta love these bottles, helloooo home brew!
Been anxious to try this one out, got some from the rep. Awesome!
Pours a dark cherry cola color with soapy and rocky, off white head. A bit of lacing. Beer was pretty cold.
Aroma is tart. Tart black cherry, cabernet sauv. grapes, sweet toasted bread--light, hints of oak and caramel
So the taste isn't world class, but combined with a solid mouthfeel, I gave the overall a higher rating. I couldn't stop drinking it! Flavors are light and teasing. Leather, caramel, black cherry hints, oak, red grapes. Light toast. Some tannin on the end dry this one out to the point where you get thirsty for yet another sip. Damn you!
Very good while not being over the top
722 characters
4.21
/5
rDev
+17.3%
look: 5 | smell: 4 | taste: 4 | feel: 5 | overall: 4.25
Beer poured up dark-brown/orange. I didn't get much of a head, but I poured gently into a goblet. Appearance is exactly what I'd expect for a Belgian Dark Strong Ale.
Aroma was that unmistakable green-apple brett smell of a barrel aged brew. More brett aroma than I expected.
First sip was not even in the neighborhood of what I expected. Crisp and tart up front -> tart gives way to gentle metallic/medicinal -> finished dry (wine tannins?) and bitter with sour fruit flavors fading in and out. I didn't pick up on any malt flavor... this seems almost equal parts sour-beer and wine to me. I'm not knocking the flavor, just NOT what I expected when I decided I was in the mood for a Belgian Strong Dark Ale.
And now that I'm over the surprise of what this beer is - the mouthfeel is spot on and I'm glad I've got another 1/2 bottle to go. Cheers!
856 characters

3.76
/5
rDev
+4.7%
look: 3.5 | smell: 3.75 | taste: 3.75 | feel: 4 | overall: 3.75
I found this beer at a new spot on 13th street my girl showed me called "HUgo's" which specializes in colorado brews, liquors, and wines.
The beer pours a earthy brownish orange color with a caramel 1 inch head. The aroma is fairly subtle with hints of green apples, and pinot noir. Not what I expected at all as soon as I sip the beer. Very delicate on the flavor. Call me crazy but its very pilsner-ish with accents of sour fruits and acidic wine. Im surprised by the color after I taste the beer. Obviously not every beer that is dark is thick, but this beer is so slippery I feel like I'm on the toilet bowl slide at water-world. THere is almost no after taste here. THe beer hits you fast and leaves just as quick.
Ive never had pacific gem or eldorado hops, but my assumption is that they are used in order to avoid a beer that is very bitter. It sour, Its good cold, and its easy to drink. For a bottle conditioned, special release I expected more ooommmph, but so be it.
b- to b depending on preferences.
1,018 characters

4.5
/5
rDev
+25.3%
look: 4.5 | smell: 4.5 | taste: 4.5 | feel: 4.5 | overall: 4.5
3.53
/5
rDev
-1.7%
look: 3 | smell: 3.75 | taste: 3.5 | feel: 3.5 | overall: 3.5
one of the better and definitely more interesting paradox sours, a wild hoppy black ale in wine barrels. pacific gem is one of my favorite hop varietals, lots of bright alpha acids, and this beer displays them well, especially in the aroma. rich black color but rather thin looking and not particularly heady, although carbonation is not an issue with this one. roasty black malt gives a charred earth vibe before the hops kick in. the wild isn't crazy, but the yeast is cool and its accentuated by the wine acidity. the aftertaste kills it though, sweaty and rough, described by some i shared this with as a gym sock lit on fire, and i agree to some extent, but i still get fresh hop qualities that makes this one of their better beers. different for sure, but an enjoyable complicated this time. a highly successful kick at the can from paradox, but still a league below the better dark sours out there.
905 characters
Black And White Project: Paradox Of Tao - The Yin from Paradox Beer Company
Beer rating:
3.59
out of
5
with
14
ratings