Lupulin Lust
| Rip Current Brewing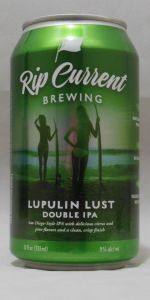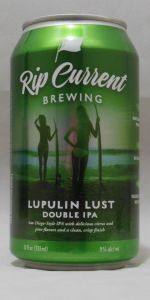 BEER INFO
Brewed by:
Rip Current Brewing
California
,
United States
ripcurrentbrewing.com
Style:
American IPA
Alcohol by volume (ABV):
8.20%
Availability:
Rotating
Notes / Commercial Description:
None provided.
Reviews: 15 | Ratings: 126
4.15
/5
rDev
+3.8%
look: 4 | smell: 4 | taste: 4.25 | feel: 4 | overall: 4.25
12oz can from the taproom in North Park, San Diego. Light orange color. Hoppy aroma, mild pine, thick citrus like pineapple juice. Juicy flavors with a decent malt backbone. Nice West Coast double.
197 characters

4.31
/5
rDev
+7.7%
look: 5 | smell: 4 | taste: 4.25 | feel: 5 | overall: 4.25
12 oz can from blipp. Label says Lupulin Lust Double IPA with an ABV of 9%. Aroma is tropical fruit, orange creamsicle. Pours hazy golden with a thick off-white soapy head with great retention and lace. Taste is highly bitter with lots of citrus and tropical fruit flavors. Great DIPA.
285 characters

4.05
/5
rDev
+1.3%
look: 3.75 | smell: 4.25 | taste: 4 | feel: 4 | overall: 4
Poured from a can into a Seattle Beer Week pint glass. Pours a crystal clear medium golden amber with a thin white head that dissipates to patchs, leaving light lacing. Aroma of caramel malt, citrus hops, tropical fruit, orange citrus, a little pine. Flavor is similar: caramel malt, citrus and piney hops, mixed orange citrus and light tropical fruit, grapefruit and lemon rind develop into a citrusy, hoppy finish. Medium bodied with light creaminess. A nicely made citrus and tropical fruit oriented IPA. The malt seems mild, but does have a nice light caramel base. Starts with big fruit and finishes with almost resinous citrus rind and pine hops. Enjoyable and balanced.
676 characters
4.3
/5
rDev
+7.5%
look: 4.5 | smell: 4.5 | taste: 4.25 | feel: 4 | overall: 4.25
Type: 12-oz. can
Glass: Beer Nerd tulip
From: Bine & Vine Bottle Shop in Normal Heights (San Diego), Calif.
Price: $2.34 (with 10 pct. ABV off)
Purchased: Jan. 6, 2017
Consumed: Jan. 12, 2017
Reviewed as: American Double / Imperial IPA
Misc.: Can reads 9.0 pct. ABV (not 8.2 pct. like it says on Beer Advocate); No born on date on the can
First time I saw this in cans and I picked it up accordingly. Had it way back (before I was counting tasters on Untappd at Hamilton's) and then again at their North Part tap room (giving it a 4 on June 21, 2015). Excited to finally review it.
Poured a straw-gold yellow mostly hazy color with three fingers of frothy white head. Lots of bubbles coming up from the bottom of the glass, looking like a snow globe. World-class foamy, spiderweb lacing. World-class retention. (Sight - 4.50)
Smelled a huge pleasant whiff of hops up front with a tropical citrus punch. Specifically got grapefruit, tangerine, mango, floral and smooth pine. Reminded me of Duet, getting Amarillo and Simcoe, but I swear there's Mosaic in there and probably Citra as well. Just a great smelling beer. (Smell - 4.50)
Taste was not quite as awesome, but still very good. Thought I tasted pulp in the first sip, but not sure. More tropical than citrus, getting bitter tangerine rind, grapefruit, mango, some passion fruit and pine as well. First sip was not boozy, but the next few hit hard. Amarillo, spicy Simcoe, Citra and still Mosaic. (Taste - 4.25)
Medium body. Oily texture. Lively carbonation. Long, boozy, dry finish. (Feel - 4.00)
Wow. Much better than I remember. For a DIPA, this is excellent. (Overall - 4.25)
4.30 | 96 | A
1,663 characters
4.01
/5
rDev
+0.2%
look: 3.75 | smell: 4 | taste: 4 | feel: 3.75 | overall: 4.25
On tap at the brewery, Vista, CA.
Bronze with a ring. 3.75
Big Sunkist nose. 4
Slight toffee then juicy orange, resin, and a bit of mango pulp. 4
White pine finish and a touch of aspirin.
Light-medium, slight chew, oily. 3.75
Very SD - barely any malts and super juicy. If I'm finding flaws, there's a bit too much tropical fruit sticky sweetness - I guess I expect a bit more sandpaper. But has all the flavors. 4.25
424 characters

4.49
/5
rDev
+12.3%
look: 4 | smell: 4.25 | taste: 4.75 | feel: 4.25 | overall: 4.5
Great double ipa. Extremely balanced between the resinous quality and the juicy, pithy ensemble from the hops. Honestly a big surprise. I really really enjoyed this one.
169 characters

4.25
/5
rDev
+6.3%
look: 4.25 | smell: 4.25 | taste: 4.25 | feel: 4.25 | overall: 4.25
Had on tap at Rip Current brew pub in San Marcos during 2015 Beer Safari along 78 corridor. Excellent DIPA. Smooth with big Citra, Amarillo an Simcoe hops. Well balanced and spot on delicious.
193 characters
4.08
/5
rDev
+2%
look: 4.25 | smell: 4.25 | taste: 4 | feel: 4 | overall: 4
Had this at the Stone Brewing Liberty Station restaurant while vacationing in San Diego late last summer.
This is your typical San Diego IPA, bitter and flavorful. Definitley a tough market to break thru on in this style but this is a nice beer and worthy of a shot!
268 characters

4.4
/5
rDev
+10%
Having seen the San Diego guys rave about Rip Current for months, a visit was mandatory. Plus points for having a kick-ass pizza food truck outside…I've already forgotten the name. At the tap room, four ounce sampler in the glass.
The pour is a darker yellow, low carbonation, looks like nothing special. Then I bring the glass towards my ugly face & behold! I smell the uncut weeds on the path to Heaven's Gate. Bitterness foreshadowed, fruitiness, sharp mango. Oh god. Four ounces might be gone before I finish this sentence.
Lupulin Lust to rule them, and in the darkness, kick the asses of the rest of the San Diego IPAs. This is what I'm talkin' about! Citrus & pine on speed bum rush the senses, followed by a never-cresting waves of bitterness. Mango? Passion fruit? Tropical stuff arrives mid-palate, & instead of stinging the bitterness, it's perfectly complementary. Taste is just like I love my porn: thick & juicy. I almost said dripping, but strike that. Four ounces? Fuck me. Now I can't even trying anything else on the lovely-looking menu. Time for a full pour.
This one has that Cowell-style X-factor: it's simply marvelous. I wonder what the local policy is for one sleeping, Lust-drunk, in one's car. Best not to find out, I suppose. But it's tempting. Really tempting.
1,319 characters
3.79
/5
rDev
-5.3%
look: 4 | smell: 3.75 | taste: 3.75 | feel: 4 | overall: 3.75
Consumed at the brewery tasting room, April 20th, 2014.
Clear, yellow beer: much lighter colored than expected for the ABV. Very sticky sheeting from the fine white head.
Aroma is a bit dank and earthy. Citrus rinds and pine.
Flavor starts with a touch of caramel malt before segueing into a piney, bitter finish. Not complex but well-defined.
Somewhat tingly and parching on the tongue, as is proper.
Like nearly all Rip Current beers, it is totally fine but, in the world of San Diego breweries, totally fine is not enough to stand out.
543 characters

3.75
/5
rDev
-6.3%
look: 3 | smell: 3.5 | taste: 4 | feel: 3.25 | overall: 4
Handsome orangey amber in the big tulip. On tap at 57 Degrees in San Diego. Not much of a head, and while carbonation is fine for a while, the sparkle goes out of this too soon. Big fruity and pitchy nose.
On the plus side, the hop flavor is deep and spicy without being excessively bitter. Flavors of melon, mango, orange peel. There is some of the grapefruit but more like pine along with the tropical fruit. I wonder if it has a dose of Mosaic?
Interesting notes of grapes, pear skins, and bitter greens. Dry finish with a bitter, mineral aftertaste. Tasty but overly alcoholic.
584 characters
3.96
/5
rDev
-1%
look: 4.5 | smell: 3.5 | taste: 4 | feel: 4.5 | overall: 4
On Tap
Churchill's Pub & Grille
San Marcos, CA
Clear dark orange and golden with a creamy near-white head. Leaves irregular lines and spots of stick on the glass. Very pretty.
Floral hops and pine character lead the way, with only mild citrus complementing. A bit of biscuit, but this is definitely hop-forward. Not quite as expressive as I've found in other Rip Current hoppy beers.
Pine and floral hop notes make up the largest flavor characteristics along with bold bitterness, but the flavors are crisp and this is an exceptionally drinkable beer. A bit of citrus as well, though I would suggest more lemon than orange character.
Medium bodied with moderate to high carbonation. Very appropriate.
Bitter but very drinkable. Tasty DIPA I would happily order again.
773 characters
4.79
/5
rDev
+19.8%
look: 4.75 | smell: 4.5 | taste: 5 | feel: 4.75 | overall: 4.75
I finally got a chance to try Lupulin Lust on draft at the Epic Beer Festival in San Diego on 3/16. Usually large venues and festivals don't provide a great environment for tastings, I made sure to hit them up first with a clear palate and a clear head. I went back to their stand for about 5-6 pours. I've been a big fan of Rip Current's previous offerings, and I've had some of their homebrews before that really hit the mark.
A: Poured nicely without a huge head. Coloration was light golden, exactly the right amount of carbonation.
S: Solid hop aroma, a little piney with citrus notes. Hit the style right on the nose.
T: Exceptional. I think my favorite thing about Rip Current's beers is their ability to balance flavors with the relative strength of the beer, and Lupulin Lust is no exception. Instead of getting boozy, or unbalanced hops, Lupulin Lust threads the eye of the needle of what separates a great beer from an amazing beer. I love IPAs, and this is probably one of the best, if not the best representation of what I want out of a San Diego IPA.
M: Like I said before, very smooth and balanced for a heavy hitting IPA. After sampling most of the breweries at the festival, I kept coming back.
O: I've been a fan of craft beer and specifically IPAs for about a decade, and this is as good as it gets. Rip Current's got a mastery of fermentation conditions, QC, water quality, and the knowledge of what works and doesn't. I'm putting this up there with Stone's "Enjoy By" series and some of the best fresh homebrew DIPAs I've had. Exceptional beer.
1,570 characters
4.08
/5
rDev
+2%
look: 4.25 | smell: 4.25 | taste: 4 | feel: 4 | overall: 4
On tap at Rip Current Brewing in San Marcos, CA.
Pours a clear honey orange with a foamy off-white head that settles to a film on top of the beer. Foamy streaks of lace form around the glass on the drink down. Smell is of malt, citrus fruit, and citrus zest. Taste is much the same with a pine-like flavor on the finish. There is a medium amount of hop bitterness on the palate with each sip. This beer has a good level of carbonation with a crisp mouthfeel. Overall, this is a good beer that is tasty and easy to drink.
521 characters

4.02
/5
rDev
+0.5%
look: 4.25 | smell: 3.5 | taste: 4.25 | feel: 4.25 | overall: 4
From SS swing top growler – 10oz taster nonic style glass
*Notes taken from 02/23/13
A: Light caramel color body that takes on a nice burnished gold when held to the light. Some fine clarity to the beer. Nice soapy white foam cap with a decent amount of retention and sticky splash left upon the glass after each sip.
S: Aromas are rather tame for a highly hopped San Diego style IPA. Has some real floral qualities to it with light pine and a distinct lemony herb note. A bit of a let down on the nose but what is present seems nice.
T: Flavor on the other hand brings a super hop fruit punch assault comprised of tangerine, mango, and juicy lemon. Has a real concentrated hop zing like whoa…supplemented with sappy pine, dank, and floral herbs. Lightly sweetened with a caramel kiss and some bready malt at the base. There is a very high level of mouth puckering bitterness to the brew which I rather enjoy. Lingers long after the drink. Alcohol is present and warming at times but well incorporated. This hits the hop spot for sure. Intense hop flavors with some very unique hop character. Really digging this.
M: Medium body brew with ample carbonation and overall lush consistency. Some lightly warming alcohol and a peppery bitterness that constricts at the palate leaving a substantial drying cottonmouth feel left in the wake. Sticky, resinous, and lingering.
D: A real nice IPA with ample hop power. Very drinkable you almost forget this is over 8% ABV. Aroma leaves some more to be desired but the flavortrain definitely delivers on the name.
Come to find out I actually had sampled this beer a few years back at the Holiday Wine Cellar Homebrew competition. I liked it then and can say that I like it now.
Wish these guys the best and looking forward to many more delicious Rip Current brews.
1,817 characters
Lupulin Lust from Rip Current Brewing
Beer rating:
4
out of
5
with
126
ratings