Best Bitter
| Hook Norton Brewery Co. Ltd.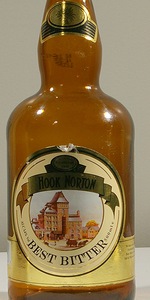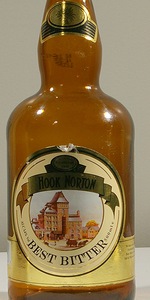 BEER INFO
Brewed by:
Hook Norton Brewery Co. Ltd.
England
,
United Kingdom
hooknortonbrewery.co.uk
Style:
English Bitter
Alcohol by volume (ABV):
3.40%
Availability:
Year-round
Notes / Commercial Description:
No notes at this time.
Added by Todd on 12-01-2002
HISTOGRAM
Ratings: 13 | Reviews: 11
Reviews by WillWillows:

More User Reviews:
3.85
/5
rDev
+18.5%
look: 3.5 | smell: 3.5 | taste: 4 | feel: 4 | overall: 4
16.9oz bottle.
Pours out a deep golden, a shade or two lighter than copper, with a condensed, wet white head. Good rentention.
Lightly buttery aroma with notes of metal and toffee.
Begins with a tryptych of nuts, butter and toffee in the taste dept. Begins sweet, with the toffee tones leading the charge before switching to the butter hues and ending with the dryer nuttiness. Hops enter at the finale and provide some wet, rustic, leafy flavors.
Lighter than medium bodied. But maintains enough heft throughout to stay interesting.
Downable little session brew. At less than 4% A/V this would be nice anytime. Not a juggernaut of flavor, but there is enough here to keep one's focus. I imagine it would be lovely on cask.
728 characters
3.44
/5
rDev
+5.8%
look: 5 | smell: 3.5 | taste: 3.5 | feel: 3 | overall: 3
Slightly oxydized, but otherwise an okay session beer. A little bit toastier than normal, and lighter in color. Brown body is pleasing to look at, and mitigates in its favor. Capital Brewing in Wisconsin had tried to go into the import business and brought in Hook Norton, among others. That venture failed, so they'll stay a bit hard to get in our area.
354 characters

2.72
/5
rDev
-16.3%
look: 2.5 | smell: 3 | taste: 2.5 | feel: 2.5 | overall: 3
Hook Norton: In a half liter brown bottle. Not bad at all, just not remarkable. Very typical of the style. Had some fairly nice malt tastes. Nice tasting beer. Great looking beer, golden color that was absolutely clear. Nice beer, look it up and buy it if you see it.
267 characters
1.94
/5
rDev
-40.3%
look: 3 | smell: 1.5 | taste: 2 | feel: 2 | overall: 2
Appearance: Pours a crystal clear, butterscotch-gold color. Even with an aggressive pour, the head doesn't ever form. It's simply a few bubbles around the edge of the glass. Pathetic...
Smell: I've spent the last several minutes trying to coax some aroma, ANY aroma, out of the glass. There's practically nothing there. Maybe a hint of haylike malt...and even that could be my imagination.
Taste: The flavor is extremely generic, with a dull, stale maltiness. Hint of hay and a faint nuttiness. Hops barely make an effort to balance it out, instead letting a cardboardish oxidation flavor take over. Incredibly boring and uninspired...
Mouthfeel: Almost watery in body, with a mouthpuckering, astrigent finish.
Drinkability: Ughh... Anybody wanna trade this for a glass of water? I believe I've found the liquid definiton of 'boring.'
846 characters

2.71
/5
rDev
-16.6%
look: 3.5 | smell: 2.5 | taste: 2.5 | feel: 3 | overall: 3
Copper hue with surprisingly brilliant clarity. A vigorous pour produces an initially moderate, frothy, roughly textured head that recedes readily into a spotty, meager layer. The aroma is comprised of a faint combination earthy hops and butterscotch diacetyl, running parallel with equally bated light caramel malt. A trace metallic hint adds a astringent component to the nose, which has already established itself as underwhelming and prosaic. The flavor extends seemlessly from the aroma and nearly mirrors it, for better or for worse. A token, non descript caramel malt presence upfront in flavor is ensued by a blurred, buttery oak like hop flavor and diacetyl combination. Deadened, bready, cracker like malt provides a meager malt component, but seems bleached and stripped of flavor. Perhaps this brew is over filtered and / or overfined, but there is an overriding blandness resulting from a void in flavor that emerges mid palate and lingers. Expectedly lightly bodied, and sufficiently smooth for easy quaffing, but only a notch above thin overall. Finishes with a transient, sweetish suggestion of wood shavings and tea leaf tannins, but otherwise dry and abrupt. Innocuous and somewhat drinkable, yes, but not recommended due to all around dearth of character and price. Two notches beyond lifeless.
1,313 characters
3.53
/5
rDev
+8.6%
look: 4 | smell: 3.5 | taste: 3.5 | feel: 3.5 | overall: 3.5
Decent lace and a lasting head. Pale amber color and reasonable clarity (slight haze)
Here's something new: I detect something resembling play-dough. The stronger smell is bittering hop. Low dry-ish malt aroma in the background.
A thin beer, particularly for a English Bitter, although it has a proper level of carbonation. Fairly standard stuff here. Nice balance. Not as "British" tasting as some Bitters, but it holds its own.
431 characters
3.5
/5
rDev
+7.7%
look: 3.5 | smell: 3.5 | taste: 3.5 | feel: 3.5 | overall: 3.5
BB 13-07-06?? Litle head and orange/amber clear beer. Nose is extremly malty( litle green) and litle apricotfruit. Taste is also very malty, full bodied without being sweet and well bittered. Aftertaste has bitterness and litle maltbite. Low ABV noticable but not by the fullness of the taste. Easy drinkable, good for a warm day and well worth a try IMO.
355 characters
3.23
/5
rDev
-0.6%
look: 3.5 | smell: 3 | taste: 3 | feel: 3 | overall: 4
Presentation: A fantastic looking 500ml wide bodied brown glass bottle with one of those thin 'hour-glass' shaped necks. The label is simply stupendously inviting, a full color painting of Hook Norton's classic Tower Brewery. The bottle neck has an Inked-On Best Before Date of 15/09/04.
Appearance: Light amber body with a golden hue, a massive white heads forms as it is poured. Sticky lacing clings to the glass wall, as the head eventually settles to a thin rimmed white disc covering. Lots of dissolved carbonation.
Nose: Straight from the fridge it lacked any real odor. Conduction of heat into the body of the beer was all that was needed to release the lightly toasted malts and biscuit aromas. Restrained but discernable.
Taste: Light biscuit introduction with a sweet dimension, buttery but not distracting. Moderate toasted malts with toffee aspects underpin the mildly bitter finish. A refreshing taste profile.
Mouthfeel: Light feel that would normally be detrimental to most beers, but to this it adds Drinkability. Smooth and creamy at times.
Drinkability: This just slips down so easily, a great relaxing beer that's a real quaffer.
Overall: Remember that this is a 3.4% ABV light Bitter, and in that context, you will not be disappointed by this excellent session beer. Its low strength means that it is much better presented on Cask, but it's not bad from the Bottle either.
1,417 characters
2.83
/5
rDev
-12.9%
look: 3.5 | smell: 3 | taste: 2.5 | feel: 3 | overall: 3
275ml bottle
Pours with a cloudy amber bosy, hazy with a few floaties, slight foamy head with poor retention, some chilli haze
Smell, slightly skunky, grassy, some hint of grainy
Taste, fresh grassy hops but slight off flavours, some hop bitterness on the finish, slightly nasty apple finish
Pretty average, let down by off flavours
344 characters
3.82
/5
rDev
+17.5%
look: 3.5 | smell: 4 | taste: 4 | feel: 3.5 | overall: 3.5
Golden amber colored beer with a little bit a a white head. The aroma was lightly sweet and fruity. I got a little apple witha hint of vanilla. A decent spicey hop bitterness at the beginig of the taste with a light balanced bitterness in the finish. a nice session beer.
271 characters
2.93
/5
rDev
-9.8%
look: 3.5 | smell: 3 | taste: 2.5 | feel: 3 | overall: 3.5
Light bodied, clear amber/copper color with a small head that disappears quickly.
Aroma is mild buttery toffee.
Taste starts slightly sweet with toffee, butter, caramel and then a slightly metallic, astringent finish, slightly dry with some leafy hops bite.
Very drinkable and reasonably refreshing.
311 characters
Best Bitter from Hook Norton Brewery Co. Ltd.
Beer rating:
3.25
out of
5
with
13
ratings