1775 Tavern Ale
| Battle Road Brewing Company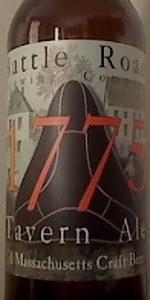 BEER INFO
Brewed by:
Battle Road Brewing Company
Massachusetts
,
United States
battleroadbeer.com
Style:
American Pale Ale (APA)
Alcohol by volume (ABV):
5.40%
Availability:
Year-round
Notes / Commercial Description:
No notes at this time.
Added by OtherShoe2 on 02-17-2013
Reviews: 9 | Ratings: 64

3.74
/5
rDev
+0.3%
look: 4 | smell: 3.75 | taste: 3.75 | feel: 3.5 | overall: 3.75
A: opaque; burnt orange in color; 1+ finger light khaki head that receded to a very thin cap; nice lacing;
S: earthy, floral, and touch musty;
T: caramel malt, nutty, mild bitterness on the finish;
M: medium bodied; moderate to high carbonation; lightly dry finish;
O: as an APA, this isn't very good; as an English PA, it's quite good; previous reviews all see to note the English aspects of this beer;
407 characters

3.59
/5
rDev
-3.8%
look: 4 | smell: 3 | taste: 3.75 | feel: 3.75 | overall: 3.75
A- Pours into the tulip from the standard can with a fairly hazy deep copper body and a thick frothy off-white head. The cap retains well and drops large blankets of lacing.
S- Sweet, freshly mashed grains borderline dominate the aroma with caramelized sugars popping off the top above a base of nutty grains, toffee, yeast spices and brown sugar.
T- Again with the raw mashed grains and all the sweetness that comes with making a fresh wort. Cereal grains, nutty, toast and especially caramel lead the way in the flavor profile that gets a slight balance from yeast bread, phenol spices, light roast coffee, toffee, raisin, white grape and earthy hops.
MF- Medium bodied with plenty of substance and a very smooth and silky texture. Moderately high end carbonation and a spicy hop finish.'
Bold is a true descriptor of this brew. The variety and depth of the malt flavors is the best aspect of the brew. If the raw wort character of the beer was toned down a bit it would be a great malty pale, it especially hurts the aroma.
1,030 characters
3.75
/5
rDev
+0.5%
Tucked in a corner cooler, with a rather nice price tag.
Pours a deep amber, off white head that recedes quickly, leaving behind a bundle of lacing.
*Upon pouring the last half of the bottle, a large amount of sediment came out with it. Agitate before hand if you want an even mix, or if you wish to avoid sediment, decant carefully.
Some citrus in the scent, other than normal yeast and wheat aroma nothing too spectacular.
I was blown away by the taste, I don't know if it was just the setting or circumstance or combination of what's in this beer, all I could taste was chocolate on first sip. Floral hops blends into chocolate, maybe a hint of coffee or caramel leaving a nice bitterness over everything that makes you want to reach for another sip. Tastes similar to an IPL I've had, only better. Fairly sure the notes I picked up weren't actually there, given the amount of sediment this could have been on the shelf for quite awhile.
A tad thick, leaves a bit of a residue that sticks around a for awhile.
Pleased with this purchase, would recommend to anyone who can handle a bit of bitterness.
1,108 characters

3.5
/5
rDev
-6.2%
I enjoyed and would definitely recommend this APA. Solid flavors enhanced by moderate carbonation. Has a bit of a kick after the swallow but is still SMOOTH enough to drink all evening......ENJOY!
196 characters

3.72
/5
rDev
-0.3%
look: 4.25 | smell: 3.5 | taste: 3.75 | feel: 3.75 | overall: 3.75
Poured from a 22 oz bomber into a snifter. Thanks Matt for this beer.
A- Pours a copper colored body with an off-white head that reduces slowly and leaves some nice thick lacing.
S- Subtle grassy aromas, nutty, bready, sweet malt.
T- First up is a bittersweet bready note, followed by smokey, nutty, yeasty, raw malt flavors.. definitely rustic. Slight resinous bite on the finish.
M- Medium body and carbonation.
Interesting and unique.. I like the raw character of this beer.
487 characters
3.94
/5
rDev
+5.6%
look: 4 | smell: 3.75 | taste: 4 | feel: 4 | overall: 4
Awesome, another new MA brewery.
Pours a decent looking fizzy bubbly 1 finger head that fades at a med pace, spots of lacing, over semi hazy but mostly clear reddish orange slightly tangerine colored beer.
Nose brings light grassy hops, a touch of an herbal earthy quality, and maybe a hint of spicy bitterness in there, light grainy reddish malts, a little toasty caramel, an almost sweet candy like malt, and faint waft of esters.
Taste brings some big caramel malts up front, a little candy like even but not quite syrupy, little nutty toffee, and plenty of toasty reddish amber malts. It brings a med to mild sweetness at first, with thicker than expected feel of the beer. Then hops kick in, it takes a little time to do so but they make up for it, with a nice spicy bitterness, again a bit of a grassy taste as well, and hints of an earthy chewy hop. More U.K. style hops. Finish brings more amber caramel malts and a bit of sticky sweetness, sweet malty residue lingering, and quite a bitterness, the bitterness ramps as it goes and hits nicely on the finish with a big grassy earthy slightly herbal and spicy hop profile lingering for a while.
Mouth is med to bigger bodied, almost chewy between the big malts and spicy chewy hops, decent carb that gets a little fluffy, a bit of a stick residue lingering though.
Overall a nice beer. I could see sitting back at a pub and pounding back a few of these. This is the kind you drink out of a big mug I think. more like a beer I would expect to drink in a pub in the 18th century, like the name describes, except brought into the modern era.
1,600 characters

3.81
/5
rDev
+2.1%
look: 3.75 | smell: 4 | taste: 3.75 | feel: 3.75 | overall: 3.75
1775 Tavern Ale opens to a nose that is both hoppy and grainy, the hops taking the edge, but not by much. Hops bring a bright, citrusy layer that focuses heavily on lemon, pink grapefruit, and pine, with supporting notes of grapefruit rind. The grains add a large dose of wet wheat, biscuit, straw, grass, floury baguette, and rising wheat dough, the sheer variety of dry grain aromas being impressive. Add to this a decent assortment of orange, apricot, berry, and even a touch of grape and banana fruit esters, as well as brown sugar and caramel, and you have a nose that comes across as far stronger than should be expected from a 5.4% ABV beer, being, on the whole, aromatic, nuanced, potent, and surprisingly long-lasting, the initial aromas still present in good strength after a few minutes. The nose is perhaps overly dependent on hops, and the grape fruit esters add a punch-like overtone, but on the whole this smells wonderful.
On the tongue, the beer opens with a grainy note full of straw, grass, wet wheat, floury baguette, and rising wheat dough, with biscuit, flour, cracker, toast crust, and touches of dusty grains, the latter adding an aged feeling, as if breathing the air inside a used grain silo. The hops add a pungent grapefruit rind, pine, and lemon note, the citrusy pink grapefruits taking a backseat. Fruit esters are strong on white grape and apricot, with some orange and berry, as well as touches of banana. The sugars are far lighter here than they were on the nose, the beer predominantly consisting of dried grains and touches of hops, with bits of peppery spice. The aftertaste is a continuation of the dried grains and hops, the grains increasing in strength until the aftertaste almost matches that of a piece of dry rye cracker, lingering on the tongue for a good while. Mouthfeel is medium-light to medium, and carbonation is medium to medium-high.
Overall, there are some very nice flavors in here, though in the end the dry grainy notes simply overpower almost everything else, increasing in strength in subsequent sips until the beer tastes more like water soaked in grains than beer. The effect is not necessarily unpleasant, but it does give the impression that the profile needed a few more sugars to balance things out.
2,267 characters
3.95
/5
rDev
+5.9%
look: 4 | smell: 4 | taste: 3.75 | feel: 4.5 | overall: 4
22oz brown bomber with no freshness date.
Impressive looking head on top of a mildly hazed amber colored brew, mind the sediment unless you want a full on cloudy looking pour. Semi-pungent hop resin in the nose, rhubarb jam, guava, caramel and hay in the aroma as well. Incredibly smooth, semi-chewy medium body. Heavy hand of Styiran Golding hops with leafy, woody and earthy tones. Grainy with a slight biscuity flavor, nutty as well. Good balance throughout, long drawn-out after tastes is enjoyable.
Brewers' intention was to come up with a "rustic pale ale", very well put together. Here's hoping these guys get an actual brick & mortar brewery running some day soon.
674 characters
3.97
/5
rDev
+6.4%
look: 4 | smell: 3.75 | taste: 4 | feel: 4.25 | overall: 4
Pours dark amber with a decent off-white head. Some fair lacing. Bottle conditioning is obvious, and even with a careful pour, there are some floaties in here. This is not a clear beer, with a combo of suspended yeast and a thicker than usual appearance.
Toasted malt and mild fruit in the nose. Some over-toasted breadcrust with some mineral bitterness as well.
This one is beer for grown-ups. Bitter up front, with very brown bread crust. An odd touch of yeast and fruit behind the scenes. This is not sweet beer. No caramel or burnt sugars. The hoppiness is a bit floral, not citric nor piney. Malt rises up again and leads to a malty moderately bitter finish. The part that gets me is that this beer seems very...fresh. Would love to try this out of the tap.
Medium body. Ok carbonation.
Nice effort for sure. The bomber was appropriate -- I liked this more as I drank it. The mild fruit profile is a nice balance to the toasted bitterness. Nice beer.
967 characters
1775 Tavern Ale from Battle Road Brewing Company
3.73
out of
5
based on
64
ratings.